Sometimes, even with the healthiest of intentions, that guilty craving for grease hits you and there is nothing you can do to avoid it.  If you're looking to succumb to that urge and get down and dirty with a big old plate of fried food, look no further than Kensington Market's newest neighborhood resident- Dirty Bird Chicken and Waffles.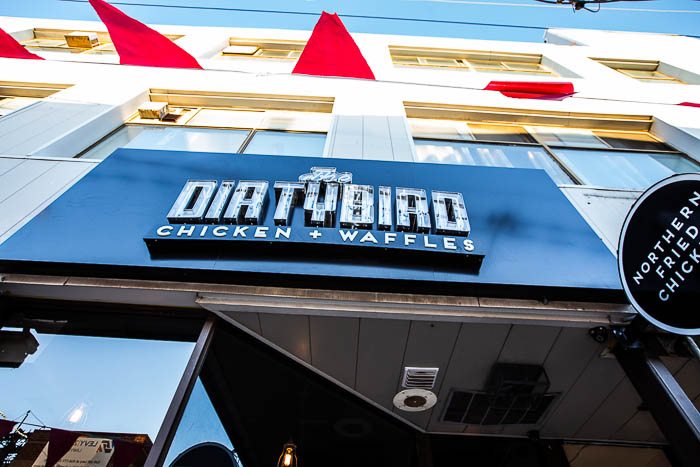 With their "Northern Fried" chicken recipe – which is basically just the addition of a succulently sweet maple sugar flavor mixed in with their batter – Dirty Bird is making some serious waves amidst Toronto's foodie circles. After more than five years of successful pop-up events around the city, the 5-person team landed their brick and mortar location on the corner of Kensington Ave and Baldwin Street.
To keep things close to home, Dirty Bird is sourcing all of their produce from Kensington Market as one of their big focuses is to become an integral part of the popular neighborhood.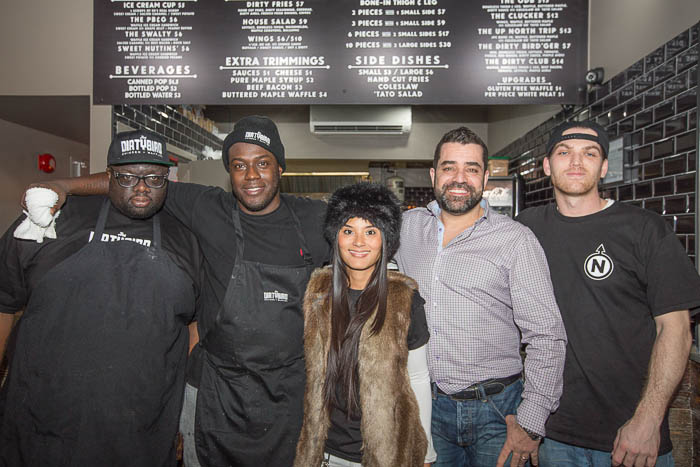 Not everything is sourced directly from the Market, though.  Dirty Bird has paired up with Toronto's own Ed's Real Scoop to create a custom ice cream flavour – sweet potato! This sweet and savory cold treat is combined with candied pecans for a sweet treat to finish off your meal.
For those of you with dietary restrictions, you can have your waffle and eat it too because Dirty Bird offers gluten free waffles and breading options for their chicken. Additionally, the entire menu is Kosher – even the bacon is beef based!
The main menu consists of five signature chicken and waffle dishes, most of which are served with a side of coleslaw or potato salad. Both of the side dishes are a particular treat for the palate – the coleslaw has notes of vanilla and the potato salad is an old family recipe.  For those of you who like to create your own combinations, you can choose from thigh, legs and wings and add on a side of your choosing.
Dirty Bird Eats
The ODB
Boneless Thigh & Leg, Waffle, Buttered Maple Dirty Sauce with Potato Salad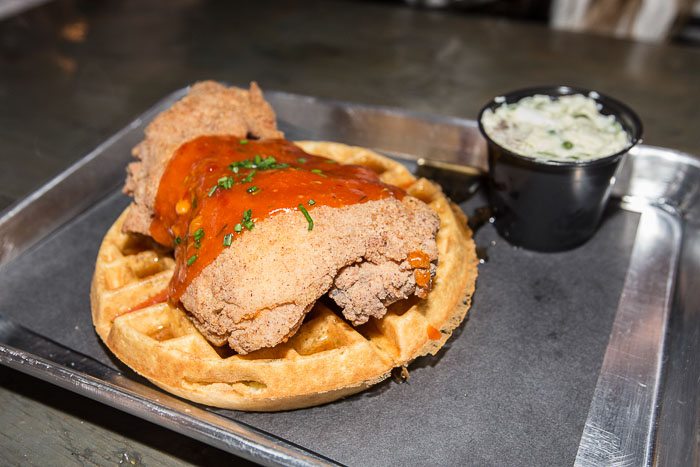 The Clucker
Wings, Waffle, Buttered Maple with Coleslaw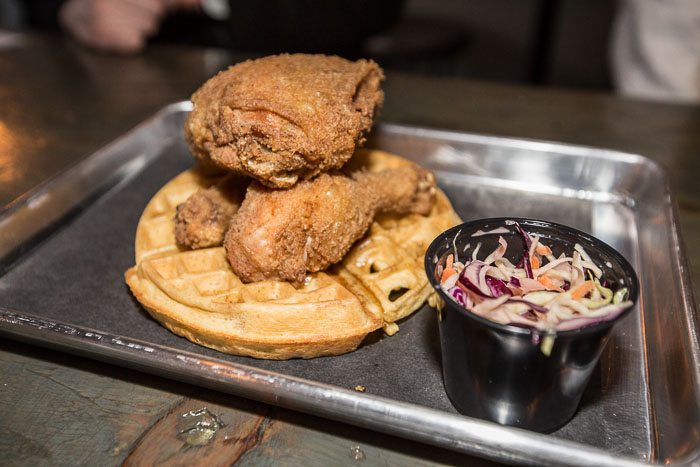 The Up North Trip
3pc Bone-In, Waffle, Buttered Maple
The Dirty Bird'ger
Bun, Boneless Thigh, Lettuce, Tomato, Pickle, Red Onion, Dirty Sauce and Maple Aioli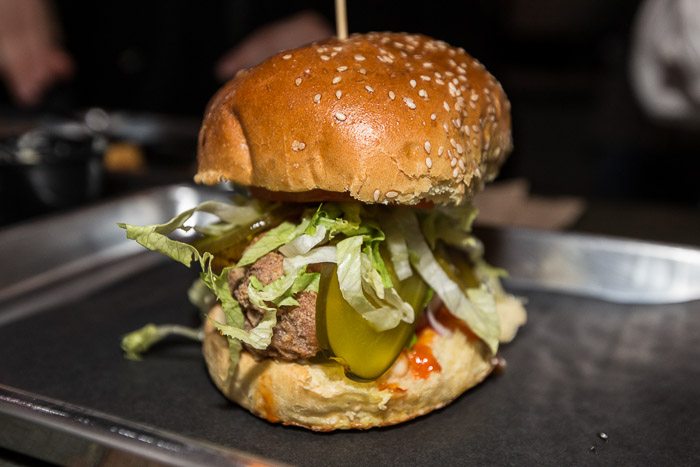 The Dirty Club
Waffle, Boneless Thigh & Leg, Beef Bacon, Tomato, Lettuce, Maple Aioli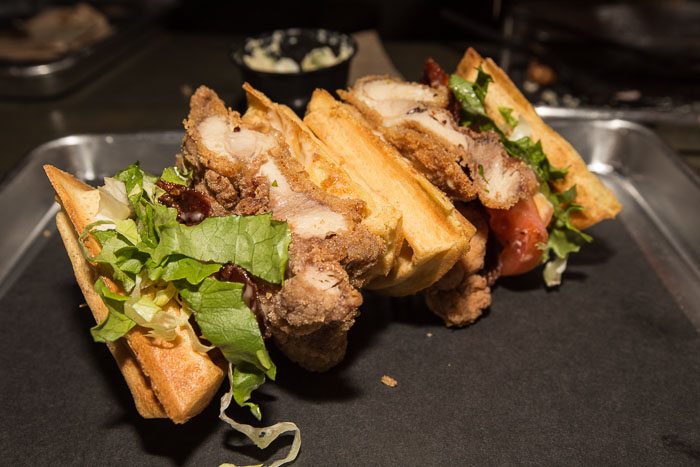 Dirty Fries
Handcut Fries, Dirty Seasoning, Cheddar, Dirty Aioli, French Fried Onions, Chives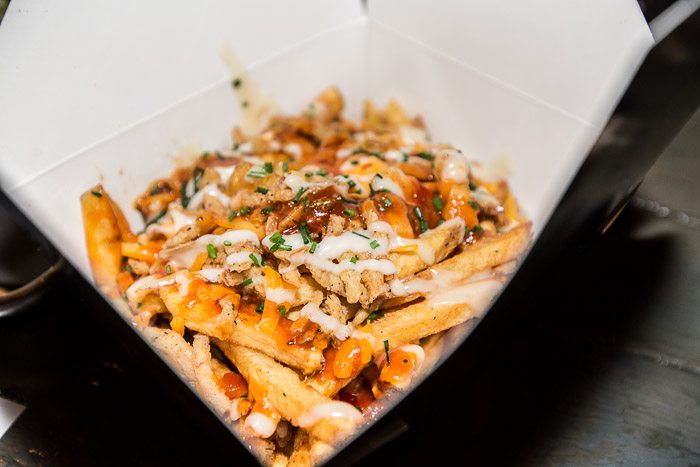 The PB&G
Waffle Sandwich, Sweet Cream Ice Cream, Grape Jelly, Peanut Butter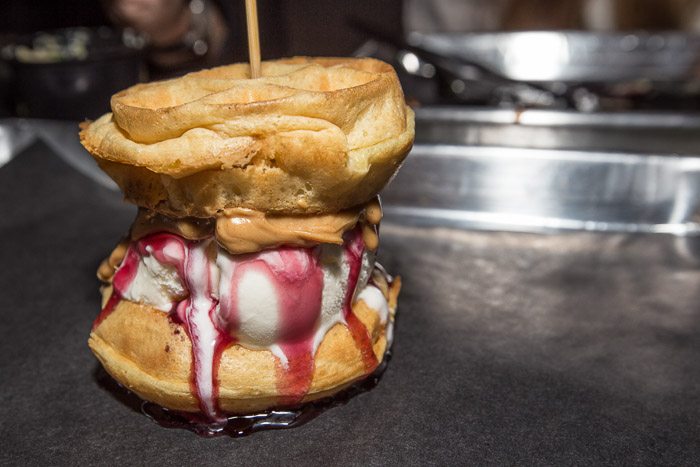 Sweet Nuttin's
Waffle Sandwich, Sweet Potato Ice Cream, Candied Pecans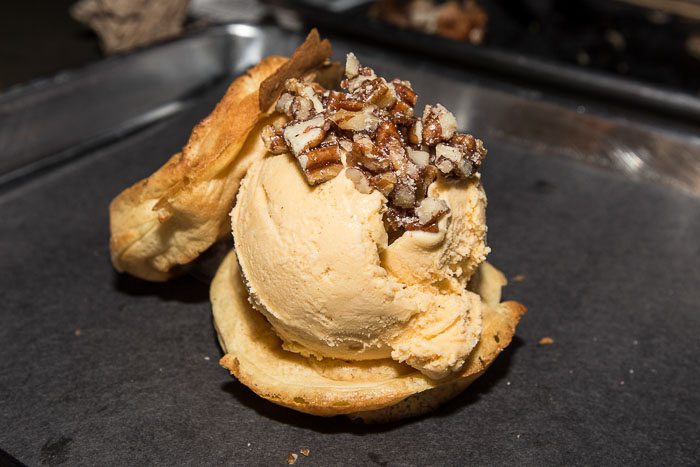 Dirty Bird has been open since March 4th, so go get your #NorthernFried on! And if you crave more Dirty Bird action look out for Chef Adrian on an upcoming episode of Food Network's "Chopped"! For more information, check out their website here.
Disclaimer: The preceding meal was complimentary, however, as always, all opinions are genuine.
Contribution by AK Tasters: Maya Setton and Brea Giffin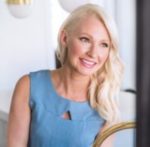 Abbey Sharp is a Registered Dietitian, an avid food writer and blogger, a cookbook author and the founder of Abbey's Kitchen Inc.