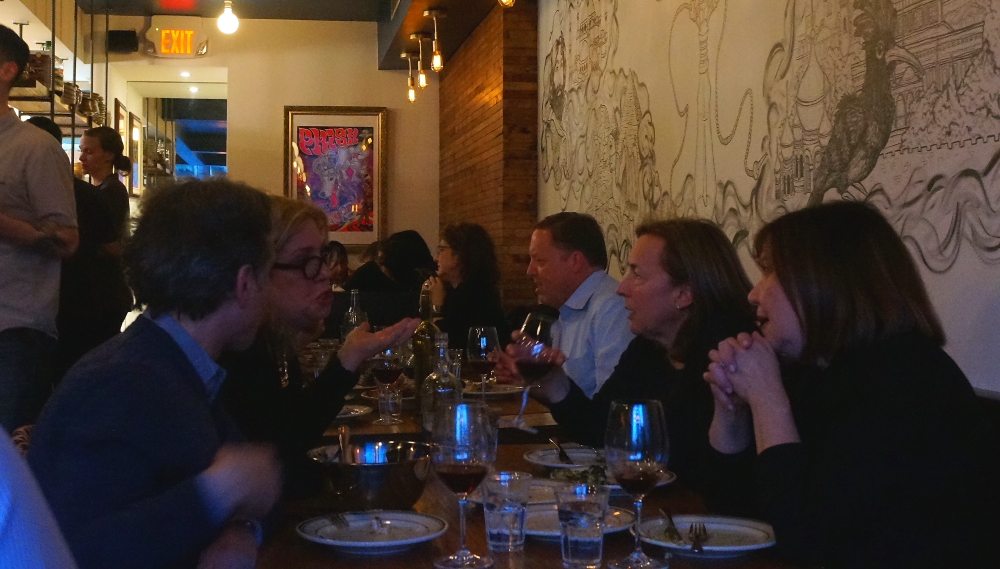 Torontonians are pretty trendy when it comes to what we want to eat. Since I started working in food media, I've followed on trend as my fellow city dwellers have binged on gourmet tacos, cute cupcakes, outrageously sized burgers, local Canadiana cuisine, slurpable ramen, upscale comfort fare, bad ass BBQ, cheeky doughnuts, and shareable Spanish tapas.  As the trends fade, only the best of the best live on to become our dining staples, leaving room for something new to tantalize the masses' palates.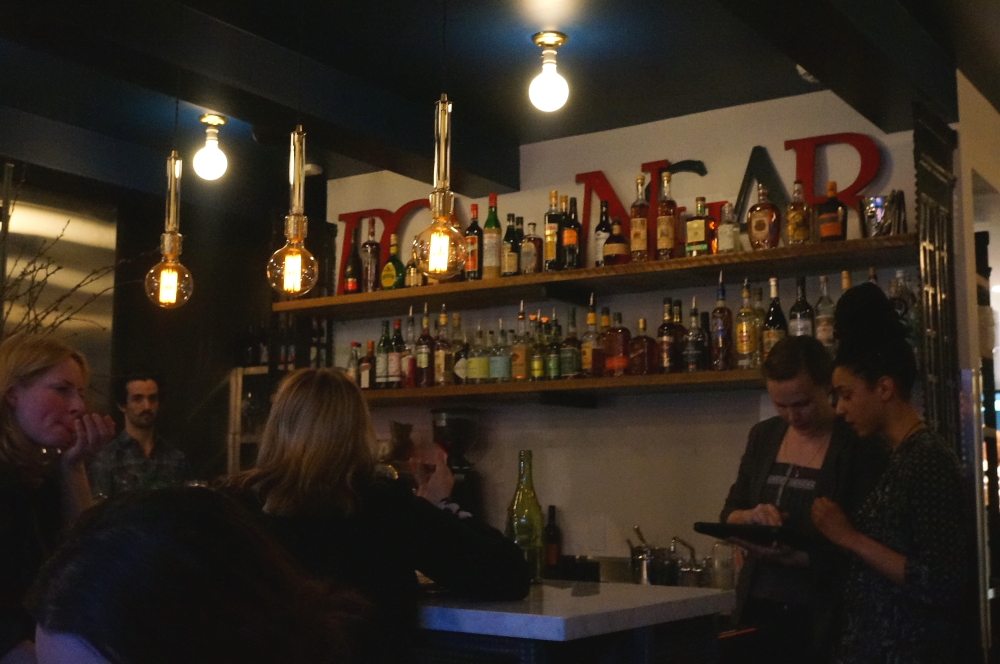 This year, it looks like we're embarking on an exciting cultural journey that takes Torontonians to the Middle East and Mediterranean coast. What once was mere cheap student food (anyone else remember $5 Shawarma at 3 AM?) is now becoming sophisticated, fresh and delicious fare that can appeal to vegetarians, carnivores, gluten-free enthusiasts, foodies and health conscious folk, alike. Actually, considering Toronto's multicultural demographic and the variety of cultures and religions that call Middle Eastern or Mediterranean cuisine their own, I'm surprised we haven't seen it's popularity sooner.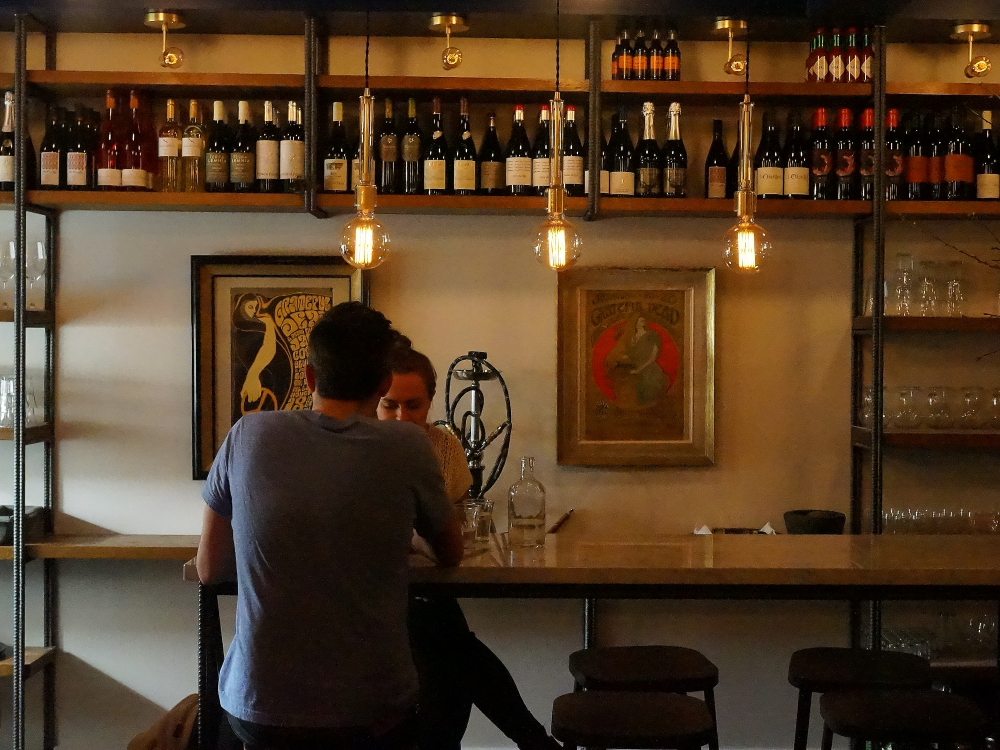 One of the most highly anticipated restaurants of this genre and in general this year is undoubtedly Anthony Rose's Fat Pasha on Dupont at Bathurst.  Rose is no stranger to the Dupont strip- his two other restaurants, Rose & Sons and Big Crow, are planted just a few blocks away. Together, Rose endearingly calls his restaurants "the Dupont Holy Trinity", a fitting name considering their successes have been untouchable since opening their doors. Good luck getting in without a reservation or a wait- these places are packed every day from open to close.
So when I saw a lone tweet in the afternoon of Thursday April the 10th that Fat Pasha was serving it's first meal the next day, I cleared my schedule, rushed to their site and made myself a reservation for opening night. And let me tell you, I'm so glad I did.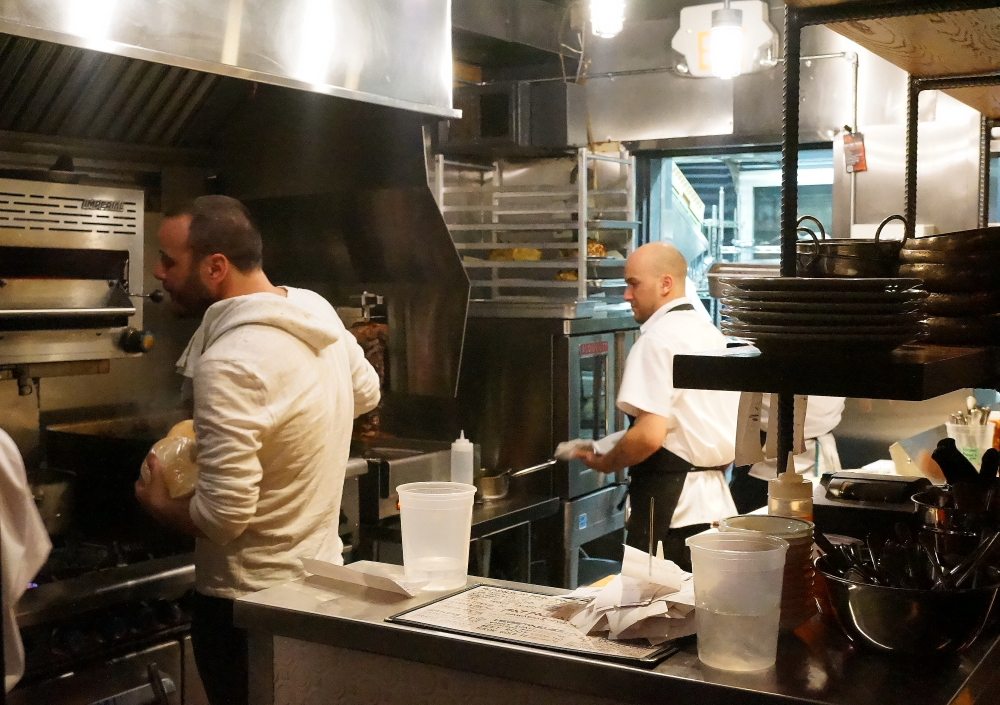 By 8 PM on Friday the 11th, the place was rammed full. Families, kids, babies, and couples young and old, gathered around the table to break bread. Or, pita, I guess is more accurate.  Like the other two spokes to the Dupont trinity wheel, Fat Pasha is a destination for local Jews. And no, I'm not being racist and assumptive based on looks, I know this because the Jewish community is small, and we happened to know a good number of families there that night. So why the obvious popularity with my people? Well, aside from the excitment of having a new Jewish-inspired restaurant, the location is definitely North Toronto friendly, considering most new hot restaurant openings happen South of Bloor. Dupont is like the downtown of the North. Plus, with Passover mere days away, we all were likely looking to get our last fix of pita, hummus, couscous, and falafel before the holiday wiped that out. At least, that was kind of my plan. Regardless of the rationale, I just love the sense of community and comradery Rose's establishments exude. Yes, it's very Jewish, but it's also an experience that I strongly believe all cultures and religions can appreciate when dining out.  Isn't sharing and caring through food really what meal time is all about?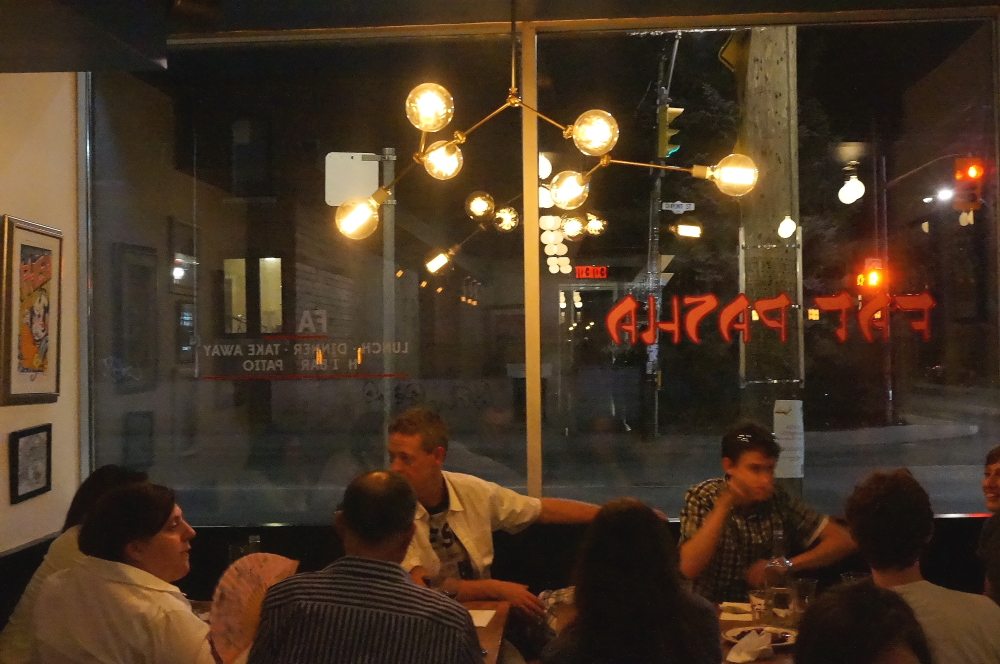 Walking into the 50-seat dining room immediately transports me back to my Jerusalem visit. First to catch my eye is a marble lined bar, which extends into an L shaped high top dining table for extra seats. The rest of the dining room is made up of a combination two tops and amply-sized wooden booths, the largest of which gets prime view of the bustling open kitchen.  Despite the floor to ceiling walls at the front that let in a touch of light from driving cars, the room is relatively dim.  Exposed filament bulbs protrude from the walls and dangle from above the bar, drawing attention to the showstopper in the room- the walls! In between sets of rich sleek panels of wood is a Blackburn mural of a Middle Eastern hookah emitting clouds filled with illustrated stories. Speaking of hookah, I did see one sitting on a shelf near the bar. Could this perhaps be something to look forward to on their soon-to-come 70 seat patio? Hint, hint. Nudge, nudge. Anthony, I hope you're reading this…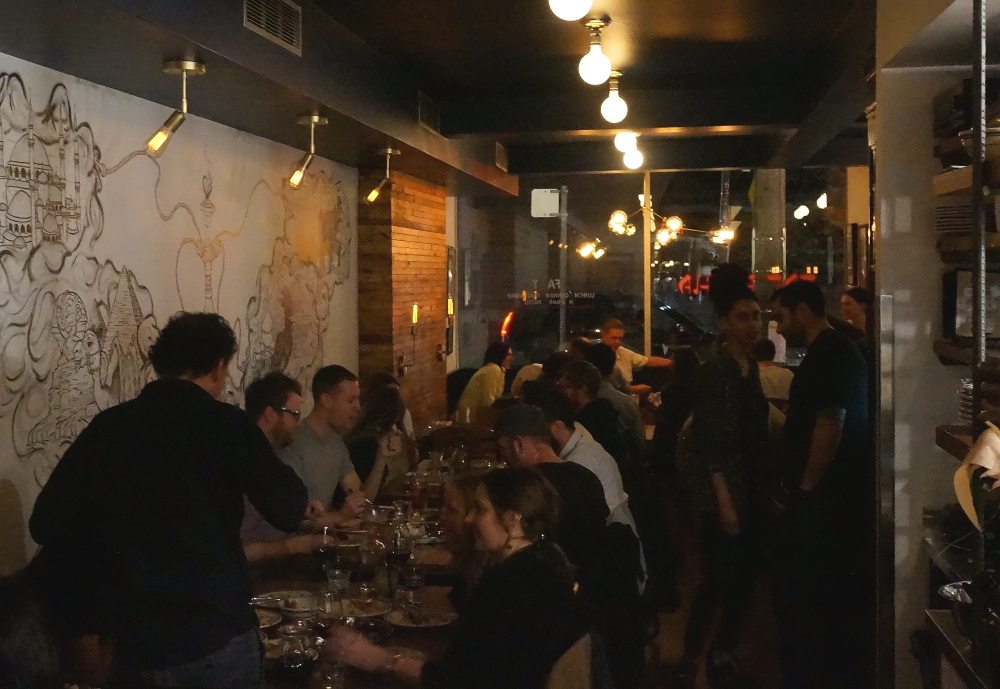 Pasha's drink menu features a solid spread of cocktails, wine, beer and Arak. Wine drinkers have around 20 local and International bottles to choose from ($48-130), half of which can be bought by the glass ($9-15), while beer fans can select from a well-rounded list of craft beer, available on tap ($7-9), or in cans or bottles ($6.50-14). The cocktail menu is short, but heavy on Middle-Eastern flavour. In addition to the substantial list of traditional Lebanese Arak, available by glass ($7-10), carafe ($13) or half litre ($23), they also feature about 6 innovative house-made drinks ($9-15). Expect to see flavours and ingredients you're not going to find at any trendy West end joints like Tomato Water, Fennel Syrup, Pistachio Orgeat, and Cumin Bitters as well as fresh mint tea served in traditional glassware.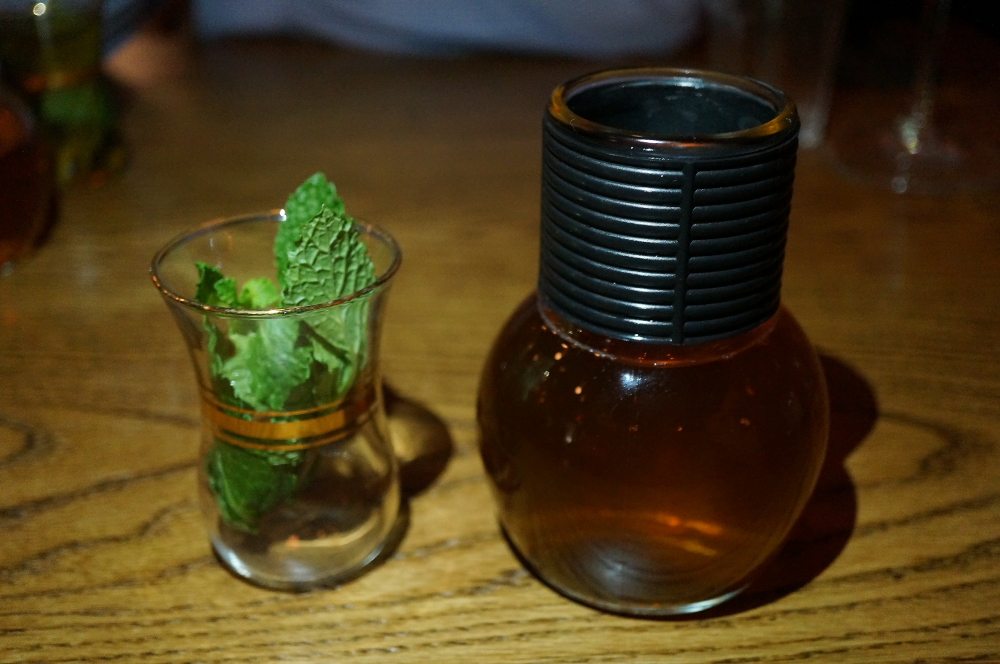 Lavedula ($9)
Gin, Lemon, Lavender Syrup, Mint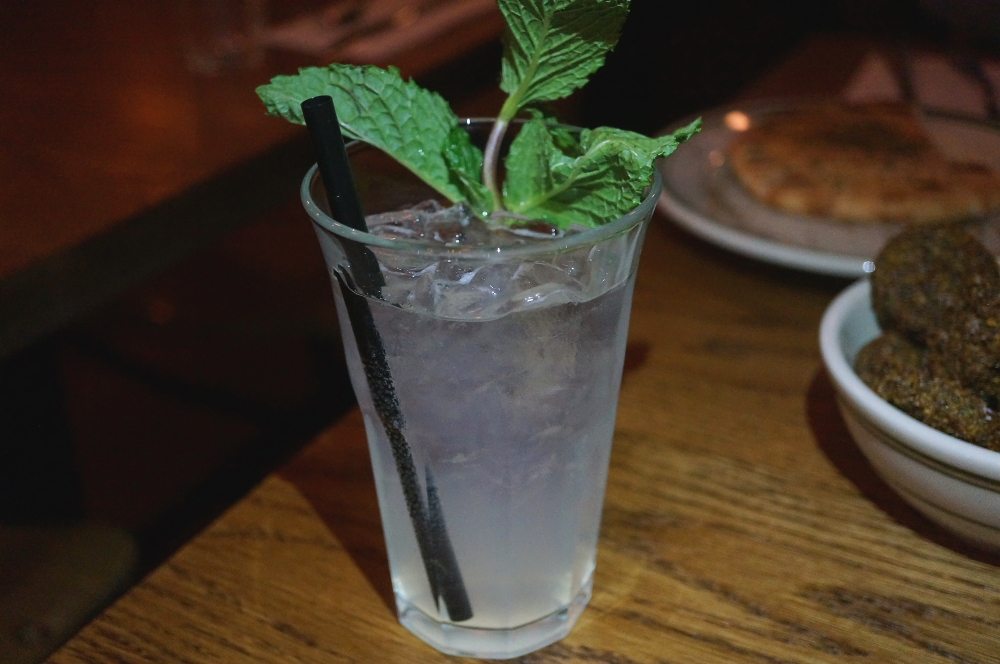 Balance and very easy to drink- would make for a fabulous summer sipper.
Pistachio Sour ($13)
Rye, Sherry, Lemon, Pistachio Orgeat, Albumen, Apricot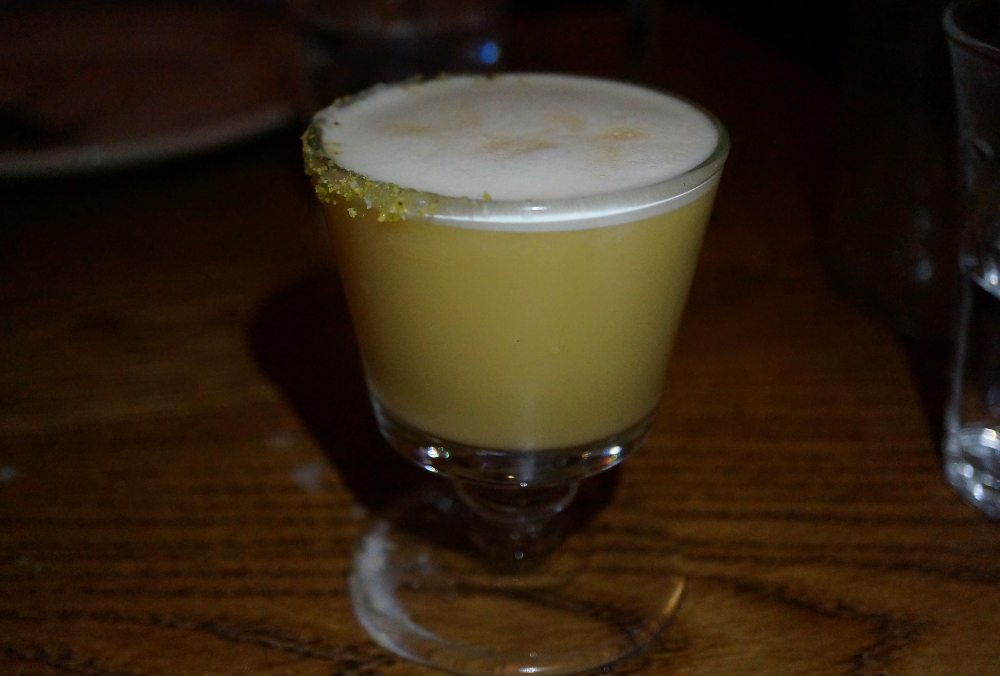 Sweet, sour and nutty, this was definitely my favourite of the two.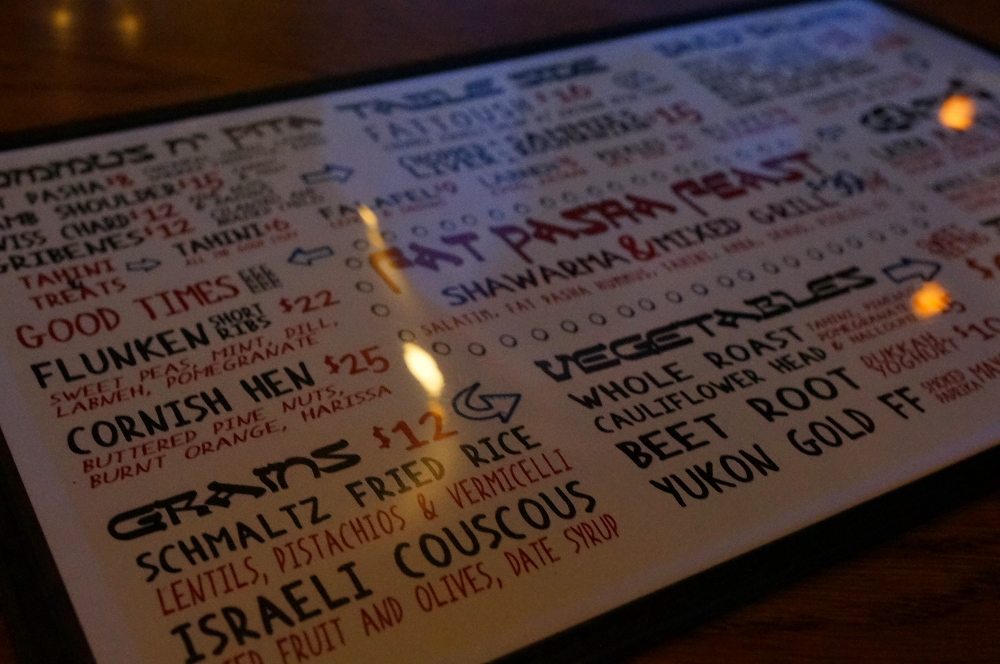 The food menu strikes a familiar balance between Israeli proper (think hummus, falafel, pomegranate, halloumi, halva and shawarma) and cozy Ashkenazi Jewish fare (like schmaltz, gribenes, latkes and Manischewitz).  Written in a font reminiscent of Hebrew letters, the menu is divided into Hummus (4 types!), Tahini & Treats, Meat, Grains, Veggies, Seafood, Dessert, Salad and Table Side Fare. Yes, that means your server will prepare Fattoush salad or Chopped Liver in front of your eyes beside your table. They also offer the Fat Pasha Feast for a minimum of two diners ($39/pp), bringing you shawarma, hummus, tahini, amba, fries, and an assortment of meat kebabs.  In line with the convivial feel of the place, everything is ideal for sharing. And believe me, there are so many items on offer that you're going to want a little tasty taste of it all.
Daily Salatim ($18)
Spicy Carrot Salad, Garlic Fried Tomatoes, Rapini Tabuleh, Beet Root Relish, Dill Cucumbers, Chopped Eggplant and Tahini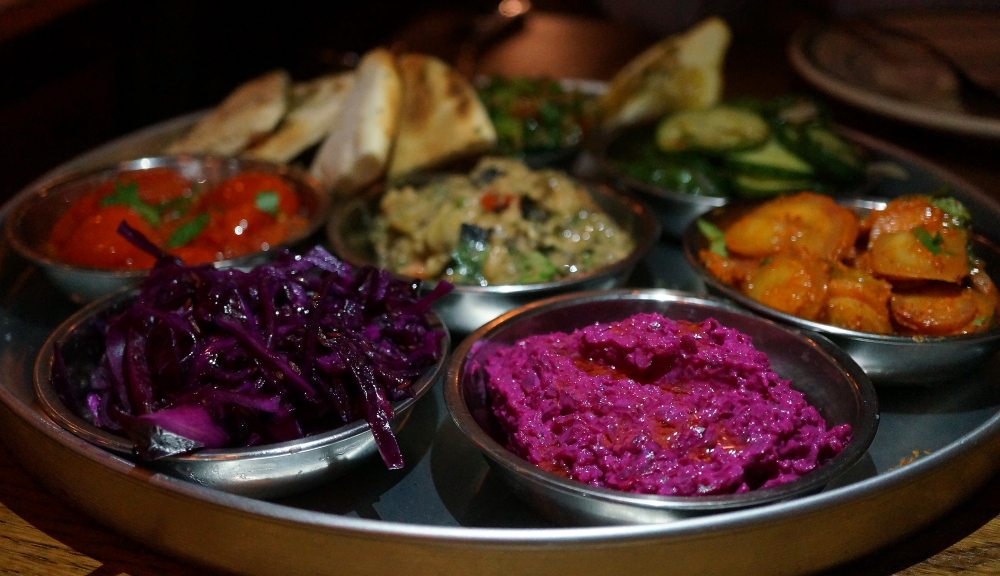 For anyone who's been to Israel will recognize this style of platter- it is the equivalent to our complimentary bread basket abroad. Here in the diaspora, however, it's totally worth a buy. My favourite was definitely the beet root relish with it's tangy, yet creamy texture from the luscious lebneh.
Swiss Chard Hummus ($12)
Pine Nuts & Raisins Served with Charred Pita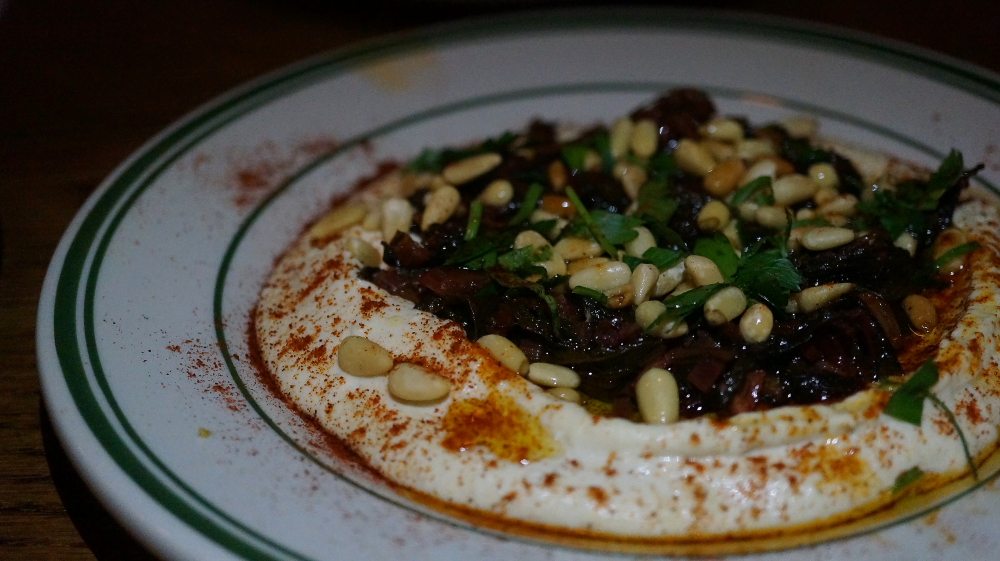 Delicious- loved the combination of the creamy hummus with the crunchy nuts, chewy sweet raisins and the mild bitterness of the chard. You can't start a meal here without hummus.
Pita (served with Hummus & Tahini)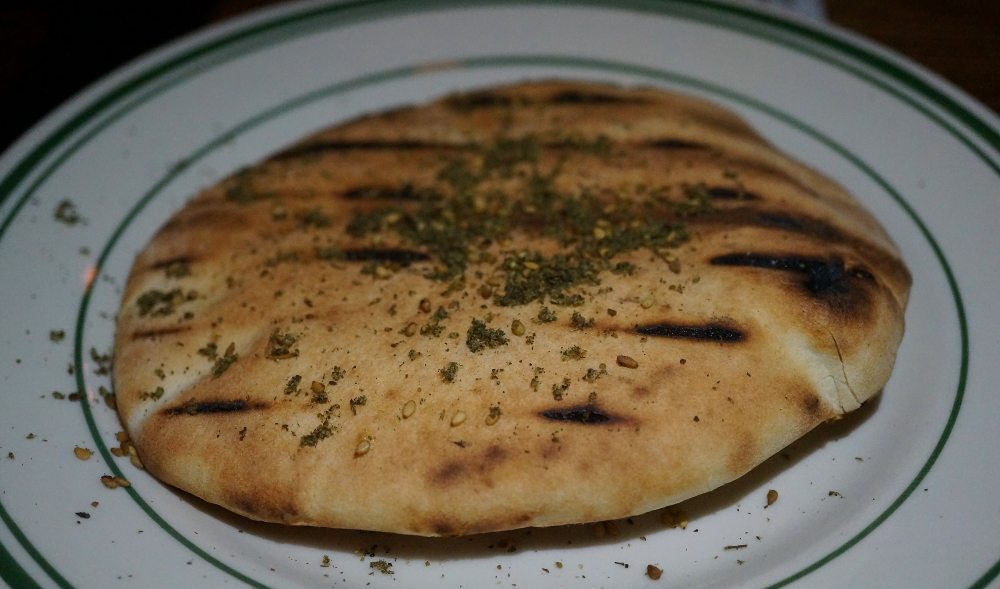 Loved the za'atar and sesame seeds on top.
Falafel ($9)
Lemon & Onions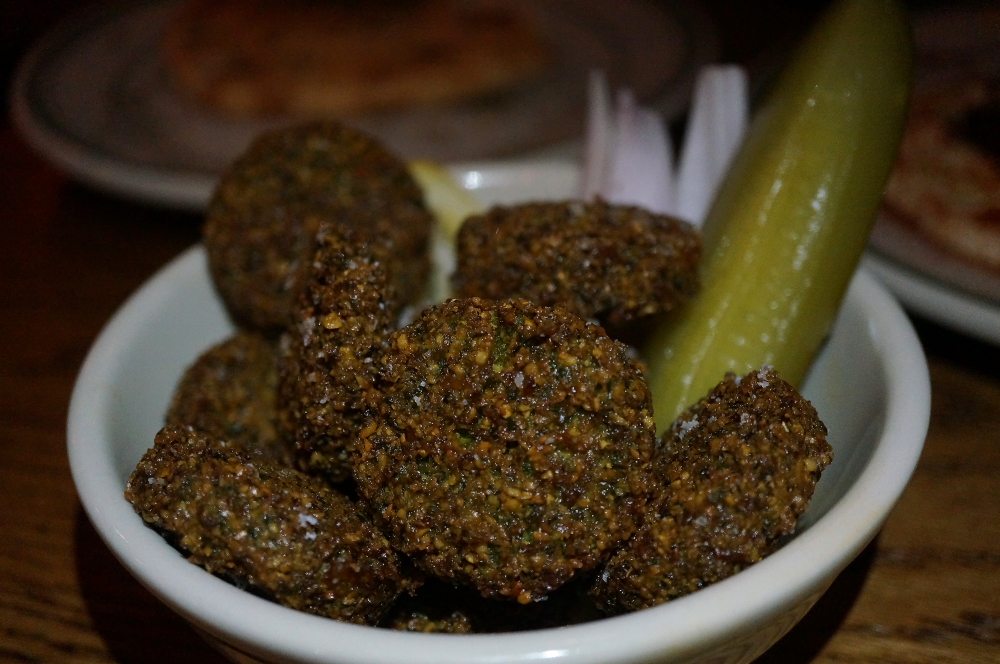 Super crispy on the outside and moist within, with an addictive hit of coarse salt on top. Just be warned that these balls don't come with dip, so save some of your hummus or order tahini like we did.
Tahini ($6)
Served with Charred Pita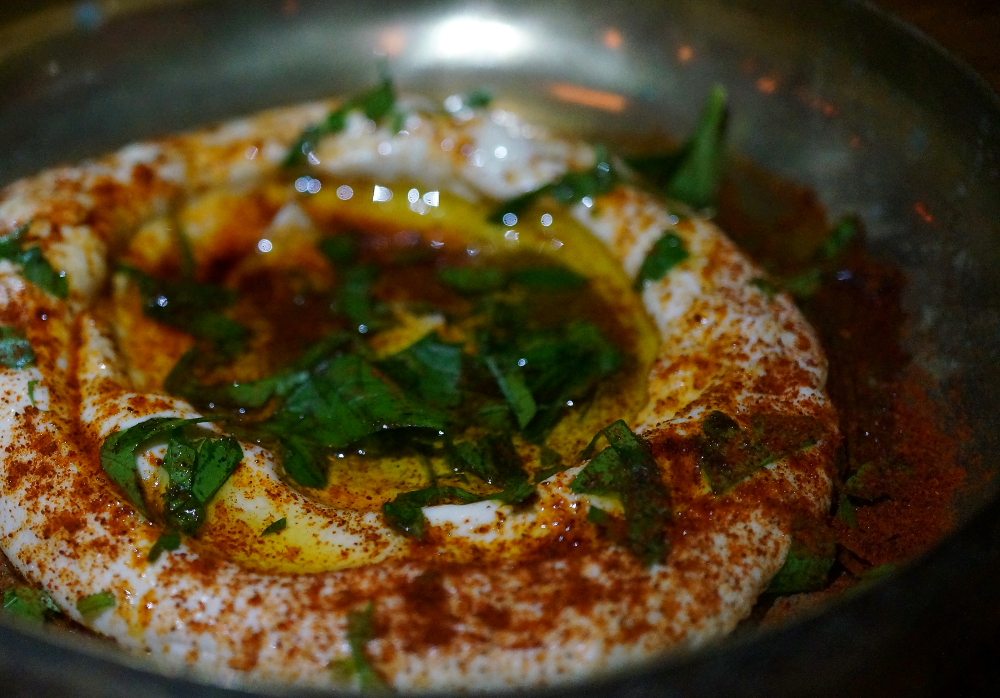 Ordered this on the fly since we gobbled up our hummus before our falafel came, but obviously we put it to very good use. I often find tahini to be really chalky and unpleasantly thick, but this one was blessedly luscious.
Flunken Short Ribs ($22)
Sweet Peas, Mint, Dill, Labneh, Pomegranate
We rarely think to pair a hearty meat like fatty short ribs with light spring flavours like peas, but it definitely worked to its advantage. The sweet pop of the peas, the juicy explosion of the pomegranate, the tangy labneh and the refreshing herbs, all helped to cut the richness of the tender beef.
Israeli Couscous ($12)
Dried Fruit, Olives & Date Syrup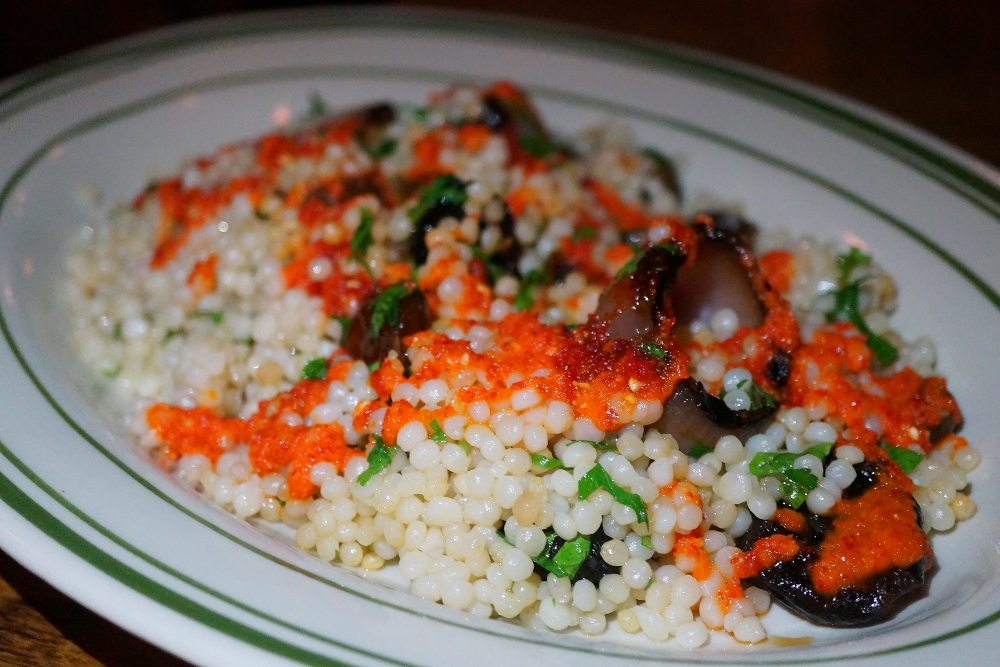 Yes, it's just couscous, but this was by far my favourite dish of the night. The sweet chewy fruit, salty briny olives and that supple texture of Israeli couscous left me unable to control myself from finishing the whole dish. Admittedly, I didn't share.
Whole Roast Cauliflower Head ($15)
Tahini, Pinenut, Pomegranate & Halloumi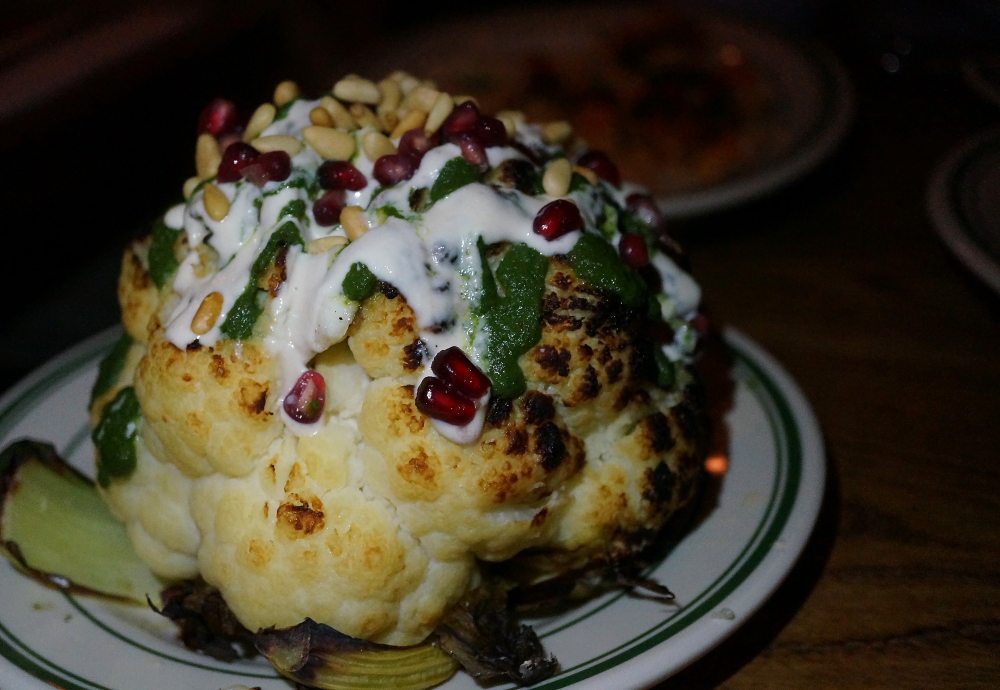 We all know cauliflower is the hot vegetable of the year, but why have florets when you can have the whole head? Awesome presentation, and even better flavour.
Ice Cream Sundae ($9)
Shredded Halva, Tahini, Manischewitz Jelly, Pistachios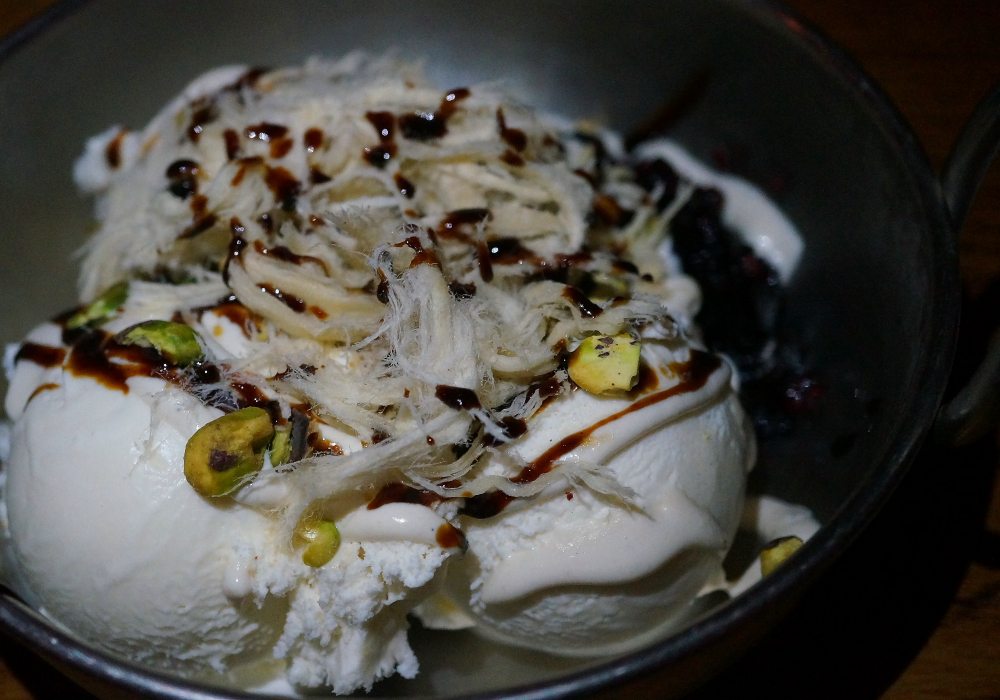 For those who don't like desserts that are simply just sweet on sweet, you've got to check this out. The luxurious ice cream provided a solid base for the sweet and tangy Manischewitz jelly (that's sweet wine, for all you Gentiles out there), while the tahini, pistachios and halvah added that slightly savoury edge. A very generous portion, as well, I might add.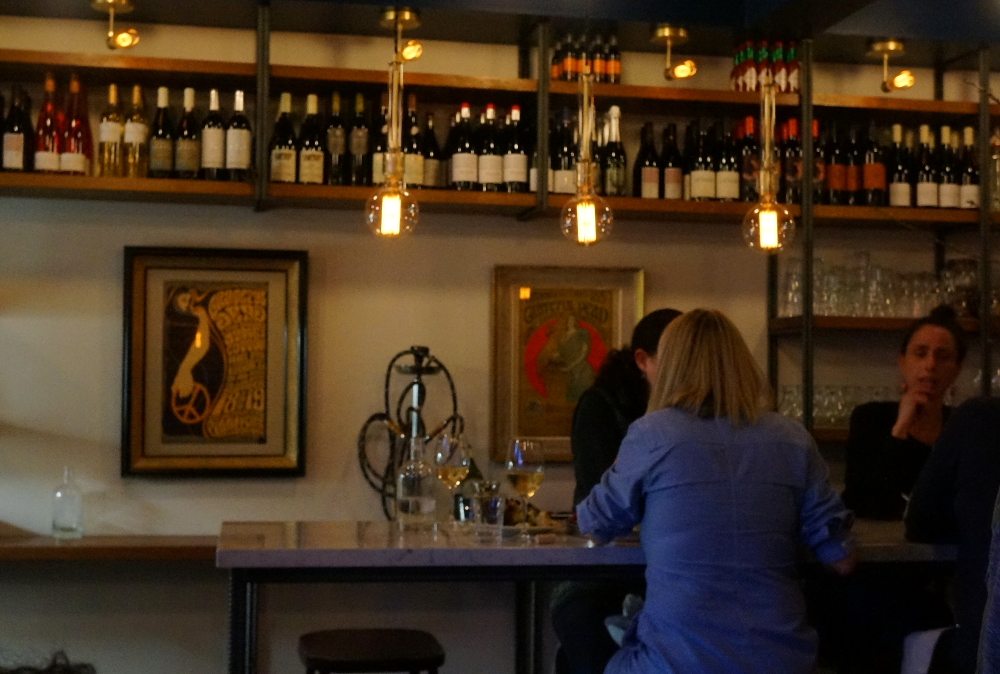 So will Fat Pasha go the way of the forgotten slider joints, or cupcake parlors? If my patronage has anything to do with it, I'd unquestionably say hell, no. Trending or not, Fat Pasha is a keeper, a neighbourhood gem and destination point that's absolutely here to stay. Fat Pasha is now open daily for dinner, with brunch, lunch and patio service coming up in the next month or so. To check out the current menu or to make a reservation (yay, reservations!), check out their website or follow them on Twitter.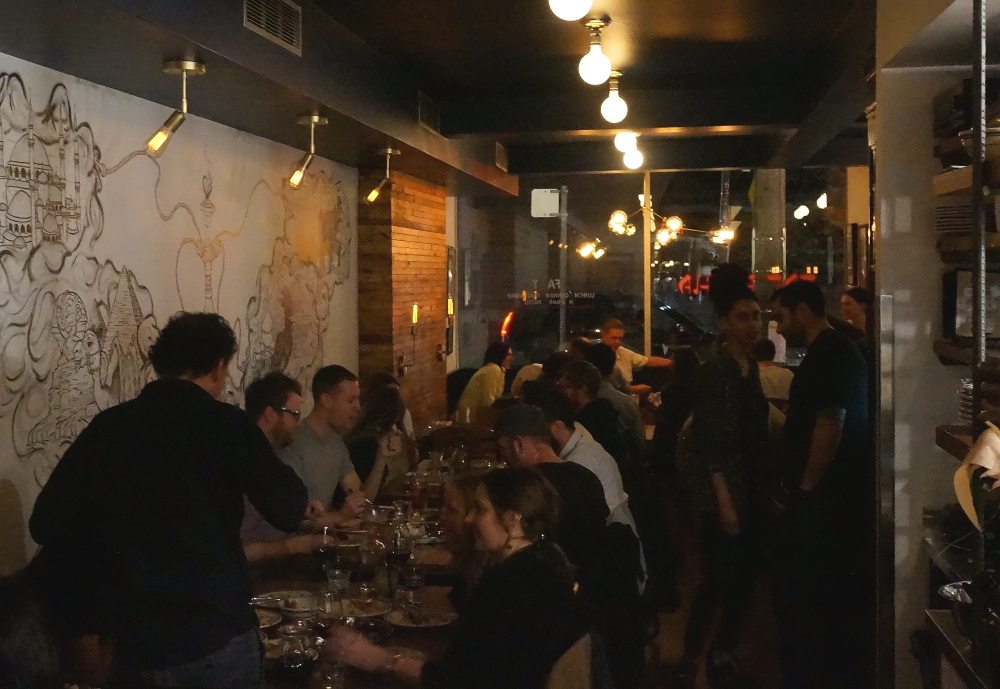 Have you been to Fat Pasha yet? If so, what did you try?
Updated on May 8th, 2019