Despite 2014 being unofficially named the year of Middle Eastern in Toronto, local foodies are still pining for last year's hottest food trend, Mexican. And I'm totally on board with more. I think tacos are playful and almost always delicious, and I'll never turn down a citrus-packed Margarita. The most recent restaurant to join the Mexican movement is Los Colibris (aka The Hummingbird) which is located right above its sister eatery El Caballito on King West. Unlike its party and tequila loving sibling which I checked out a few months prior, Los Colibris offers a classic dining experience with family inspired recipes to impress.
The new space is designed in a refined manner with white tablecloths and high back chairs throughout. The earthy neutrals and warm tones that fill the 150-seat space feel intimate, cozy and definitely date night approved, especially with the sexy dim lights.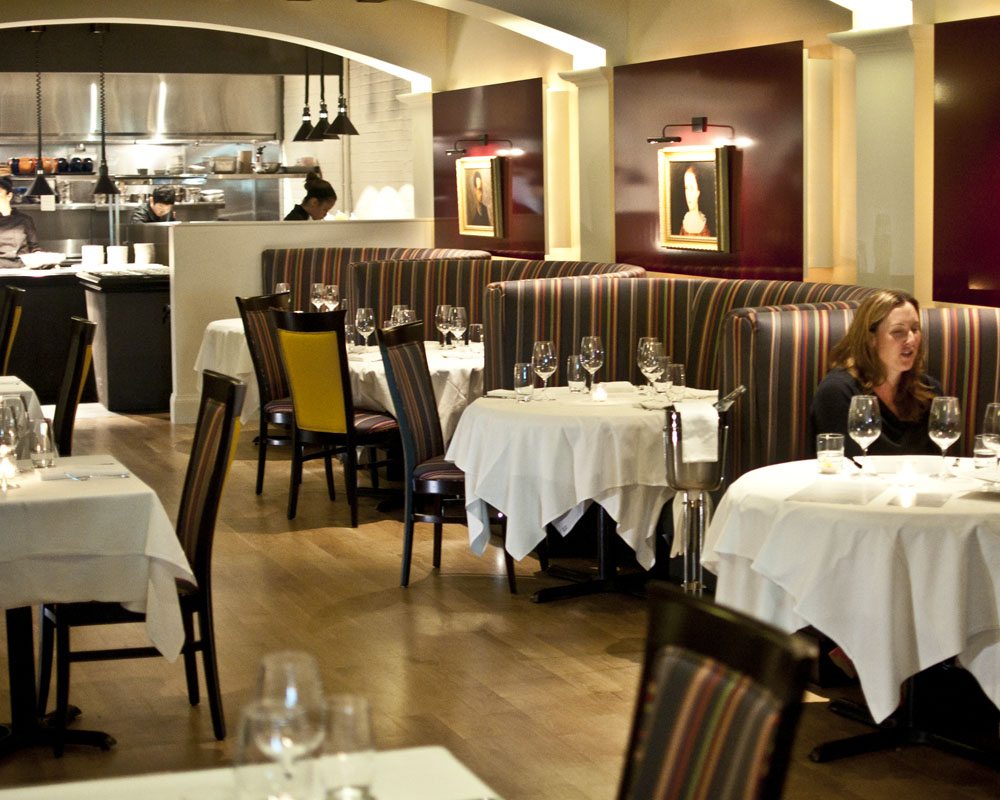 On the walls hang cropped portraits from the paintings created by famous Mexican artist Diego Rivera, which add a splash of cultural character to the room. But before you even step foot into the main dining space, you'll be greeted by the intimate bar and lounge for cocktails and casual bites.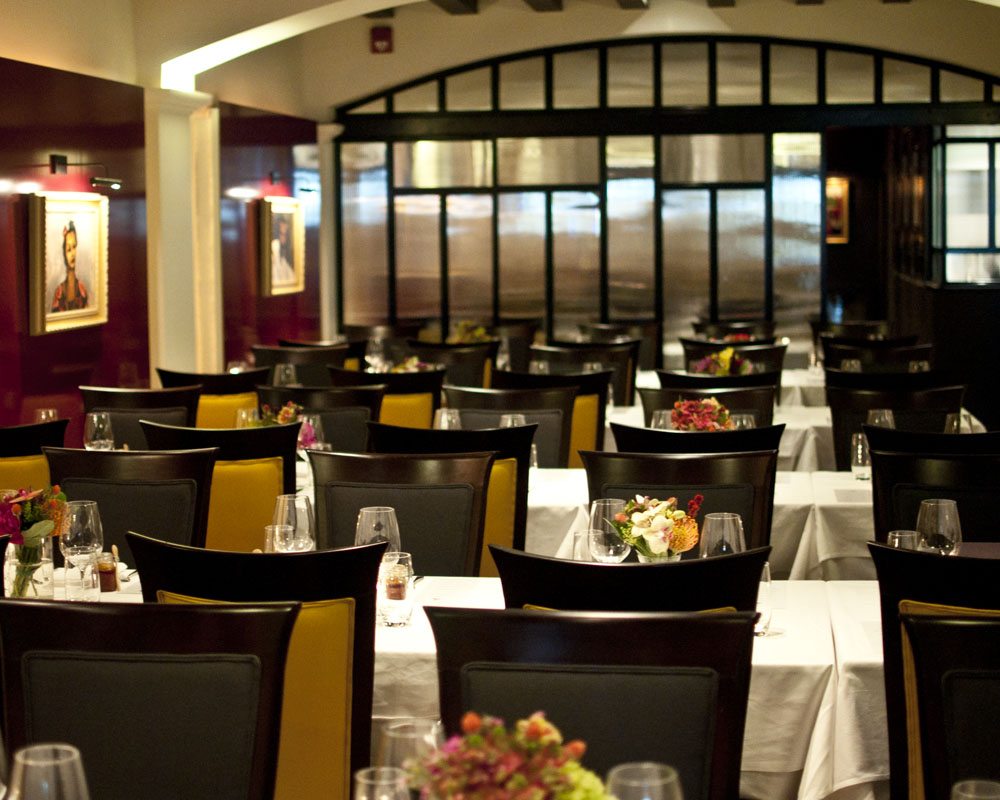 And speaking of bites, Executive Chef Elia Herrera is originally from Veracruz, Mexico, and worked closely with general manager Marissa Kelly to create an experience that differentiates itself from the many taquerías in Toronto. The recipes come from the past generations of Chef Elia's family, and allow for her to use authentic techniques and flavours to really showcase the authentic, and sometimes overlooked, cuisine of Mexico.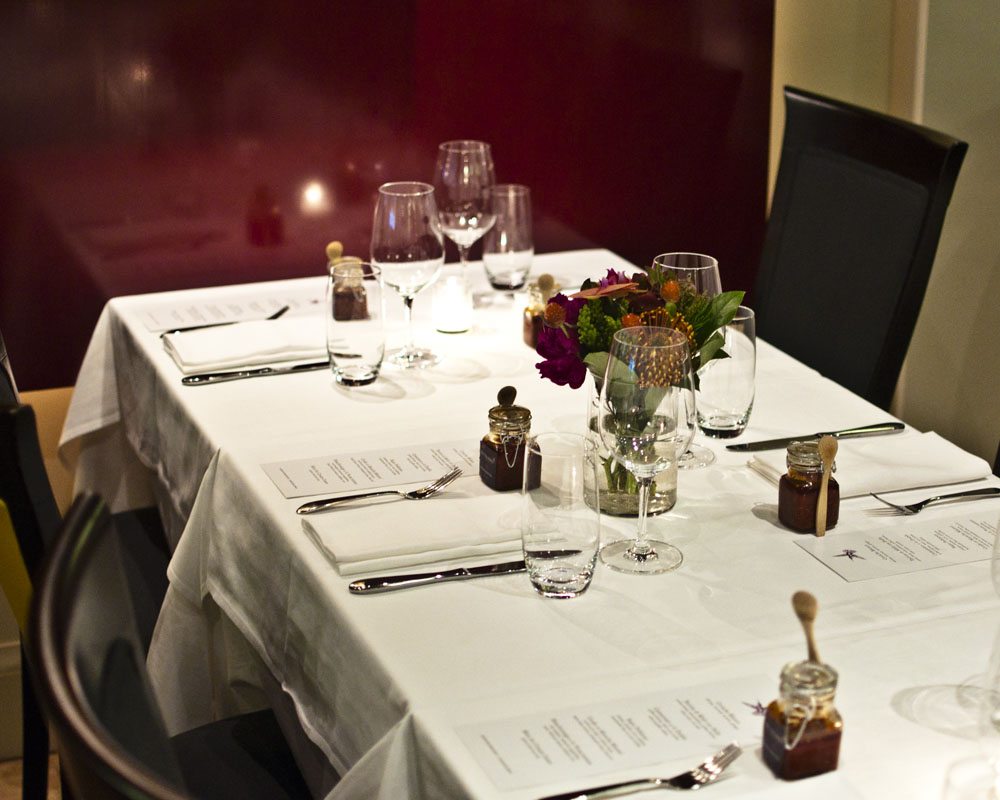 The cocktail list is minimal, but still makes for a difficult decision, with drinks that present sweet-acidic flavours with a smooth finish. Their wine list also touts some impressive offerings with high quality reds, whites, and rosés coming from the likes of Spain, California and France. For all those tequila aficionados out there, Los Colibris has a list of 20 types that range from $8 to $100 a shot. But make sure you have something to eat before sipping on the sometimes (if not always) "spontaneous" drink.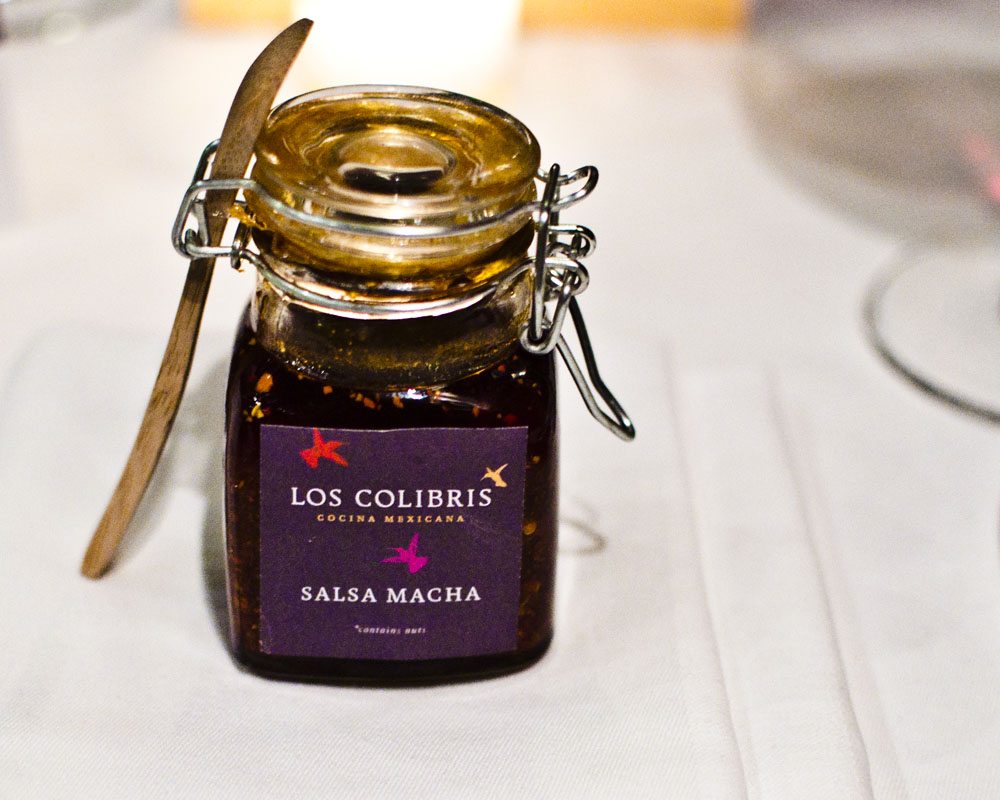 After all this talk I'm sure you're eager to see what type of Mexican fare I delved into that evening. Below are the delicious dishes I came across during my visit to the authentic Los Colibris.
Pineapple Margarita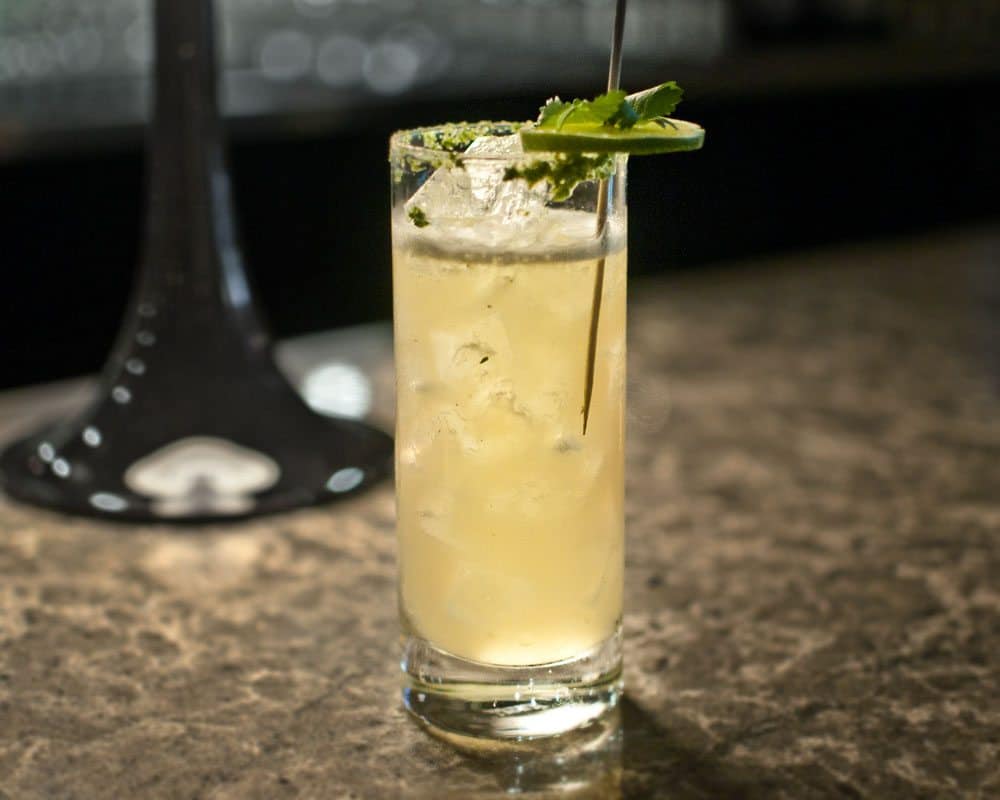 Though not on their menu, you should definitely ask the bartender to whip you up one of these. It was smooth and had just the right balance between sweet and acid. Overall, an extremely smooth drink.
Ceviche Blanco
Shrimp, Coconut, Serrano, Ginger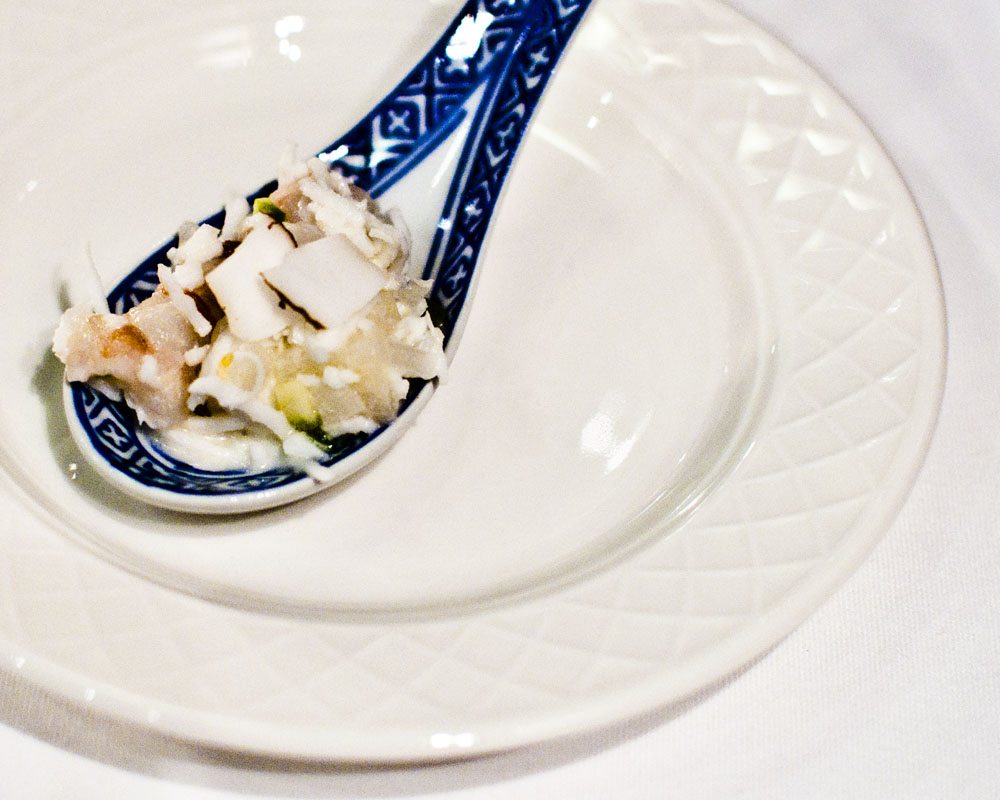 This spoonful was like a flavour fiesta. It was fresh and bursting with a citrus spice induced marinade, with the coconut adding some texture and a hint of sweetness.
Tortita de Mole con Pollo
Cemita Bread, Mole Poblano, Pulled Chicken, White Onion, Avocado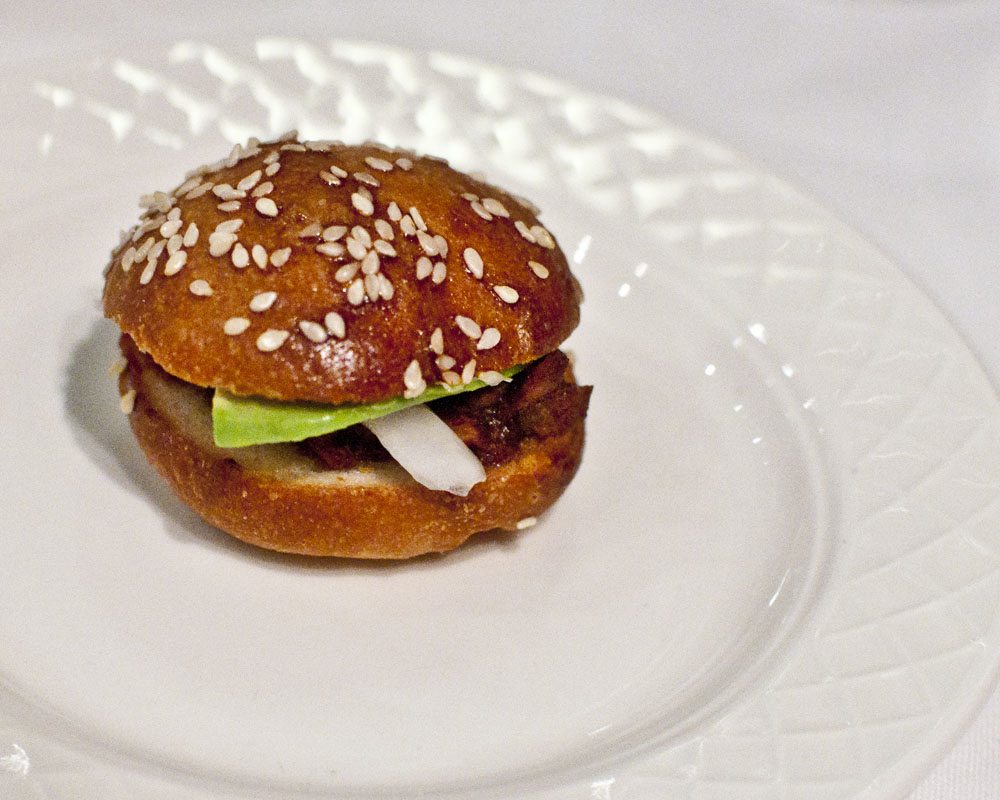 This flavourful two-bite take on a slider was stuffed with a nice helping of chicken covered in a smoky sauce. The avocado added a creamy texture and a subtle sweetness that was complimented by the cemita bread.
Camarones a la Diabla
Grilled Shrimp, Fresh Corn Puree, Arbol Guajillo Adobo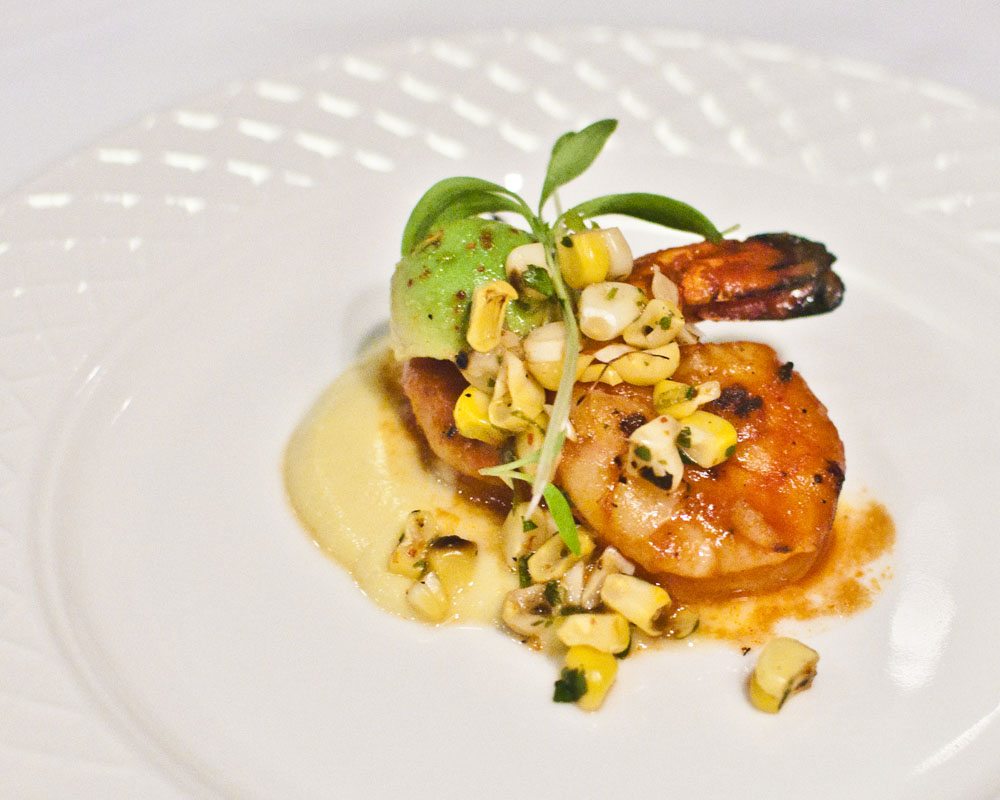 These tender shrimp were covered in a spicy, slightly tangy marinade that had an undertone of smokiness. The fresh corn puree was bright and sweet and balanced out the earthy adobo perfectly.
Rajas Poblanas
Chicken, Panela, Corn, Poblano, Handmade Tortilla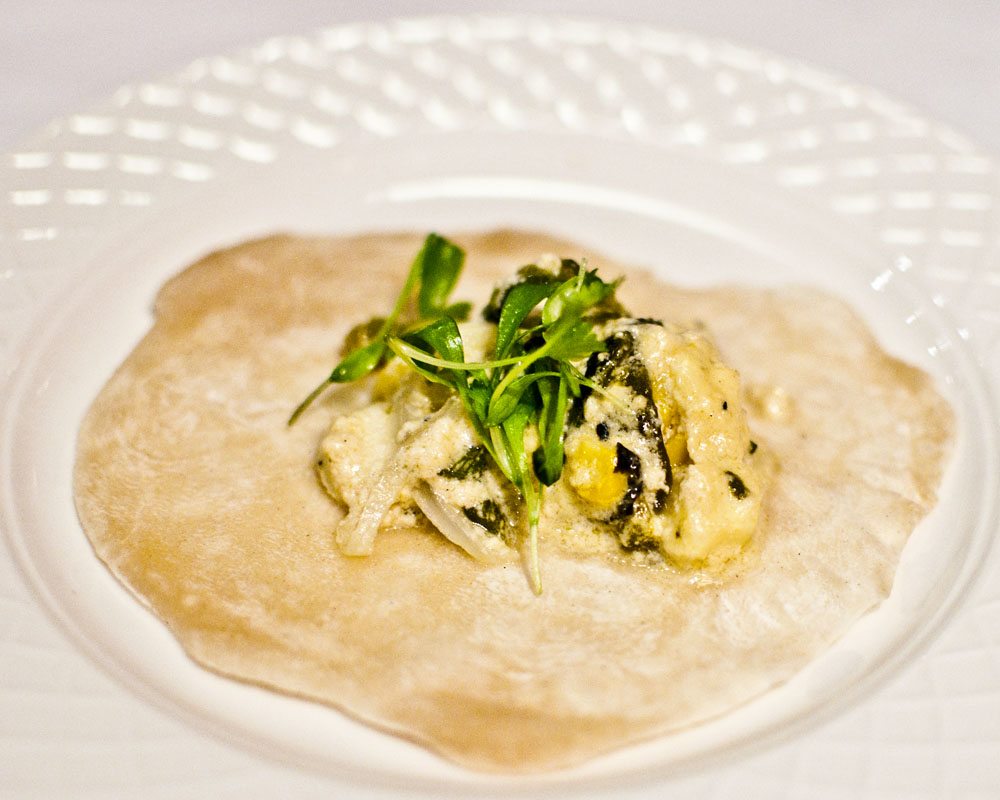 The thin tortilla was a perfect vessel for the hearty and flavourful filling inside. The sweetness of the corn and panela was a nice contrast to the spicy poblano, and provided the perfect seasoning for the tender moist chicken.
Cerdo en Mancha Mantel
Confit Pork Belly in Adobo Sauce, Black Bean Tamal, Pineapple Salsa, Broccoli
The chunks of pork belly were succulent and covered in an aromatic sauce, with the black bean tamal giving texture and an earthy flavour. The pineapple salsa added a final note of brightness that really helped balance the otherwise rich dish.
Huachinango a la Veracruzana
Red Snapper, Seasonal Vegetables, Spicy Varacruz Sauce, Poblano Rice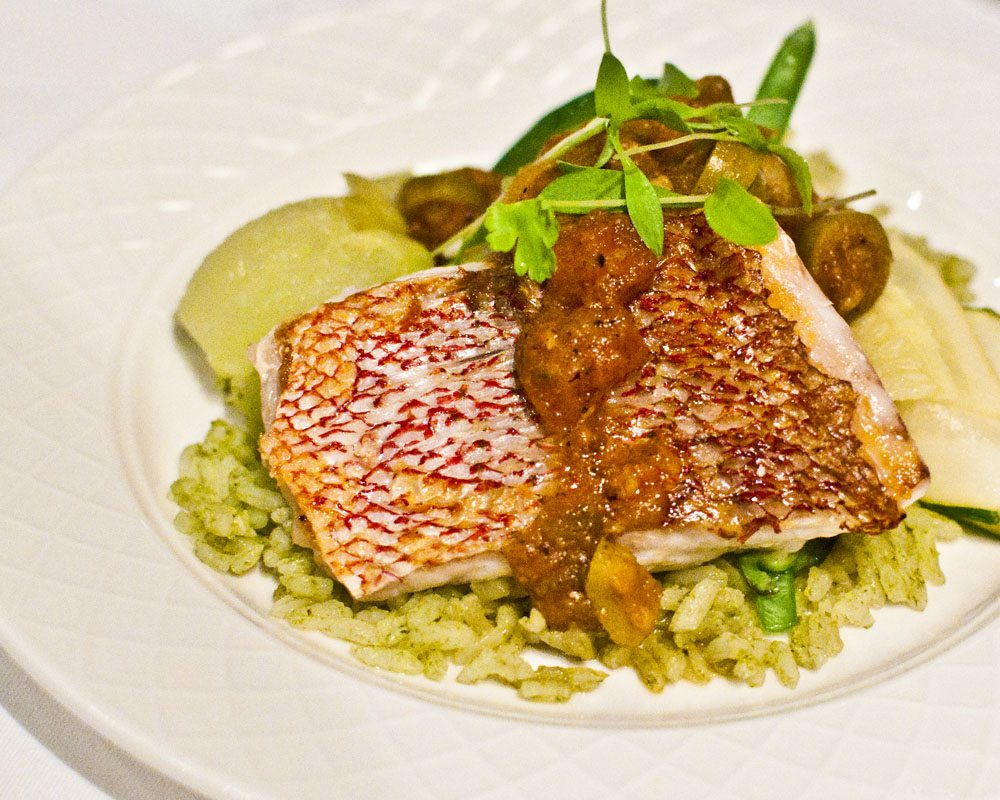 The fish may have been moist and perfectly cooked, but it was the herbal and slightly spiced sauce was the star of this dish. When combined with the fluffy rice and delicate red snapper, it made for a wonderful bite.
Mini Ice Cream Cones
Guava and Soursop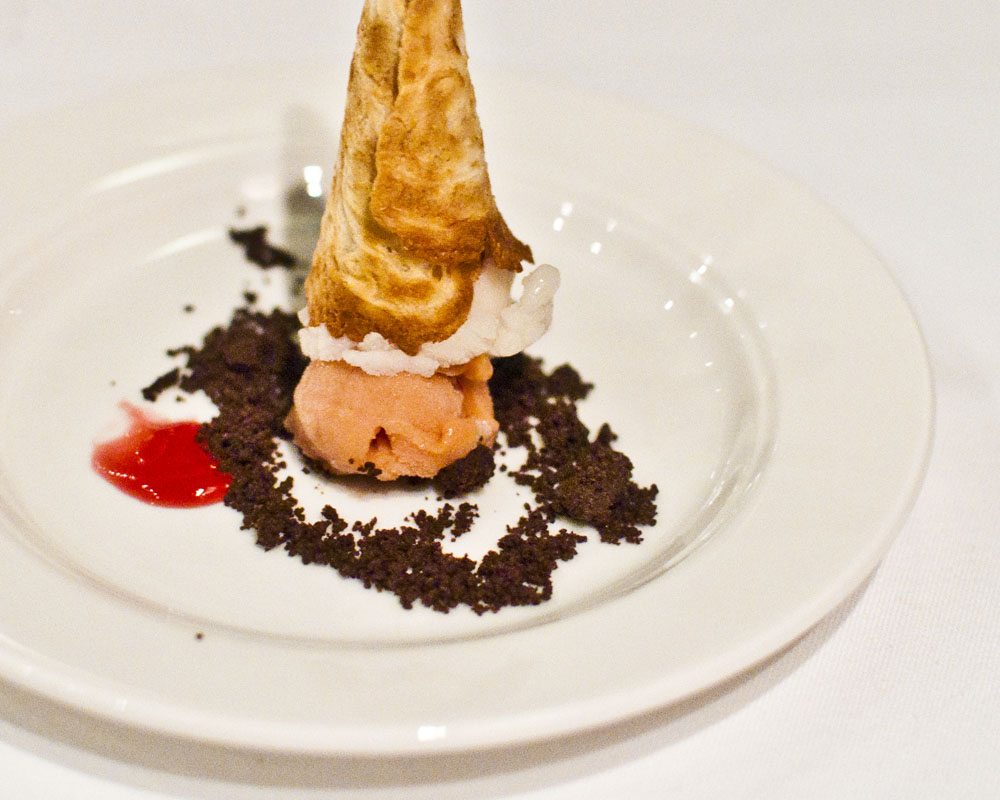 So tiny, but soooo good! The guava and soursop flavours offered a refreshing balance of sweet and acid, while the cookie crumbs added some texture and a subtle rich, chocolate flavour.
Los Colibris certainly differentiates itself from the many casual taco joints throughout the city, and offers refined food in a sophisticated environment. If you want to try a different side to the ever-growing Mexican cuisine culture in Toronto, I encourage you to visit this authentic restaurant. Located at 220 King Street West across from Roy Thompson Hall, Los Colibris is open Monday to Wednesday 11:30am – 10pm, Thursday and Friday 11:30am – 10:30pm and Saturday 5pm – 10:30pm. Check out their website to make reservations or to take a further look at their menu.
Disclaimer: The preceding meal was complimentary, however, all opinions are genuine.
Contribution by AK Taster: Savannah Onofrey
Updated on May 8th, 2019