OLD SCHOOL
opened its doors for the first time on May 13, 2015 and introduced Toronto food lovers to their unique 24/7 eatery and take-out concept. Toronto foodies can head to OLD SCHOOL to enjoy a sit-down meal, or pick up some home-style 24/7 take-out from the General Store after a late night of "old school" fun.
The down home atmosphere at OLD SCHOOL will make any country or city mouse feel right at home. It's the perfect place to relax and enjoy the simple pleasures that life has to offer (I may or may not be talking exclusively about food and alcohol).  OLD SCHOOL will bring you back to the mid-twentieth century (or take you there for the first time if you have never been), an era defined by a rad feel-good and optimistic mentality.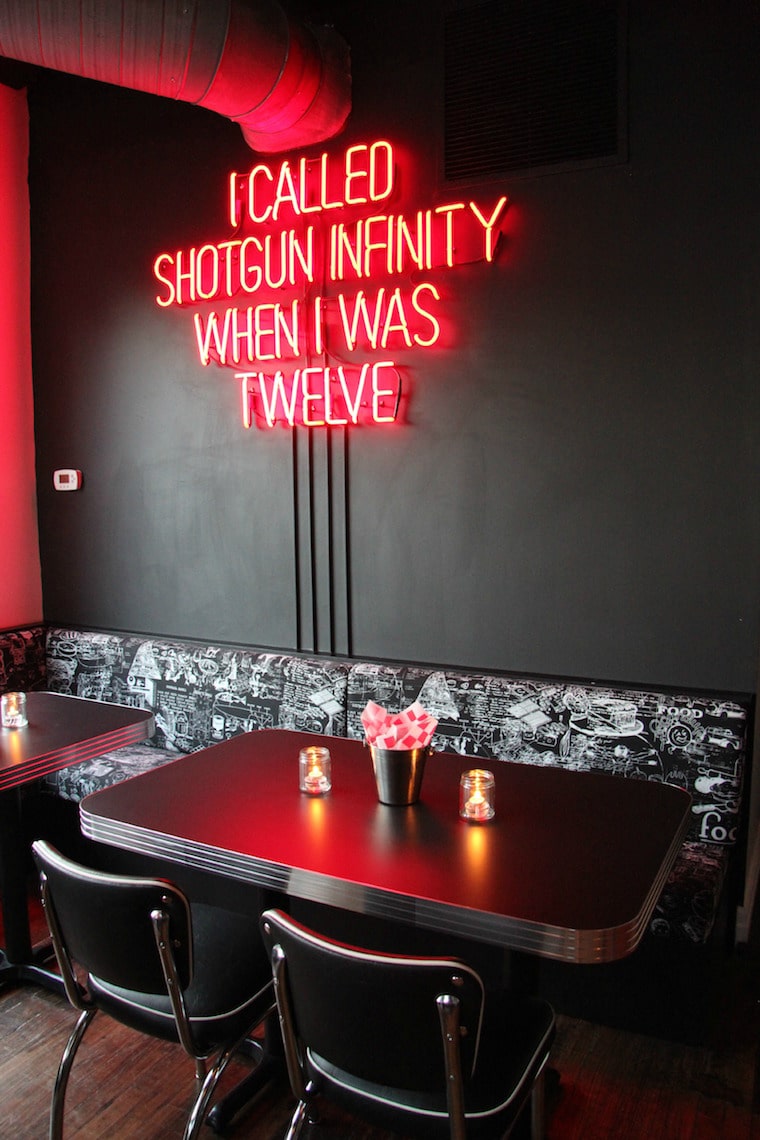 The creative décor at OLD SCHOOL is playful and food-centric. The amazing banquettes and chalkboard wall were covered in the most intriguing foodie art I have ever seen, and make for a convivial inviting environment.
Oh yes…I can't forget about my favourite item of décor in the whole joint – the flying pig LED light on the exposed brick walls! A cozy escape in the heart of Dundas West!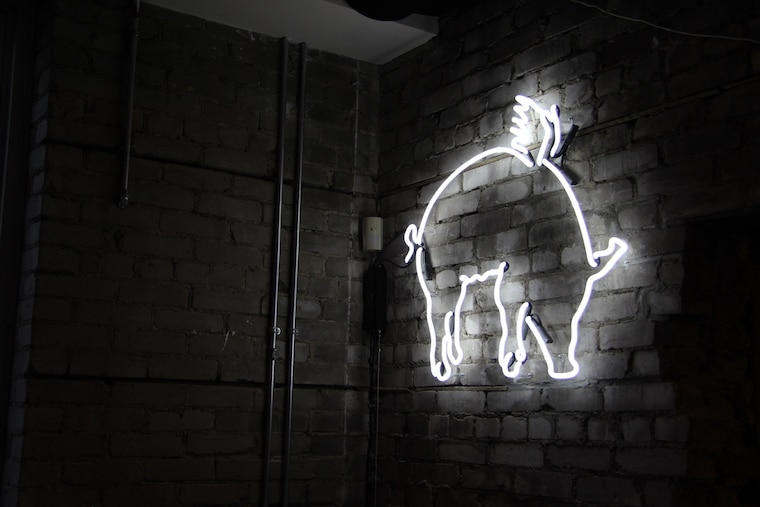 OLD SCHOOL brings with it more than 40 years of restaurant experience from Executive Chef and Co-owner Brad Moore and Chef de Cuisine Ian Kapitan.  These two have struck gold with this partnership!
But let's talk food and drink here, folks. As alluded by its name, OLD SCHOOL offers some of the best homemade sodas and fountain drinks since the golden years- I even got to try some fountain drinks made famous well before my day.
OLD SCHOOL EATS
Boston Egg Cream
Milk, Soda Water, Chocolate Syrup
I have never tried an egg cream before, but I am so glad I did! This is one of my new favourite non-boozy drinks!
Homemade Root Beer
Homemade Ginger Ale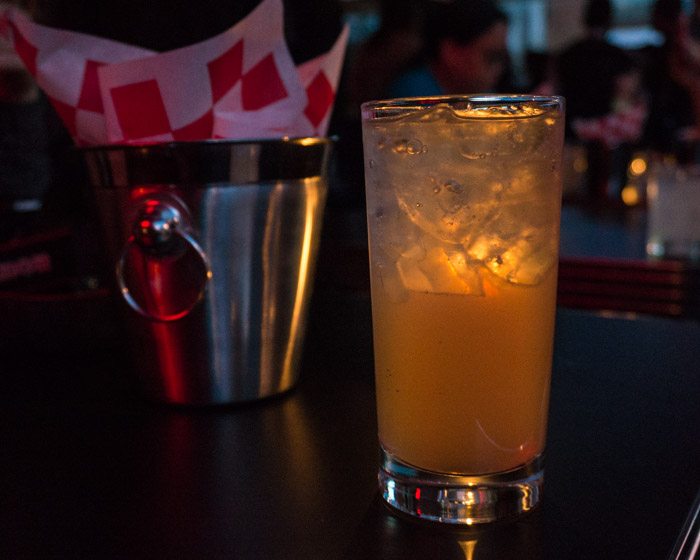 Let's talk about food now…I am getting hungry thinking back to the yummy eats and drinks we had on the opening night! OLD SCHOOL is serving up a variety of genuine barbeque and home-style classics in the ultimate feel good environment.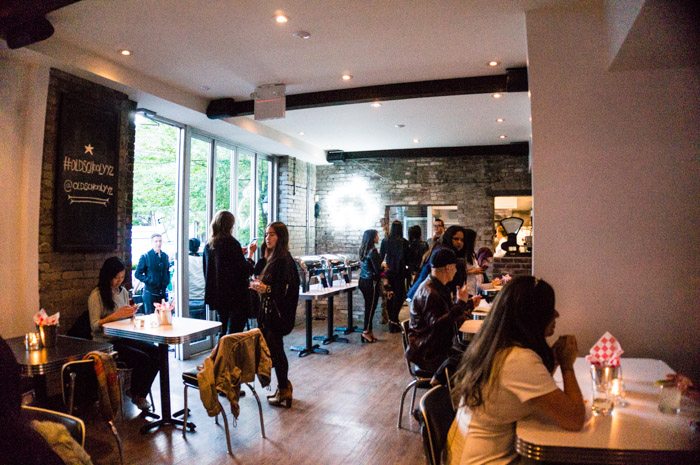 The food at OLD SCHOOL is always made from scratch using only the best local ingredients!  Barbeque is taken very seriously at OLD SCHOOL- they've researched the best barbeque techniques from around the USA to create their own unique tradition and style.
At OLD SCHOOL they pride themselves in the balance of their cooking process. The balance between the smokiness of the meat and the spiciness of the rub is sublime – as is their firm opinion against "artificial RE-SAUCEatation". Yep, OLD SCHOOL is serving up the real McCoy of comfort food!
Fried Chicken with Tabasco Honey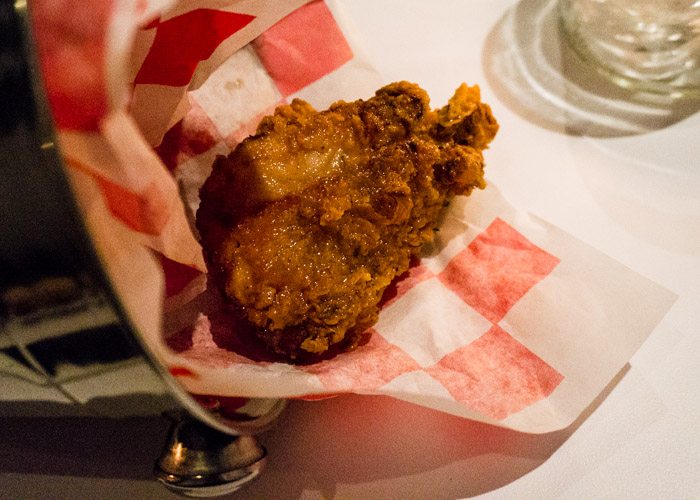 Sliders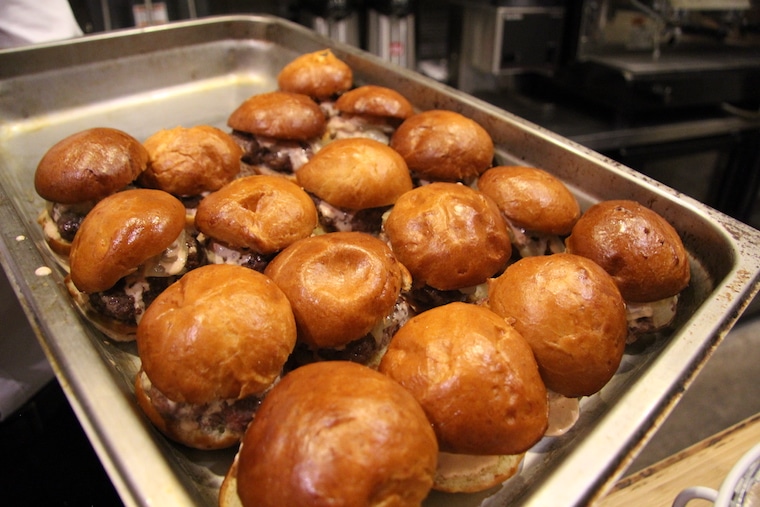 BBQ Ribs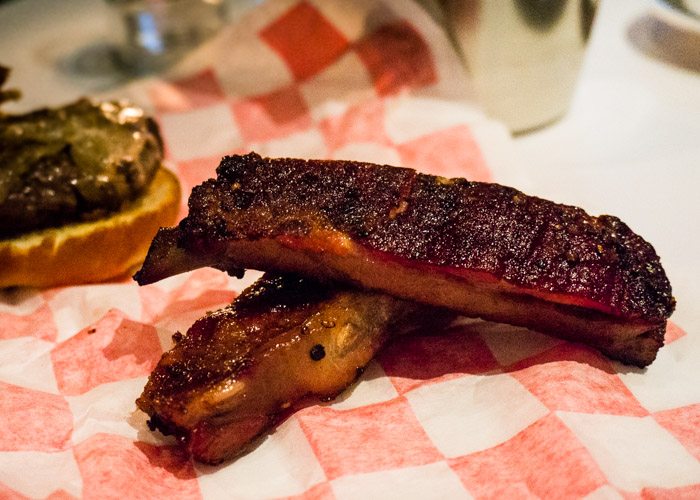 Brisket
Buttermilk Biscuits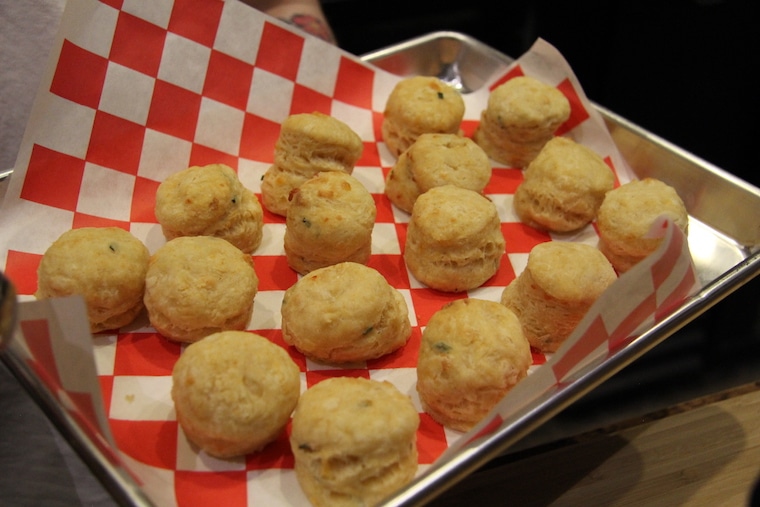 Banana Chocolate Chip Cake/Mini Muffins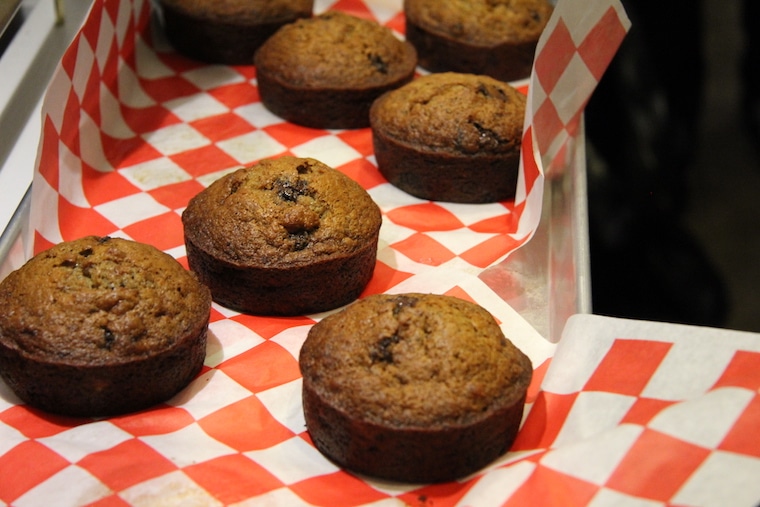 Chocolate Cutie Pies/Whoopie Pie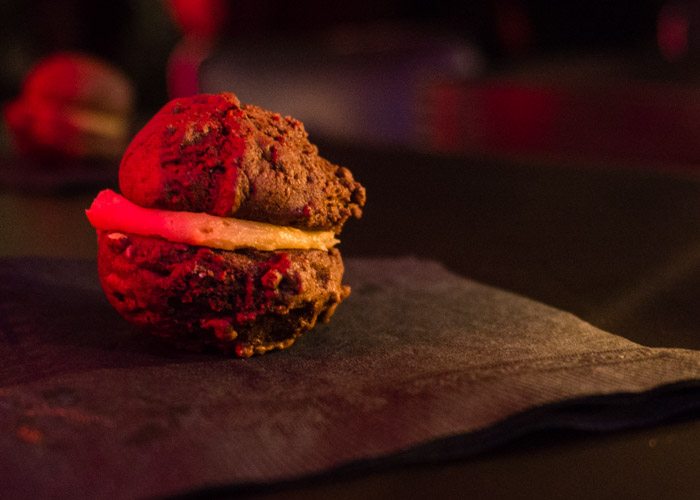 Root Beer Chocolate Cake
If you're in a pinch and don't have time to cook dinner – stop by OLD SCHOOL's General Store any time of day (24/7) to pick up some yummy home-style eats – from syrups, sauces and spices to ice cream, seasonal pies and meats by the pound…and they even have your back if you need a few last minute ingredients for you favourite recipe!
From the yummy eats to the tasty drinks to the rad décor, OLD SCHOOL is an everyday place that locals can frequent, whether for a glass of wine, a phosphate soda (or egg cream), a rack of ribs, or a bakery fix!
OLD SCHOOL is open 24 hours a day, 7 days a week. For more information, check out their website here.
Disclaimer: The preceding meal was complimentary, however, as always all opinions are genuine.
Contribution by AK Tasters Joy Carino and Christina Bieniek
Updated on May 8th, 2019