Any lady who has ever been single and dating in this city, surely has been up the 51 floors above Yonge and Bloor to the former Panorama Lounge. It's breathtaking, and definitely impressive, yes- but unfortunately, it can't guarantee the date will always work out (trust me, I know).
Well, after a 5-week long renovation (which surely left Toronto Plenty of Fish members with one less impressive date option), the space reopened its doors as
The One Eighty
. The name is not only a reflection of its awe-inspiring 180 degree view of the north and south sides of the city, but also for its new contemporary aesthetic and minimalistic bold furnishings.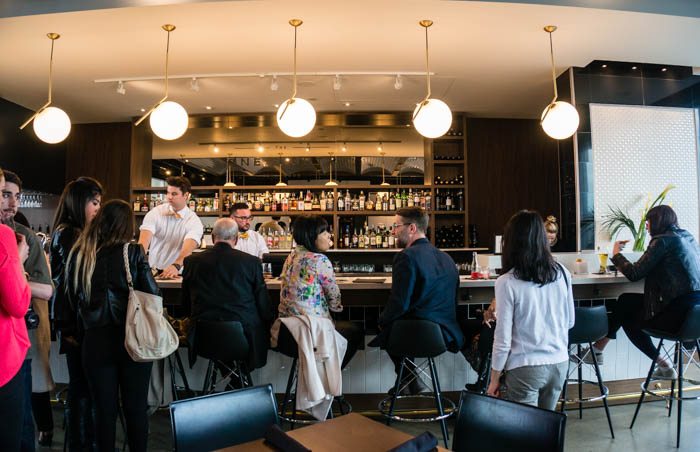 That isn't the only thing that has gone through a 180 spin- owner Sebastian Centner has also launched launch a new and innovative full dining menu with the collaboration of Chef Christopher Matthews. The menu at The One Eighty was inspired by Centner's travels around the world, and is also described as a fun and yet refined take on local fare.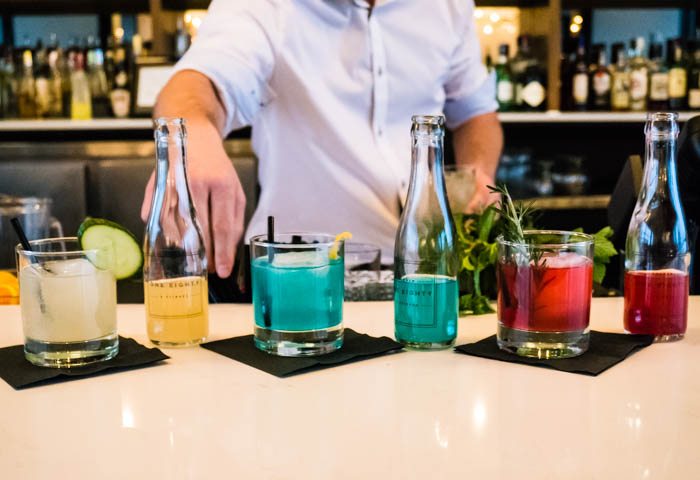 Let's talk about their new sippable menu items first. The One Eighty packs an impressive new Shaken and Stirred line of cocktails that are packed in custom 5 oz bottles, chilled and served over ice to order.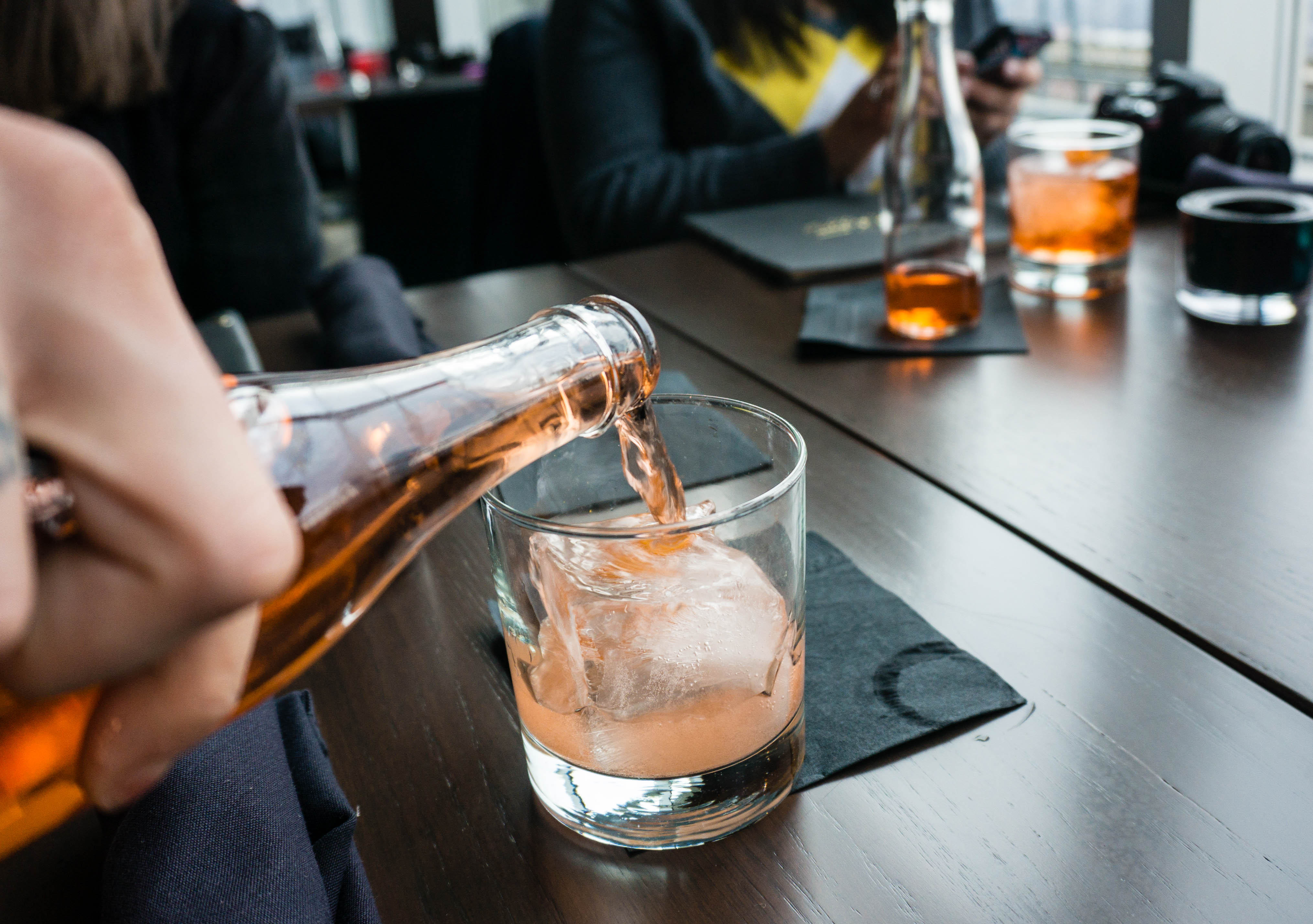 The One Eighty Spritz
Absolut Raspberry Vodka, Aperol, Soda, and Prosecco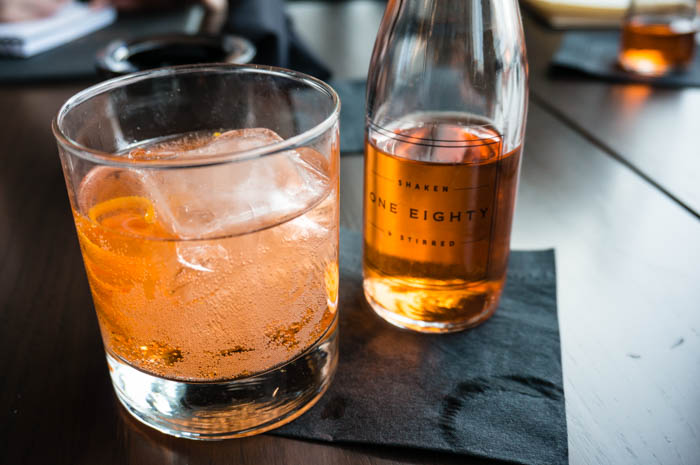 Bourbon 51
Bourbon, Lemon, Mint and Simple Syrup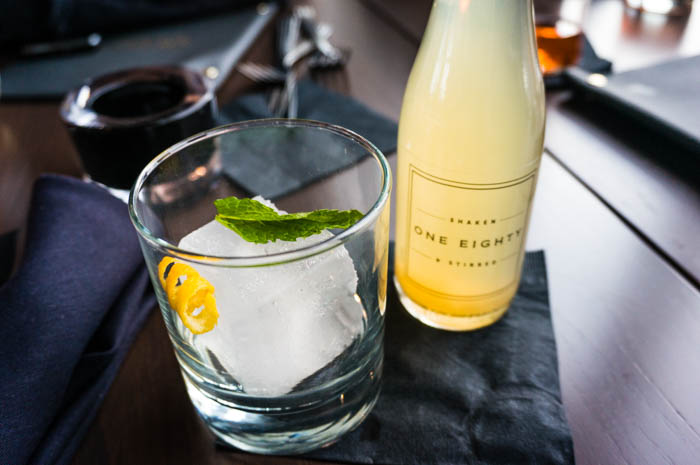 Rosemary Bramble
Dillon's gin, Rosemary, Ginger, Blackberries, Lemon, Sugar, Cassis, and Soda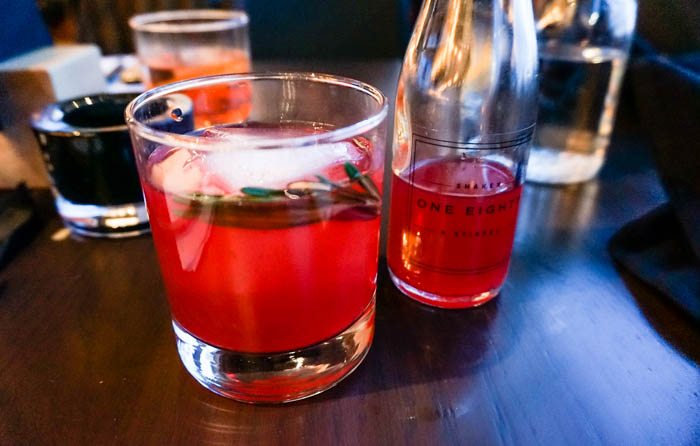 With a nice balance of sweet rich fruit and savoury rosemary, this one was my favourite.
Since one should never drink on an empty stomach (especially on a first date- again, trust me, I know), The One Eighty offers a playful food menu as well.   When asked what his inspiration was when he created the menu from scratch, and Chef Christopher said with enthusiasm, "Comfort food – I wanted to do a twist on familiar flavours – call it refined comfort food."  Well, part of that comfort-food theme definitely appears in their daily snack cart – a fun play on dim sum style service where servers wheel around with an assortment of hot and cold appetizers.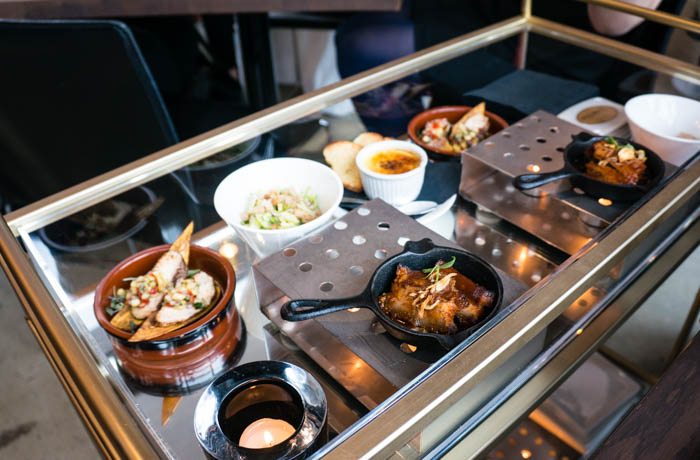 As the cart passes by your table, it's hard not to be lured in by the tempting aromas. Take a peek at some of the offerings that night.
Foie Gras Crème Brulee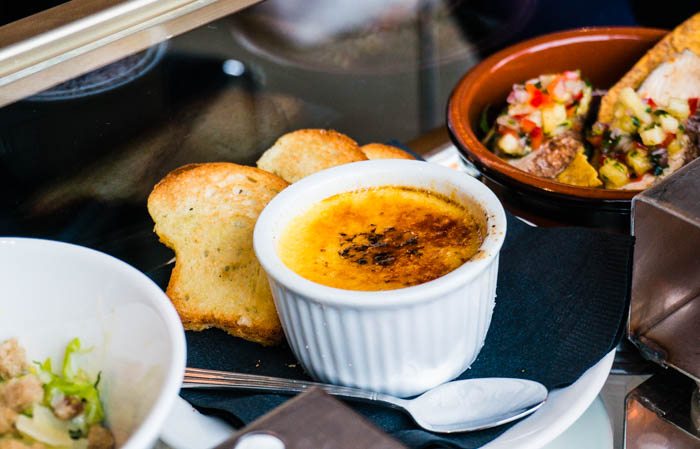 Jerk Chicken on Plantain with Mango Salsa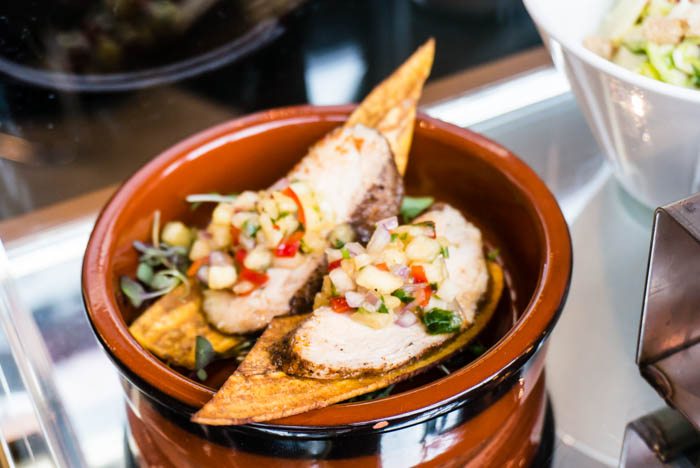 Lobster Roll in a Mini Eclair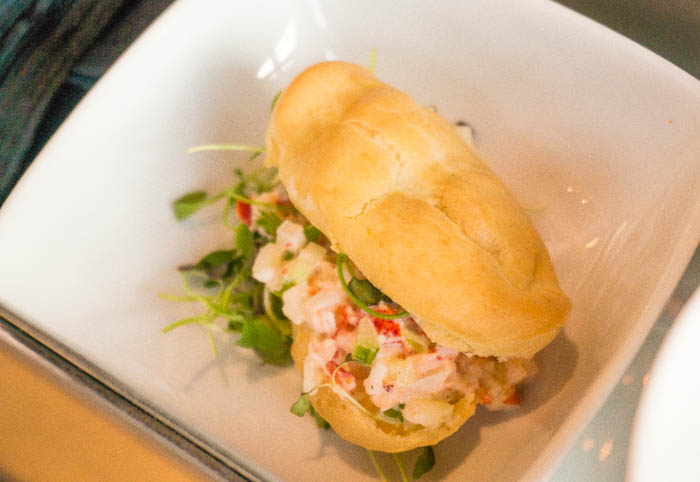 Asian Pork Belly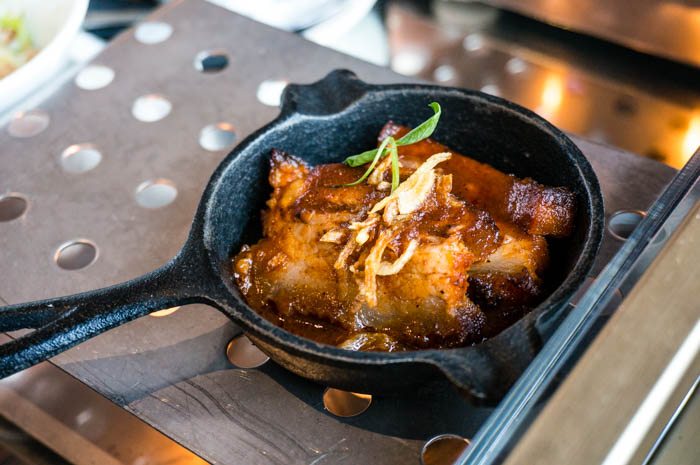 Purple Potato Croquettes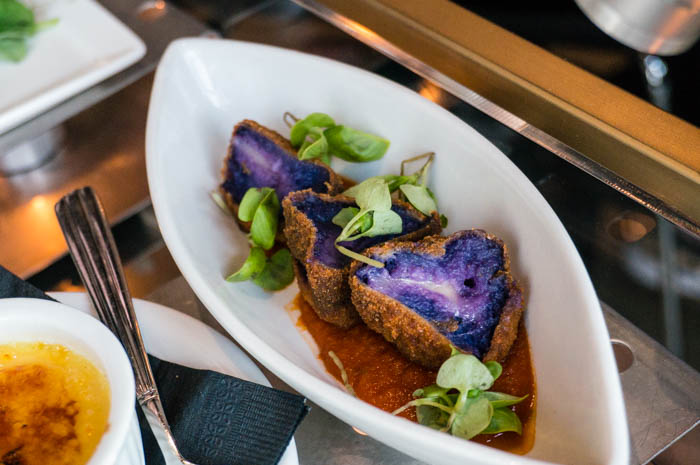 Once you're appetite is wetted by the passing by snack cart, there is also a full a la carte menu to peruse.
Margherita Pizza with Buffalo Mozzarella, Basil and Chilli Oil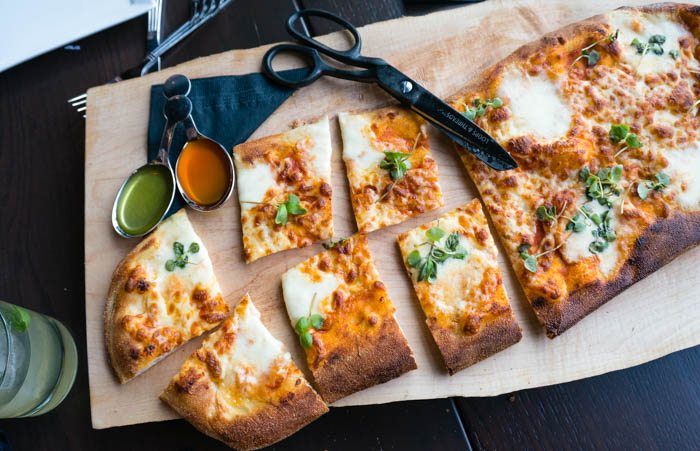 The One Eighty
Prosciutto, Smoked Provolone, Arugula, Basil Pesto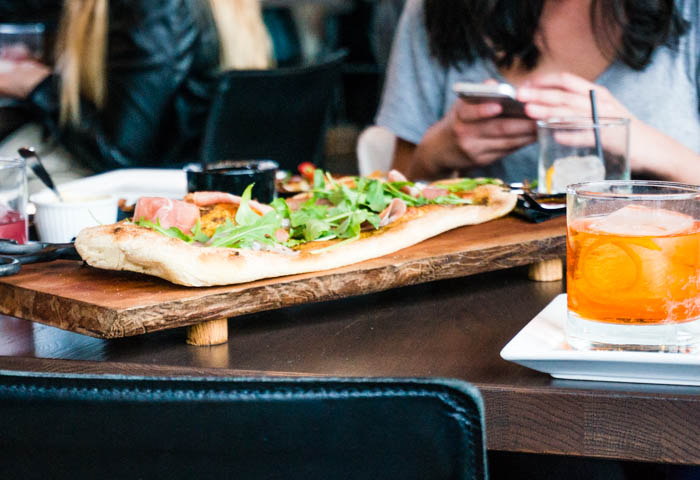 Ribbon Salad
Heirloom Vegetables, Lettuce, Anchovy Lemon Maple Dressing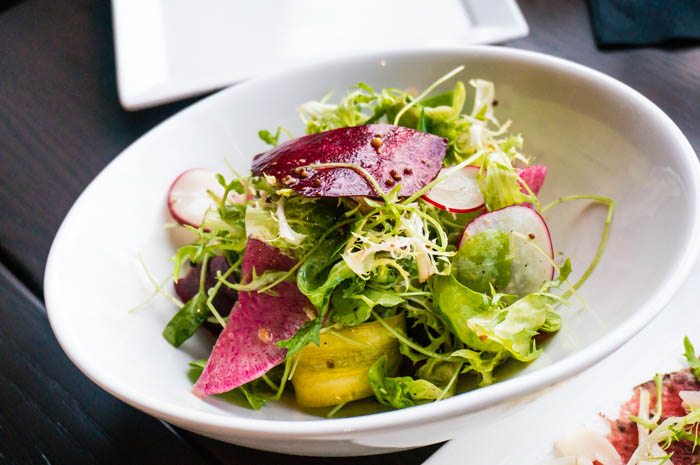 Caprese Salad with Ricotta and Heirloom Tomatoes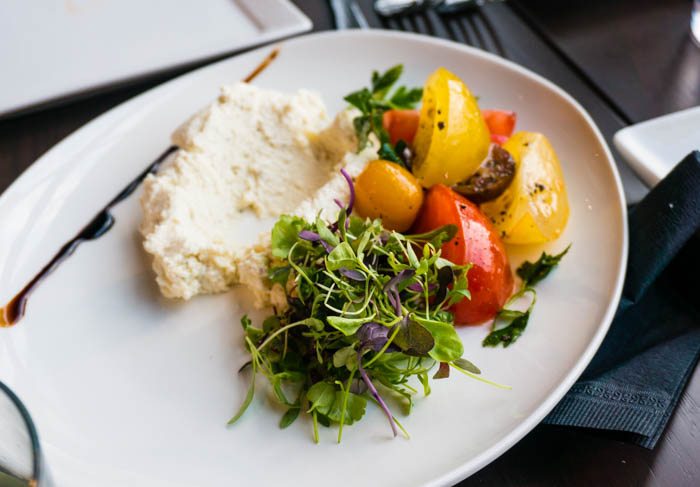 Peppery Beef Carpaccio with French Beans, Frisee and Pecorino Cheese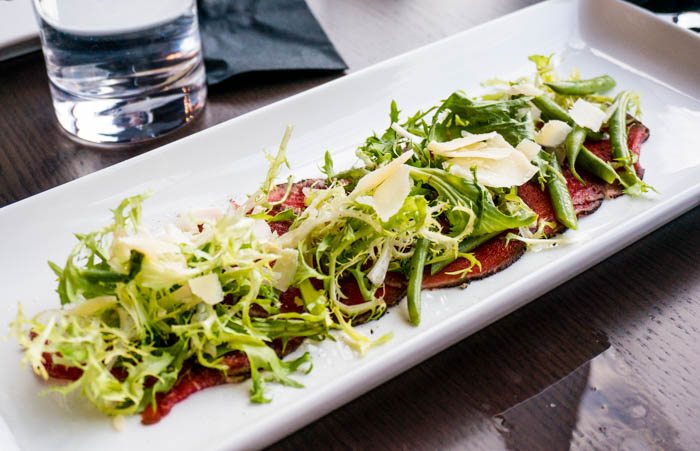 Crab and Lobster Spinach Dip with House-made Kettle Chips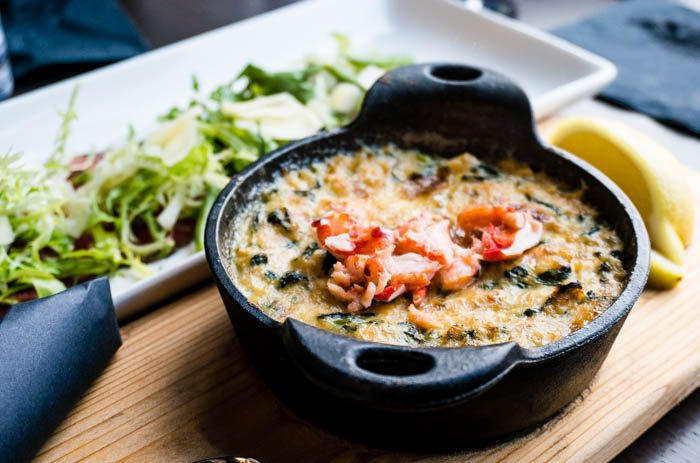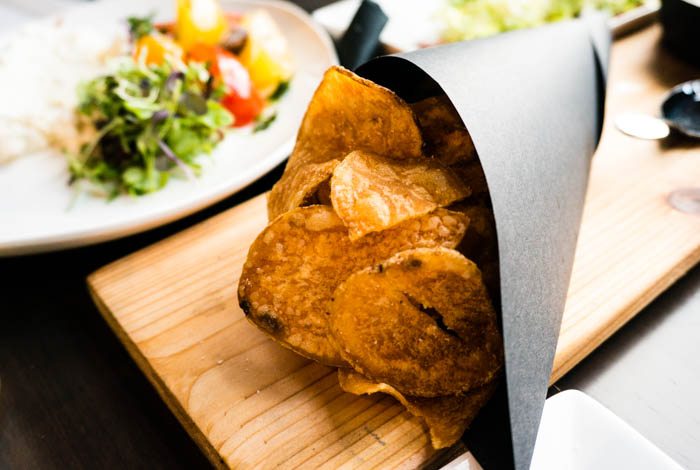 Pork Tenderloin Porchetta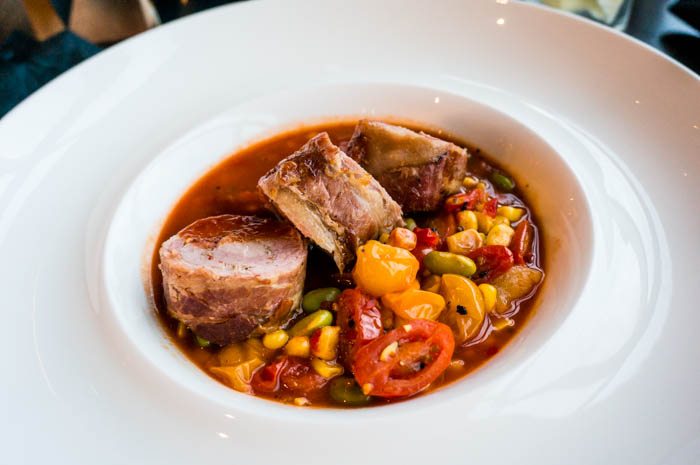 Perfectly cooked pork tenderloin wrapped in bacon with boldly flavoured tomato broth, with a hint of spiciness – it was definite comfort food indeed, alongside the refreshing and Smokey Summer Succotash, it was a nice touch to the meal.
Beef Tenderloin with Buttermilk Spun Potatoes, Asparagus and Pan Sauce
Cornish Hen with Rosemary Jus, and Zucchini Tagliatelle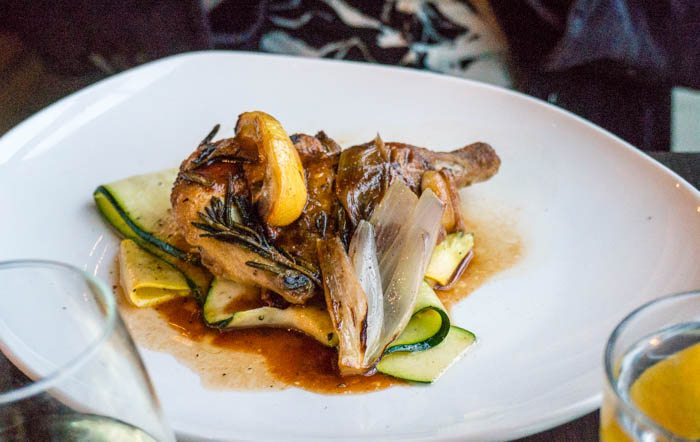 Gnocchi Primavera with Market Vegetables and Brown Butter Sauce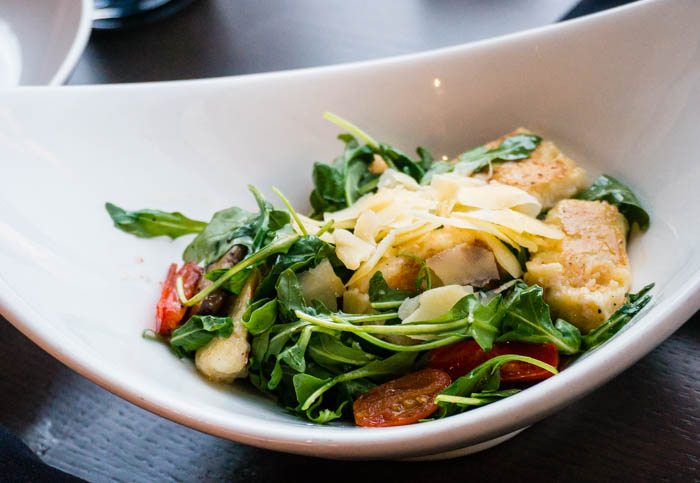 Lemon meringue Verrine
Tart Lemon Curd, Graham Crumbs, Toasted Meringue and Mint
Peanut Butter Chocolate Tart with Chocolate Ganache
Molten Lava Chocolate Macaron with Vanilla Bean Ice Cream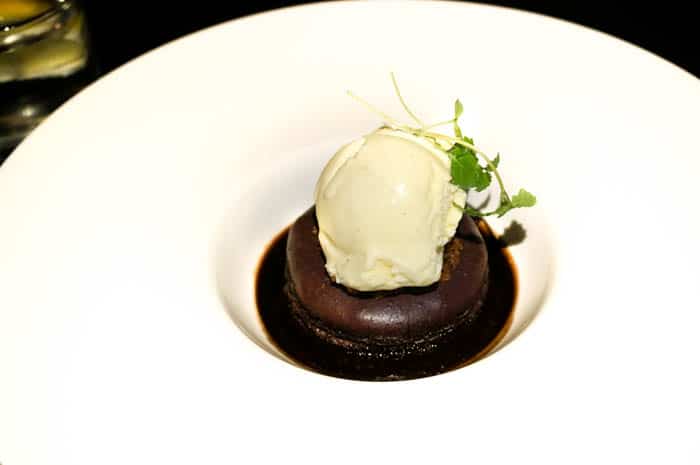 This was the crowd favourite which I have to say gave a sensational flavour and texture. From the deep chocolate flavour, to the crunch from the giant macaron, and the hot and cooling effect from the molten lava and vanilla ice cream- it was absolutely divine.
All in all, it was definitely a One Eighty experience at The One Eighty, from cocktails to fine dining at its best, to amazing service by the staff. It was definitely an informative and inspiring culinary experience that was both fun and interactive. Plus, who doesn't love an amazing 180 degree view of the city?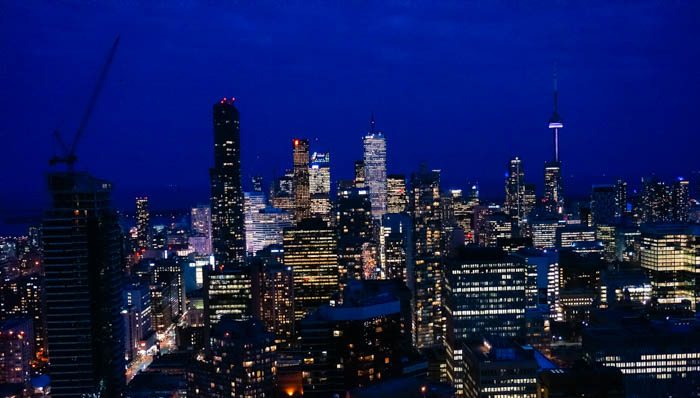 The One Eighty is located in the Manulife Center, 55 Bloor Street, at the 51st Floor. They are open daily from 5 PM onwards. For more information or to make a reservation, check out their website here.
Disclaimer: The preceding meal was complimentary, however as always, all opinions are genuine.
Contribution by AK Taster Adrienne Panis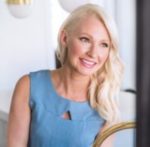 Abbey Sharp is a Registered Dietitian, an avid food writer and blogger, a cookbook author and the founder of Abbey's Kitchen Inc.