A mere two years ago,
Playa Cabana
chef and owner, Dave Sidhu, opened up his uber-popular Dupont and Davenport hotspot, and has since seen massive success with the sister-restaurant, the Junction's Cantina. Considering tables book several weeks in advance, and the place is bopping every night, it wasn't long before he was eagerly moving on to open numero three.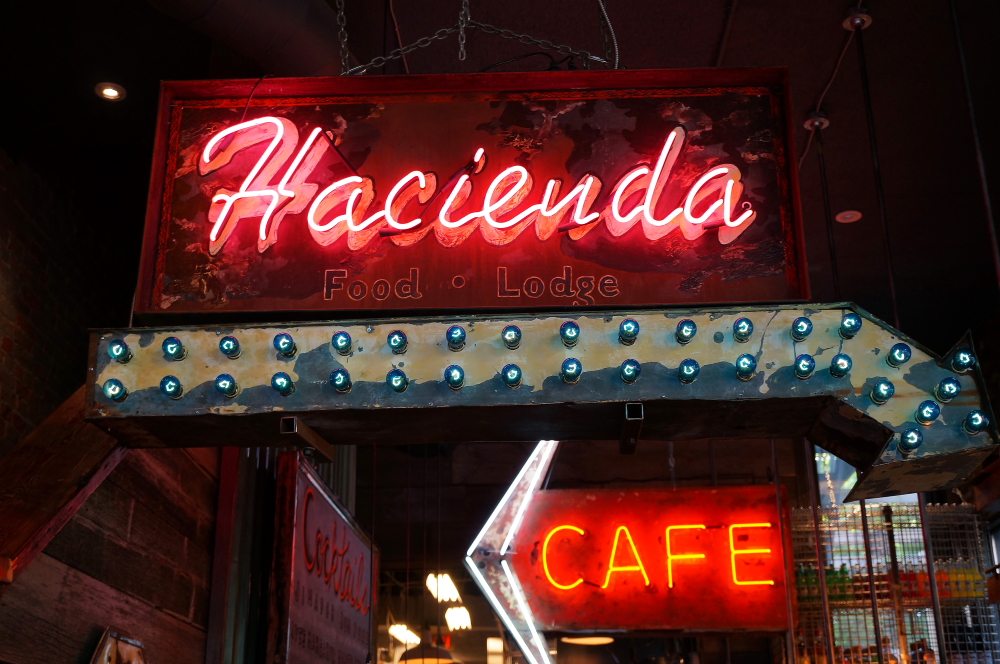 Admittedly, it was only a few months back when I had a chance to check out the original location because it was just that hard to in! Thankfully, with the opening of the brand new Hacienda restaurant at Dupont and Avenue Rd (an even closer walk for me), I'm pretty sure I'll be getting my taco & tequila fix a little more than my pants say I should.
Downstairs Motel Sign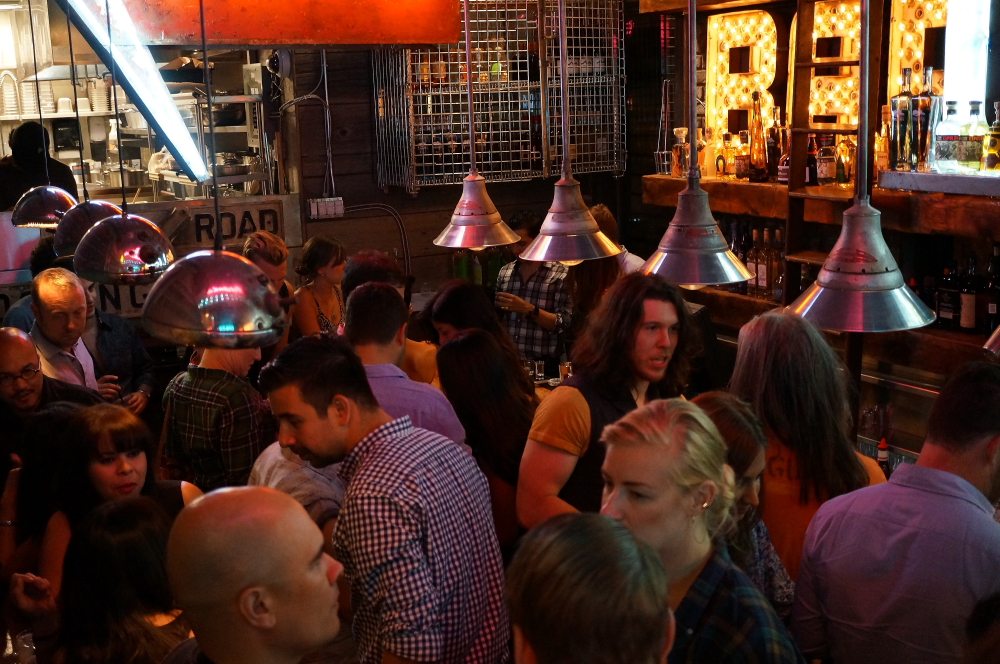 Happy people in the bar area downstairs
Keeping in theme with the previous two PC's, Hacienda's décor is rustic, playful and eclectic. Over the past few weeks, Dave has been collecting all sorts or unusual décor- from a semi-burnt out MOTEL sign, to reclaimed barn-wood for the banqettes to bright neon lights.  It's Mexico meets California in a surprisingly familiar and comfortable way.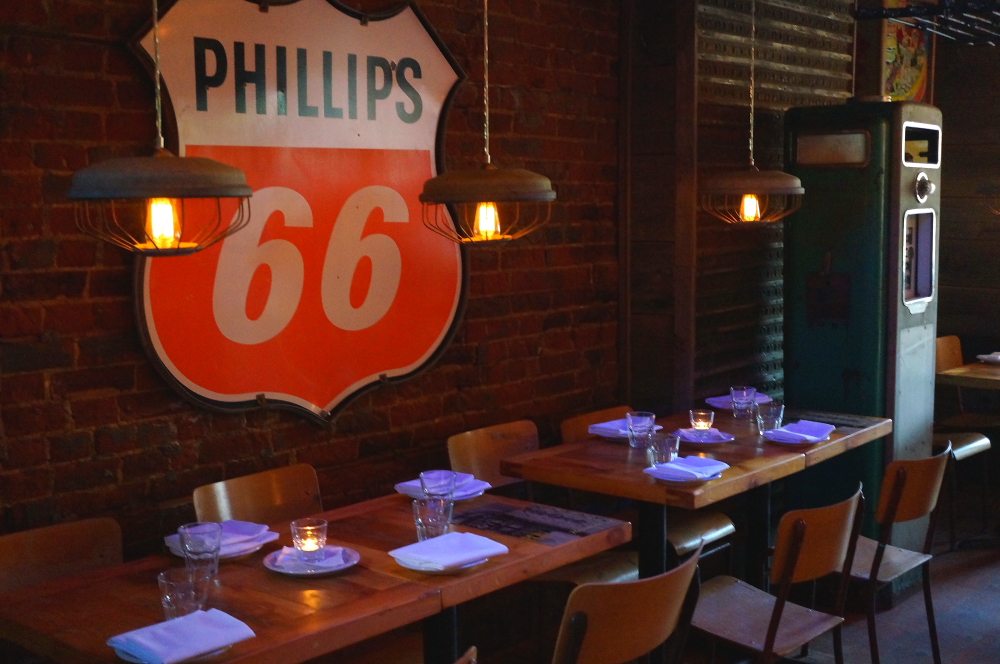 Upstairs indoor seating
Hacienda is also a pretty large space in comparison to its two sister spots, with approximately 100 seats including a 20-seat patio upstairs.  They also have plans to open a second, larger, patio on the ground level against the restaurant's side, which they hope to have opened by September of this year.
Upstairs Patio
Patio oyster shucking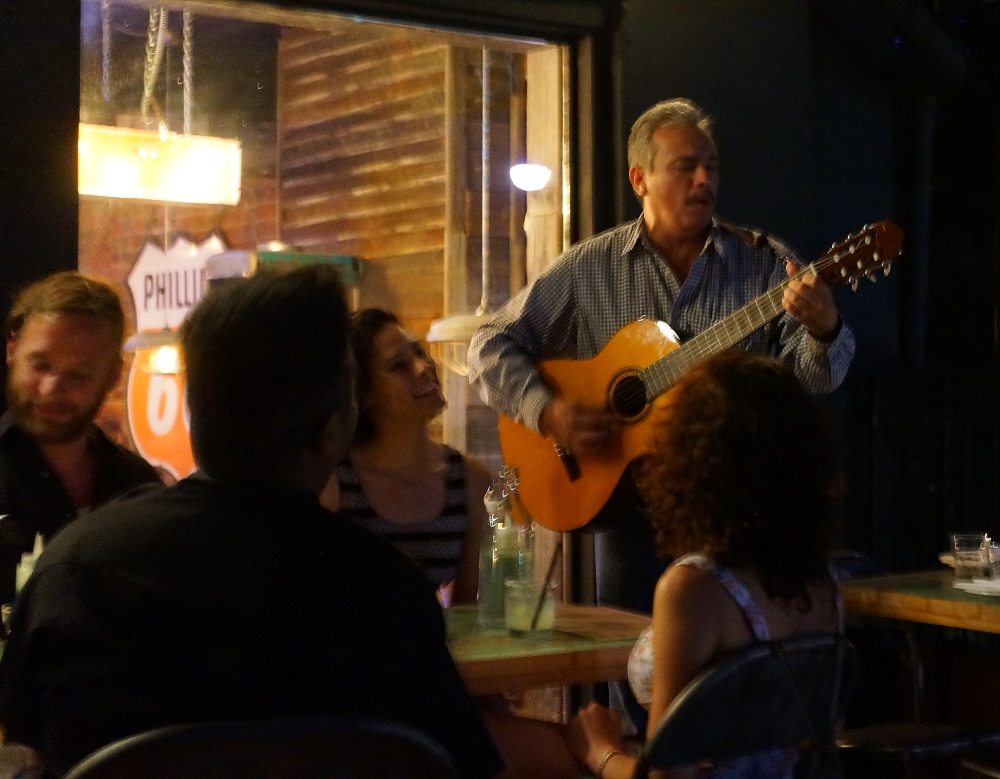 A little evening seranade on the patio
Unlike the previous outposts, Chef Sidhu and General Manager, Matthew King suggested that the menu here will encourage a more sip, nibble and share approach. That means, rather than having to commit to a set of three tacos or a ginormous burrito as you do at the other two spots, Hacienda offers you the ability to order one taco or tostada at a time. This is great news for bloggers and grazers like me who want to try a little bite of this, and this, and this, without having to battle through rice, beans and the whole enchilada.  The menu is also scaled back significantly in size, divided into 4 shareable Bocaditos (appetizers) like guacamole and ceviche, 7 Tacos, 4 Tostadas and 3 Dulces (desserts). Weight watchers might enjoy that they also offer the option of ordering your tacos as a "salad" so that you get a lettuce tortilla instead of the traditional corn based vessel.
Guaca Fresca ($8), Salsa Verde ($5) and Chips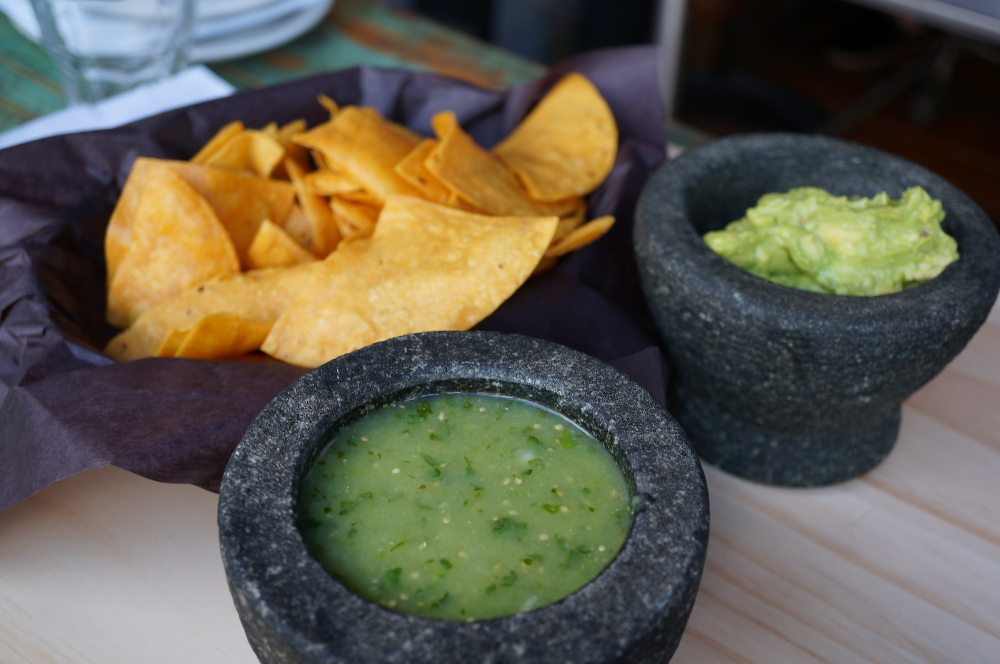 Mahi Ceviche ($9)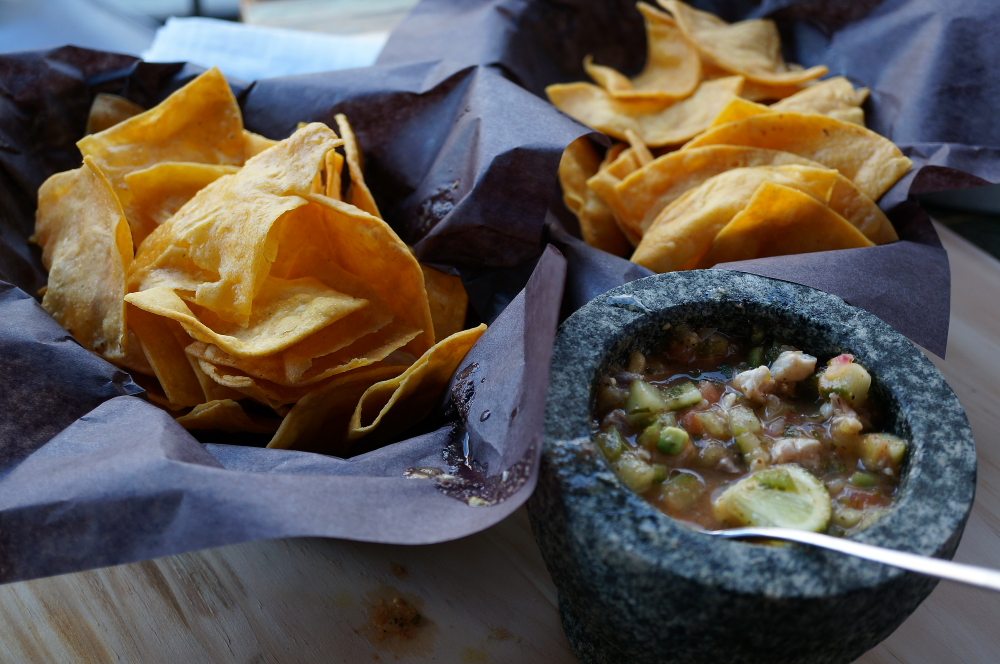 Ostiones ($2-3 each)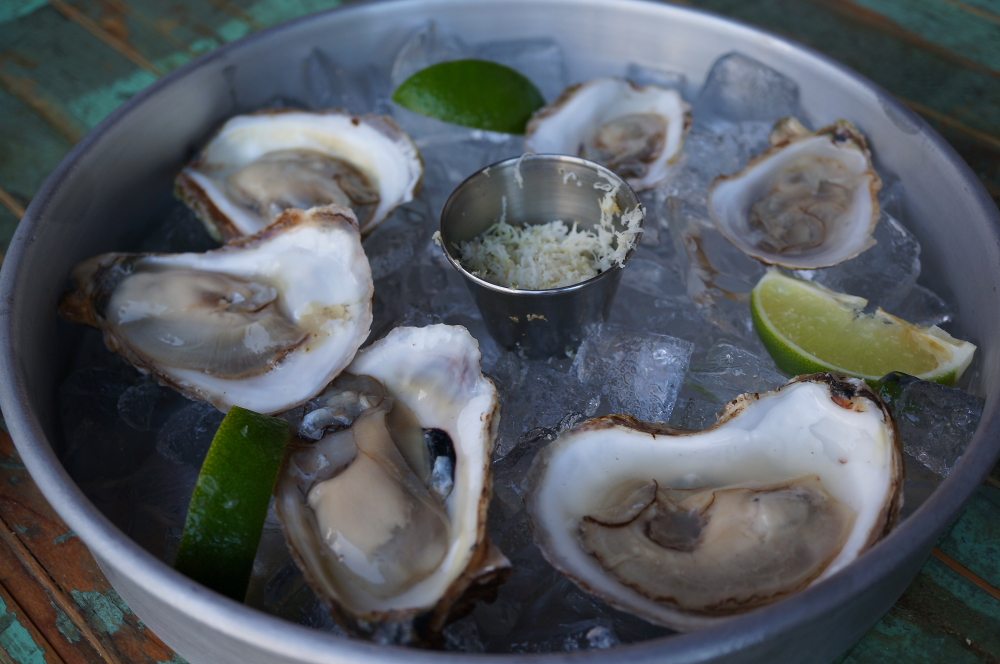 Pollo Adobado Taco: Adobe-Marinated Chicken, Durango Salsa Borracha (Sample Size, Full Size for $4)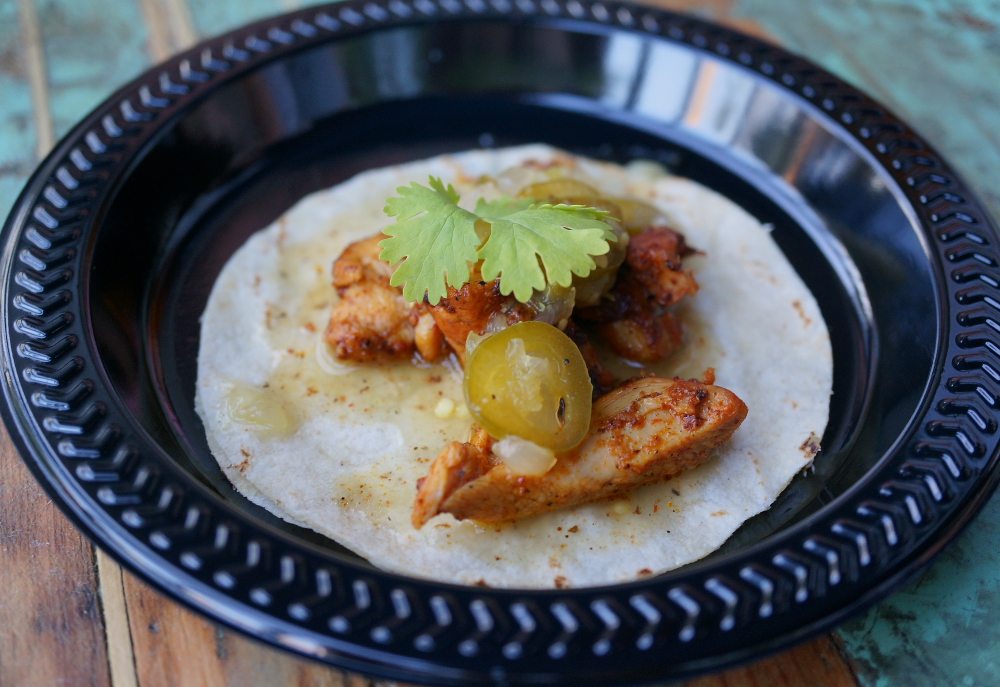 Flor de Calabaza con Queso: Zucchini Blossom with Oaxacan Cheese (Sample Size, Full Size for $6)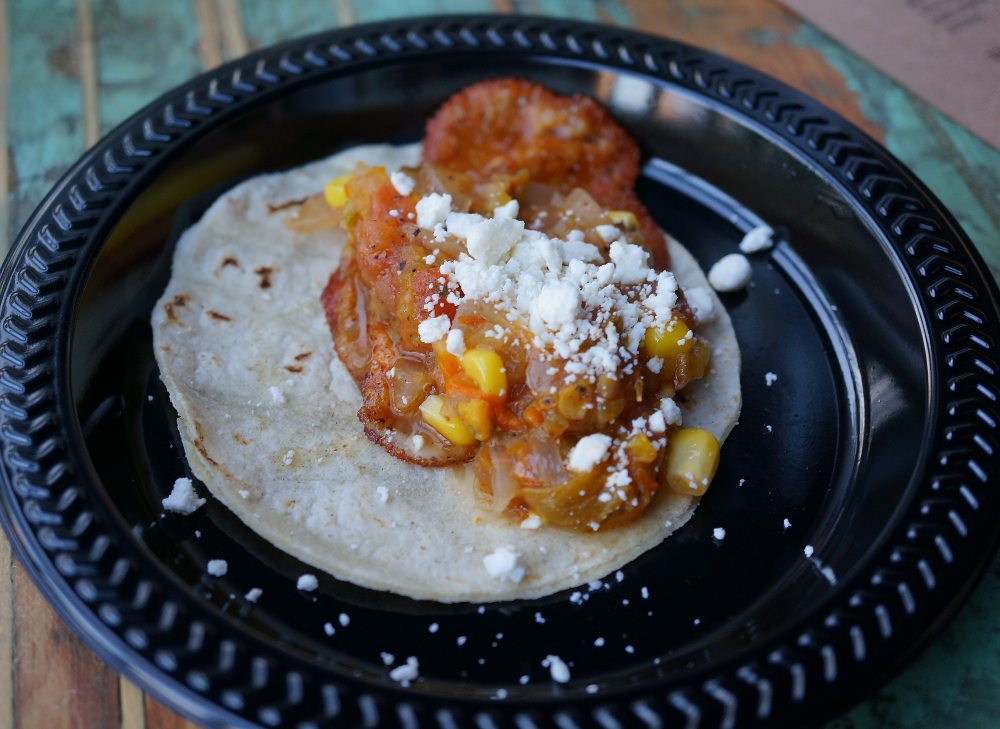 Pastor Ahumado: Smoked Pork al Pastor, Salsa de Pina (Sample Size, Full Size for $6)
Arrachera: Bavette Steak, Salsa de Cacahuate, Nopal (Sample Size, Full Size for $4)
Pescado Taco: Fried Haddock, Chipotle Tomatillo Salsa (Sample Size, Full Size for $5)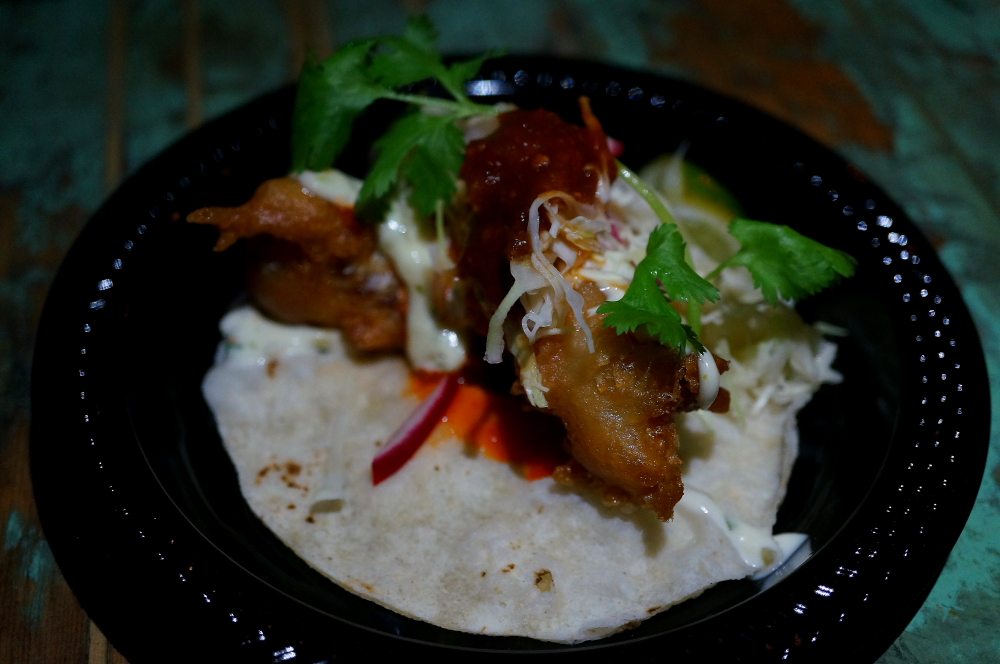 Chorizo Pulpo: Octopus with Mexican Chorizo, Raw Poblano Salsa (Sample Size, Full Size for $6)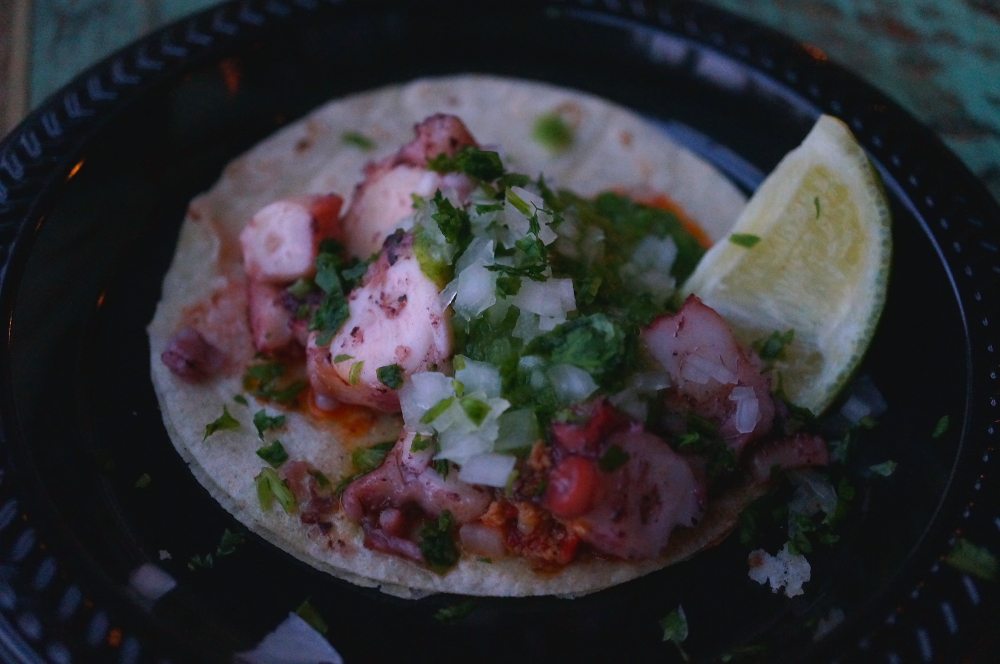 Camarones Diablo Tosatada: Shrimp with Chipotle-Arbol Salsa Diablo (Sample Size, Full Size for $6)
Short Rib Queretaro Tostada: Braised Short Rib, Yellow Almond Mole (Sample Size, Full Size for $8)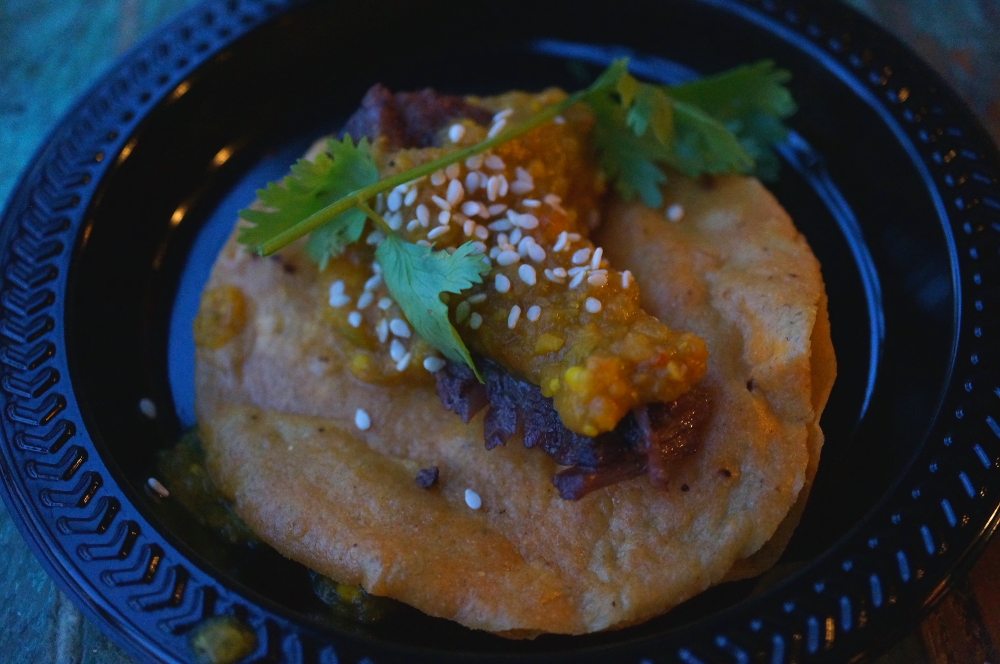 Langosta Asada Tostada: Lobster, Lobster Roe Guac (Sample Size, Full Size for $9)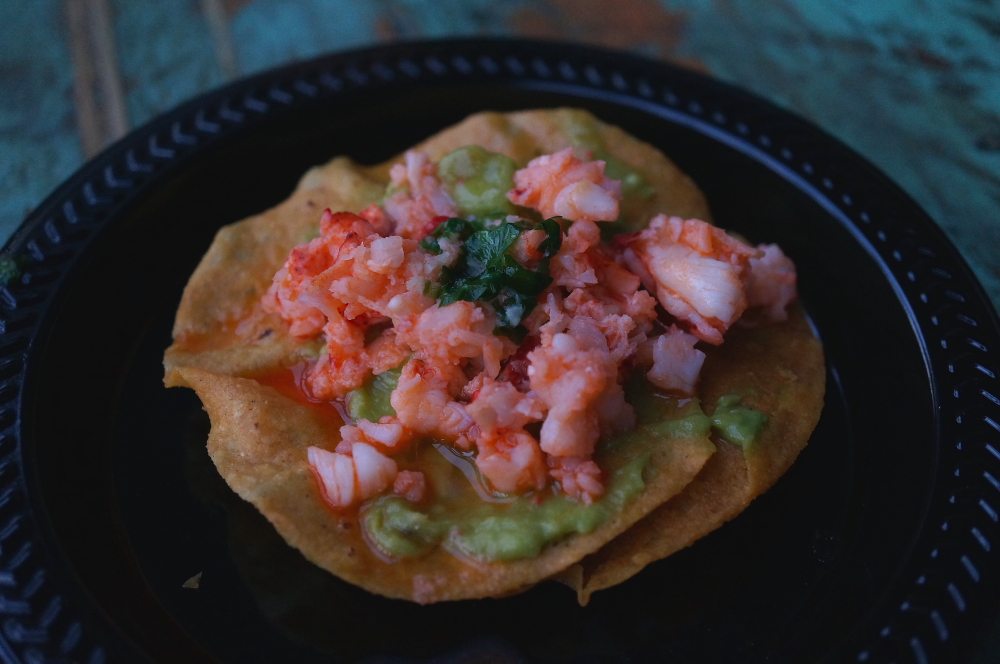 Fried Horchata (Sample Size, Full Size for $8)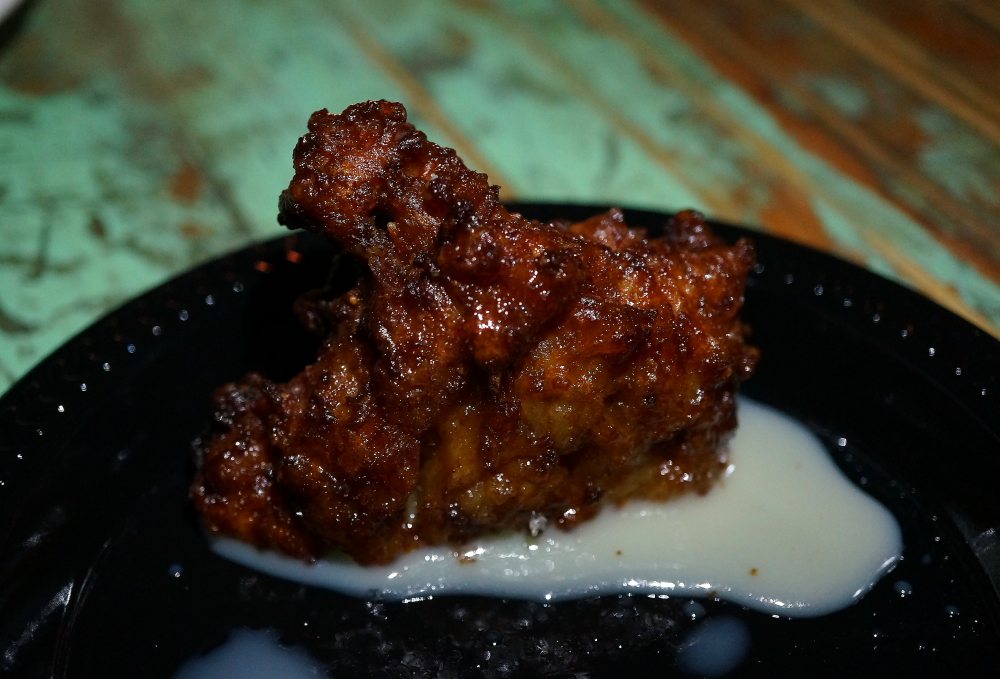 Like the food menu, Dave and Matt have also simplified the drink offerings at Hacienda. Sure, there is still a crazy amount of tequila to choose from (divided into blanco, reposado and anejo options), but they've scaled down the cocktail list to reflect a nice tight 7 drink spread. Beer enthusiasts can enjoy their Dos xxx lager on draft or one of five additional bottles available individually or in a discounted bucket of 4. Meanwhile, the wine list touts 3 whites, 3 reds and a sparkling, most of which are available as 5 oz, 9 oz or by the bottle.  Even the DD's can have a tasty time, with house made lemonade, cream soda, Mexican Coca Cola, fresh juice, Jarritos Mexcan Sodas, and a full espresso bar.
Dave's Margarita: 1 oz Tromba Blanco, 1 oz Cointreau, Lime ($9)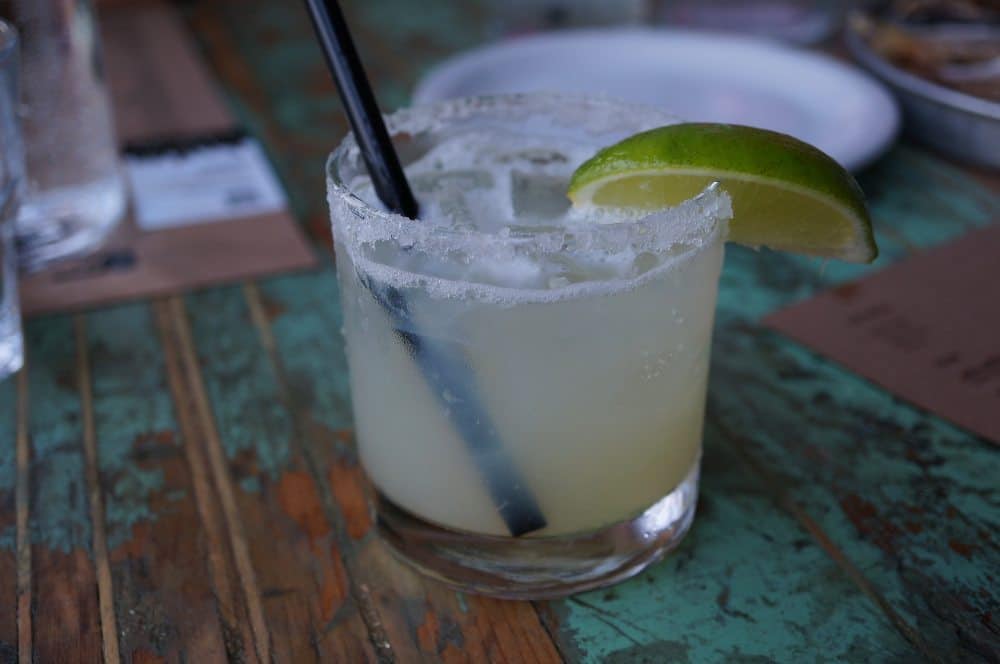 Paloma: 1.5 oz Grapefruit Infused Tromba Blanco, Citrus Syrup, Lime ($9)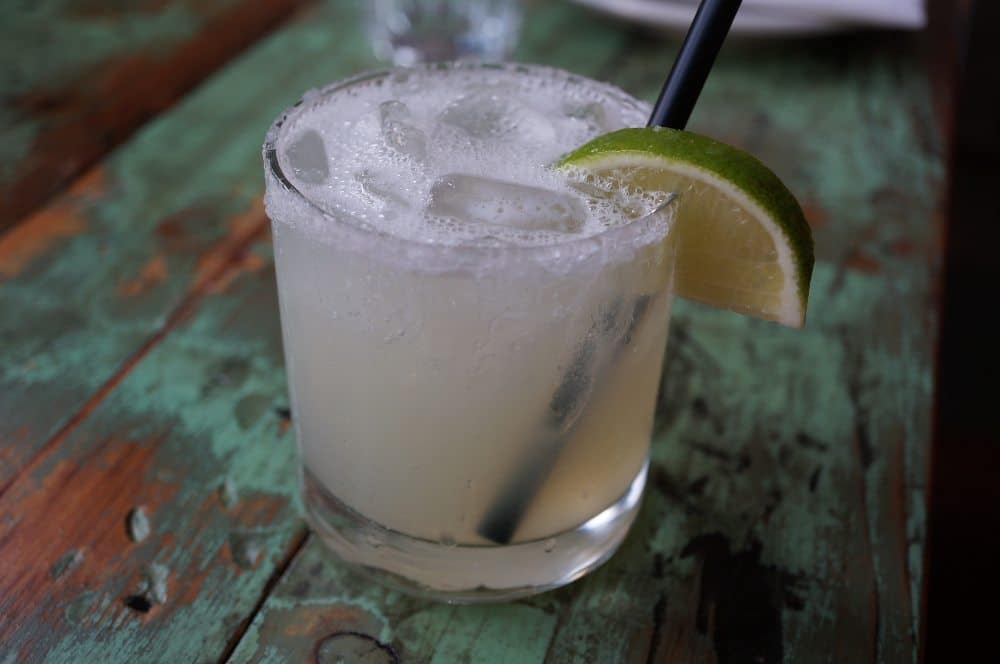 Mojito Cubano: 1 oz Mount Gay Rum, Mint, Simple Syrup, Lime, Soda ($10)
Patron Hacienda #2: 1 oz Patron Reposado, 0.5 oz Lillet Blanc, 1 oz Grand Mariner, Lime ($14)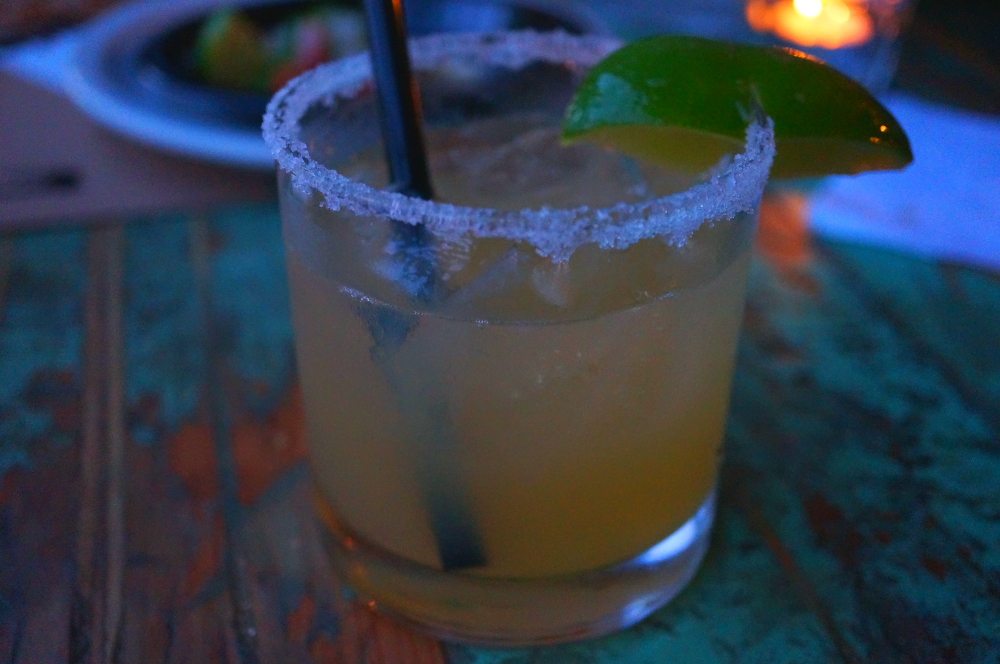 Thankfully, I'm a nice blogger and haven't made you ancy with a blast of #foodporn and make you wait- you can get your Playa Cabana fix as early as Tuesday July 16th! Right now, Hacienda will only be offering dinner service, but in about 2-3 weeks time, you should see them open up for lunch and brunch.  So grab a seat at the patio and get ready for a Mexican feast, there is no better way to spend summer than with a taco and tequila shot in each hand.