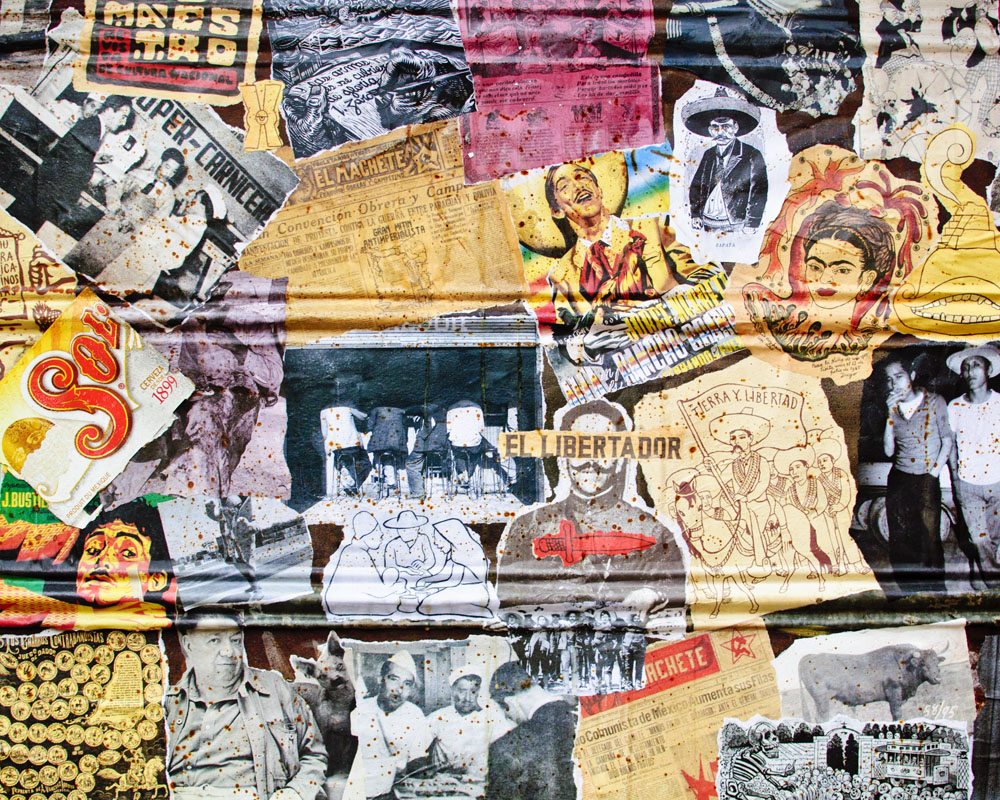 If you were under a rock last year, you may have missed the fact that Toronto fell in love with Mexican and Latin American cuisine, and I haven't seen that movement slowing down. Playa Cabana is a name unanimous with Mexican cuisine in the city, and has opened 4 restaurants throughout Toronto to satisfy foodies demand more sexy Latin American fare. Though one may think they already have a good brigade of establishments hitting all the hotspots in the city, chef and owner, Dave Sidhu is apparently at it again with one more.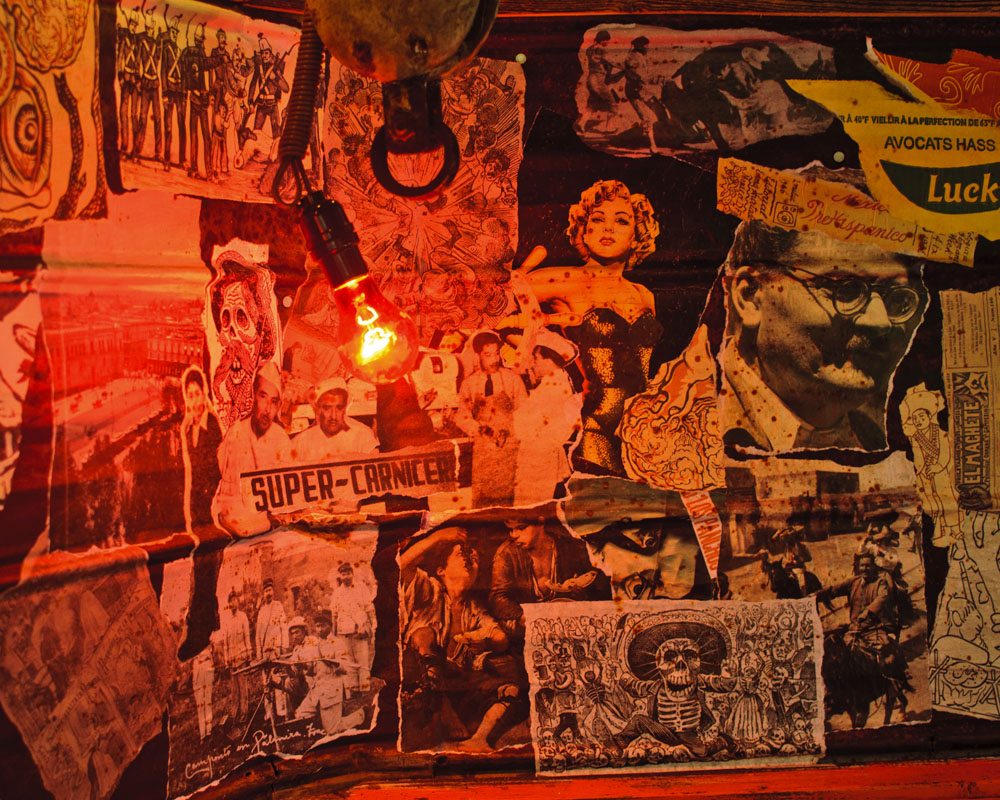 Playa Cabana's newest addition to the family is La Libre, which is the restaurant group's first and only fully outdoor restaurant and bar. Instead of trying to find another corner of Toronto to make their mark, they have decided to stay close to home and have opened in the back of Playa Cabana Hacienda located on Dupont Street.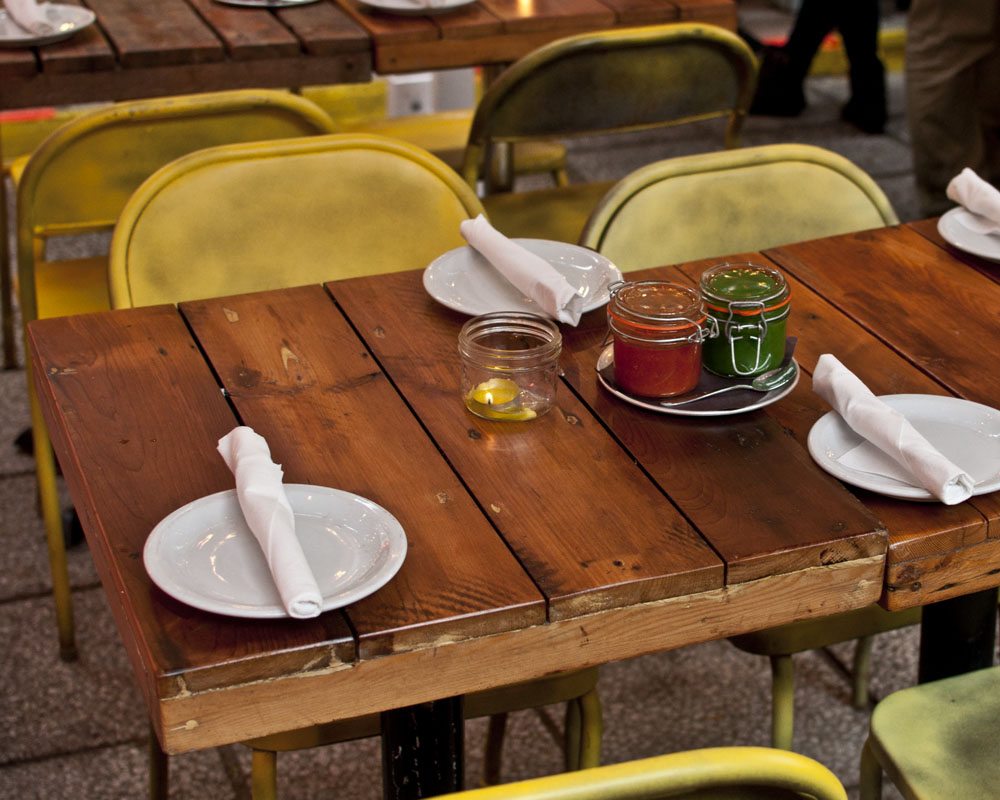 This 90-seat backyard patio is a space that is reminiscent an exotic getaway where the cocktails are cold and refreshing, and the air is hot with meaty smoke. The colourful wood seating and tables have a sand-washed look that invites you to take a seat, and delve into one of La Libre's tempting bites.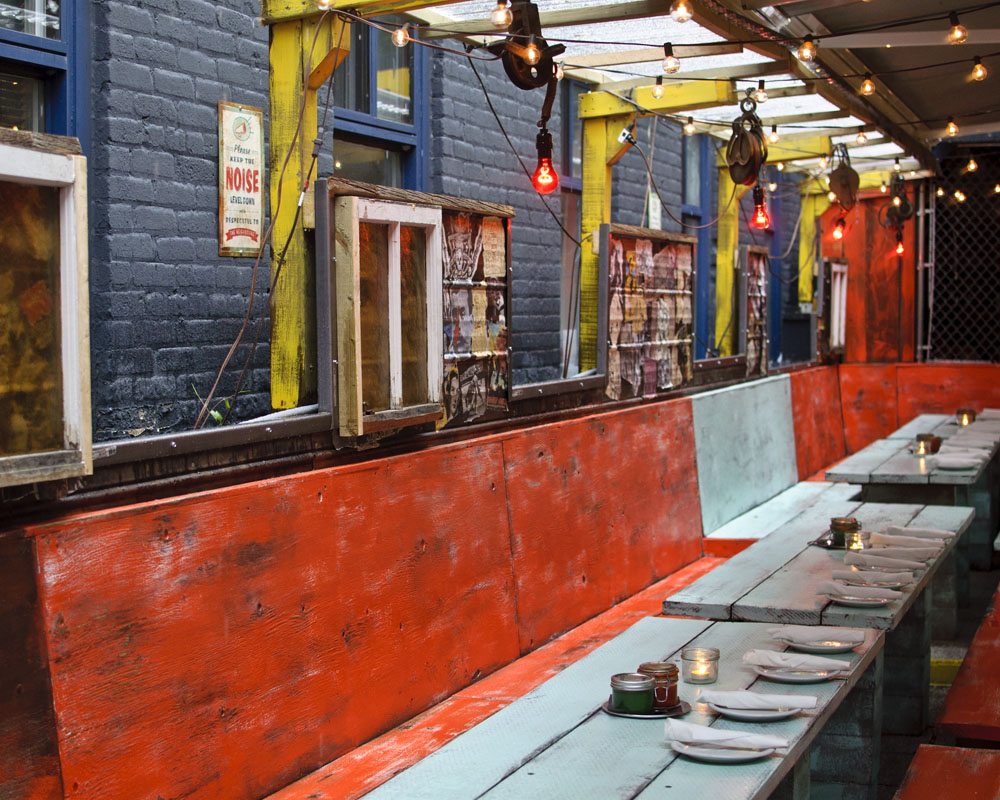 The "makeshift" bar dawns a stone counter-top with pieces of colourful glass spelling out the restaurant's name, while the walls are plastered with cut-outs from Mexican literature. If you're worried about the rain preventing your visit, don't worry, there is a retractable awning shelter so you can still dine alfresco without getting wet.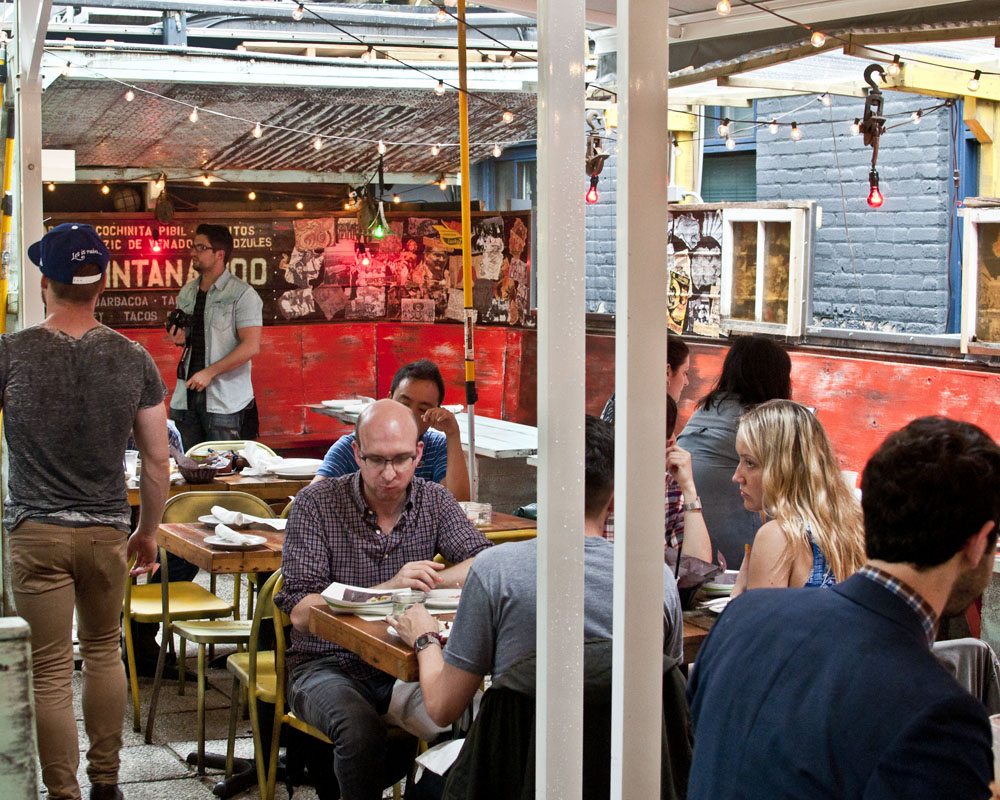 Unlike his three Mexican-focused Playa Cabanas, and his Mexi-Korean Barrio Coreano, La Libre focuses on Yucatàn-inspired fare. Yucatan cuisine takes the its flavor profile from the southeastern state of Mexico to create unique bocaditos, tacos and postres, and a wide selection of cocktails.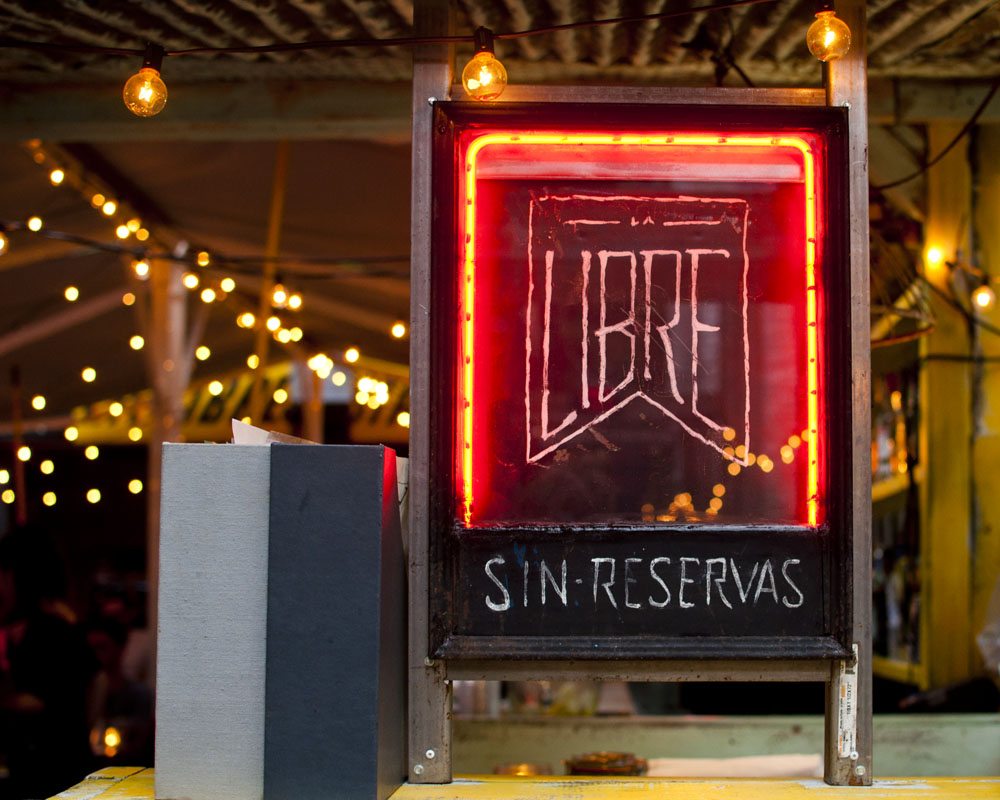 Almost all of La Libre's menu items are cooked on a charcoal grill located in the back of the restaurant, and though you may not be able to see what's cooking, your nose will lead the way, as the mouth-watering scent wafts through the open space. Not as hidden, one can see bartenders behind the counter mixing up some refreshing, citrus induced drinks created by experienced mixologist Robin Goodfellow.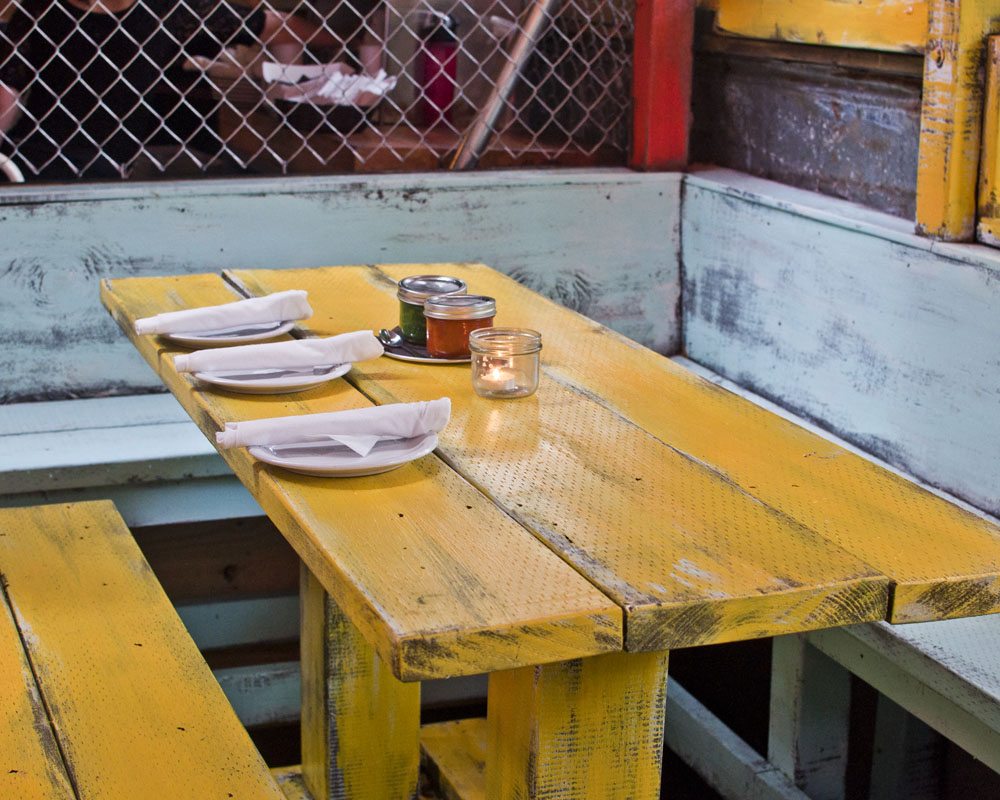 To fit the casual, laid-back environment, all of La Libre's menu items are served on paper plates and in plastic cups (biodegradable of course). This combination of sit-down meets street-food creates an atmosphere that almost makes you feel like you're on the coast of Mexico. Check out some of the delicious eats I came across during my visit to this vacation destination so close to home.
El Librador (El Jimador Reposado, Grapefruit, Soda, Mezcal)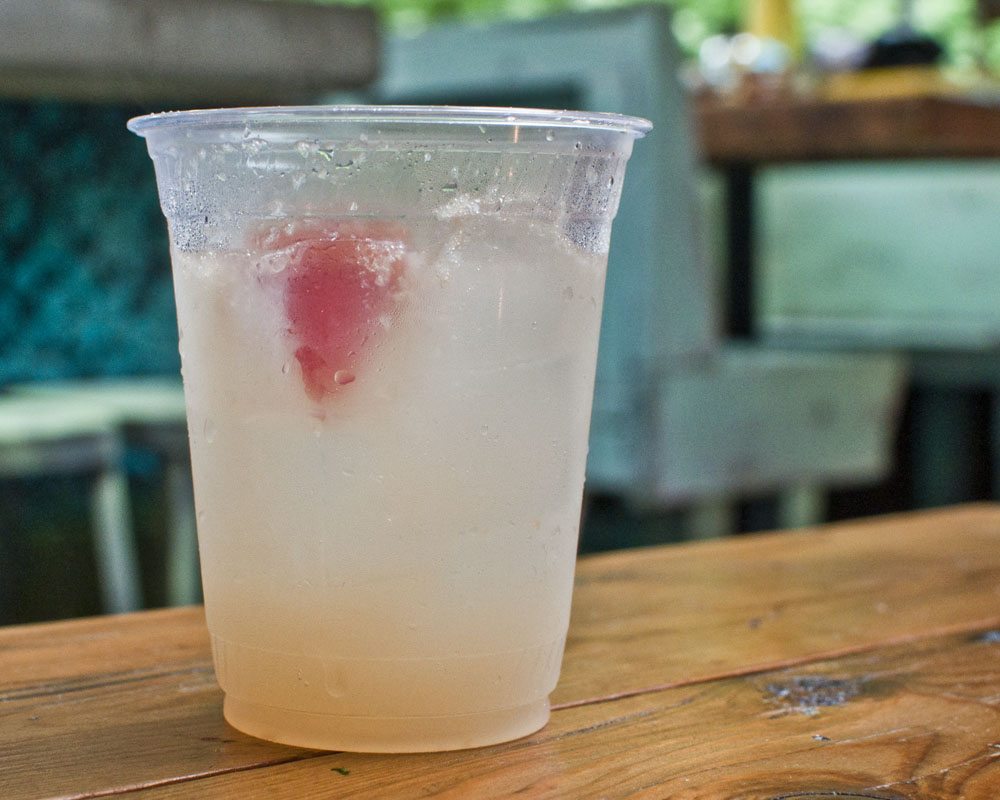 The Mezcal liquor had a distinguishable smokiness that was nicely contrasted by the tangy mildly bitter bite of the grapefruit.
Tierra Yucateca (Trombo Blanco, Cointreau, Don's Secret Mix, Lime)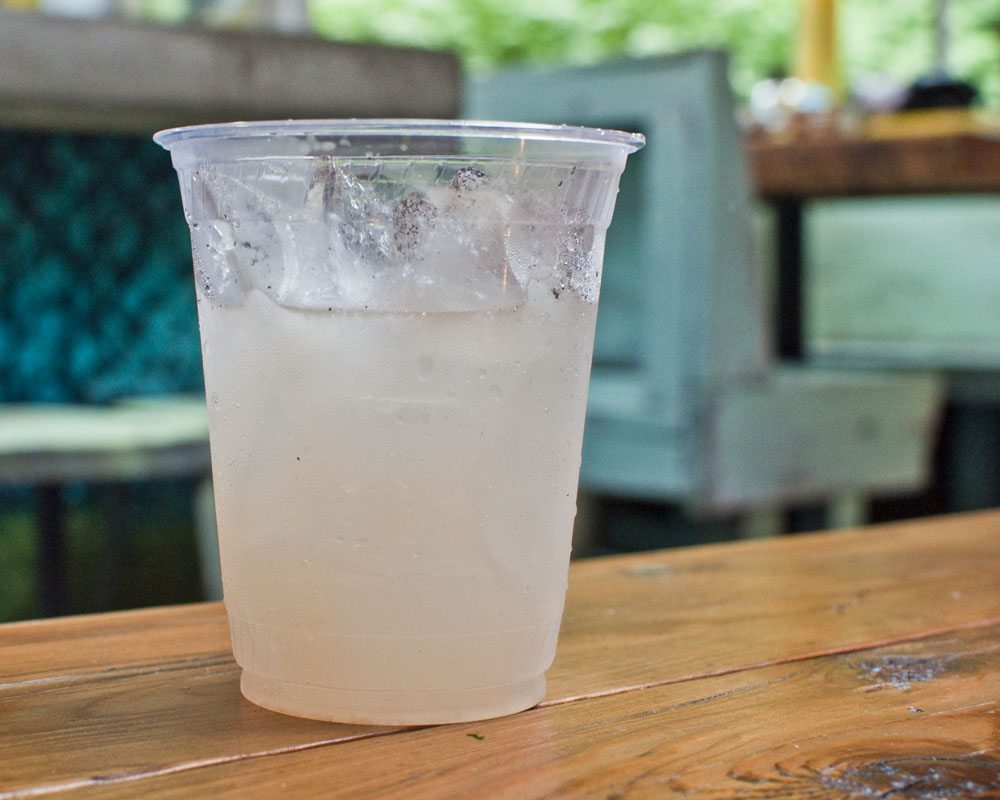 This cocktail was filled with different flavour notes that melded together perfectly. The aromatic and refreshing citrus-cinnamon base made this the favourite of the night.
Guacamole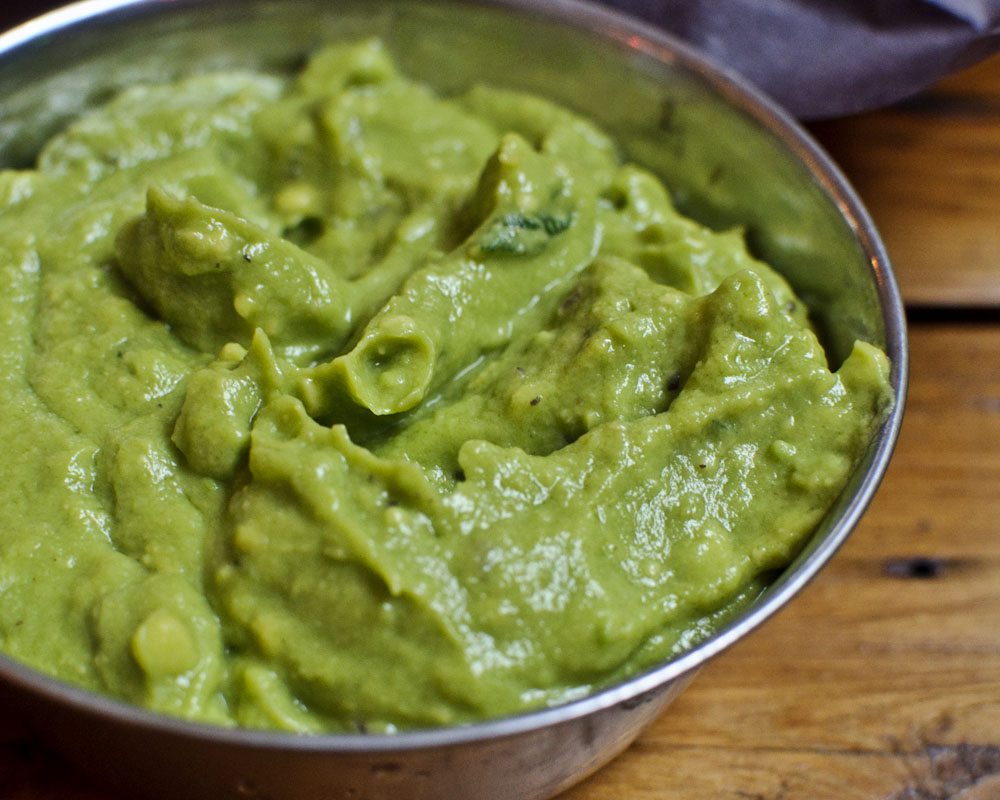 I love guacamole, and this version of the favourite tortilla chip dip hit all the marks. It was creamy, and had just the right amount of cilantro and citrus to compliment, but not overpower the delicate avocado.
Ceviche Yucateca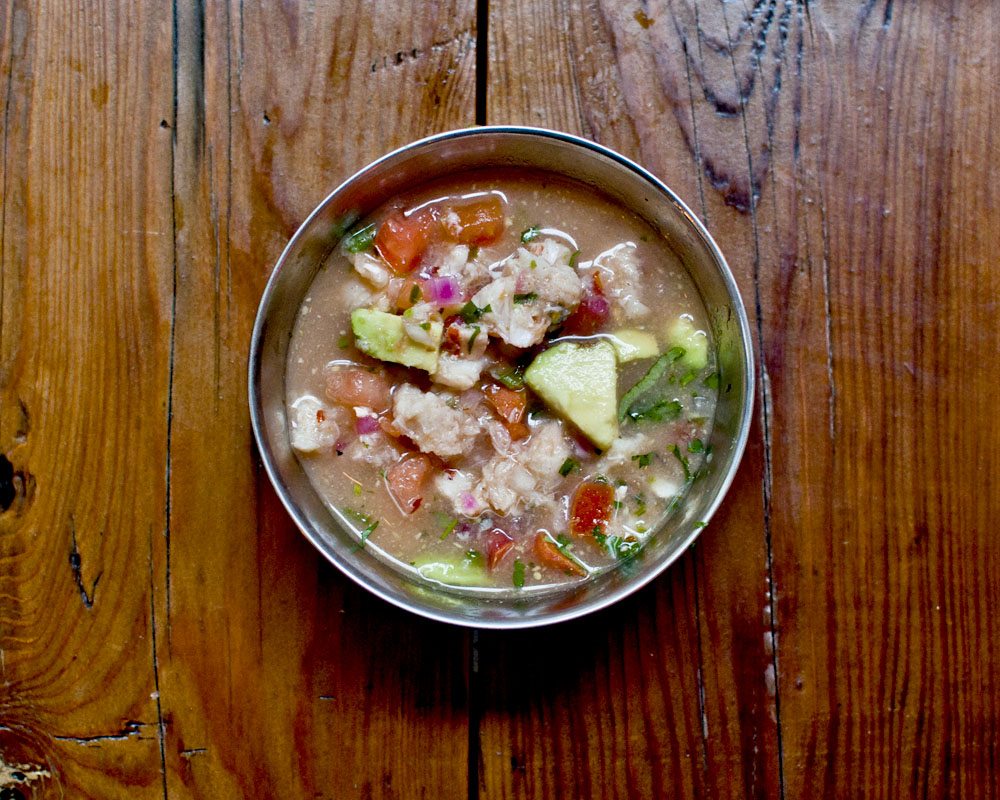 This ceviche was beyond succulent, and my mouth is still watering thinking about it. The chucks of red snapper and lobster soaked up all the bright citrus juices and chili heat to yield an addictive and refreshing few bites.
Tacos Al Pastor
These tacos were stuffed with flavourful fiery pieces of pork. The marinade had a sweet beginning, and than a wonderfully surprising kick of heat at the end, while the use of pineapple and pickled onion added some great sweet and acidic notes.
Tacos de Cecina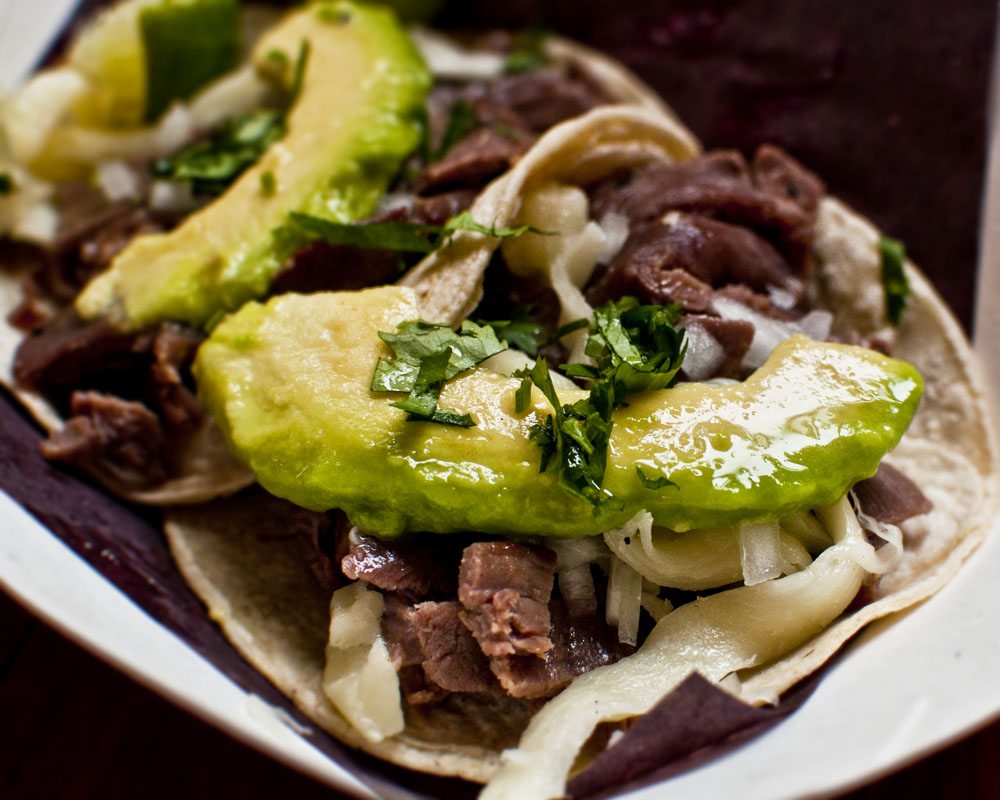 The thin slices of sun-dried, salt-cured steak were tender and gave the juicy beef taco a whole new edge. The accompanying ingredients were simple, yet highlighted the flavour of the meat perfectly.
Whole Pig Smoked Cochinita Pibil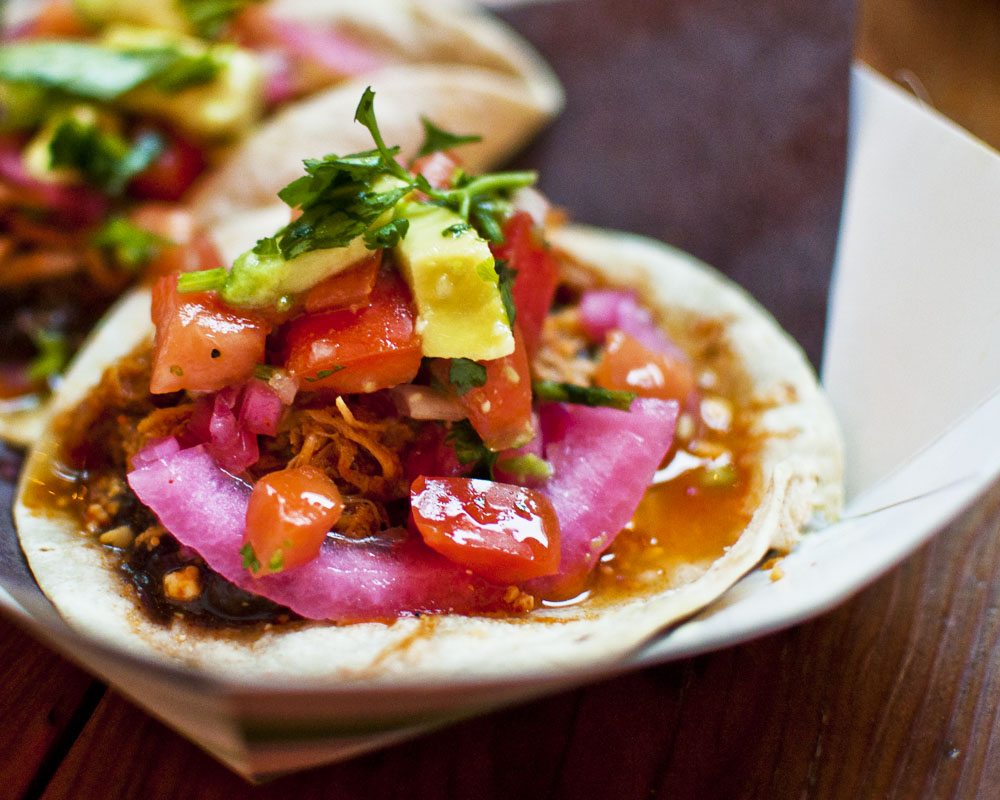 Just like the name implies, the juicy pulled pork in this taco came from a whole pig that was smoked that same evening. The savoury meat was then topped by bright tomatoes, creamy avocado, and some slightly sour pickled onions. Yum.
Perros Celientes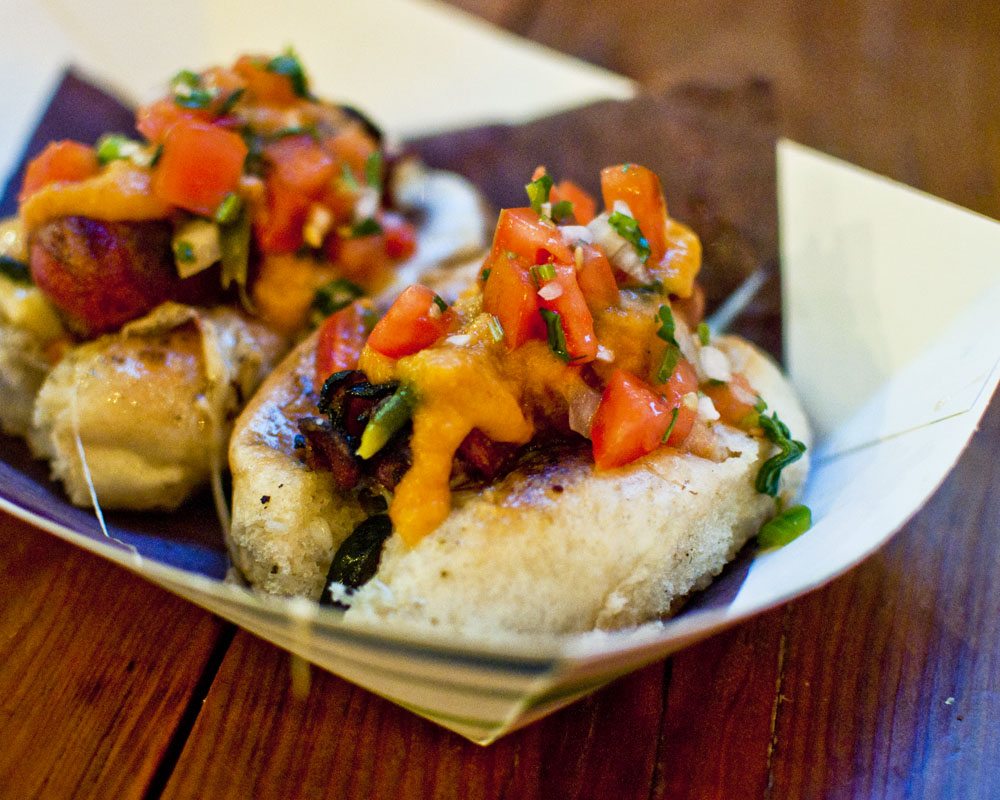 Overflowing with everything amazing, these little guys packed a punch of flavour and a bit of heat. The plump beef hot dogs were wrapped in bacon, and then top with sweet papaya ketchup, spicy jalapeños, and a little bit of cheese. How could this not be good?
Alfajores de Maizena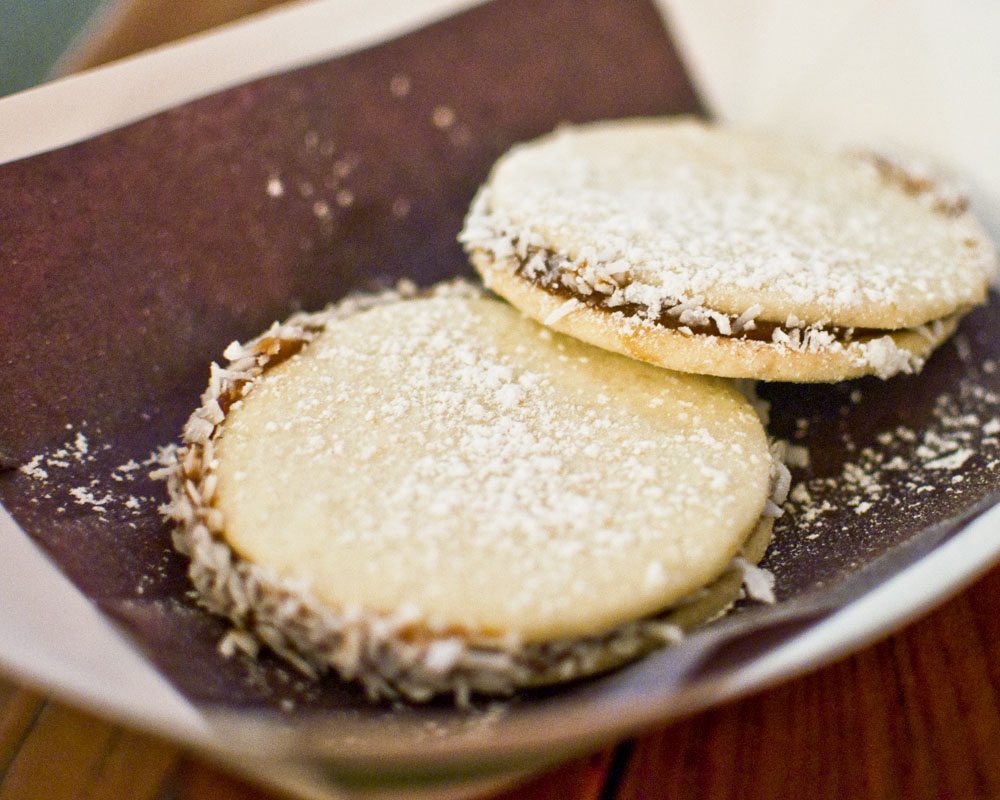 Though the name may seem complicated, the actual dessert was simple, yet delicious. The rich dulce de leche sandwiched between two buttery shortbread cookies was a great combination, with the shaved coconut adding a subtle tropical flavour.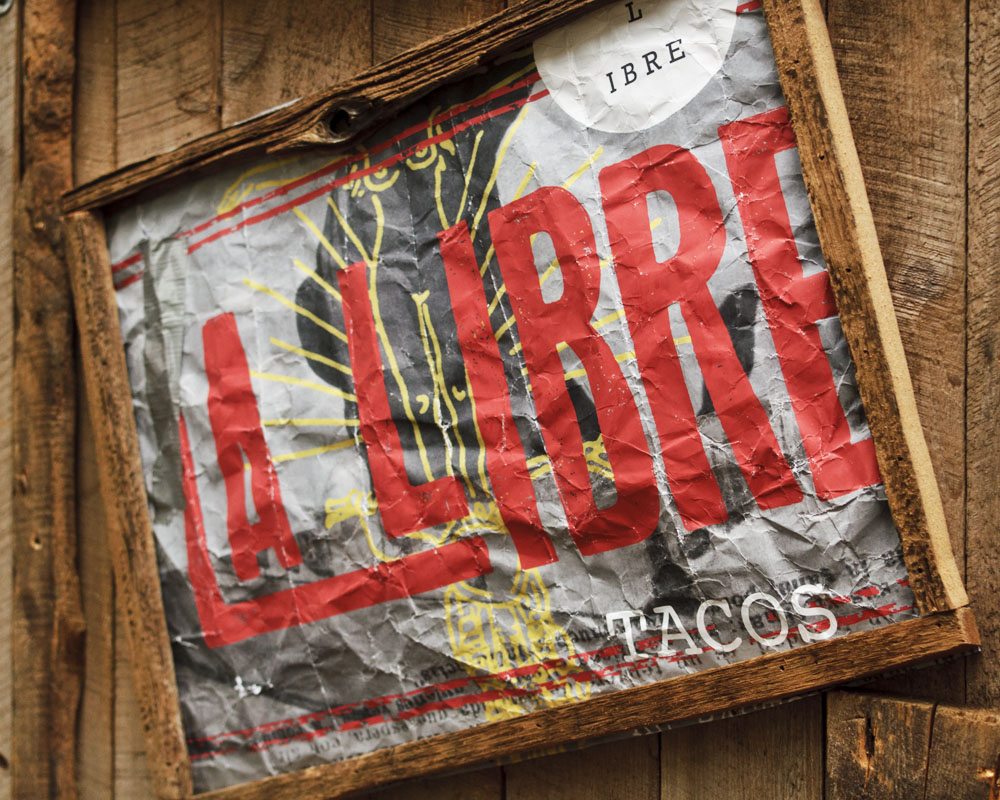 After delving into some Yucatàn styled cuisine on a patio that made me feel that I was steps away from one of the pristine beaches of Mexico, I am happy to say that Playa Cabana has succeeded at producing another great spot. La Libre is open seven days a week from noon to 11pm, and is located behind Playa Cabana Hacienda at 14 Dupont Street. As the "Sin Reservas" sign states at the front entrance of the patio, there are no reservations, so tables are offered at a first-come, first-serve basis. ¡Buen apetito!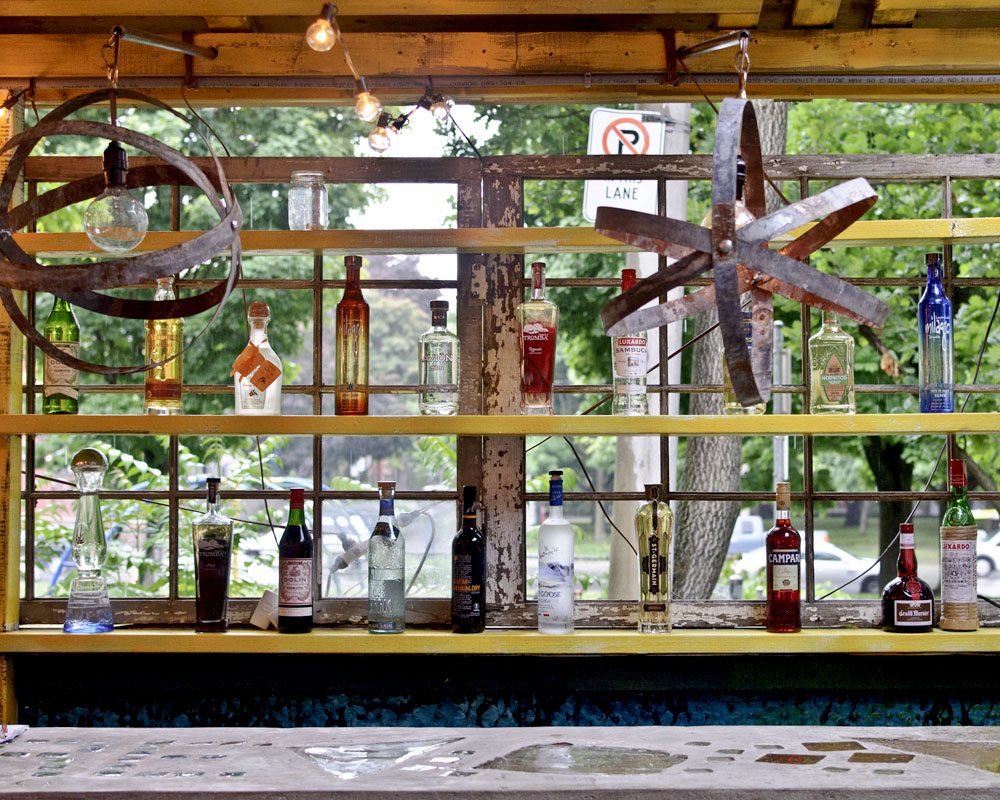 Disclaimer: The preceding post was complimentary, however, as always, all opinions are genuine.
Contribution by AK Taster Savannah Onofrey
Updated on May 8th, 2019