Toronto is a trendy city when it comes to food. From tacos, to gourmet doughnuts, to slider burgers and fancy hummus, we are always chasing what's in and new. But isn't "new" just usually an interpretation of the past? Apparently, yes as the new Borealia restaurant breaths new life into ancient recipes with their historic approach Canadian gastronomy.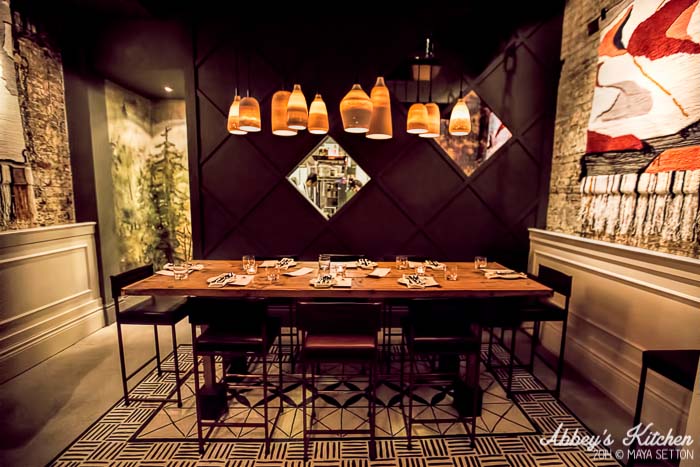 Borealia is a latin word meaning northern and was one of the possible names for Canada during the time of Confederation. I don't think I've thought about Confederation since grade 7, but suddenly with food involved, it's a heck of a lot more interesting. Owned by power couple Evelyn Wu and Chef Wayne Morris, Borealia celebrates Canada's indigenous and imported gastronomic history with remakes of dishes from as far back as the 1600s. I had the great pleasure of visiting a few weeks back for their official opening, and was absolutely enamored by their ability to capture something us Canadians don't always have an easy time grasping. That is, that Canadian cuisine is not just about pulled pork poutine, maple bacon doughnuts, and roll up the rim coffee. It really is a bit of an imperfect quilt with overlapping patches of international inspiration as so many of us come from different places and different times. At Borealia, Chef Wayne and Evelyn give us an authentic look at the historic foods of aboriginal natives, early settlers, and immigrant groups- but done up in modern and relevant ways.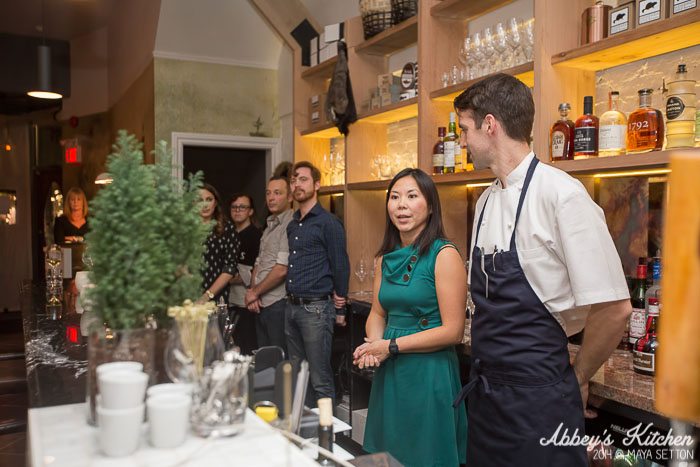 Together they are a team built to pull this off. Chef Wayne has spent time cooking in Kelowna, BC but grew up on Acadian means in Yarmouth Counry, Nova Scotia. Meanwhile, Evelyn is an accomplished chef in her own right with experience ranging from time in Hong Kong, at Michelin star restaurants like The Fat Duck, and a degree in management and marketing. At Borealis, Wayne beautifully masters all of the recipe revival while Evelyn brings them to life with her passion for their historic narratives.  Both were so engaging and attentive during the preview visit, taking extra time to deliver thorough descriptions of what we were eating, where it came from, and how it came to be.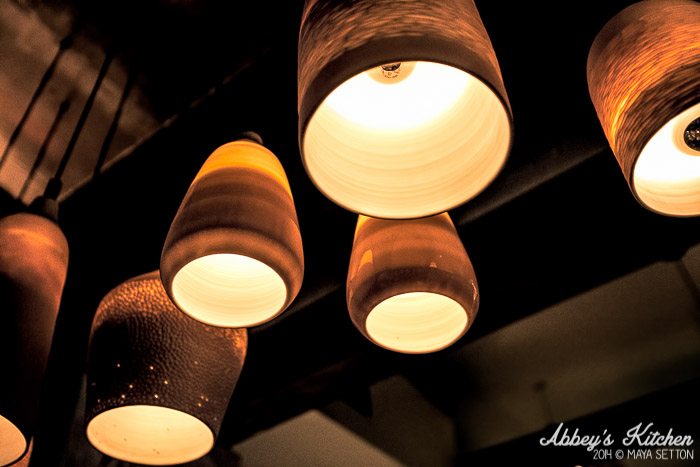 Much like the blending of old and new in Borealis' culinary concept, the decor pulls from range seen in Canadian landscape across time.  Designed by Toronto firm, Qanuk Interiors Inc., the interior represents the contrast in cultures from native origins to immigration patterns with both natural rustic elements, and more contemporary European details. Local artists were commissioned to create original wall murals, tapestries, crafted furnishings and light installations, creating an eclectic "blended" aesthetic that is unmistakably Canadian.  Also, I need to warn you that I was told that there's a wolf in the restaurant washroom, and not to look him directly in the eyes. Admittedly, I held it all night so I haven't been down myself, but I wouldn't take the chance if I were you. 😉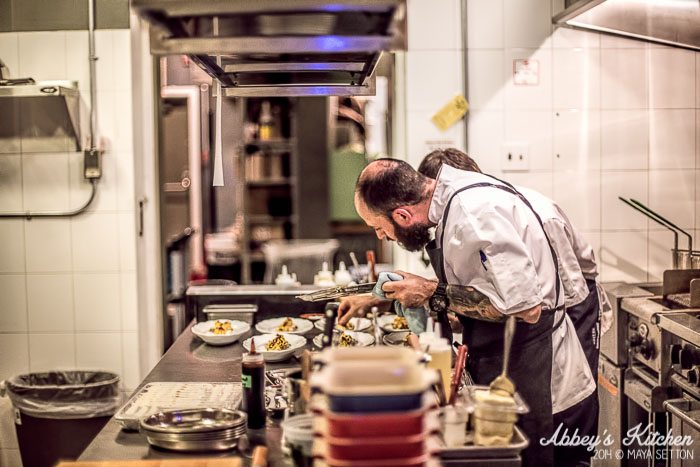 But let's talk about food and drink.  Borealia's fare celebrates the rich bounty of Ontario farms and features game, sustainable sourced seafood and fish. This isn't Canadiana like we know it. There are no playful takes on poutines or bacon or Habitant soup. Rather, expect items like pigeon pie, bison bresaola, and braised whelk. Hearty and sophisticated, just like us Canucks.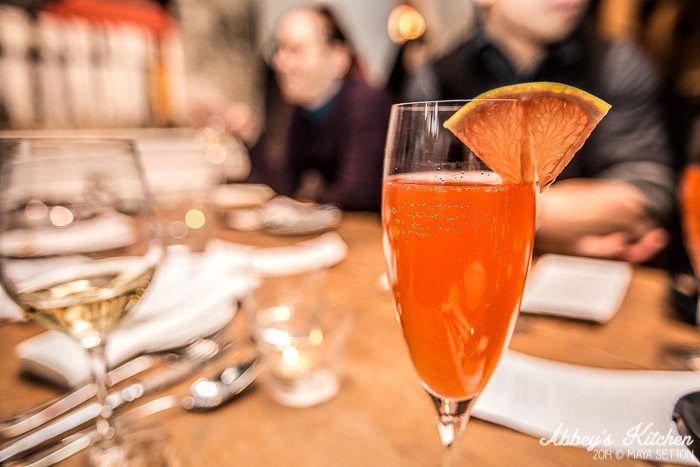 The drink menu also reflects the past and present theme with a solid wine lit of small-produced, natural, organic and biodynamic Old and New World Wines. Most of the brews on offer are sourced (expectedly) from local craft breweries, and the cocktail list sees modernized takes on vintage classic.
But I suppose you get the point, let's see some foodporn already!
Borealia Food
Devilled Chinese Tea Eggs ($7)
These savoury black tea-infused Devilled Chinese Tea Eggs were rich in umami with a touch of sweetness from Chinese sausage that put a whole new spin on the traditional dinner party favourite.
Chopsuey Croquettes ($6)
A playful take on arancini with Chinese sticky rice and a sweet soy-based liquid center, these babies were a sensuous mouthful of sheer bliss.
Bison "Pemmican" Bresaola ( $15)
Thinly-sliced bison, cured and air-dried in the style of Bresoala, and garnished with warm housemade lardo and a drizzle of wild blueberry-juniper vinaigrette. A surprisingly light drink, great for all of you paleo-devotees out there (or just people like me who just like any sort of good food.)
Braised Whelk ($14)
Gorgeously braised whelk, sliced and lightly grilled, coated in a kombu seaweed beurre blanc, and served in its own shell with a seaweed and burdock salad. Exquisite presentation, perfectly prepared, a favourite of the night.
L'eclade ($15)
A contemporary version of the classic dish brought by Samuel de Champlain from France, this dish featured Maritime mussels steamed in a rich savoury broth of pine needle-infused butter.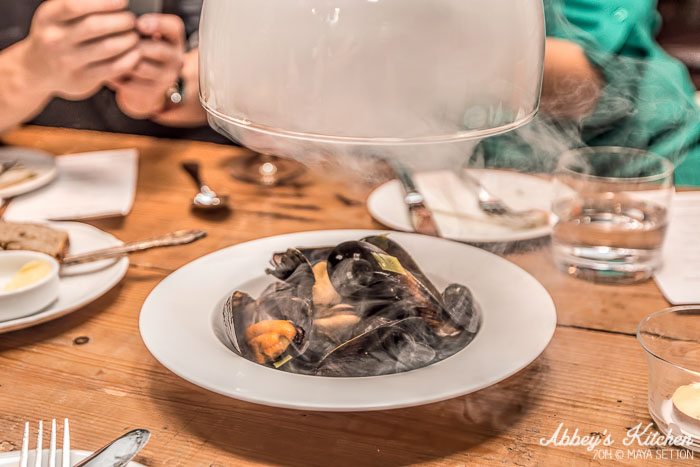 When I got my first waft, so many sweet memories of fire pits and camping deep in the Laurentians rushed to mind. Oh and when's the last time you saw a mussel this massive? Apparently, they have been working out!  (Har har…)
Salt Cod Quenelles ($15)
A novel New World take on a classic Lyonnais dish. These ethereal plump dumplings were filled with air-dried Gaspésie salt cod and served in a coral- coloured cream sauce with generous chunks of sweet lobster meat. Holy, comfort food.
Pigeon Pie ($20)
Borealia's Pigeon Pie features a rich and saucy filling of squab meat and roasted root vegetables encased in a flaky crust, and accompanied by pan-roasted squab breast. This is not your momma's pot pie.
Louisbourg Hot Chocolate Beignets ($9)
A zingy explosion of chocolate ganache spiced with cinnamon, nutmeg and clove, enveloped in beer batter, fried and dusted liberally with lemon icing sugar. Yes, yes, and one more yes.
After a fantastic meal and a trip back to Canada c. 1600, I can't wait to return for another taste of the past and present. Borealia is now open at 59 Ossington Ave. For more information or to make a reservations, check out their website or give them a ring at (647) 351-5100.
Disclaimer: The preceding meal was complimentary, however, as always, all opinions are genuine.
Contribution by AK Taster: Maya Setton