With the celebrity family name, the hit TV show, and the cult-like following of the brand, the opening of Toronto's new Wahlburgers Restaurant has been accompanied by boundless anticipation. The past few months of renovations have seen plenty of faces squished up against the glass at the snazzy SoHo Met, eager to catch a glimpse of one of the celebrity bothers or burgers. Manager Alex Yetman jokes that cleaning the face prints off the glass is getting to be a full time job so it's clear we can hardly wait until their scheduled mid-November opening.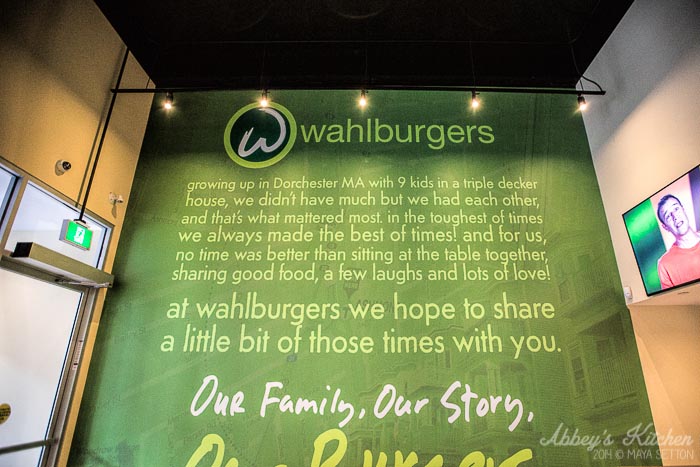 "So why choose Toronto as the second location after the success of the Hingham (Mass) original?" It all comes down to Mark, Donny and Paul's deep connection to the city. Mark's movies always do well at TIFF and (remarkably) the boys are big fans of the Leafs. Mark Wahlberg has even been quoted stealing the old reference of the big apple- "If you can make it here [in Toronto], you can make it anywhere".  And I would certainly have to agree- we all know Toronto's restaurant turn over rate is atrocious to say the least, but something tells me these boys have nothing to worry about.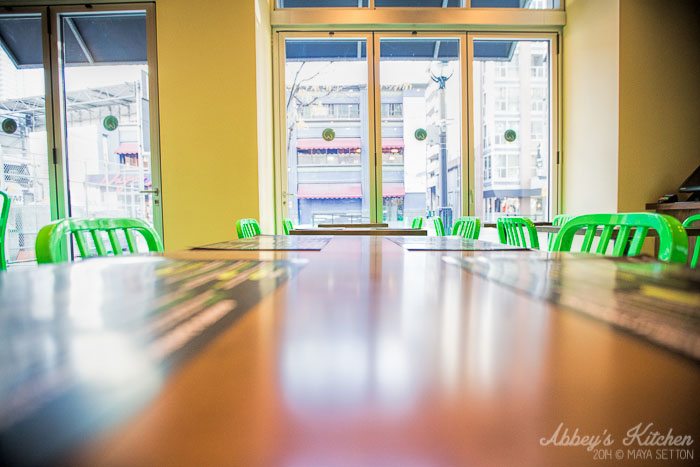 Alas, not surprisingly (just ask any chef), opening the Toronto location was still a challenge for the team. The restaurant had to transforming an old hair salon through intense renovations, which pushed them back from their original opening date in the summer. But all that hard work absolutely paid off as the comfortable two-story space now feels perfect for a casual lunch or dinner with friends. There are sleek green chairs, big screen TVs, and clean wooden accents, and the vibe strikes an ideal balance between family friendly and college hangout.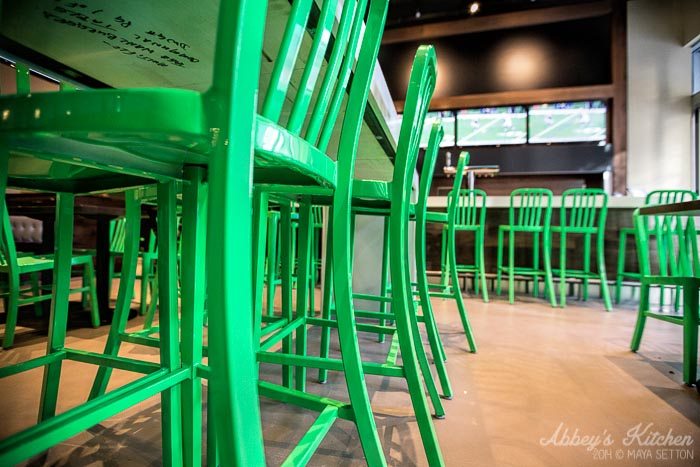 Speaking of hanging out, with it's downtown location, the restaurant is equipped to cater to a sports-event loving crowd, so they've stocked their bar with lots of tasty brews. They offer their own beer on tap called the Wahlbrewskie which is brewed locally at Mill Street Brewery, as well as draft wine and "Adult Frappes" (aka. alcohol in milkshakes. How could that be bad?)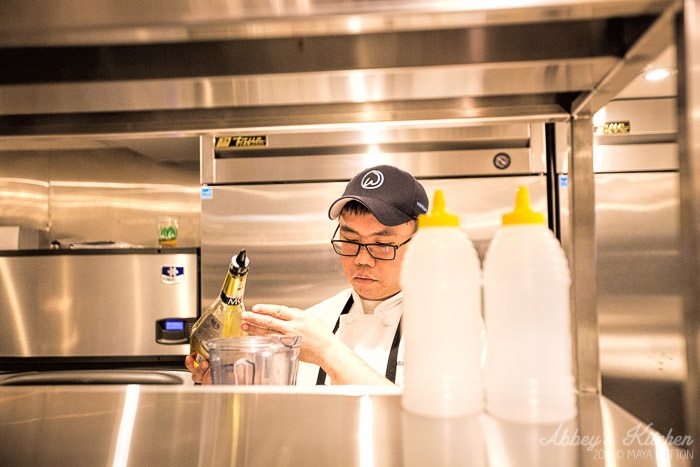 Although the menu stays true to it's American sister, diners can expect monthly features with Canadian themes in the future (think Canadian bacon burger or a lobster poutine.) To develop these patriotic innovations (and basically just be a rockstar on the grill the rest of the time), Wahlburgers has brought on Chef Vincent Leung from SoHo's Sen5es and Luckee restaurants. Chef Leung explained to me that it was incredibly important for Chef Paul Wahlberg that the food be the main focus of the restaurant (instead of the celebrity status and the hit TV show). With that in mind, the restaurant seeks out the freshest, most local ingredients and makes the majority of the menu (including condiments) in-house. When I asked Chef Leung what his favorite menu item was, he quickly and decisively talked up the O.F.D. burger (Originally for Dorchester) which comes equipped with tomato jam, Swiss cheese, bacon and mushrooms.  Sounds like a hit to me. Check out what I got to sample for my preview visit.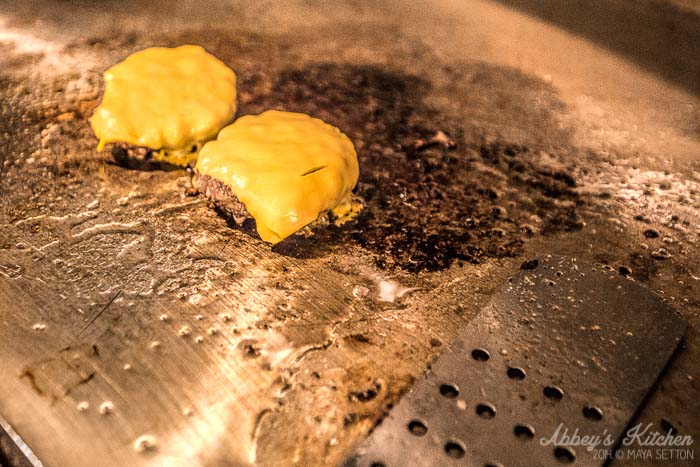 Wahlburgers Eats & Drinks
Funky Monkey Adult Frappe
Strawberry Ice Cream, Vanilla Vodka, Crème de Banana, Crème de Coco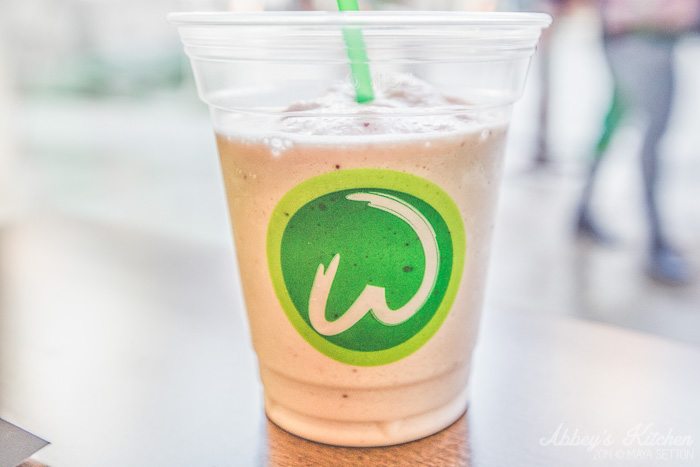 A perfectly frothy, icy treat for adults & their inner child- talk about a guilty pleasure.
Truffle Cookies
Gluten free Chocolate Truffle Cookies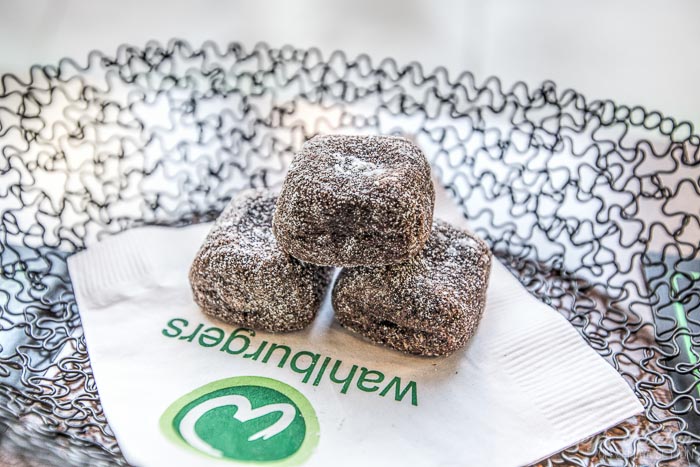 Ooey gooey melt in your mouth chocolate with a nice balance of bitter and sweet.
Sweet Potato Tots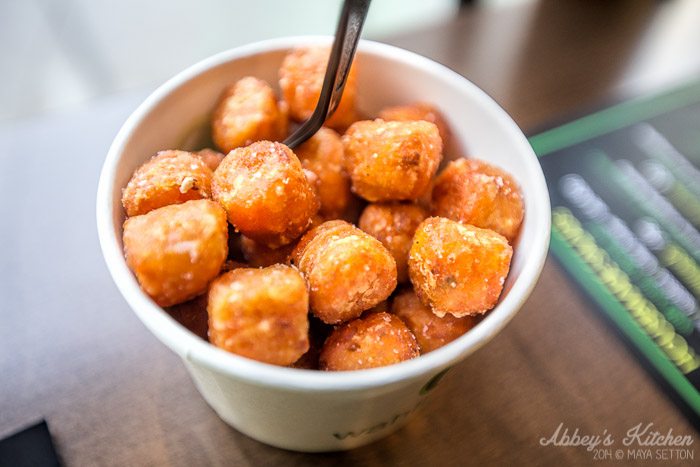 These salty, crispy tots were dangerously addicting with a nice level of sweetness keep me coming back for more.
"Our Burger"
Wahl Sauce, Dill Pickles, Cheese, Lettuce, Tomato and Onion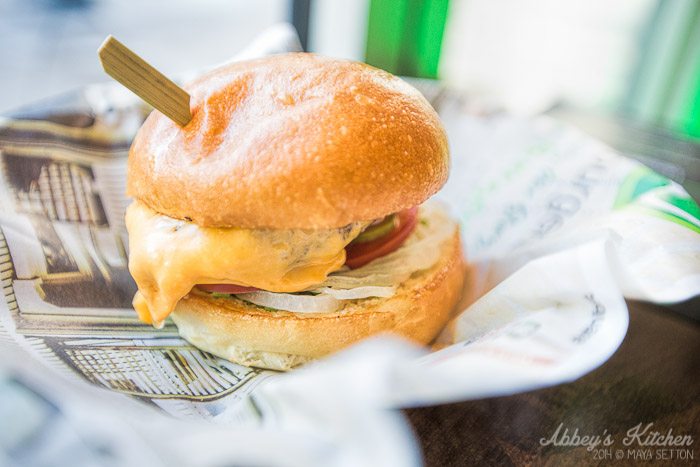 While I didn't get to try Leung's favorite (I'll be back for that I promise), their signature burger didn't disappoint. This is a 3-napkin kind of burger, folks, so make sure those nappies are close by. Thankfully the crusty, buttery, ethereal bun was sturdy enough to contain most of the mess. So, so, so, yum.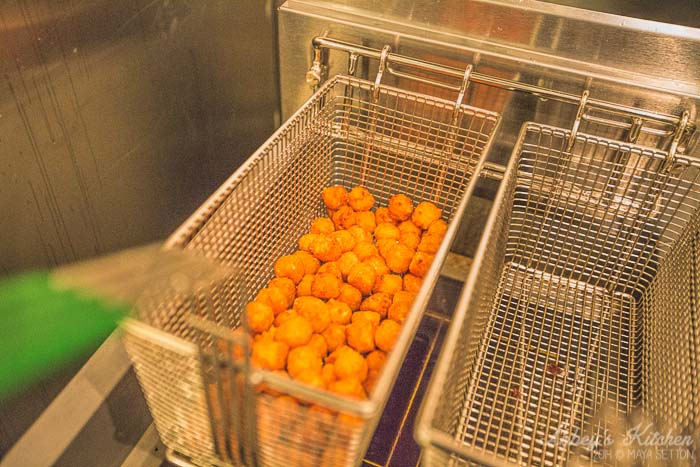 With the Wahlburgers grand opening set for November 15th, you can expect massive crowds, long lines and – most importantly – delicious food at this highly anticipated celebrity restaurant joint. And if you're looking to meet the brothers you might just be in luck as a little birdie told me that they hope to be in town for the grand opening in the coming weeks. I will be there with my eating pants on, ready to check out Mark's favourite Turkey burger (equipped with cranberry sauce, stuffing and squash-hello!).
What burger are you dying to try at the new Wahlburgers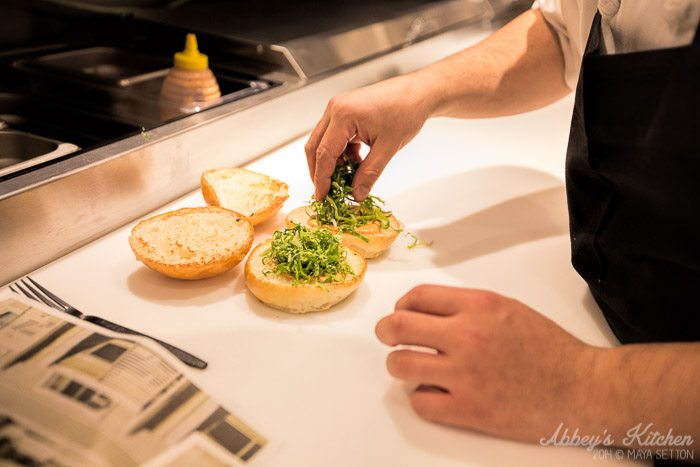 Contribution by AK Tasters: Maya Setton and Brea Giffin
Disclaimer: The preceding meal was complimentary, however, as always, all opinions are genuine.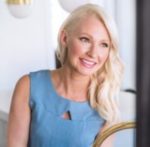 Abbey Sharp is a Registered Dietitian, an avid food writer and blogger, a cookbook author and the founder of Abbey's Kitchen Inc.