In this edition of Outside Abbey's Kitchen, I met up with Top Chef Canada champion and owner of downtown hotspot,
Richmond Station,
the adorable Carl Heinrich.  After having a transcendental experience with his
beef burger
(seriously- order it, you'll see what I mean) and seeing him throw down the goods at the Apple Sauce battle for
AKS
, I was more than excited for a private lesson.  It takes some serious culinary chops to make it through the grueling Top Chef battle, so I knew we could all benefit from his skills.  I was also looking forward to getting a fish recipe, mainly because I haven't de-scaled, de-boned, cleaned and filleted a fish since I took private culinary lessons several years ago.  Fancy pants fishmongery aside, I also think that a lot of people in general shy away from cooking heart-healthy fish simply because they're nervous they're going to screw it up. Our moms taught us how to roast a chicken, fry a pork chop, and grill a steak, but fish, for many families, is still somewhat scary and new.  Well, if anyone's going to help us champion an awesome fish dish, it's definitely a top chef like Carl.  Here's what I learned in this young superstar's kitchen.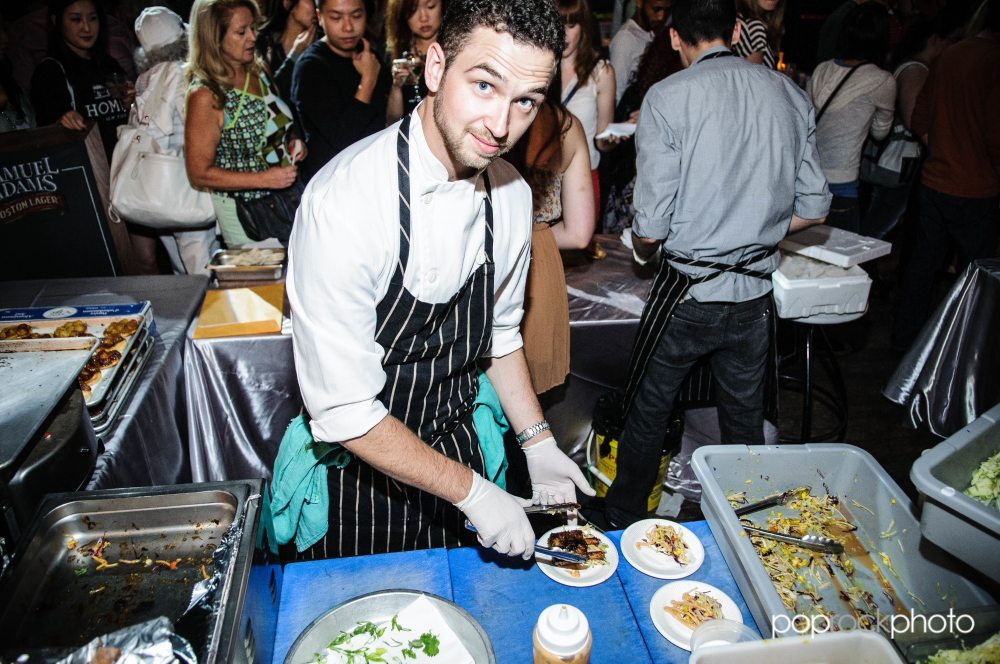 Carl at AKS 3
Quick Facts about Carl and Richmond Station:
-Carl describes his career choice as dictated by early necessity. His mother was single-handedly raising three young children, so cooking became his domestic contribution when he was 12. By the end of high school, every meal at home was a Carl-created meal and just a few kitchen gigs later, and he was hooked.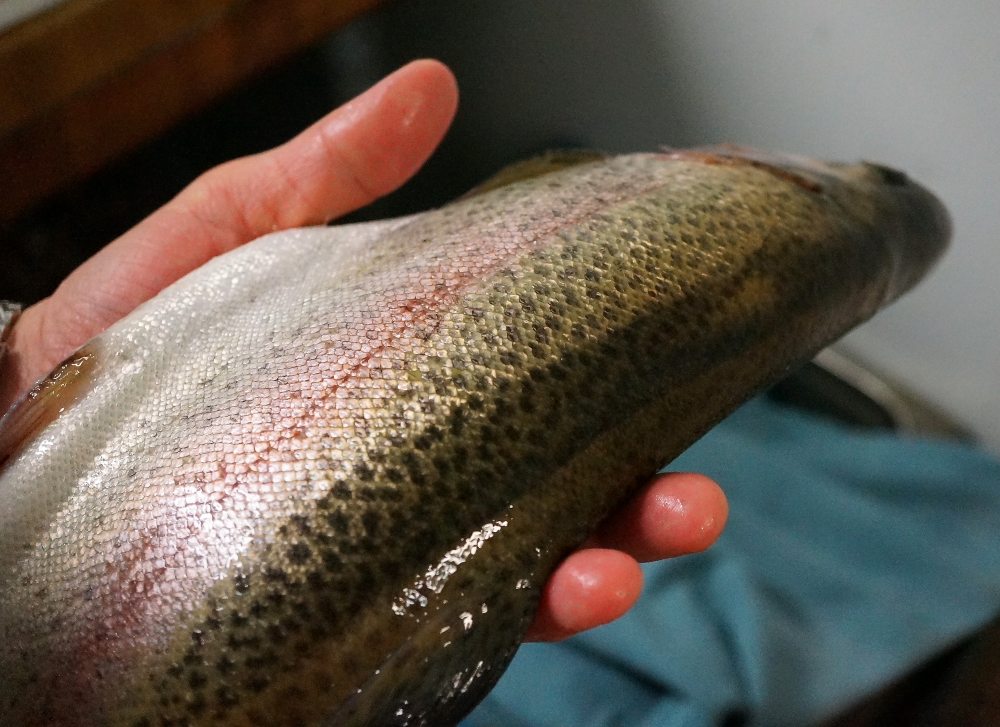 Fresh slippery fish skin
-Speaking of childhood, I absolutely love the story he tells of his earliest memory with food. Every Friday night as a child his family would host pizza night at home. Mom would make the dough, the kids would all cut up the toppings, and they'd eat pizza, watch movies and stay up late. Love, love, love!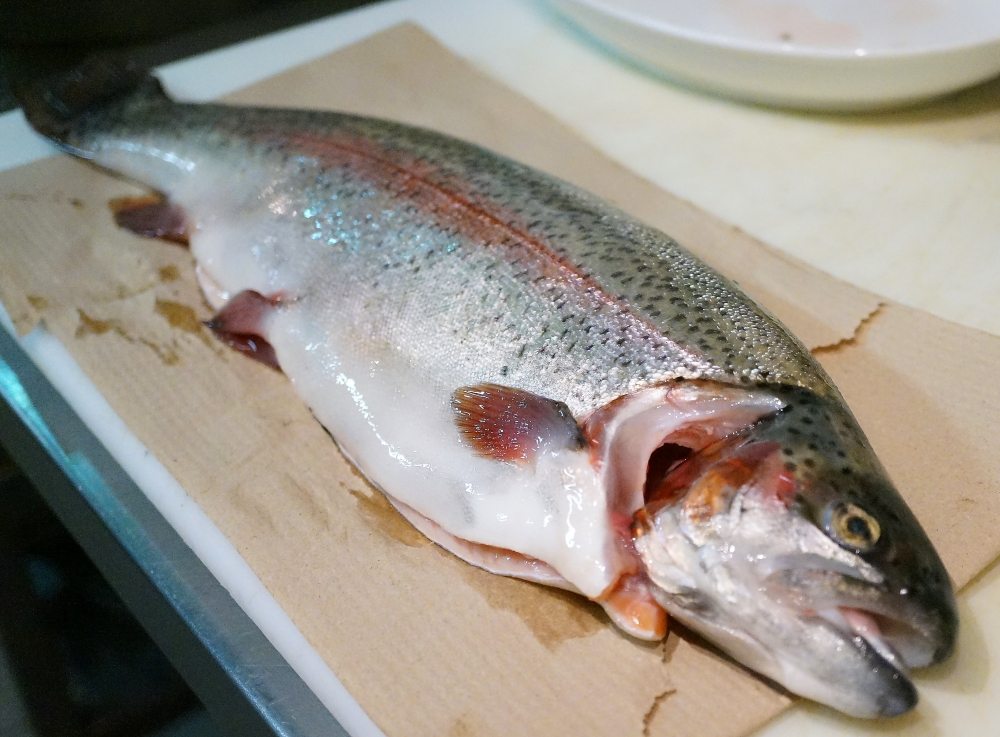 Ready to be broken down
-Seriously though, this guy's childhood sounds crazy-pants cute. When asked what his all-time favourite meal of all time was, he didn't list off Michelin Stars or site a trendy Chicago joint. Instead, he tells me about the meals he had at his grandmother's Vancouver Island cabin when he was a kid. No electricity, just a wood-burning oven, a bunch of foraged chanterelles, and fresh trout from the lake. I know, right? I have a bunch of hard-core foodies at home reading this and feeling shitty about their microwave-filled upbringings. At least that's where I'm at…. (sorry, Mom, just don't read that).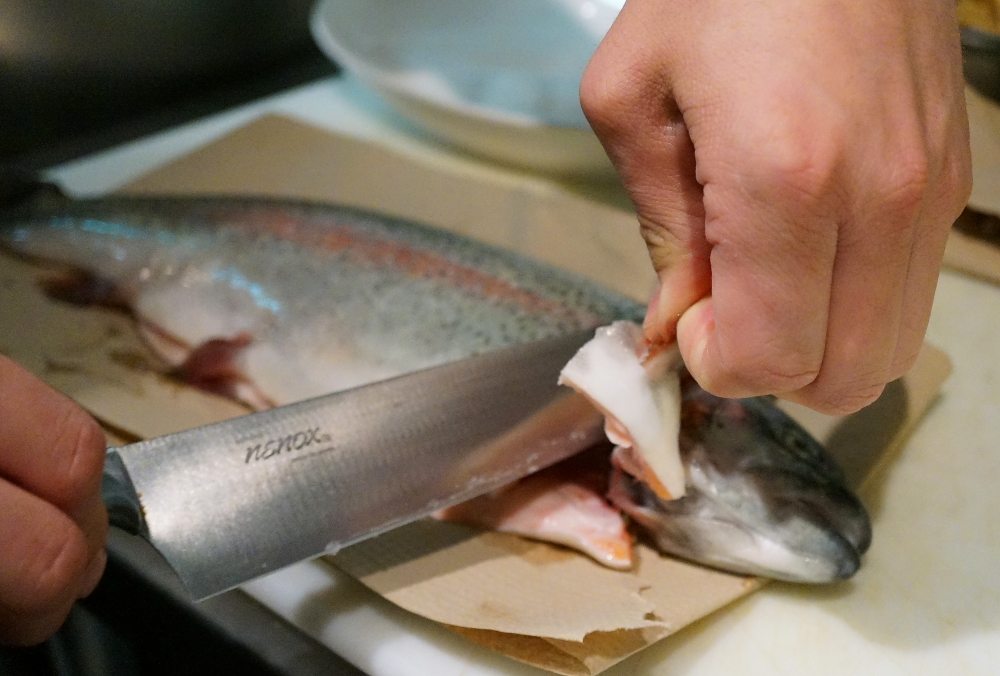 Get your knife behind the fin and slice down
-Carl describes his food as ingredient focused and technique driven. He believes if you spend more time sourcing out really good ingredients, you'll have to spend less time figuring out what to do with them. Good ingredients speak for themselves. Ultimately though, as Carl puts it, "I cook food that I know my mom would like to eat and try not to make things too complicated." Man, this mom of his is one lucky woman!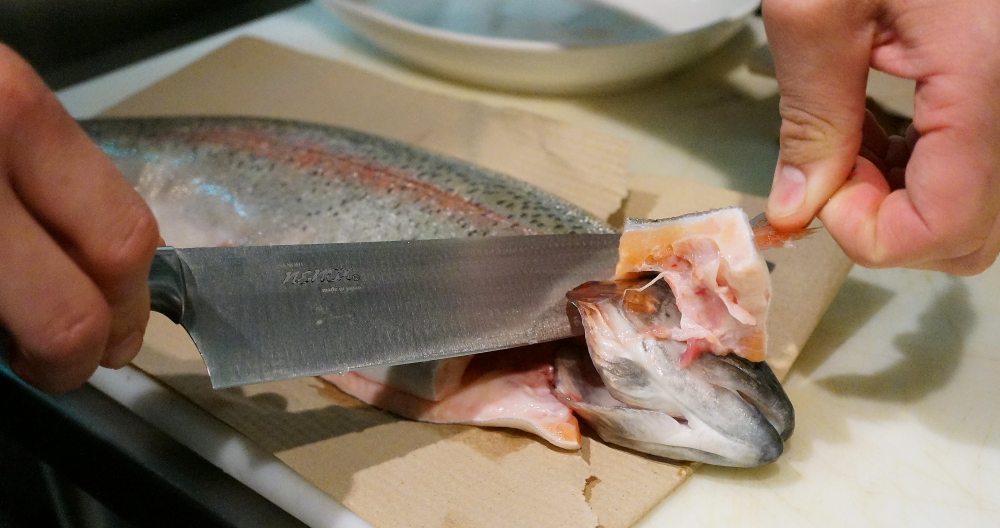 -Likewise, Carl's home cooking uses the same ingredient focused philosophy – "We use West Side Beef a lot and love the quality and flavour of the meat. They do Chicken and Pork as well."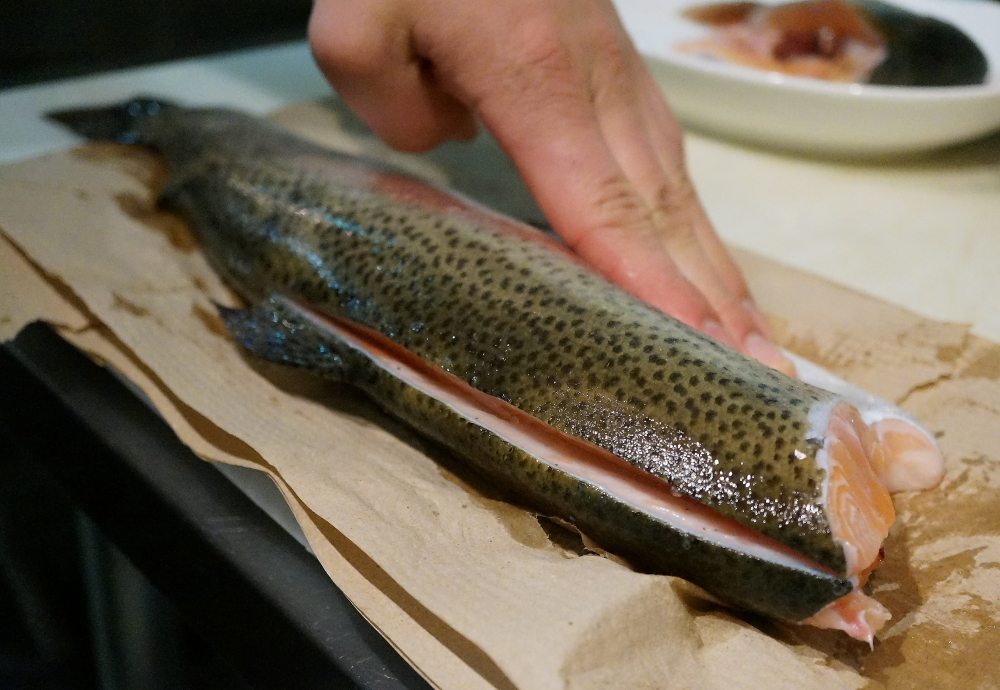 Slice down the spine
-In the restaurant, Carl lets this mantra play out through the use of two types of menus- their Pantry menu which changes once per month, and their Daily menu which changes about twice a day (lunch and dinner) depending on what comes in and what looks fresh.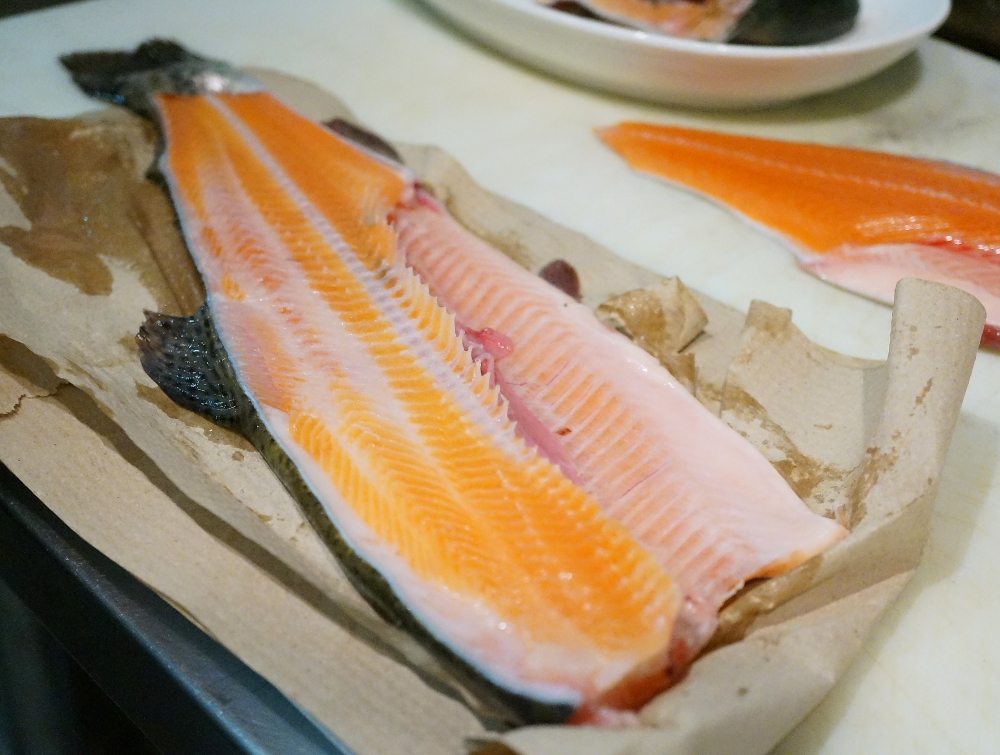 Nice clean cut
-When it comes to protein, Carl only buys whole animals and butchers them in house.  With beef, for example, menu items like steaks are reserved for Daily menus because they're quantity is limited on a single animal, while Burgers utilize various parts so they can be offered year round.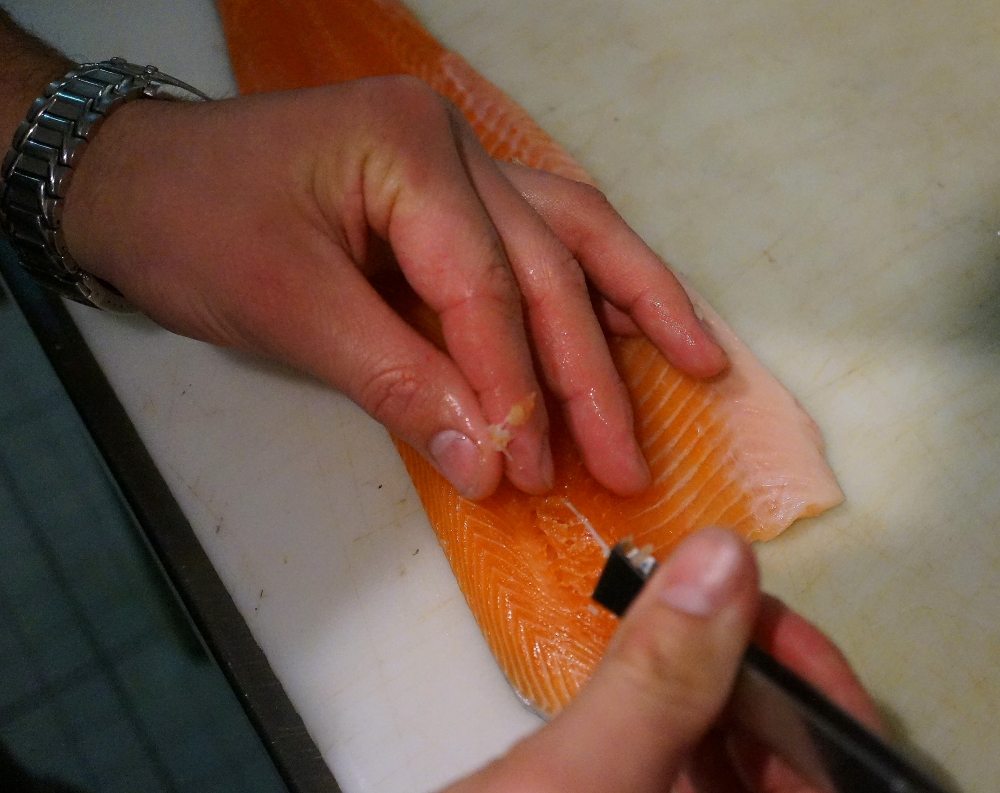 Remove the pin bones
Quick Notes on the Recipe:
-In line with Carl's general ideology on cooking, this recipe was thrown together on the fly. No planning, no meddling- he simply took me into the walk-in fridge, took a gander at what was there, and conceptualized something from there. Right now, the items in the walk-in fridge are seasonal, so they go together naturally and deliciously. To the lay person, it would look like an episode of Chopped or Top Chef, but for Carl, that's just how they cook.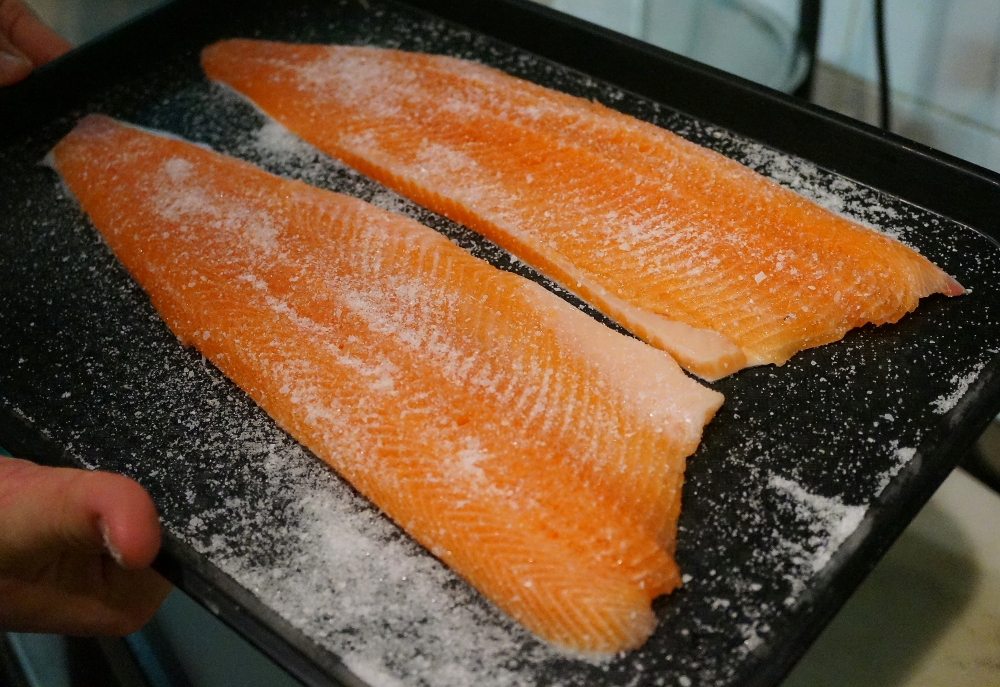 Cure the fish
-In terms of timing for this dish, aim to do things in this order: Prep the fish and get it curing in the fridge. Work on the lemon marmalade. While it's going through the boiling phases, you can prep your vegetables. Start cooking the veg when the lemon marmalade is in its reducing phase. Here you want to start cooking the turnips, and then the salsify. You can set these aside and rewarm the last minute. The last minute bits are: cooking the salmon, seasoning the marmalade, frying the Brussels sprouts and sauting the mushrooms.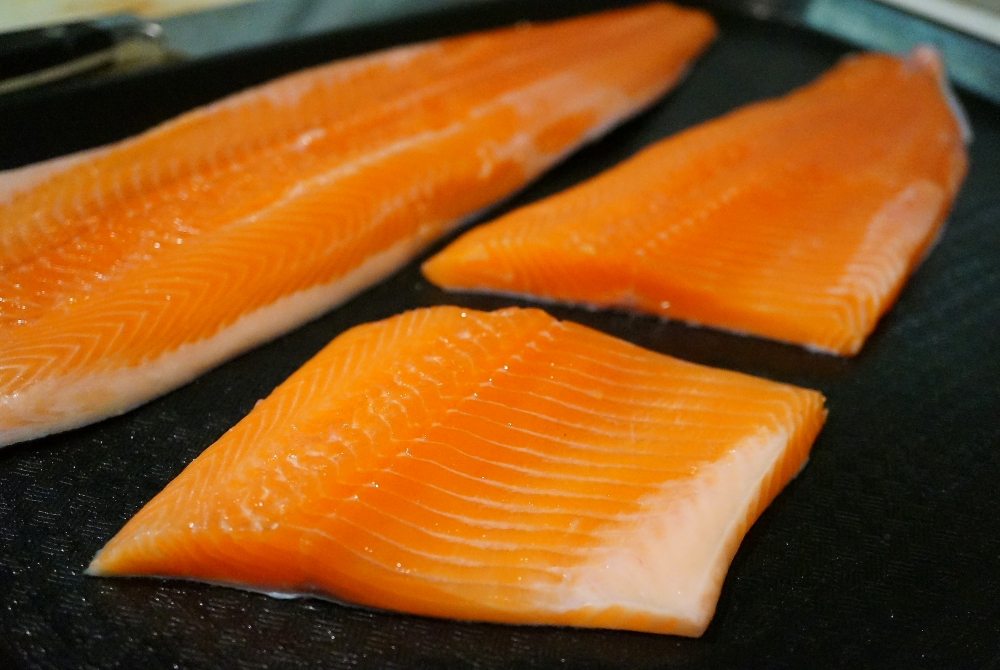 A perfect 4 oz portion!
Quick Tips on the Fish:
-As previously alluded, it's been a long while since I've cleaned, de-boned or trimmed up any kind of fish. All I can remember is spending about 30 minutes straight scraping off scales and going home with fishy smelling sequins all over myself. Alas, with trout- at least with this preparation – there's little need to go to the trouble of descaling. I definitely really liked the sound of that.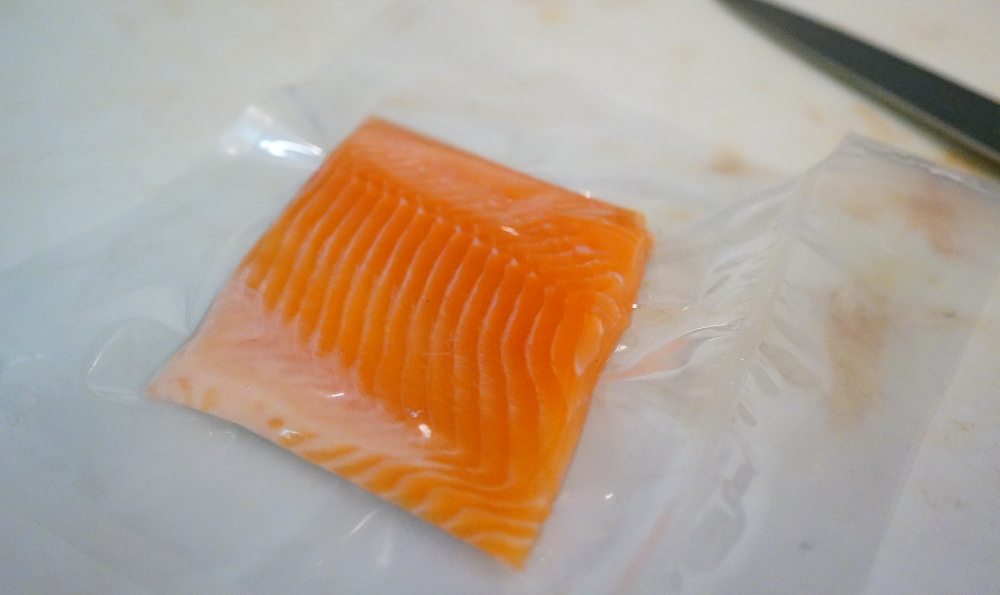 Ready for Sous-Vide
-If you've never filleted a whole fish before, it's actually a lot less scary then it seems. This one came already gutted so we at least didn't have to worry about that. Our first step was to get rid of the head. To do this at home, simply insert a knife behind the fin towards the gills and cut on an angle towards the head. Repeat on the other side, and then press down to cut through the spine bone at the top to remove the head. Next, just slide your knife along the spine bone towards the tail in one full continuous motion- then repeat on the other side to yield two fish halves sans spinal bone. Finally, let's deal with the ribs. With your knife angled downwards facing the bottom of the fish, sheer off the thin layer of rib bones and trim everything up.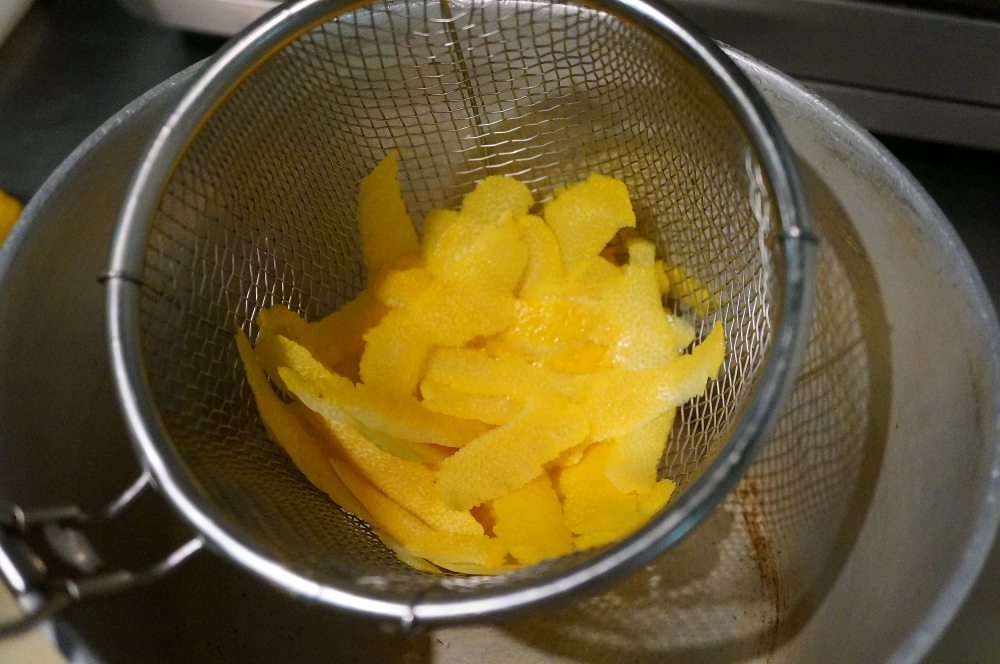 Blanching the lemon rind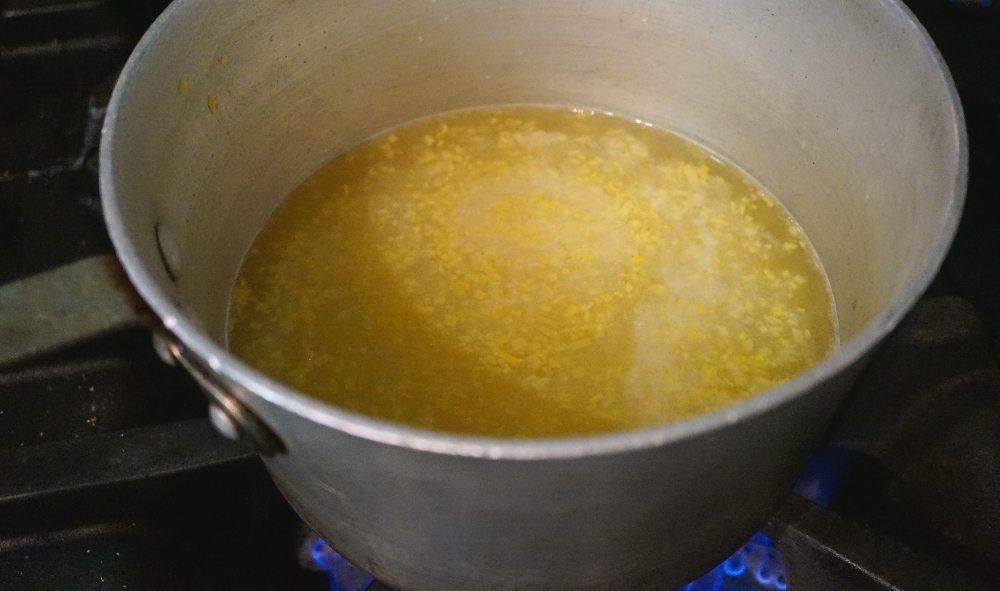 Reducing the marmalade
-Oh deboning. Carl whipped through this puppy, but it probably would have taken me twice as long. Having said that, he did show me a few good tricks. First off, run your finger over and against the pin bones to encourage them to poke up and come out of hiding. Then when you remove them (with tweezer- type tools), pull the bone out towards the head- not towards to tail. If you pull in the wrong direction, you'll risk tearing the delicate flesh and mangle your beautiful fish! You know its time to stop fishing for bones when you reach the end of where the rib cage was. Woo hoo, folks- you did it!
-When it comes to cutting yourself a beautiful filet, Carl says "a nice rectangle looks good, but a diamond looks better." I like diamonds more than rectangles too, Carl, but I believe the 5th grade technical term is Rhombus. Let's go with that because I like saying it. Rhombus. Weeee. Alright. So, to cut a perfect rhombus, its easiest just to follow the angle of the grain of the fish.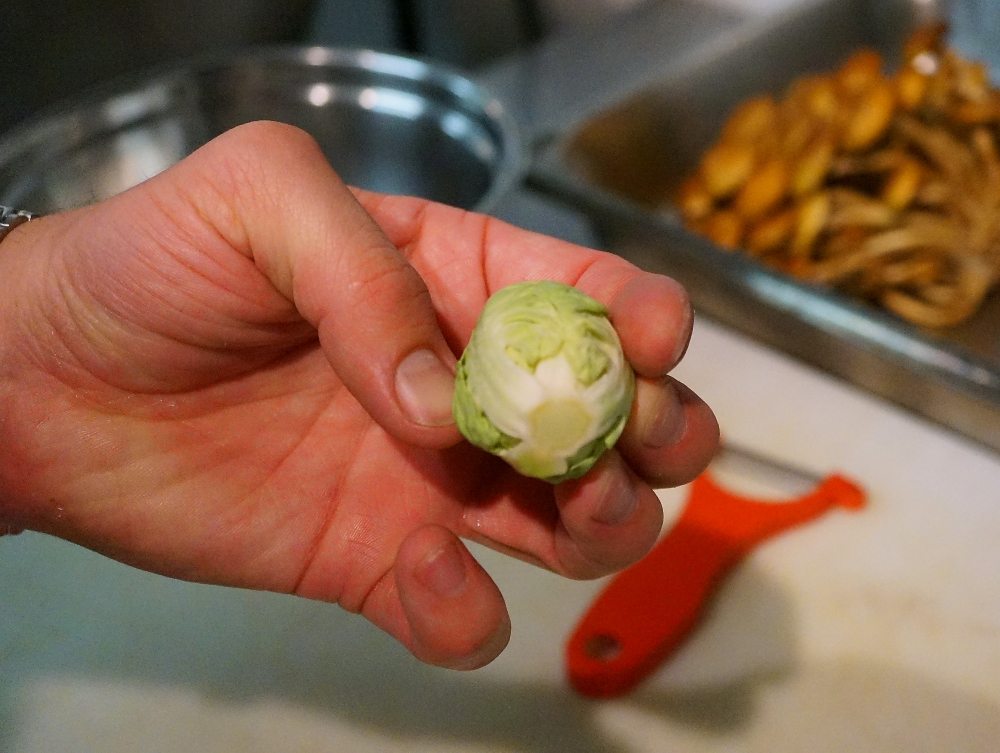 Trimmed Brussels Sprouts
-In this recipe, we have lightly cured the rainbow trout with a 50/50 sugar and salt cure. The purpose of the cure is to film up the fish because the salt draws out moisture.  But don't forget to cut that salt with sugar! Too much salt and you'll actually end up burning the fish (aka. drying it out so much from the excess sodium). After just 30 to 40 minutes in the fridge, you just have to rinse it off and pat it dry and it won't taste at all sweet or salty when it's cooked.
Quick Tips on the Accompaniments:
-I know it seems like a big of a hassle but you have to blanch the lemon rind twice to remove the bitter flavour and to fully cook the rind.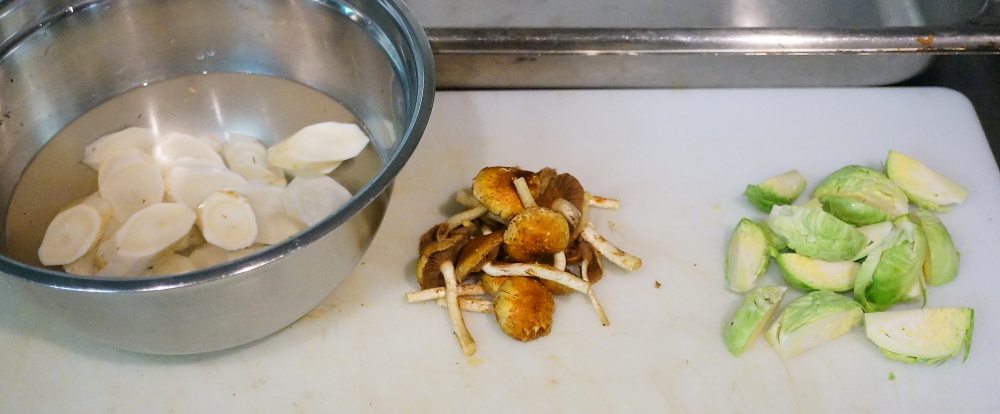 Mis en place for the salsify, mushrooms and brussels sprouts

-Carl showed me a really resourceful way to mash up the turnips. Rather than using a food mill, ricer or even a potato masher, simply beat those babies to death with a standard metal whisk. The goal with these is not to have them super smooth- a little lumpy texture is a good thing because it offers a textural contrast with the silky fish.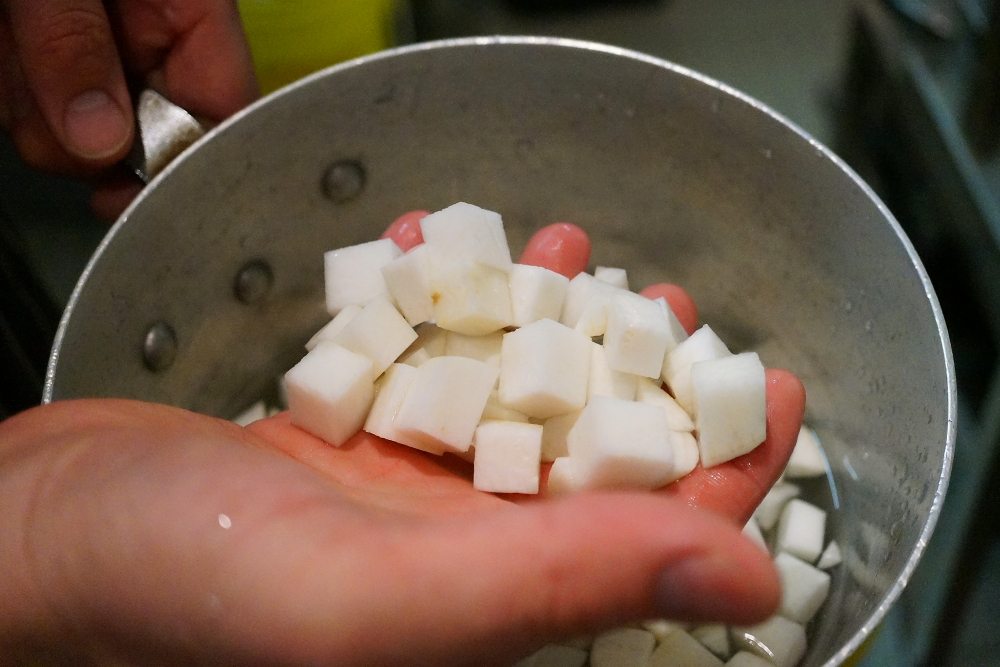 Dice the turnip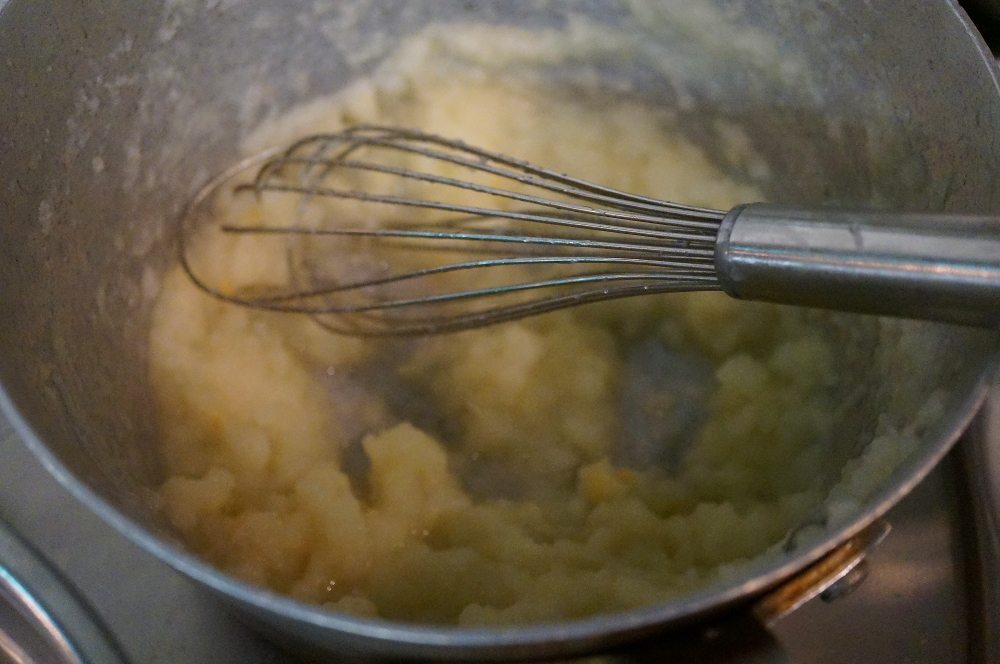 Beat the crap out of it
-Salsify oxidizes super fast, so if you're not going to cook them immediately, cover them in some water after you peel and slice.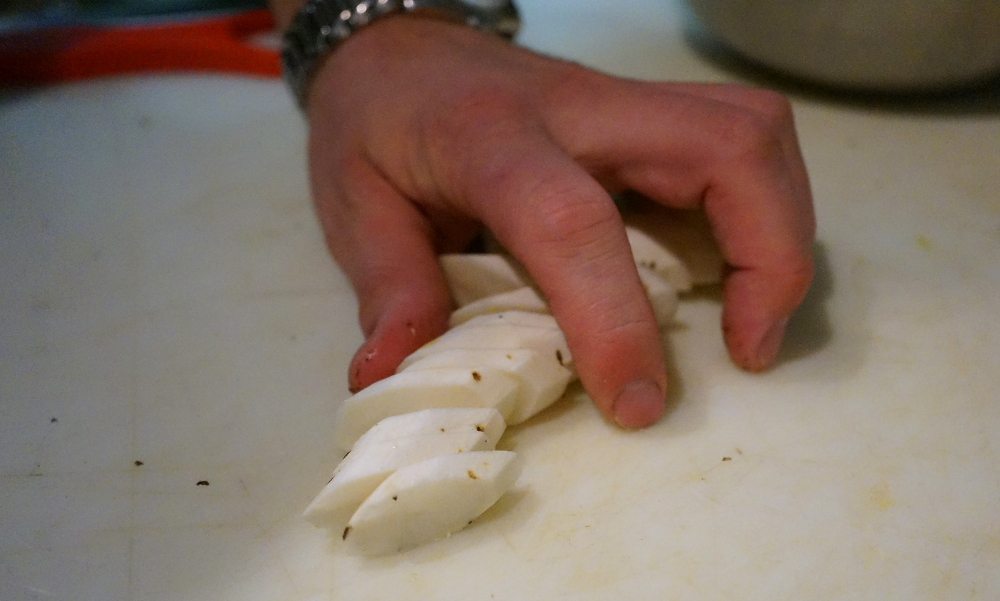 Slice the salsify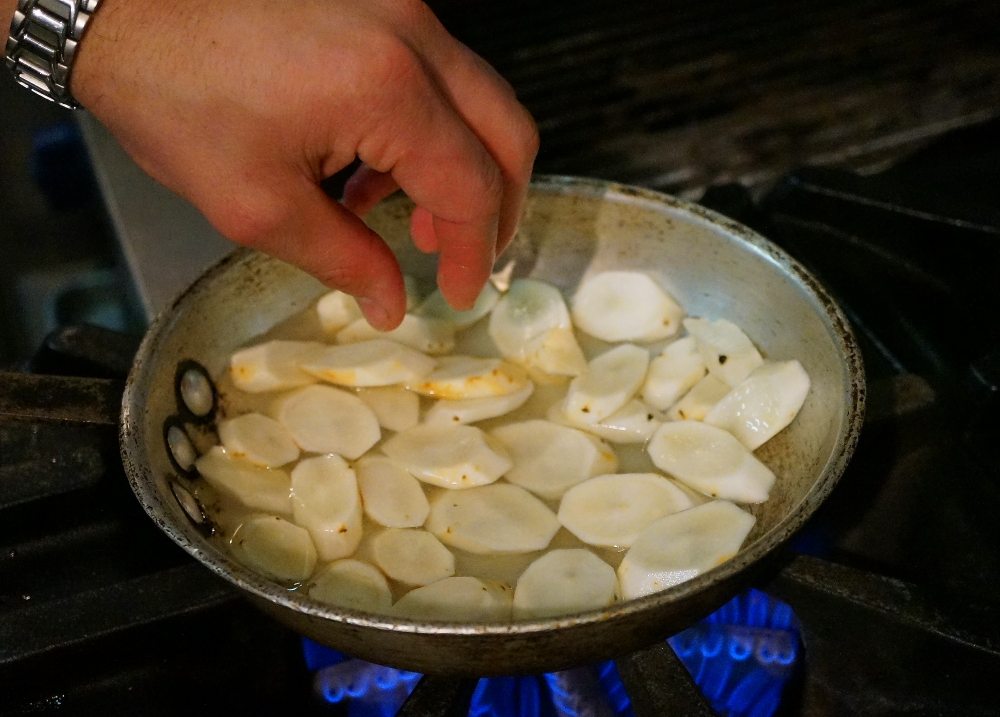 Eek- don't put your fingers in a hot pot unless you're a super star chef like Carl
-When prepping the Brussels sprouts, simply trim of a sliver of the bottom, remove the outer leaves and quarter the vegetable – making sure to keep everything in tact.
So how was it? Lordy, it was good.
Thank you Carl from Richmond Station, for sharing this delicious recipe. For more information about the restaurant, check out their website and twitter for the latest scoop. You can also check him out as one of the chefs at Taste of Toronto this year!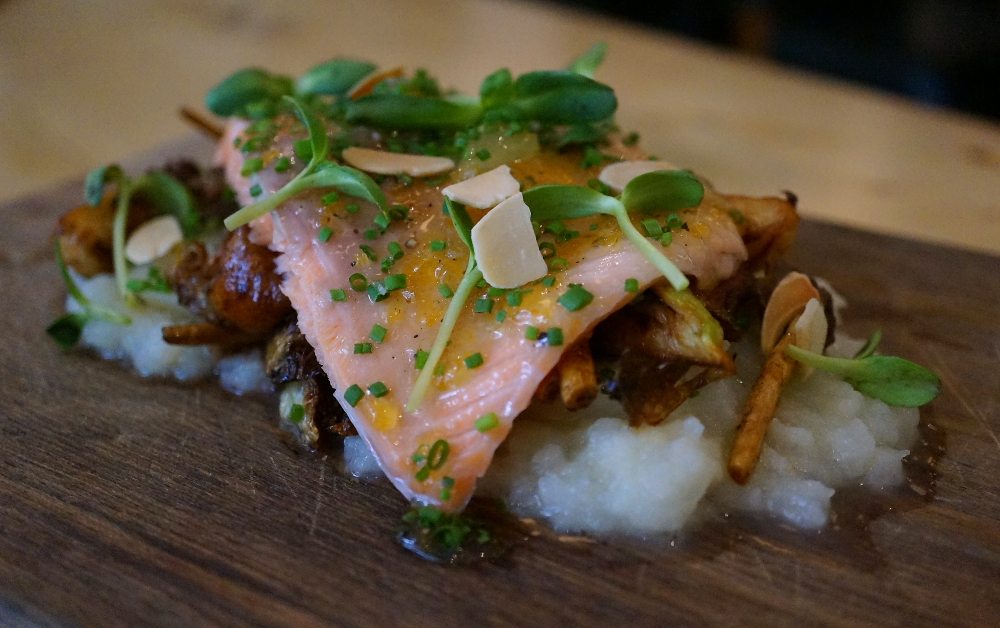 Sous Vide Rainbow Trout with Lemon Marmalade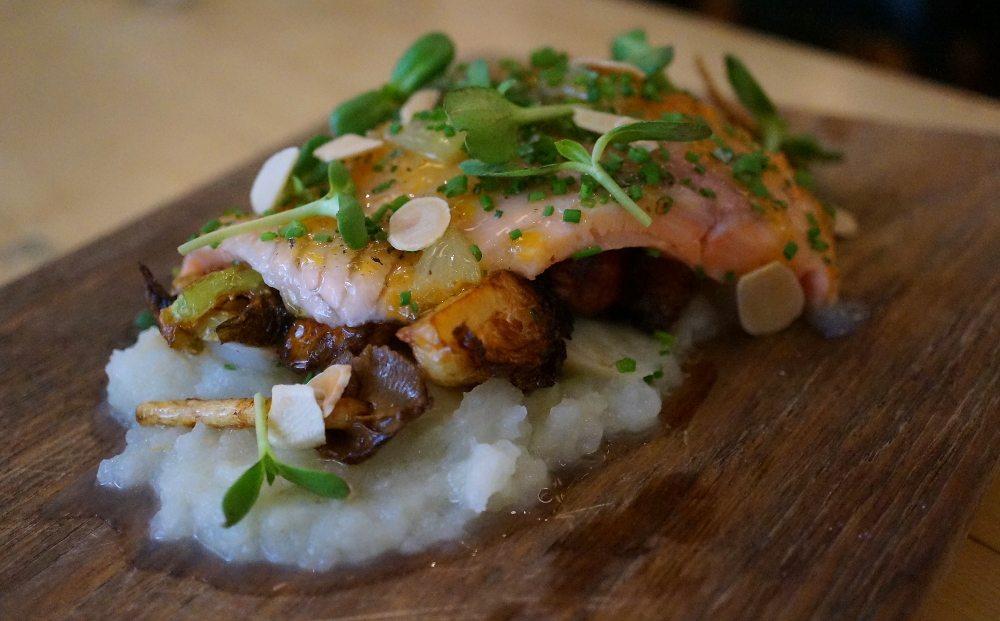 Updated on May 8th, 2019