Welcome back to another edition of Outside Abbey's Kitchen. Today, I made my way down to Queen West to the restaurant in the uber-trendy Beverley Hotel to meet with Executive Chef, Eric Wood.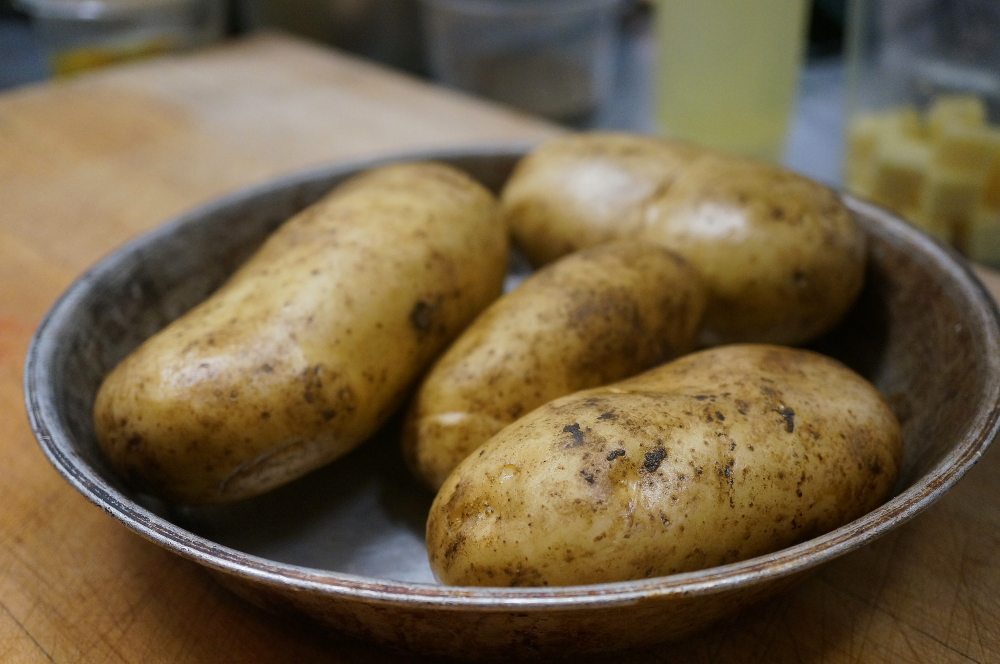 Potatoes ready to roast
I have had dinner at the Beverley last fall, many-a cocktail on the rooftop patio, and was recently around to celebrate chef Wood's appearance on the hit TV show, Chopped a few weeks back. I get tend to get excited about Chef Wood pumps out (o-m-g, especially his burger), so I was eager to pick his brain and let him teach me to cook.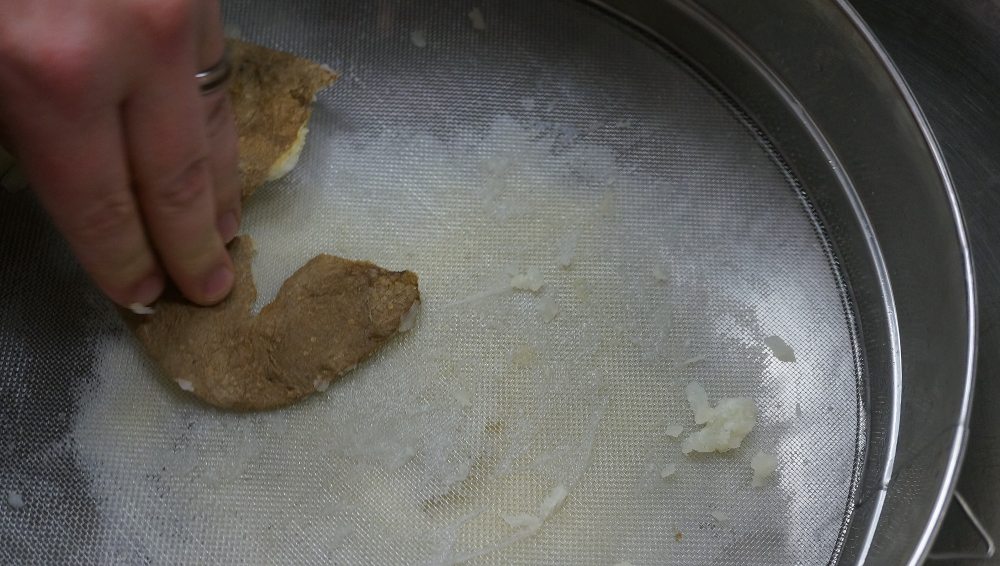 Mash on the Tami
When I asked him what he wanted to show me, he suggested he demonstrate his "scandalous" approach to making gnocchi. I was intrigued and excited, because a) gnocchi is one of my all time favourite foods, and b) while I have been taught by a professional chef how to make gnocchi before (and I stick to his technique at home), I loved the sound of a scandalous recipe. I spent a few days thinking about what this possibly could mean, especially for such a simple and straight-forward recipe. Gnocchi is just basically potatoes, flour and eggs- the only discrepancy in recipes I've really ever seen is whether said spuds are baked (that's what I do) or boiled. I was ready to get schooled either way, so I arrived in my fancy-pants apron ready to salute a "Yes, Chef!"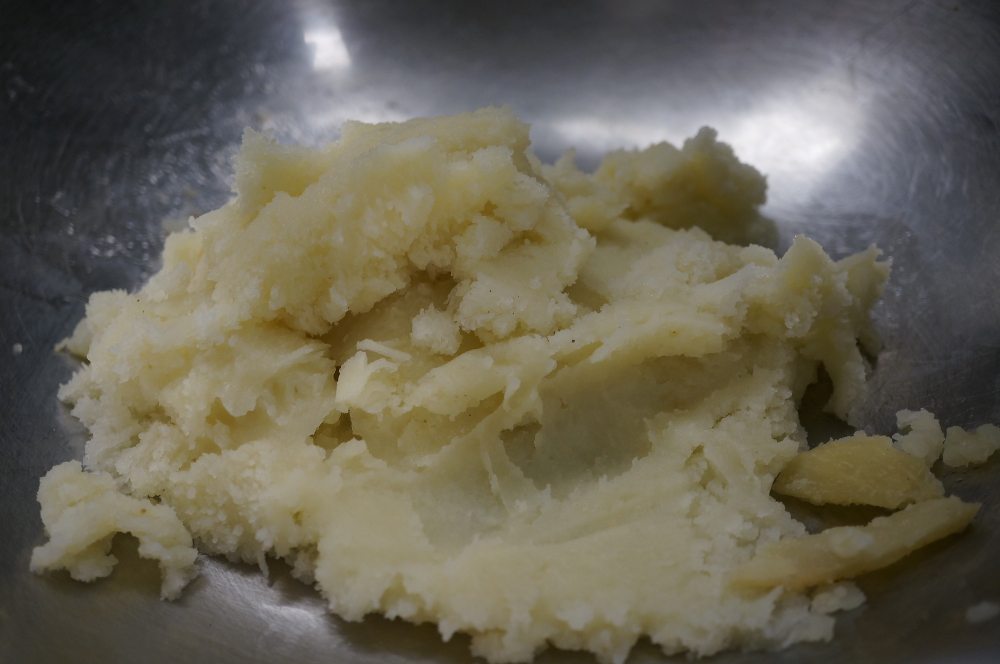 Mashed and ready for eggs!
Quick Lessons I Learned about Eric:
-Food was a huge part of his family life- his grandparents were gardeners, his uncles hunted, and his parents were huge lovers of food and wine.  Him and his sister did a lot of experimenting in the kitchen beginning at a very young age – he even attempted squid ink pasta from scratch (and of course, made the obligatory mess).
-When Eric figured out that girls liked boys who could cook, he knew he had found his place.
-Having worked in America for a little while, and watched the popularity of New American cuisine grow, Eric's main inspiration came from people like Grey Kunz, Michel Richard, Marcus Samuelson, Jonathan Waxman, and David Burke- people he describes as respecting and having fun with ingredients. On an International level, he's become enamoured by Gaston Acurio of Peru, while locally, he looks up to Brad Long, Jamie Kennedy and Susur Lee (yep, even despite his harsh comments during Wood's stint on Chopped).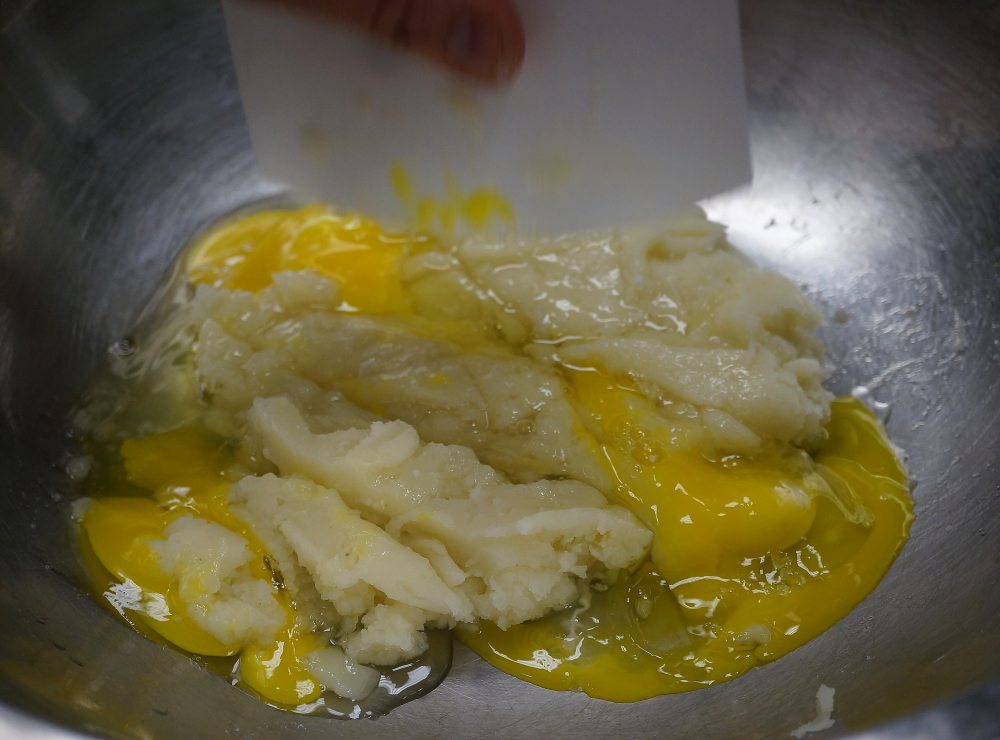 Mix in the egg!
-Eric describes his cooking style as loving bold flavours and contrasts.  A former singer, himself, he approaches food like one might approach a piece of music.  "There is a base note to ground it, some sort of melodious flavour to be the core, and then some screeching high notes to punctuate."
-Eric also believes that presentation is key – "there are a lot of great chefs who embrace a rustic, comfort mentality, but I still believe in the theatre of dining." Eric, I so agree!
-As previously alluded, Eric competed on the hit Food Network TV show, Chopped Canada, just a few months back and was chopped in the final dessert round.  When asked if or how he would do it again, he replied "I think I stand behind the dishes I made, but I wasted a bit of time in the first round, and admittedly got distracted by the lights and cameras. The loss came down to missing one element on one plate in the first round. Outside of that, my dishes were clearly more… refined. So, if I could do it again ( and I hope I get a chance on season 2) I would have a real game plan to focus from the get go." We totally hope you make it back! You definitely deserve the second chance!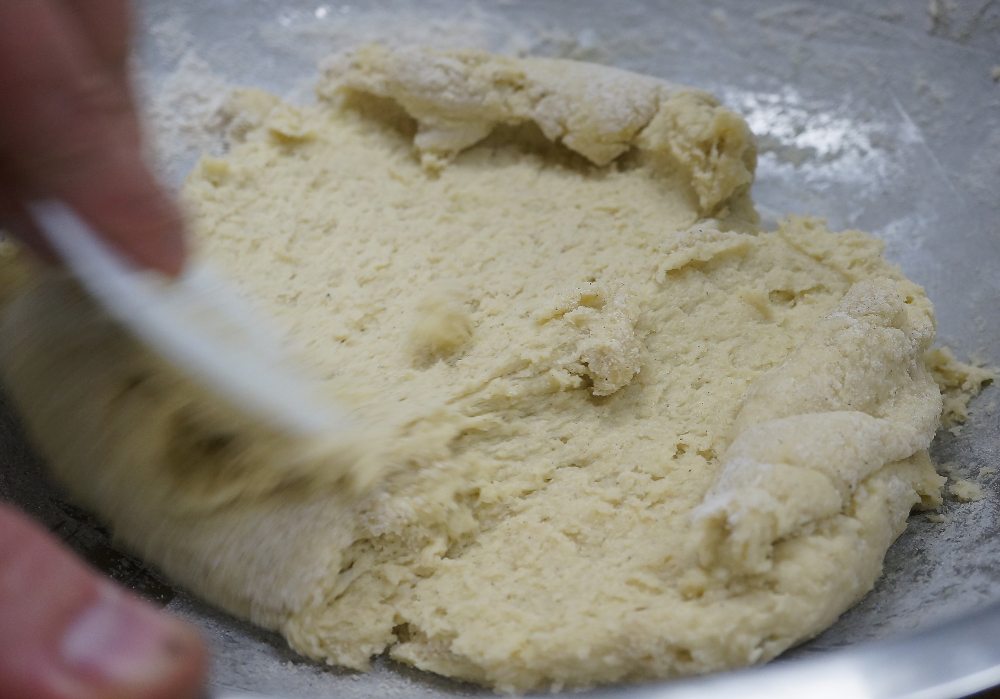 Fold together

-Eric is looking forward to the opening of the rooftop (which weather pending should be in May) and to sponsoring this year's Terroir Food Symposium- a must one-day event for any truly passionate foodie in the city.
-Him and his wife are expecting their first baby this June- meaning I'm sure he'll have enough on his plate in the months to come.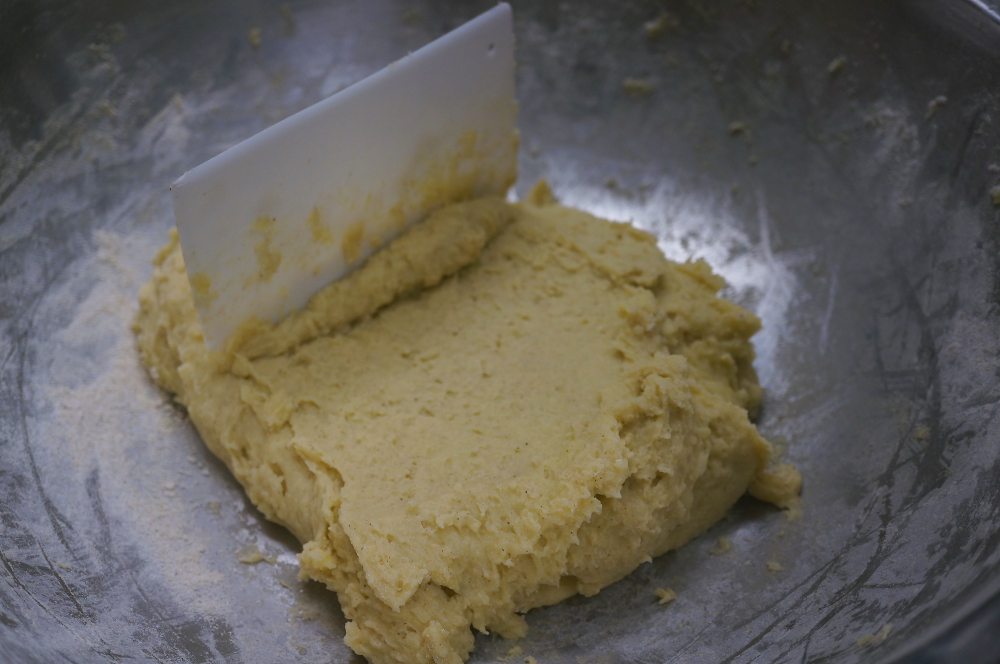 Perfecto!
Quick Lessons I Learned about Gnocchi:
-Eric believes that gnocchi is best when it's delicate and soft inside and has a nice crust from the pan on the outside- Eric, we are on the same page here- Gnocchi done the traditional way can be tricky because it requires that you add enough flour so that they don't fall apart when you boil them, but not too much that they are tough or stodgy. Likewise, if we're trying to achieve maximum crispy surface factor, the cylinder like shape of the gnocchi aren't so great- especially if you're going to do the extra fork ridge step.
-In Eric's "scandalous" method, he rolls and poaches the gnocchi like a torchon (when ingredients are pressed together in plastic wrap or towel before cooking) which can then be sliced and fried to order. The result? Maximum surface area for caramelization in the pan, meaning a fabulous juxtaposition with the cushiony centre.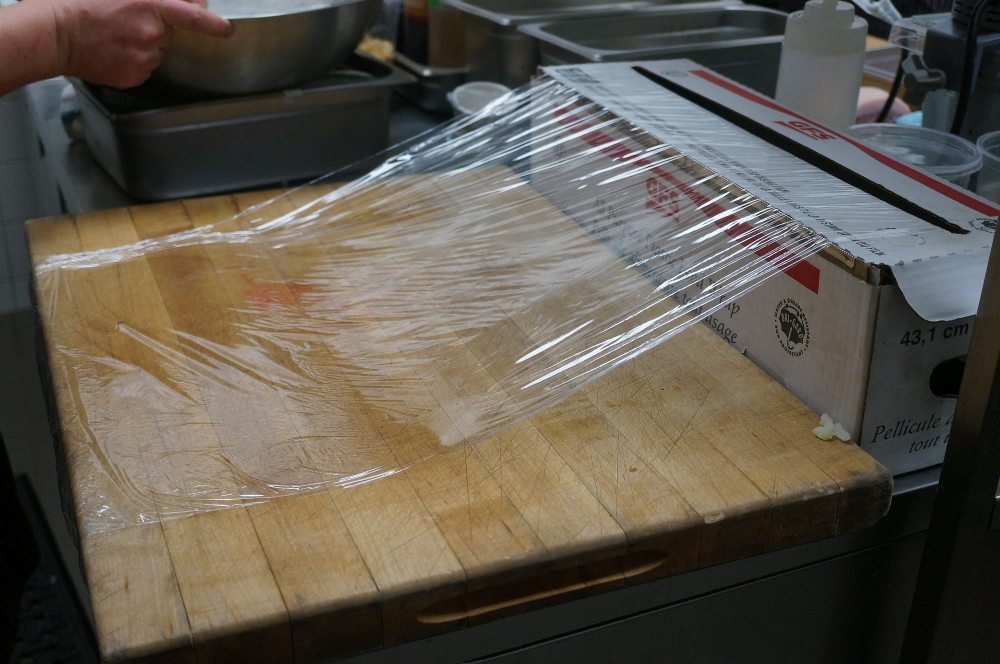 Get the saran wrap ready!
-These gnocchi also differ from traditional recipes mainly in the ingredient ratio. This recipe features an unusually large amount of eggs making the mixture essentially much like a custard in that those eggs really thicken up the works. This allows you to add less flour without it falling apart because the egg does a great job at holding things together, and it's all wrapped in plastic anyways so it's not going anywhere in that water. This also means you can play around a little more with the type of flour you use or the type of root vegetable you employ (yep, sweet potatoes, squash, even carrots are all game), and this is simply because the egg does the heavy lifting when it comes to binding things together so the flour or the amount of starch in the potato matters less. You also don't need to worry as much about overcooking the gnocchi, which is a delicate sport in the traditional method. So bottom line on the egg ratio- it just makes the recipe a little more fool proof.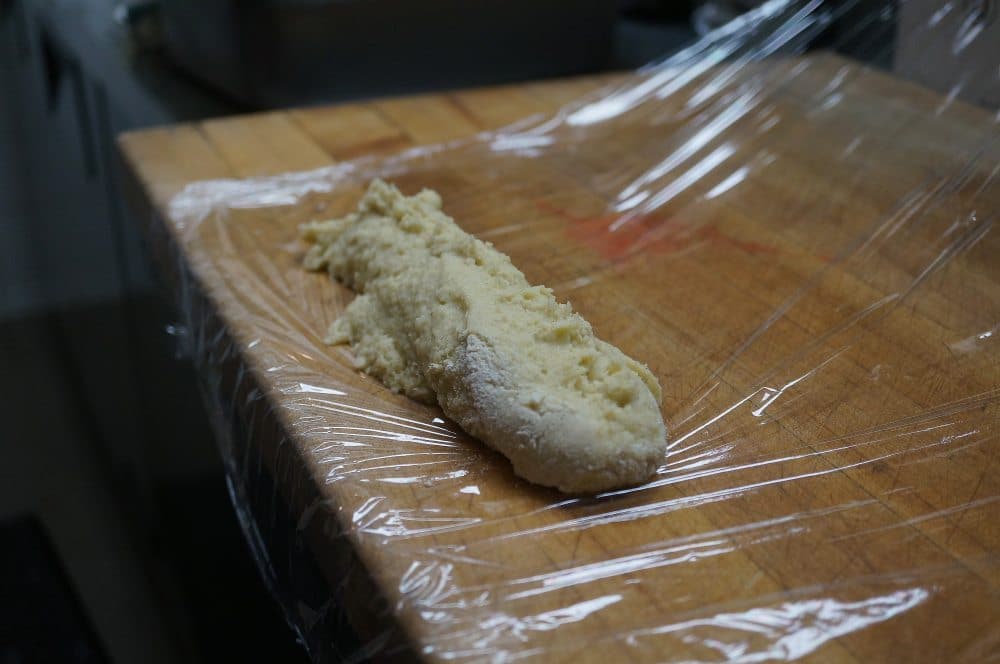 Ready to roll!
-Another advantage of Eric's method is that by slicing the gnocchi from the log into disks, and then pan-frying the flat surface, you get to maximize the surface area for caramelization. And since your gnocchi has never even come in direct contact with water, you're not transferring semi-wet cooked gnocchi to a hot skillet with oil which can be a) um, dangerous, hello oil spatters and b) not very effective because moisture will always inhibit adequate browning.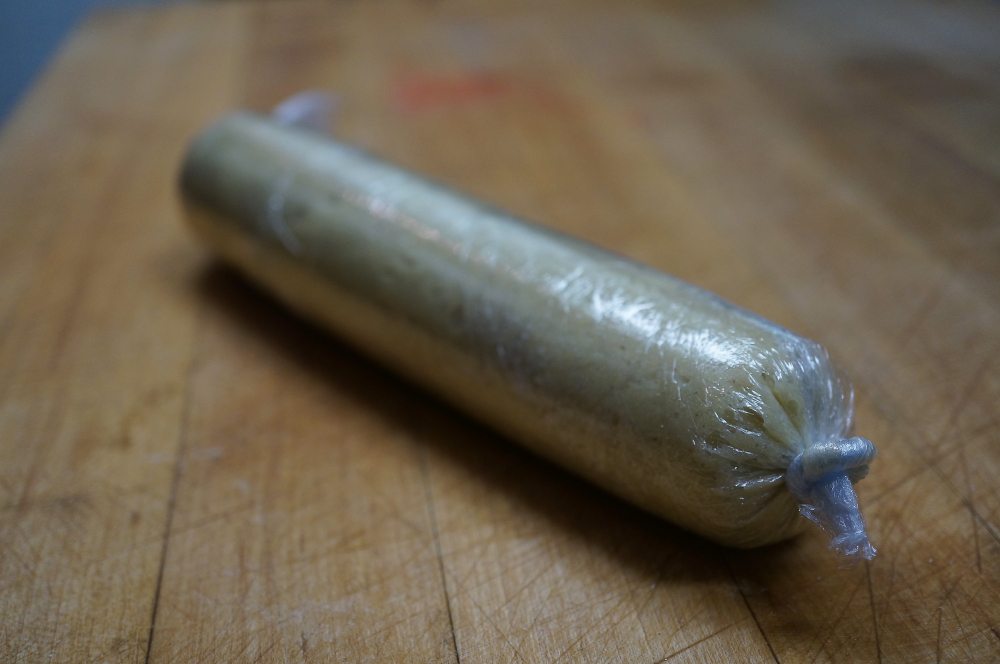 Time for the simmering water!
-And then there are the practical advantages. This method is makes far less of a mess than the traditional which requires you to roll the dough into logs with excess flour, half of which usually ends up on the floor. This is also great for dinner parties because you can make the dough, wrap it, cook it, and refrigerate it for up to 4 days. It can also be frozen for a few months even before using! Then, all you have to do for your guests is slice it up, pan-fry it and serve to order. Ah, there is nothing I love more than make-ahead recipes.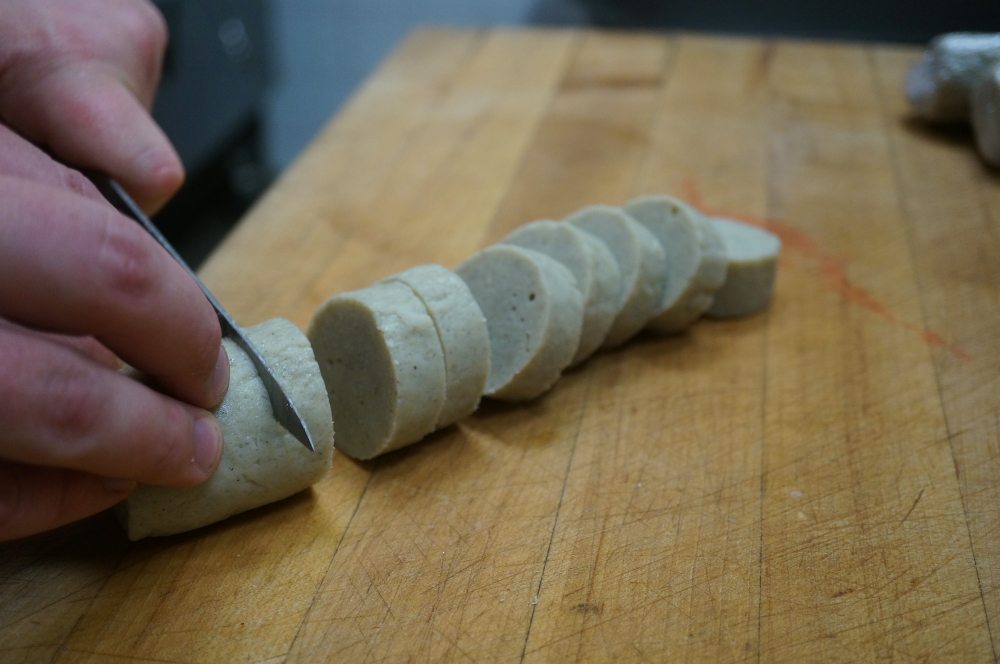 Slice it up!
-You can boil your potatoes if you'd like, but like me, Eric is a fan of baking them.This is a more controlled method in that it doesn't leach a bunch of excess liquid into the potatoes, and it results in better flavour.
-After your potatoes have cooked, try not to let them cool which can turn them stringy.  Just pick them up with a kitchen towel or oven mitts and rub it onto the Tami (the mesh screen- you can also use a ricer or food mill).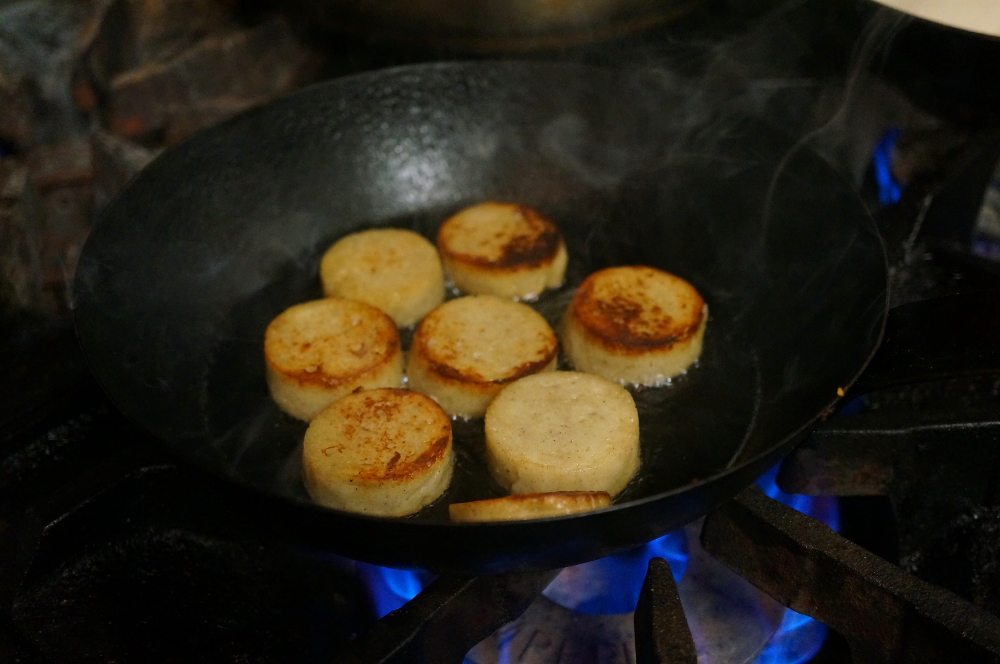 Pan fry those puppies
-Like all great chefs, Eric insists you do not let anything go to waste. Those potato skins are delicious sliced up, pan-fried with some olive oil and used as a steak garnish or added to stock pots to make vegetable stock.
-This recipe calls for buckwheat flour, which has a delicious nutty flavour, but you can use all All Purpose if you would rather.
-Eric served up my plate with some cauliflower puree, blistered shishito peppers, warmed olives, and vanilla poached tomatoes (holy yum), but feel free to use whatever sauce or garnish you like.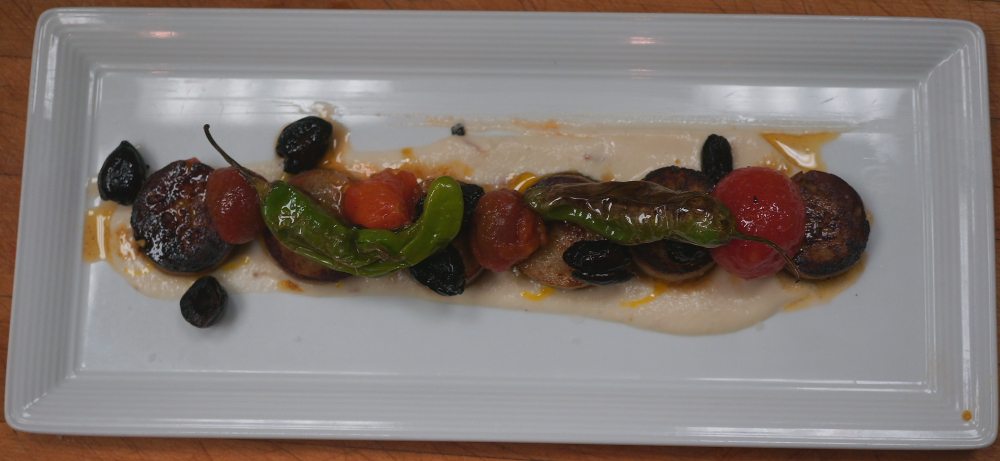 Thank you Eric for sharing this recipe! If you want to taste delicious and creative dishes like this, then definitely visit Eric at the Beverley Hotel and check out the tantalizing new menu in time for spring.
Scandalous Gnocchi
Updated on May 8th, 2019