In this edition of Outside Abbey's Kitchen, I met up with celebrity chef, Jason Rosso of Milestones Canada. Jason is one of the most successful chefs I know, having worked in a wide range of restaurants across Canada including Peller Estates Winery, Senses, Sassafraz, The Boiler House before taking on the massive role of a Corporate Chef. Jason is also no stranger to teaching people how to cook, having been one of the resident chef experts on the hit Food Network TV show, Restaurant Makeover. Thank goodness I don't have to make him food before he teaches me his, or I might be pretty nervous about his critique! After enjoying a delicious Homestyle Chefs' menu at Milestones prepared and presented by Chef Rosso himself, I was eager to steal some tricks from this corporate chef pro. On the menu were two items for the price of one- Thai Basil Noodles and a Butter Chicken Risotto. Check out what I learned in this superstar chef's kitchen.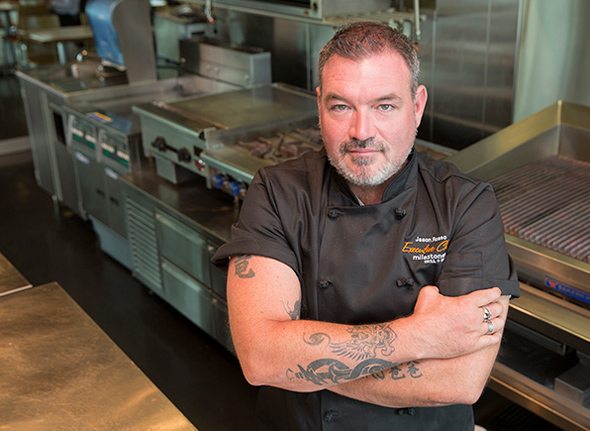 Photo via Toronto's Hottest Chef
Quick Facts about Jason and Milestones:
-Jason started cooking when he was 13 working at a family restaurant in Brampton where an Italian chef mentor taught him early on that "simple food done well can be a beautiful thing."
-Having traveled and worked all over the world, Jason cites Michel Bras, Michael Rostang, Michel Gerard, Charlie Palmer and Daniel Boulud as some of his greatest sources of inspiration.
-Jason describes his culinary style as rooted in contemporary French cuisine with twists inspired by his culinary travels around the world. "But only if I fully understand how to apply specific techniques to a dish, " he adds, " I want to ensure that I am always respecting the culture and style of a specific dish if I am going to do something more eclectic."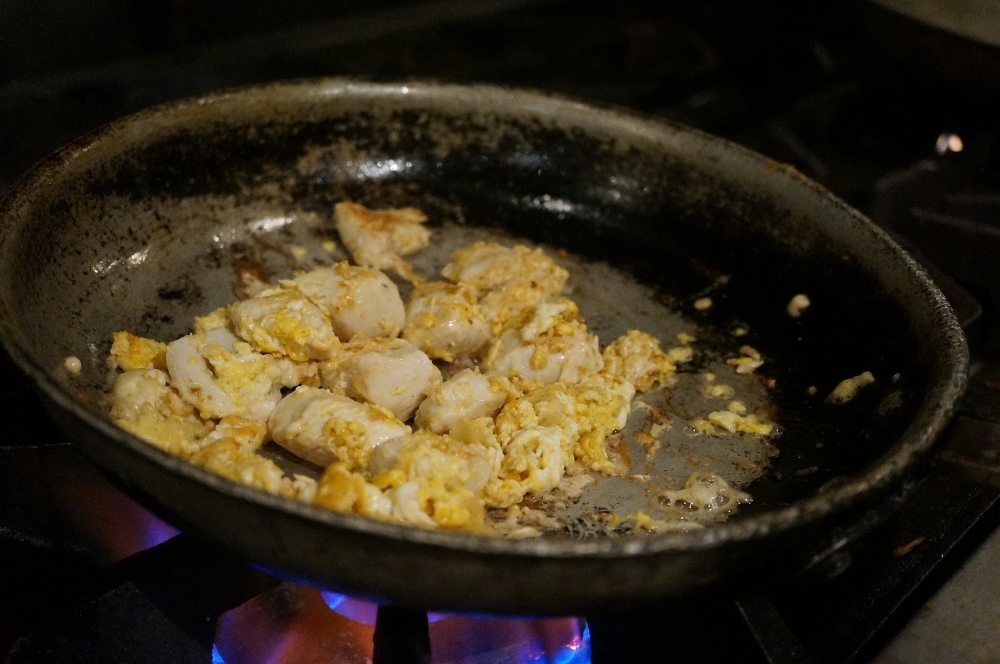 Stir-Fry: Scramble the Egg and Saute the Chicken
– Jason tells me about his earliest memory with food- a story that takes him back to the age of 8 or 9 in the 70s, when his father took him and his brother to a formal steakhouse called Topiary's. He recalled the waiters dressed in tuxedos making Sole Veronique tableside, and the smell of melting butter as they prepared the burre noisette. I myself can almost smell the toasty aroma after just hearing his words.
-On his day off, you can find Jason at Lahore Tikka on Gerrard St E- "my huge passion is the cultural diversity of Toronto in food, so I am a total ethnic restaurant fiend!"
-At home, he tells me his go to dish to cook is Tom Yum soup or roasted pork shoulder. Jason, you can have me over any time.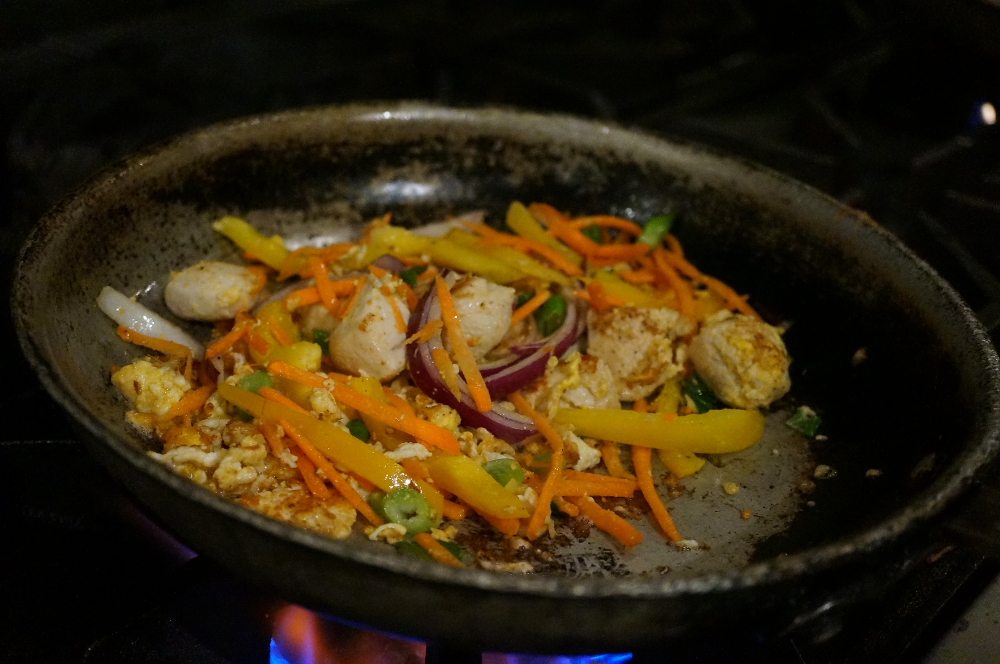 Stir-Fry: Veggies in!
-His first corporate gig, Jason has been working for Milestones for 19 months and has completely revamped the menu over that short time.
-Overseeing a total of 53 Milestones restaurants across Canada, Jason has helped open 3 this year alone and has another 5 scheduled for the remainder of 2014.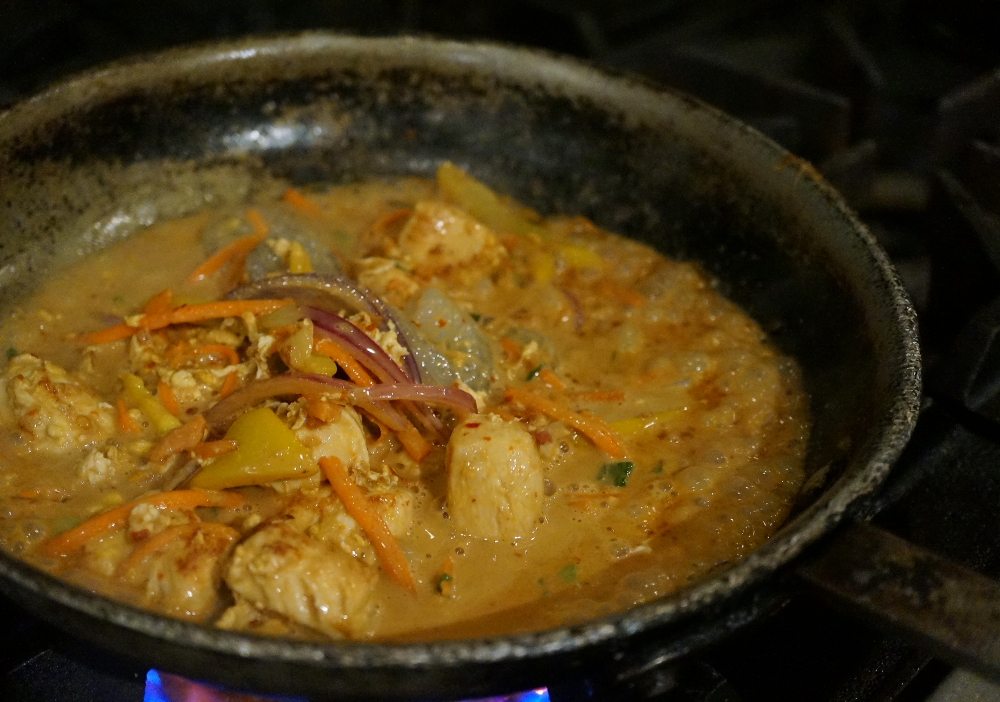 Stir-Fry: Sauce starts bubbling!
-When comparing his experiences overseeing small kitchens vs. a nation-wide chain, he sites a number of unique but rewarding challenges. Aside from the challenge of ensuring consistency across each location and chef, it's tough to ensure teams across the country remain inspired. That's why Jason himself spends a lot of his time traveling back and forth across the country to make sure that each of our chefs are getting enough training time and direction in their jobs.
-Milestones' menu sees constant change, with about 20-30 new plates being rolled out each year.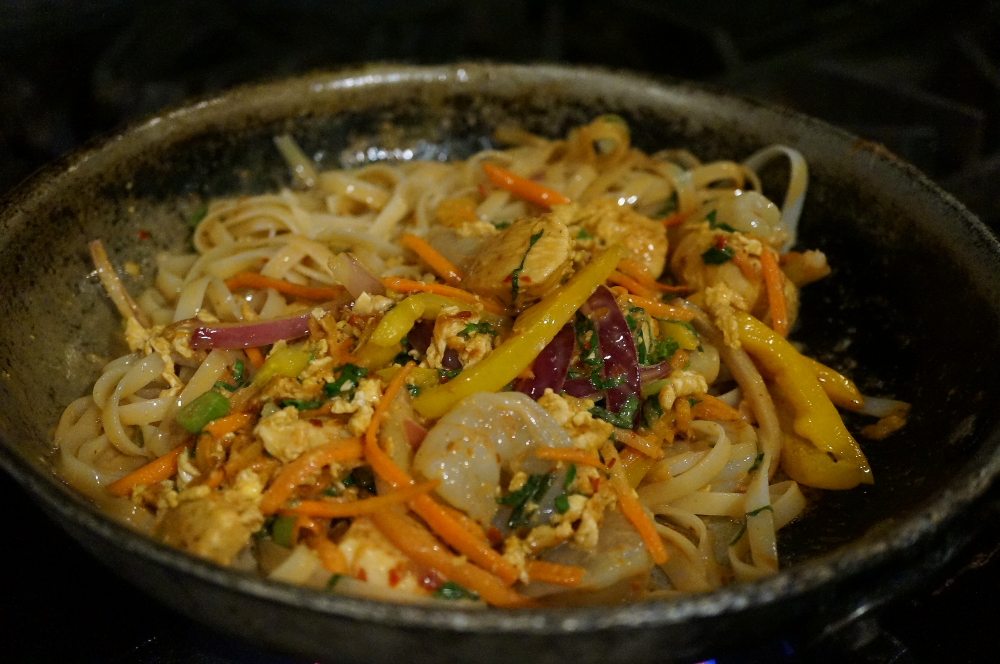 Stir-Fry: Quickly cook the shrimp!
– Jason's goal for the Milestones menus has been to create food that is both exciting and fun but also still accessible across the nation. Torontonians clearly have different palates than residents of Abbotsford in BC, but its key to find a balance that appeals to both demographics.  To help accommodate that range in tastes and expectations, one thing Jason has been implementing is regional variations to his menu, featuring, for example, more beef in Alberta, and more Lobster in Newfoundland.
-Regardless of region, however, Jason has been working hard to differentiate the Milestones experience from other corporate meals by using really good quality natural ingredients, cooking everything from scratch in house, hiring strong professionally trained chefs with years of training, and paying close attention to details.
-One way this has played out is through Milestones new Homestyle Chef's menu, a compilation of Milestones chef's best culinary creations conceptualized for service and showcased on the menu. With each dish on the menu labeled with the chef that contributed it, this new menu extension really helps empower his strong team, differentiating Milestones from other cookie-cutter chains.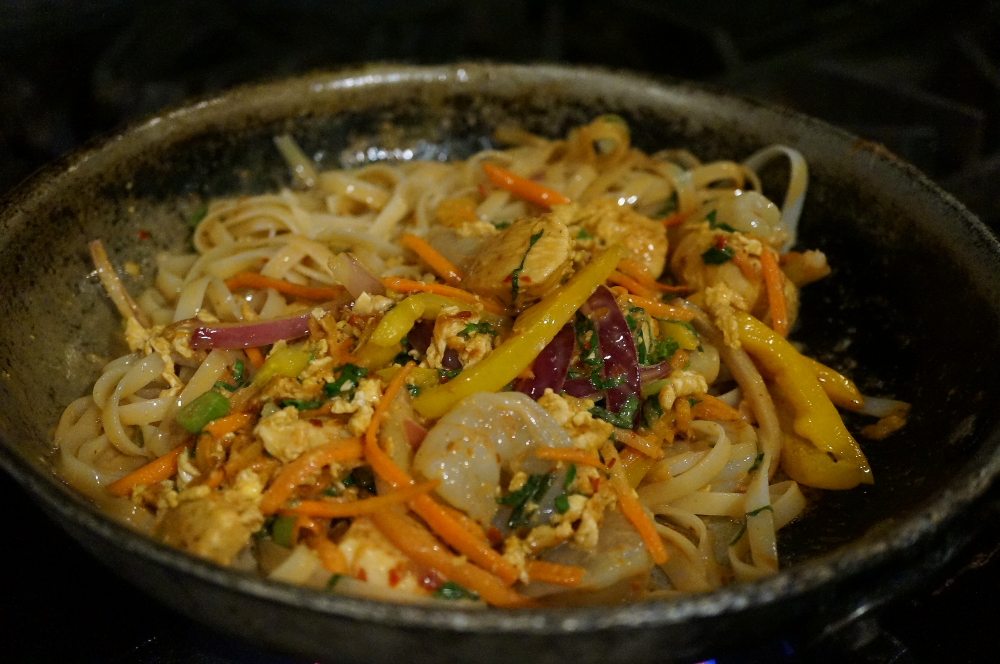 Stir-Fry: Noodles in!
Quick Facts and Tips on the Basil Chicken Stirfry:
-This recipe was inspired by Jason's travels to Thailand, where the street food scene is vibrant and abundant. It was there that Jason met a young man who owned a moped-run food cart that made the most delicious quick stir-fries on the cheap. He quickly became close friends with the man, who agreed to teach Jason how to make the dish.  A few little revisions and adaptations later and bam- it became a nation-wide favourite on the Milestones menu. Most importantly, it's also Jason's favourite menu item.
– As with most Asian dishes, I think it's important to get your mis en place ready before you start cooking. That means you do your chopping, slicing and dicing (and you soak your noodles) before you even heat that pan.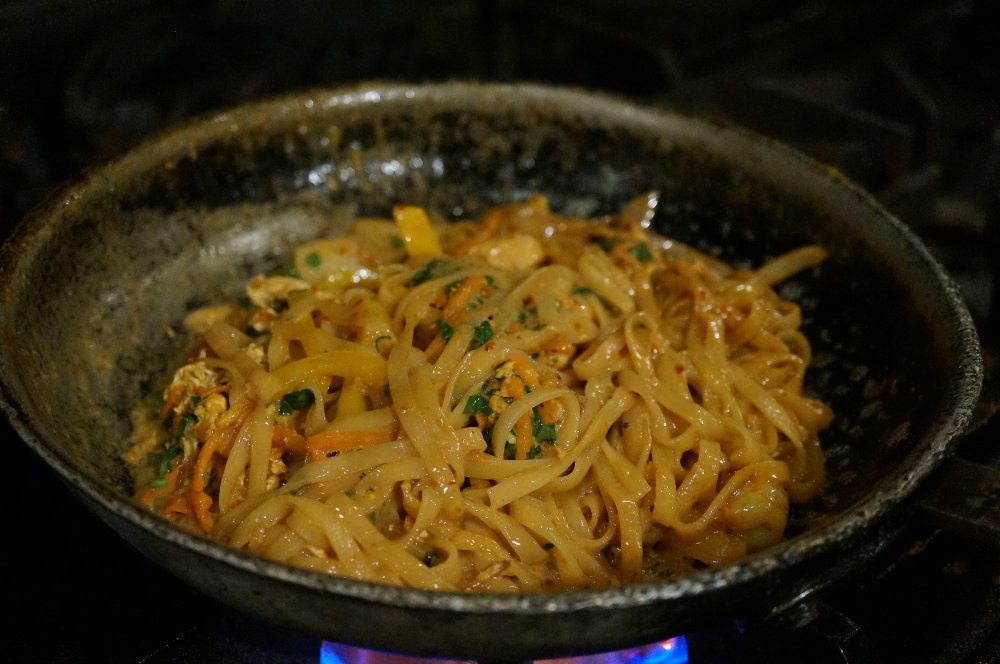 Stir-Fry: Ready to plate
-This recipe calls for bell peppers, onions and carrots, but you can absolutely use whatever vegetables you like or have on hand. The key, of course, is to slice them julienne (thin) to get that classic Thai allure. Likewise, go ahead and use whatever protein you like. Want to keep it vegetarian? No problem, through in some tofu. Love seafood? Who doesn't? Swap the chicken for some scallops or quick-cooking calamari. Make this dish your own.
-Don't be shy with the basil. I think a lot of people tend to be hesitant with herbs and spices and use them quite conservatively, but this dish is all about the basil, so feel free to add a lot.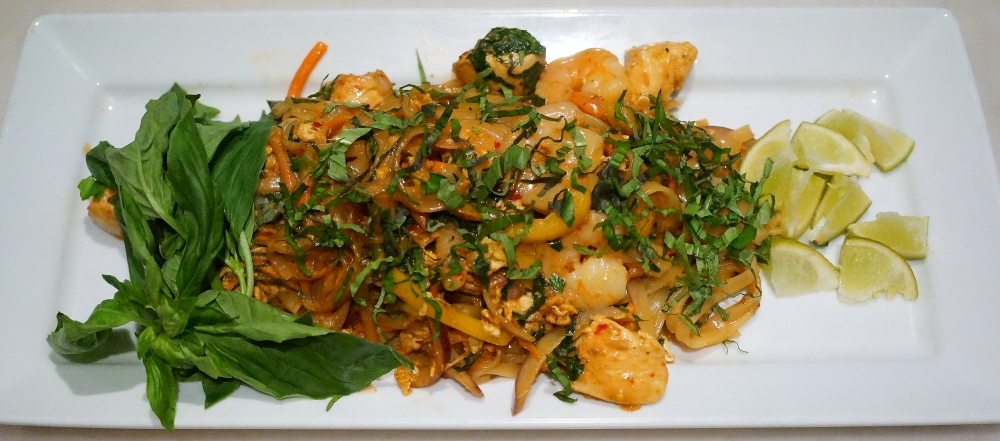 Quick Facts and Tips on the Butter Chicken Risotto:
-This menu item was created by one of Jason's chefs in Abbotford BC, Rajan Kumar. When Jason approached his BC chefs with the challenge of coming up with an item for the Homestyle menu, he suggested the chefs think about something they enjoyed in their childhood.  Chef Rajan Kumar told Jason that his mother was an excellent Indian home cook and was fairly progressive in her style- she had been making their family a fusion dish of Butter Chicken Risotto for years. What a fabulous idea!  A series of recipe tests later, and the dish made it to the Milestones menu.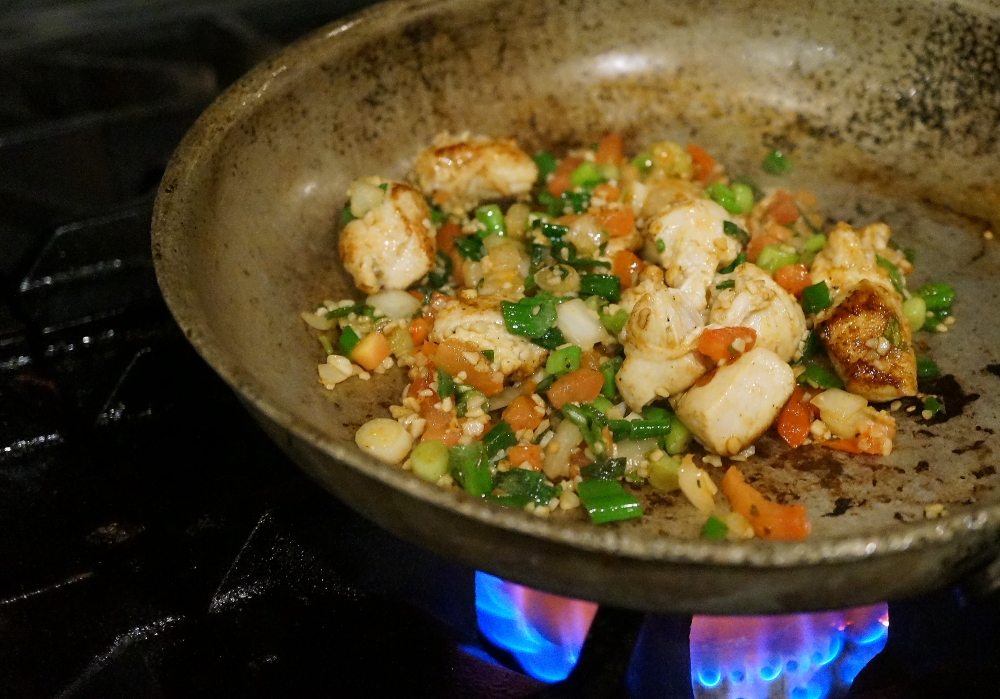 Butter Chicken: Saute the chicken and veg
-To speed up expedition in the restaurant, Milestones par-cook the risotto about 60% done and finish it in the pan with the sauce. It's actually a pretty good trick for making risotto on the fly because the thick curry sauce helps contribute the same binding capacities as the usual slow process of drawing out the starch in the risotto cooking.
-Right before you add the rice, it's a good idea to add a splash of chicken stock or even water, simply to take the shocking heat out of the pan before you add in the rice. You don't want to scorch the grain after you've spent so long tenderizing and cooking it!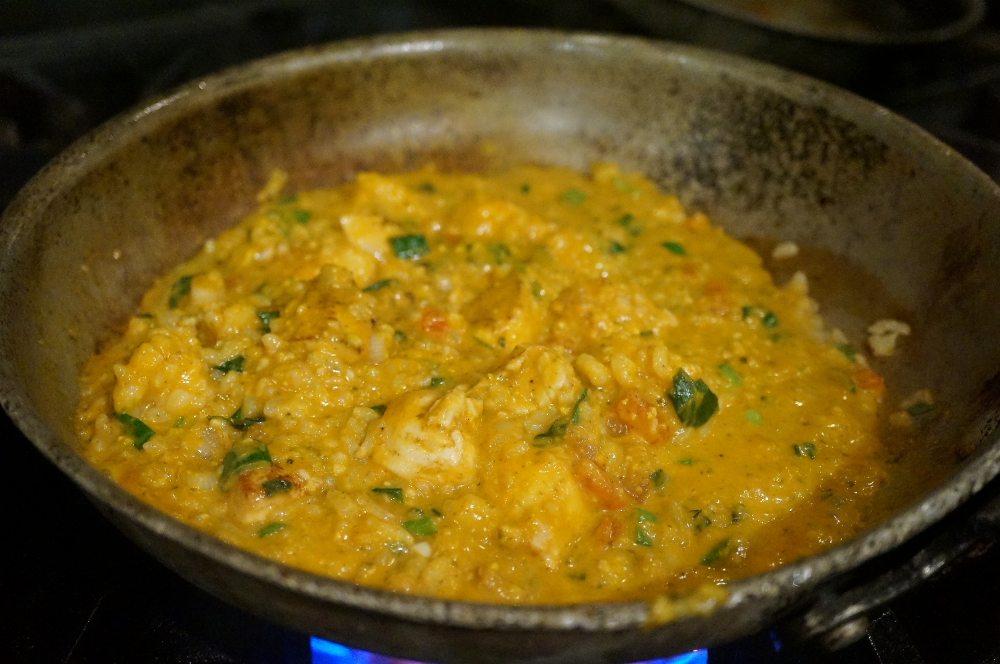 Butter Chicken: Simmer the sauce
-Jason used Arborio rice in this dish, but you can also use carnaroli, vialone nano, baldo, and Calriso.
-Once everything is in the pan and you're reheating your sauce, try adding a little more liquid if you need to thin it out. You're essentially looking for the rice to have the exact same viscosity as risotto.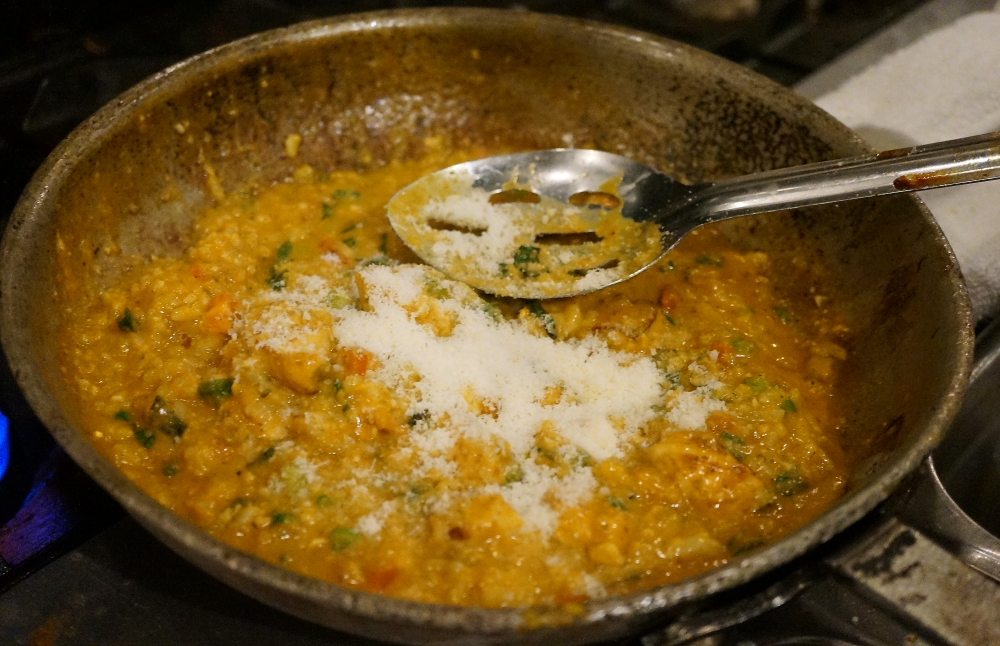 Butter Chicken: Cheese in!
-Don't skip the little dollop of raita on top! Even if you can handle the heat of the Butter Chicken, the juxtaposition of the spices in the risotto and the fresh cool flavour of the yogurt really make a palate happy.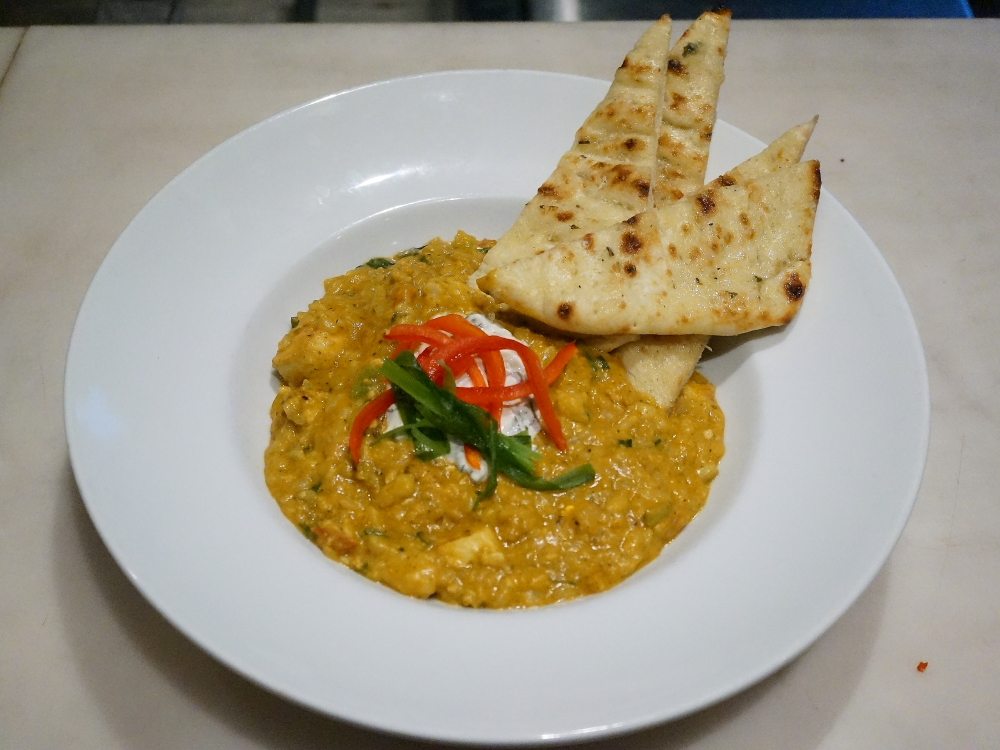 Thank you Jason from Milestones, for sharing this delicious recipe. For more information about the restaurant, check out their website and twitter for the latest scoop.
Spicy Thai Basil Noodles
Butter Chicken Risotto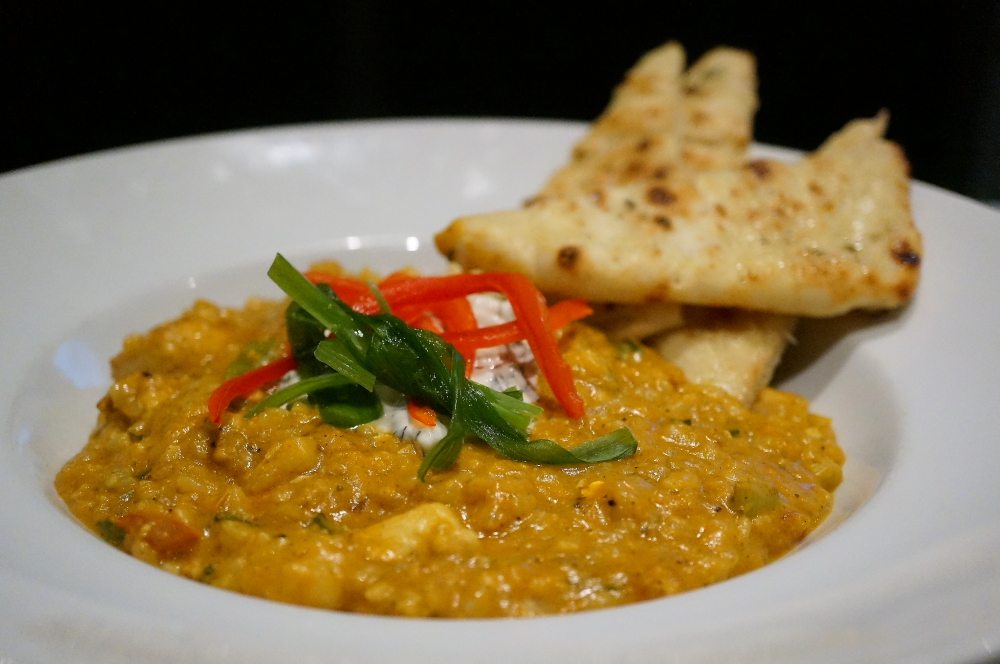 Updated on April 2nd, 2016