In this edition of Outside Abbey's Kitchen, I met with food truck favourite, The Feisty Jack's Will Randolph who promised to teach me his recipe for the crowd-pleasing Chicken Tikka Masala he does on the truck.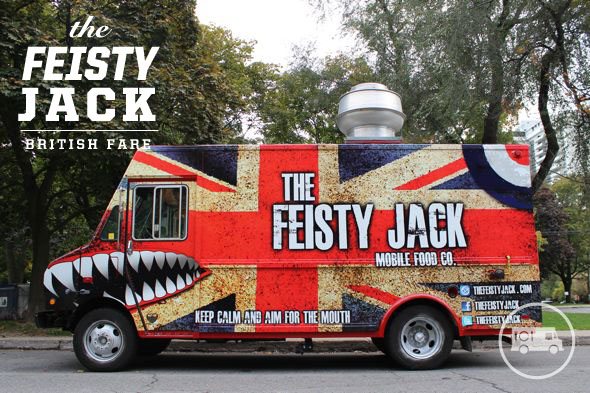 Photo Credit: Toronto Food Trucks
Like most of my now real life friends, I first met Will in the twittersphere in 2012. He was just getting ready to launch is food truck, The Feisty Jack, while I was pretty active on the early food truck front. So we would tweet each other about his upcoming launch and I was super pumped to have a British themed truck (hello, sticky toffee pudding- my all time favourite dessert!)  Fast forward to today, and Will is a good friend of mine. I've eaten his food more times than I'm willing to share, I made an appearance on the set of Eat St when he was filming last August, and I see him outside of work just for fun.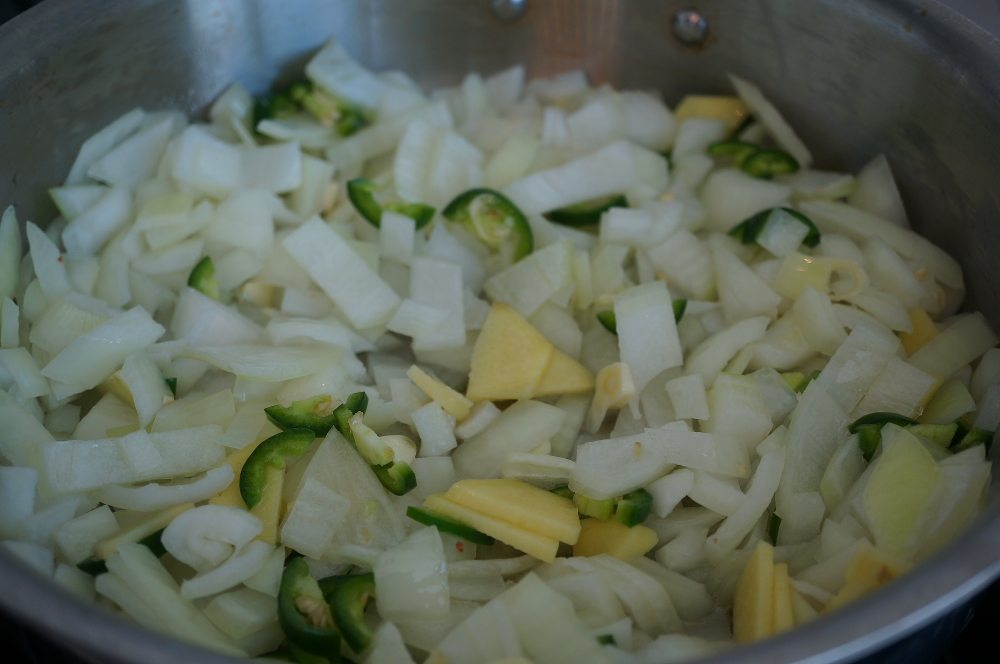 Saute up the veggies
With the recent battle local food trucks have been fighting for looser bylaws to vend on Toronto streets, Will, like many of his street food colleagues, has been working on a brick and mortar location.  We will have to stay tuned for more news on that but you can bet your boots I'll be tweeting out the deets as soon as I can.  For now, however, you can try to mimic Feisty's greatness at home with this exclusive recipe for their Chicken Tikka Masala.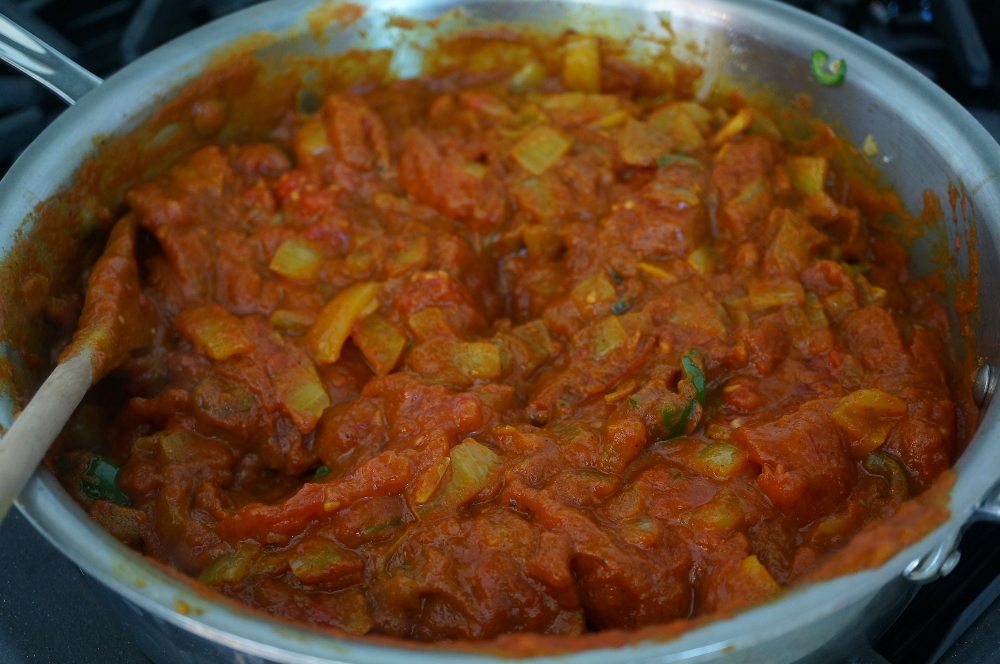 Quick Facts about Will & Feisty Jack:
-Will was inspired to start cooking by his family- his grandmother in particular- who showed him the power of good food in bringing people together. His family was also heavily involved in the restaurant industry all of Will's life, so the job was an obvious gig for Will.
-Rather than listing off celebrity chefs as his inspiration, Will's inspiration stems from anyone with a strong love of food.
Puree the sauce
– While Will has a background in upscale fine dining, his style has since shifted from experimental and high end to comfort fare. His philosophy is to focus on classic flavour combinations presented in unique and approachable ways that merely every demographic can enjoy.
Quickly cooking some basmati to go with
– Will started his food truck, The Feisty Jack, out of his simple love of food and the freedom to do it in a way he saw fit. It also would make the catering business a bit easier by having a giant mobile kitchen to work with, and he really wanted to get out there to the public and showcase good quality British food. As Will describes it, "The Feisty Jack is a true Toronto food truck, we will never stop advocating on behalf of street food in the city of Toronto, it deserves to exist here and is an important part of being a diverse world class city."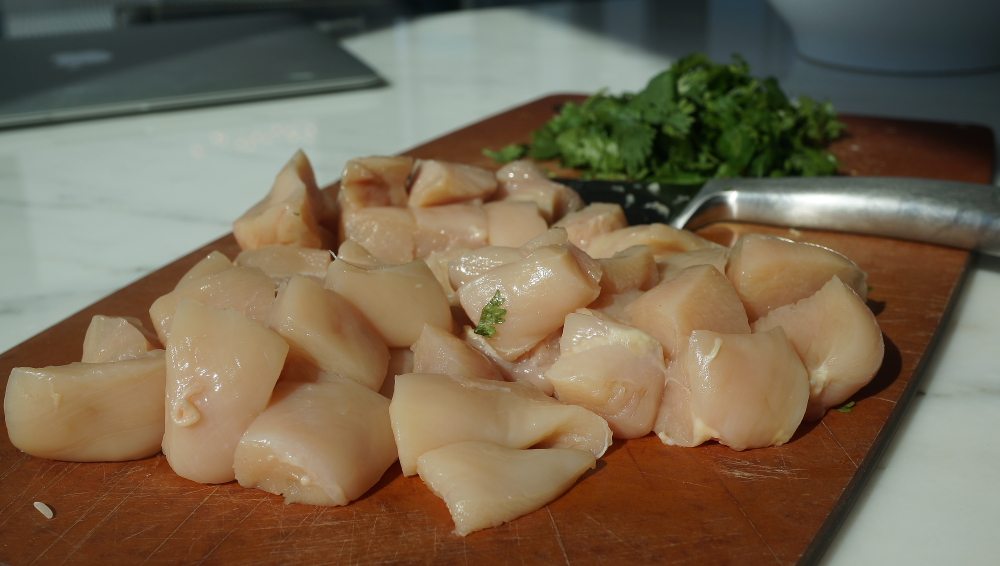 Dice up the chicken
-As for what's coming next, as previously alluded, Will has been scouting restaurant locations for the past 6 months and it hasn't been an easy task to "find the right balance in a vibrant city like Toronto. However, with Spring brings new opportunities!" he says. Will is hoping to have his first brick and mortar location and catering base of operations launched this season. What can diners expect? "A 30 seat 1960's inspired British Cafe/Diner serving classic and modern comfort food, with a killer brunch menu as well as a cold counter sporting a host of sauces and home style preserves." Stay tuned folks- you can bet you'll hear about it from me first!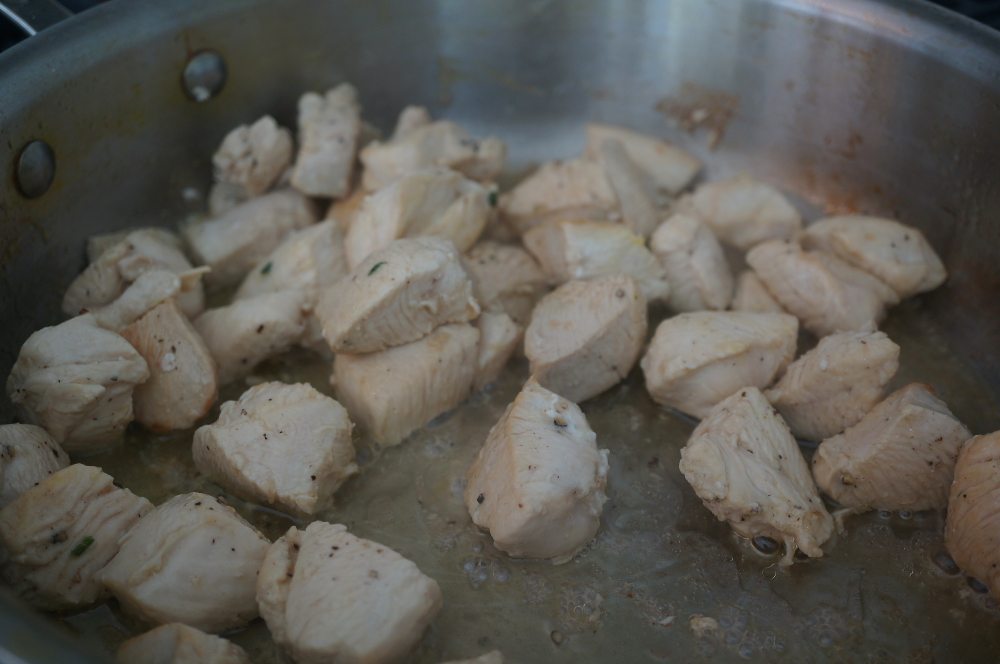 Pan fry the chicken
Quick Tips on the Recipe:
– Tikka Masala is the number one curry dish in the UK, and it's also one of the only curry dishes that originates from the UK. Some may argue this point, but, according to Will, the story goes that back in the 1960s in West-London, a wealthy English chap had gone out for a nice dinner. He had ordered Chicken Tikka Skewers (yogurt and spice marinated chicken) and when it arrived, he claimed it was too dry. So, thinking on his feet, the chef brought the dish back in the kitchen and out of desperation, mixed it with a tin of Heinz Tomato soup, added some spices and sent it back out.  Surprisingly (or not so surprisingly- who doesn't love that comforting flavour of canned tomato soup), the gentleman loved it and the dish was later perfected by that chef at his future restaurant in Glasgow. "Whatever the story," Will says, "Tikka Masala is a British and Indian staple and we love it."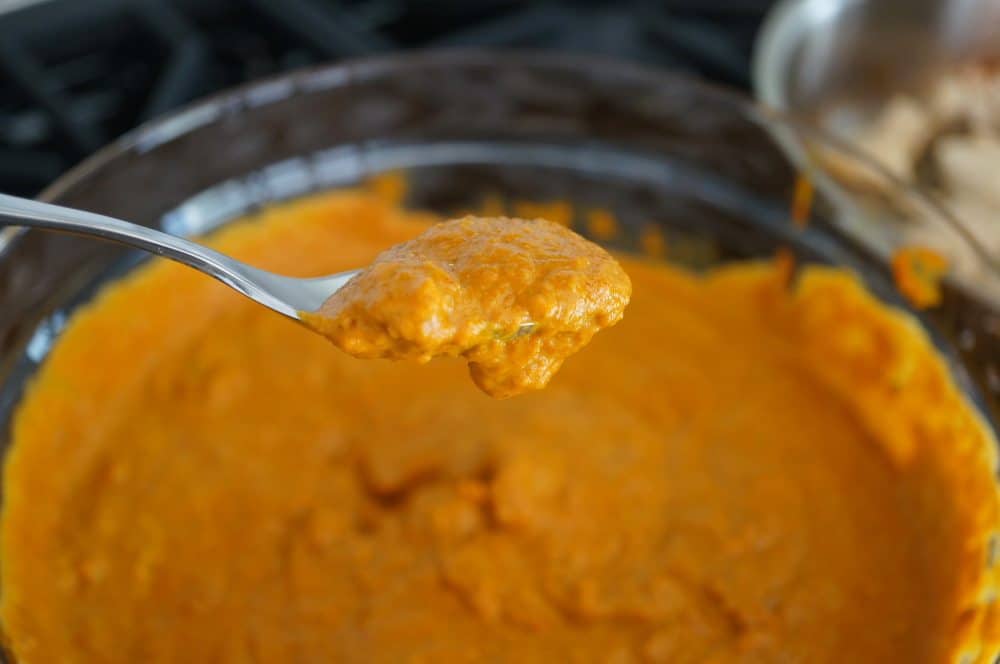 Add in the yogurt
-You're probably going to think you read the recipe wrong when you start adding such copious amounts of spice- usually we are so timid about throwing it in!  Alas, the foundation of all good curries is spice so without it, this is just tomato paste and chicken. And y'all know that ain't fun.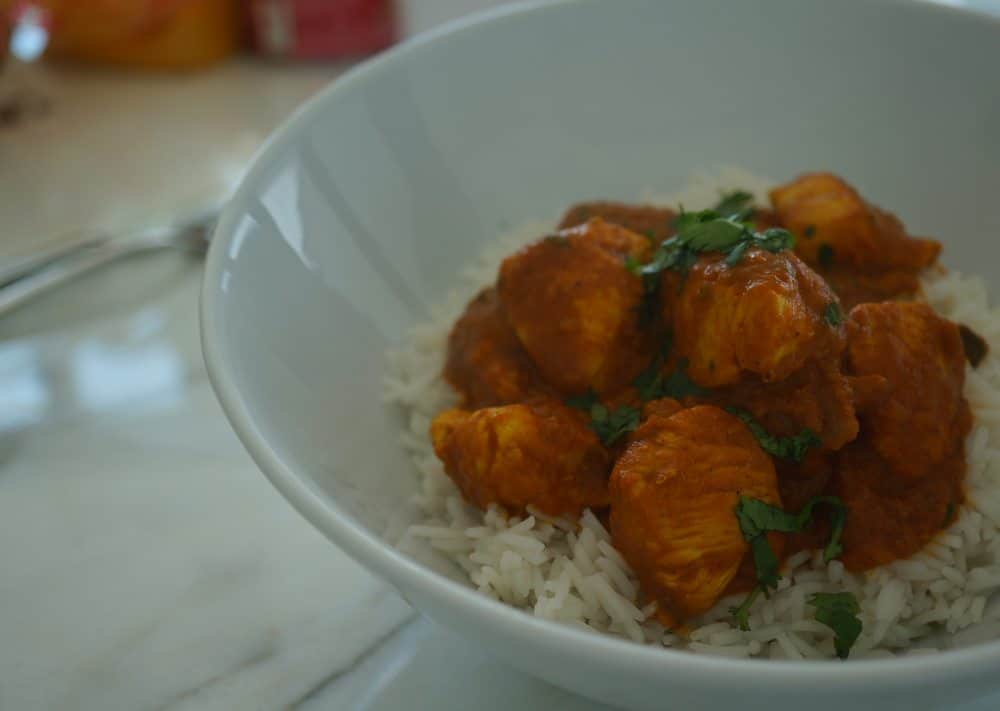 -Don't rush the step when you sauté the spices in the hot oil- a technique often referred to as "blooming." This is really key to brightening and livening up old dry spices that have been sitting in the cupboard. This step is a must for spicy curries.
-This recipe is obviously not vegan or vegetarian as written, but it's very easy to personalize this to suit your needs. To make it vegetarian, simply omit the chicken and add in your favourite vegetables, beans and legumes- cauliflower, potatoes, chickpeas, peas, green beans, spinach- really, anything is fair game!
-To make it vegan, just omit the yogurt in the last step of the curry. While the yogurt does add an additional layer of creamy tangy balance, I sampled the sauce pre-dairy and it can certainly hold its own if necessary.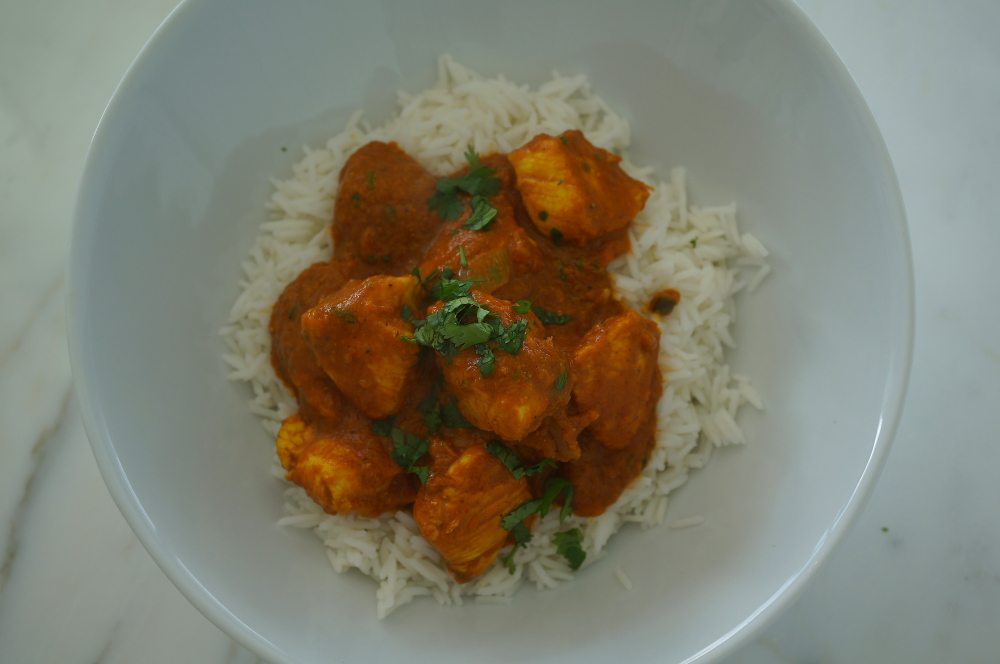 Thank you Will from The Feisty Jack for sharing this delicious recipe. For more information, updates and location for the truck and eventual restaurant, check out their website and twitter for the latest scoop.
The Feisty Jack's Chicken Tikka Masala
Updated on May 8th, 2019