This delicious high protein chicken curry with cauliflower and sweet potatoes is one of my favourite gluten free one pot meals.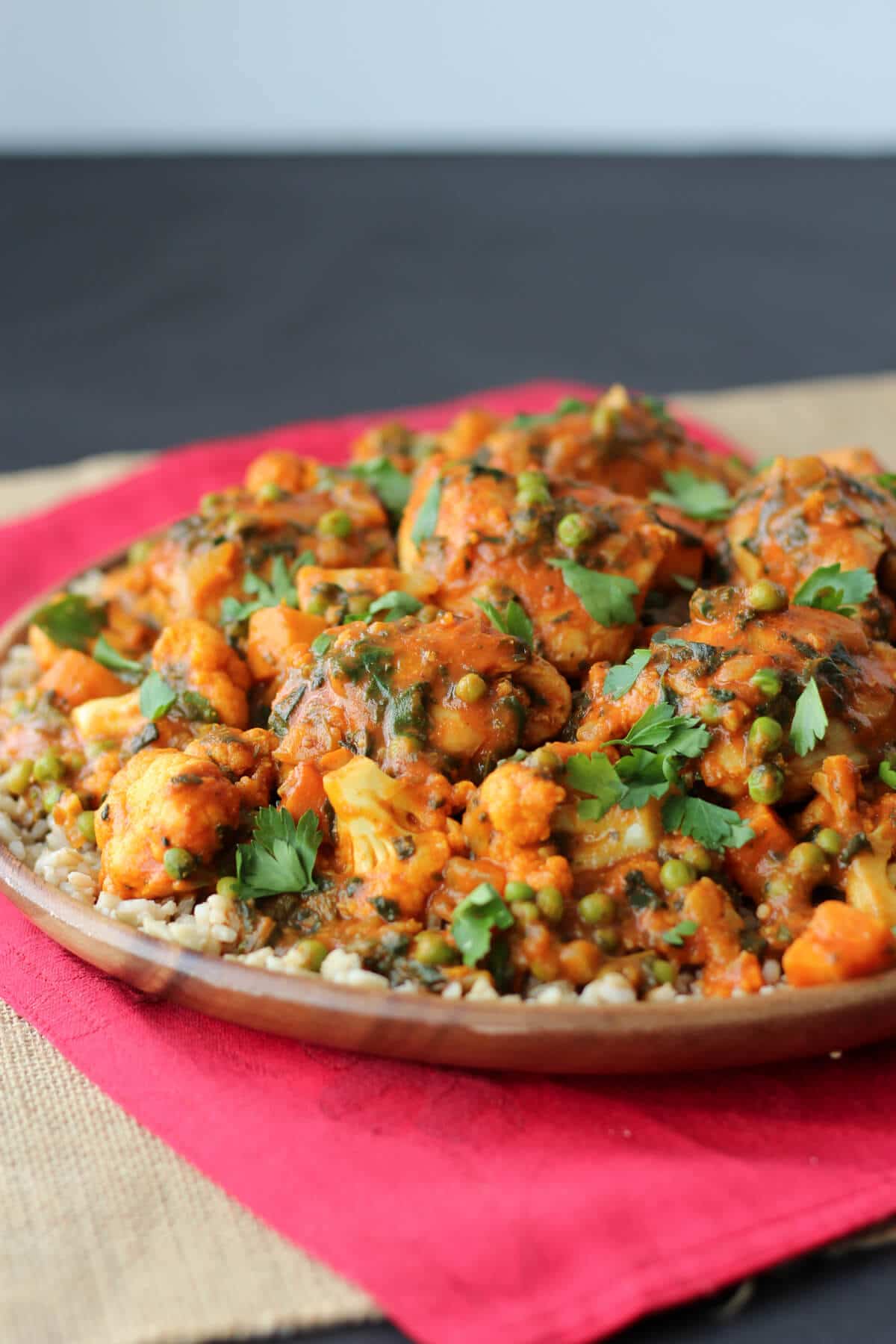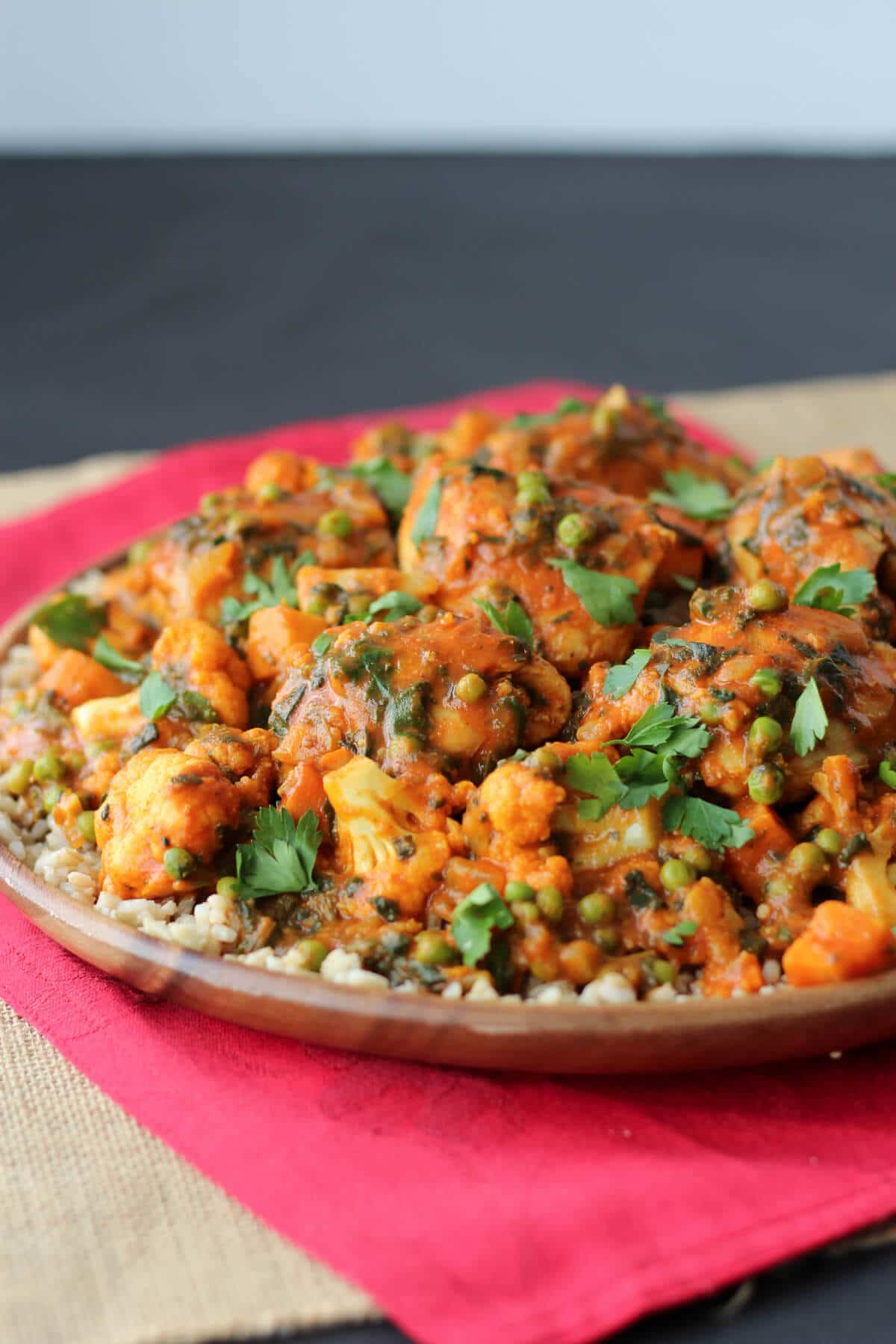 I have a total soft spot for curry. When I first moved back to Toronto after high school my family found an amazing Indian restaurant near by that became a family staple. The butter chicken was irresistible, the daal was so comforting and the naan bread just filled you with warmth. So I wanted to create my own High Protein Chicken Curry with some of my favourite curry that could go down in my play book as one of my best gluten free one pot meals. Seriously, when you're a busy girl who loves to cook but hates to clean, one pot meals are KEY.
How to Make Chicken Curry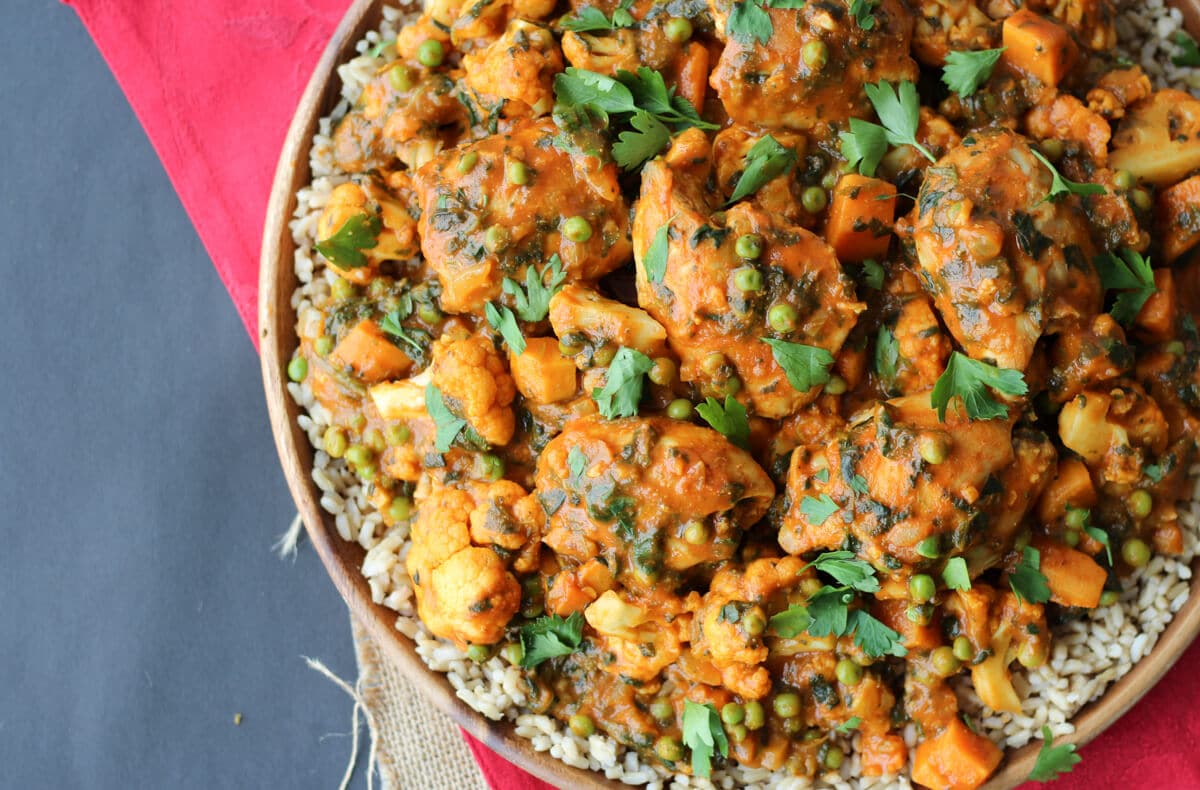 My high protein chicken curry starts with skinless, boneless chicken thighs and a TON of spicy flavour. I use garlic, ginger, curry, coriander, cumin and a pinch of cayenne. If I could bathe in cumin I probably would, to be honest.
My sauce is a simple tomato and coconut milk combination. Instead of starting from scratch with a can of tomatoes, I take a few shortcuts with store bought tomato sauce. I always have leftover tomato sauce from pasta night lying around the house, so this is a great way to repurpose any extras you've made. Once you add in all of the Indian spices to your high protein chicken curry, you'll forget that sauce you started with was for an Italian meal.
My vegetables of choice are cauliflower, sweet potatoes, rainbow swiss chard and edamame. However, you can easily substitute in whatever you have on hand. Carrots are always welcome, broccoli is great, and white potatoes work just fine in this High Protein Chicken Curry.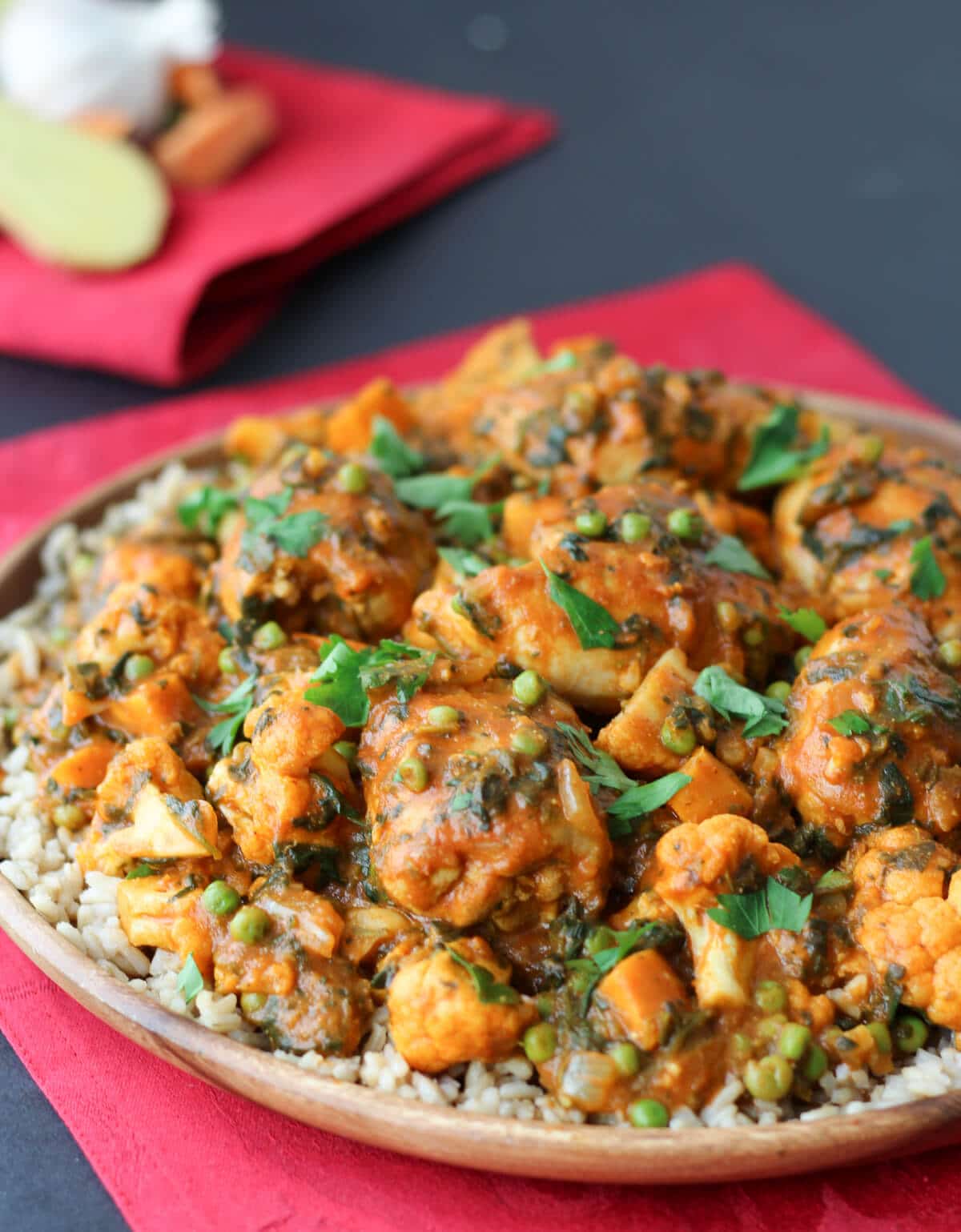 The result is a high protein chicken curry that is sweet, smoky, spicy and creamy. This curry is one of the easiest one pot meals you can make.
Become an Abbey's Kitchen Subscriber
Have you tried making this Paleo chicken curry?
What are your favourite ingredients for throwing into curry?
Leave me a comment below, I would love to hear about some of your go-to additions!
If you liked this post, you may also like: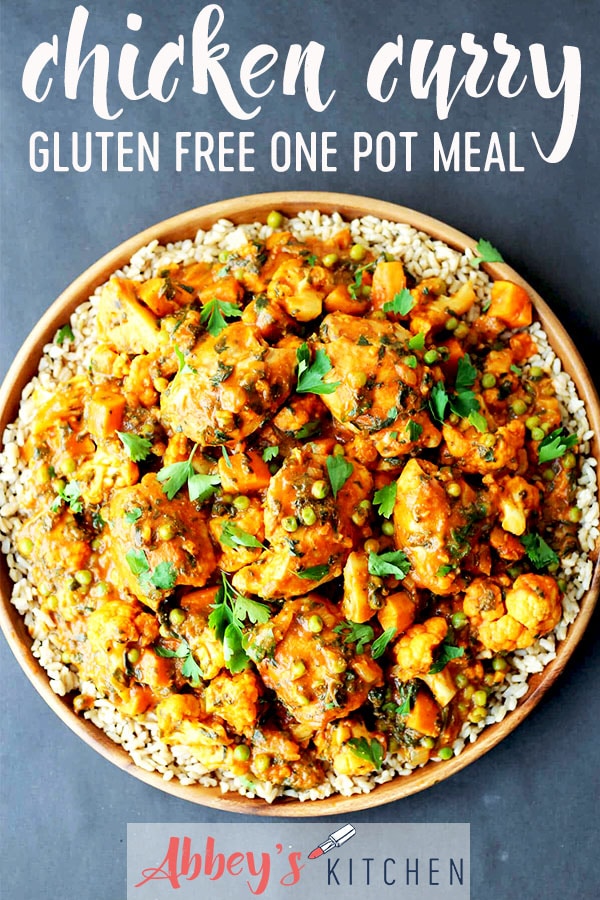 High Protein Chicken Curry with Cauliflower and Sweet Potatoes
This delicious paleo chicken curry with cauliflower and sweet potatoes is one of my favourite gluten free one pot meals.
Ingredients
1

tbsp

extra virgin olive oil plus 2 tsp

divided

8

boneless, skinless chicken thighs

fat trimmed

Pinch

each of salt and pepper

1

small onion

finely diced

3

cloves

garlic

minced

4

tsp

ginger

grated

3

tbsp

curry powder

1

tbsp

cumin

1

tbsp

dried coriander

1/4

tsp

sea salt

1/4

tsp

cayenne

1 bottle

680 mL

tomato passata sauce/tomato puree

1

medium sweet potato

peeled and diced into 1/3-inch cubes

1

can of lite coconut milk

400 ml can

1

medium head cauliflower

cut into small florets (about 6-8 cups)

1

head

rainbow chard

ribs removed and cut into 3/4 inch (2 cm) pieces and leaves thinly sliced into ribbons

1/2

cup

frozen shelled edamame (optional)

sea salt and cayenne pepper

to taste

1/4

cup

pistachios,

crushed, if desired as garnish

1/4

cup

golden raisins

if desired as garnish

cilantro

if desired as garnish

quinoa (optional)

for serving
Instructions
Preheat a large nonstick skillet over medium high heat and add in one teaspoon of oil. Season the chicken with a pinch each of salt and pepper and sear on both sides until golden brown, about 3 minutes per side. Once golden brown, transfer to a plate and set aside.

Return the pan to medium heat and add in the additional teaspoon of oil. Add the onion and sauté until it begins to soften, about 5-7 minutes. Add in the garlic, ginger, curry, coriander, cumin, cayenne, salt and pepper to taste, and stir until fragrant, about 30 seconds.

Next, add in the tomato sauce and the sweet potatoes, cover the pan with a lid and simmer for 7-8 minutes, until the sweet potato pieces begin to soften.

Then nestle in the chicken thighs. Add the cauliflower, rainbow chard stems and then pour in the coconut milk. Season with salt and pepper. Cover the pan with a lid and cook until the cauliflower and sweet potato softens, and the chicken thighs are cooked to an internal temperature of 165- 175 F, about 5-7 minutes.

Remove the lid and stir in the frozen edamame and rainbow swiss chard leaves. Taste, and season with salt and pepper, if desired. Cover the pan with the lid again, until everything wilts down.

Lay on a bed of quinoa, and garnish with golden raisins, crushed pistachios and coriander.
Video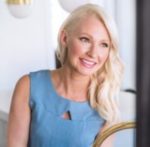 Abbey Sharp is a Registered Dietitian, an avid food writer and blogger, a cookbook author and the founder of Abbey's Kitchen Inc.