It's been a while for me and fish in the kitchen, mainly because our long vacation down South totally spoiled me with an abundance of good quality seafood that I knew would be hard to top.  But last night I hopped back onto the sea-horse saddle, whipped up a beautiful fillet of halibut, and the constant praise made me glad I did.
Ingredients
The inspiration was simply my trip to the grocery store (the Maple Leaf Gardens Loblaws), where a near flawless fillet of halibut really caught my eye. The price wasn't as glamorous, but I figured if I worked in 1-2 vegetarian based meals this week, the cost of good protein would balance out.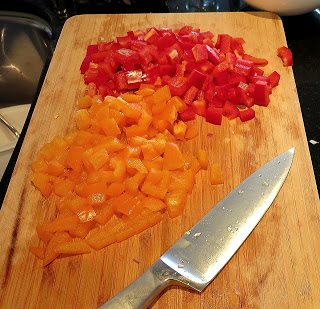 Dicing up the peppers
That is typically how I shop. One premium protein in the week (i.e. beautiful fish or seafood, tenderloin steaks, game meat etc.), and 1-2 meals that featuresuper inexpensive vegetarian ingredients like whole grains, canned beans or legumes.
Saute up those veggies. Gah, it's starting to smell like supper!
 Now, I find a lot of people are freaked out by cooking fish. Really, though, it could not be simpler.  With today's amazing fishmongers, you can buy a beautiful fillet, already deboned and deskinned and the work is practically done. If we compare cooking fish with other cuts of protein, you could spend 40 minutes cooking a couple plump chicken breasts. Hell, a pork shoulder could take you all day!!
All dressed up and ready for the pan
 Not with fishies. Oh no, these perfect fillets take only 6-8 minutes each! Come on! All you need to think about is not overcooking it, and with it's short cooking time, there's no excuse for getting distracted.  While of course, this is not a completely fool-proof rule (it depends on your pan, the exact thickness etc.), it only takes about a total of 8 minutes on medium-high heat to cook a 1-inch piece of fish (multiply by 8 for each additional inch). You will know it's done when it appears opaque (look at the cut sides) and is pretty film to the touch. I know a lot of recipes tell you to cook it until it "flakes" but this is actually a bit too long, because flaking is an indication of dryness, and your fish is going to continue to cook for a 1-2 minutes after you've removed them from the heat.
Getting all crispy and brown for me- yee!
Now, this recipe for Seared Halibut recipes makes a lot of extra ragu, but I had the ingredients in the firdge and I figured I would use it as a tasty topper for penne pasta for a delicious and fulfilling lunch. Win-win.
Okay, so now that I hope I've biuilt up some fish-frying confidence, this is what I did:
Pan-Seared Halibut with Tomato Bell Pepper Olive Ragu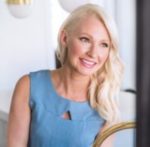 Abbey Sharp is a Registered Dietitian, an avid food writer and blogger, a cookbook author and the founder of Abbey's Kitchen Inc.