So after a long day in Peterborough, I was tired but still really looking forward to my reservation at Parts and Labour. Unfortunately, it was going to be another trek out to the west end and that can sometimes mean a bit of an argument in the car ride down. The way I see it is that good food is worth way much than a 20 minute car ride. I can hear you all backing me up here so I don't feel the least bit guilty about my date-dinner planning. I don't see him putting time in on Opentable, so I say anywhere in Toronto is fair game (traveling further might require asking beforehand).
This was a surprisingly large restaurant, especially in comparison to some of the other spots we have visited lately in the neighbourhood (Local, Keriwa etc.) The tables are communal style, but they tend to set them up so that couples are at either end of the tables. We ended up with our own 10-top, so in my situation, it worked out.
Service was very attentive but not so sharp. Our server was very friendly, but gave the kitchen the wrong order for one of our dishes (he fixed it long before the food came to us though), and didn't really have a whole lot to say about each of the dishes when we asked for opinions on which to choose (yep, we got the "well they're both so different" answer.) However, I appreciated that our water glasses were filled constantly (I drink a lot of water), and unlike our experience at Yours Truly, the drinks came very quickly.
Okay so before I get into food, I just wanted to mention the delicious Caesar I had. Our server told me that they made an amazing one with fresh horseradish, so I had high expectations. Warning: if you aren't a usual "spicy" Caesar drinker, I would probably avoid this version. It had a wicked deep kick that was so much more complex than when achieved with basic Tabasco. No offense to Tabasco, I too, put that S*it on everything, but I might start subbing in horseradish now that I am better versed on its capabilities.
Ox Tongue Salad with Pickled Shallots, Watercress, Radicchio and Dijon Vinaigrette
 A surprisingly light salad with a bright, acidic vinaigrette (which is my preference). The tongue was really tender, though it's presentation probably could have been rethought, as the tongue looked a mangled sitting underneath all of the greens.
Parts and Labour Corn Dogs, Sauerkraut, Pickled beet, Mustard
Wow. I was expecting like two mini sized pogo's but i got two full hot dogs! These tasted just like any at the ball park, but probably should have been served a bit quicker as they were not as hot as I would like, and the batter was probably not AS crispy as it was 2 minutes earlier. Regardless, I thoroughly enjoyed this dish because of the utterly delicious sauerkraut and the sweet pickled slice of beet nestled on top. The salty, spicy and sweet combination of the kraut, beet, and mustard (probably French's, but I love it) was really delicious in itself.
Halibut with Spring Vegetables and Potato Bundle in Beurre Blanc Sauce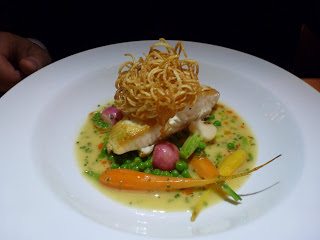 A beautifully cooked piece of halibut in a really light, not at all oily sauce. I also really loved the delicate bundle of potato against the soft interior of the fish. A perfect dish to celebrate Spring being here.
Pumpkin Gnocchi with Pumpkin seeds, Roasted Cauliflower, Cardamom and Sage Cream, Taleggio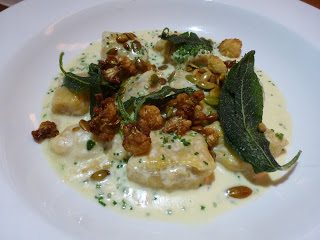 Gah- de-lic-ious. Best dish of the night in my opinion. The gnocchi had an incredibly aromatic "holiday" flavour from an assortment of baking spices, and it's down-pillow texture was perfectly complemented by a lovely assortment of crunchy accessories. First, there was a nutty hit from the pumpkin seeds, then I got the deep caramelized roasted and spiced flavour of the crispy cauliflower, and finally I experienced the herbaceous character of the crispy sage leaves. All of these comforting cool-weather flavours were made even more irresistible with a thick tallegio sauce, a cheese I personally love for it's tangy, meaty and fruity notes, and it's ability to melt smoothly without loosing it's satisfying stringy pull. This was a generous portion of gnocchi, but believe me, nothing was spared.
Roasted Brussels Sprouts with Pistachios, Mint, Shallots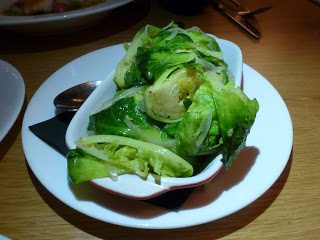 This is how Brussels sprouts should be made. These were monster sprouts, cooked perfectly without any olfactory detection of sulfur, and then basted in a perfectly seasoned buttery sauce. I can't say I detected any mint, but that's advantageous to me as I often find the herb overpowering.
Corn Bread, Pickled Jalapeno, Cheddar and Honey Thyme Butter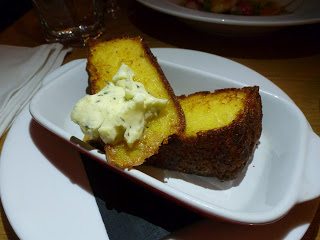 If you are a lover of corn bread, this version is worth ordering. The crust was super caramelized with a good crisp, and the cheese was a nice aromatic addition. I could really get the thyme in the butter (which was great because thyme is a favourite herb of mine), but could have used a bit more sweetness from a bit more honey. Not as good as at Acadia, but one of the better versions I've tried.
Apple Pie with Ottawa Valley 10-Year-Old Cheddar Crust, Vanilla Ice Cream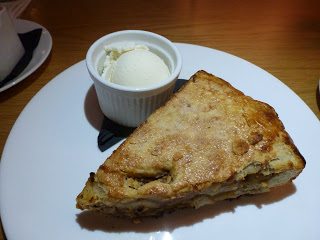 I said it once, I will say it again. Woah. When this boat-sized-slice-o-pie was set before me I thought to myself, "well, there goes moderation". But let's not forget, people, I didn't order dessert on friday night- so as long as it was good, and I wasn't too full, eating the whole thing was moderation. Right? Right. Now, I don't normally really like pie crust. I find it dry, and flavourless, so when I make pie I usually use puff pastry or a nut-based crust. But this one was really delicious. The crust was relatively thick but it didn't feel cumbersome to get through it because it had a really crunchy, caramelized texture on the outside, but an almost cake like texture on the interior where it met the apples. Unfortunately, while the texture and flavour was great, I missed the cheese notes which I was really looking forward to. The apple pie filling was nicely cooked, but could have used a bit more aromatics (I admit, I am biased and like a LOT of cinnamon) and probably a little more brown sugar so that you could get a little more saucy syrup action going on. The ice cream could have been Haagen Dazs as there weren't any nice vanilla beans or anything interesting going on. Probably wouldn't order it again, but in general, felt the dessert menu options to be the least inspired (creme brulee, flourless chocolate cake, apple pie- you can step it up here P & L!)
Alrighty so for 2 glasses of wine, 1 cocktail, 2 apps, 2 mains, 2 sides, 1 dessert, and an extra scoop of ice cream for him, and 1 cappuccino (which was too strong for me), the bill was about $180 including tip and tax. Yes, higher than usual, but the portions were pretty big so you could get away with less. While I have definitely been to some other restaurants that I have liked much more, the comfort food menu at P & L entices me to return.
Updated on April 2nd, 2016