As we paid our cab driver at the corner of King and Spadina, I witnessed a young man and his female partner checking their phones persistently mumbling something to the extent of- "It's apparently 480.. wha.. where the f…?" Okay, so, Patria isn't exactly the most apparent restaurant on the block- especially in stark contrast to the obnoxious signage of Weslodge next door. A few months ago, I was that lost young woman downtown King St., eventually piggy-backing on another group who seemed to confidently know their way. So while it technically was my second visit to Patria, Friday was my first eating episode, since my "practice run" at locating the alley-way restaurant was simply for a business drink.  Keeping in mind that it was still Passover, and I couldn't bare the idea of painfully subjecting myself to an Italian or Asian based meal (noodles and rice are out!), I figured that Patria's extensive tapas menu would provide some tempting yet naturally low-carb options. (Just to clarify this all so as not to tarnish my down-with-diets reputation- I am not on a low-carb diet by choice- I am a Jew and I celebrate the 8 days of Passover where we refrain from eating wheat, rye, spelt, barley, oats, and sometimes corn, peas, peanuts, beans and legumes. Yes, I think that is it).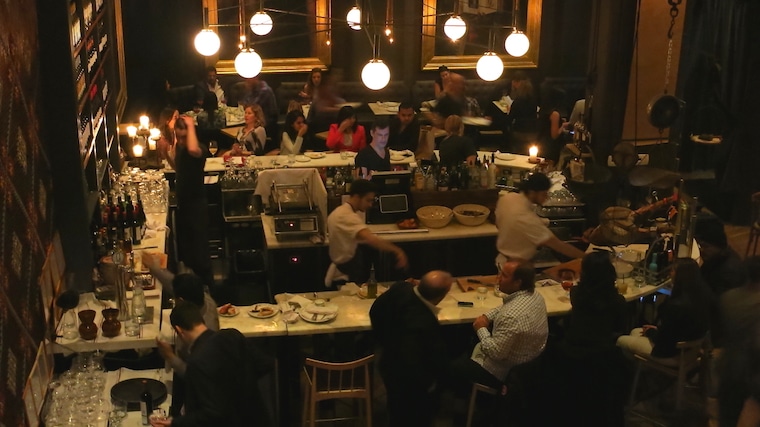 Okay, moving on. So, Patria opened in October 2012 by the glamour-restauranteur-duo Charles Khabouth (La Societe, Ultra Supper Club) and Hanif Harji (Blowfish, Nyood, Kultura).  Much like the tremendously pricey (and gorgeous) construction for La Societe, Patria apparently cost the team $2.5 million to build.  Well, you know what they say- you get what you pay for. And at Patria, they paid to bring Spain to the city. The massive high ceiling main dining room showcases a breathtaking white marble tapas bar, and paintings so gigantic you wonder how they even made it through the door.  Only in a Khabouth dining establishment do I see my pathetically small bladder as a blessing, as the washrooms experience itself is something to marvel at. A gorgeous crochet wall hanging lines the stair-case walls leading up to white and gold marble counters and stunning stalls on the other side of the W marked door. I totally wanted to take a picture, but didn't want to risk getting caught like a creepy peeping Tammy.  Just trust me on this one, ladies. You'll want to break the ice.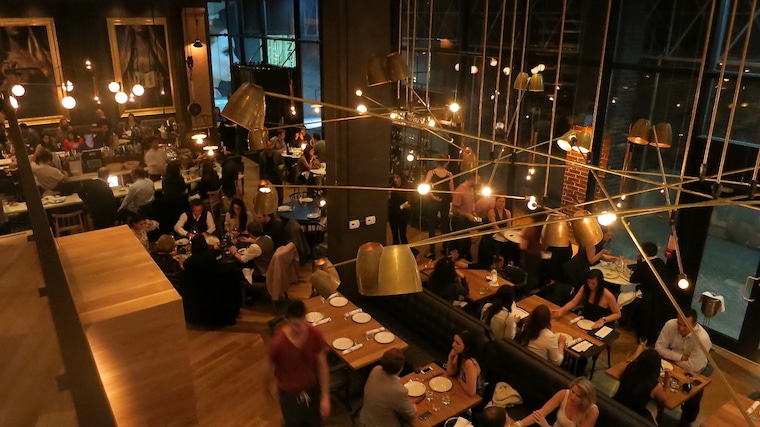 Speaking of ice, the temperature at Patria is pretty much what I would call ideal-warm enough that I can strip down to my sheer blouse, but tepid enough that I'm still down for spicy foods. The rest of the dining experience was also equably comfortable from our table near the kitchen along the wall. Here, the neighbouring tables are adequately spaced and music is kept to an audible but not distracting level.  It all works out that I can hear my partner and server speak, but there's still a good amount of ambient buzz that we don't overhear other tables' conversations.  Having said that, the noise level may have been different sitting in the heart of the room near the packed tapas bar, where there was much more distracting congestion from serving staff and diners.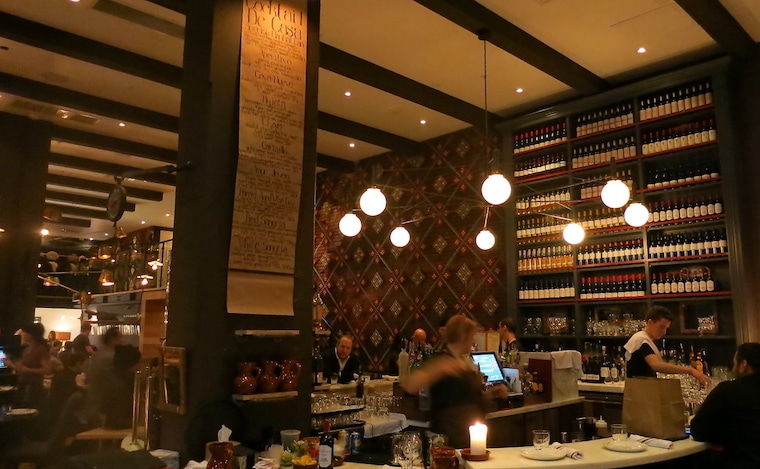 Now, the only thing more beautiful than the room is the King West crowd within it.  Yes, like most popular dining establishment on the block, Patria caters to the 25-40 year-old-hot-professional demographic who have high expectations for svelte service.  Well, Kudos to Khabouth for knowing his neighbourhood's demands, and how to deliver them well. The service at Patria is a true pleasure. Our server was energetic, professional, genuine and well versed in every little ingredient in every little dish.  Other service staff members were equally as helpful throughout our night.  For example, any time a manager, server or food runner would pass our table, they would refill our water glasses, inquire about our meals, engage in conversation and replenish plates and cutlery.  There wasn't a single food runner in our line up of tapa-deliveries who didn't come to our table prepared with a thorough dish description and a huge excited smile on their face. Everyone was also aware of our Passover restriction, and whenever substitutions or omissions were made in a dish, they reinforced how the dish was made suitable.
The alcohol menu is fairly substantial and holistically appealing.  With 10 cocktails on offer, the options are unique, yet still very approachable. I like that in addition to the ingredients, the Cocktail Director, Elan Marks, also lists the tasting notes of the drink. I mean doesn't reading something like: "playful Spanish coffee with subtle hints of cherry- wonderfully rich in flavour" get you too excited to dwell on the $14 price tag? Smart.  While there are a number of local and international wine offerings, the focus here is on Spanish wines- many of which can be purchased as 3 oz, 5 oz, 375 ml portions so one need not commit to an entire bottle. In addition to a nice Spanish Sauvignon Blanc, and later, a dessert wine (the variety of which I now can't recall), we sampled the Red Sangria (Red Wine, Port, Sweet Vermouth, Spiced Poached Pear Reduction, Cloves, Orange Juice, Pear Nectar, $13), Amor Joven (Tanquerey Gin, Fresh Lemon, Simple syrup, Black Currant Cassis Jam, $13) and The Elyxer (Absolute Elyx Vodka, Lime, Sugar, $14).  The Sangria was just okay, but a bit flat in overall flavour, particularly when tasted next to the other two drinks. The Amor was absolutely my style, deeply sweet with a perfect balance of bright citrus to balance it out.  In contrast, the Elyxer was incredibly tart, almost shockingly so coming right after the Gin based drink, but after a few sips I was able to comfortably settle in. If you like your cocktails sour like I do, then this is the drink for you.
The Elyxer
 Red Sangria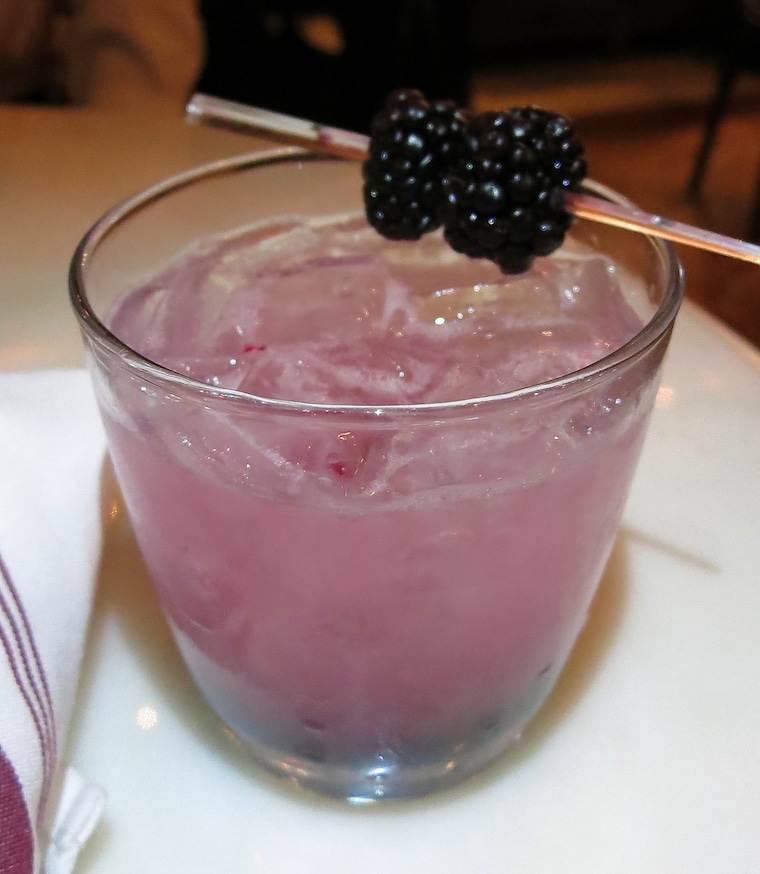 Amor Joven
Developed by Executive Chef, Stuart Cameron (Weslodge, Stories, Kultura), and Pastry Chef, Anatasia Mucho, Patria's menu is divided into Small Plates, Cheese, Share Plates, Meat, Rice, Desserts, and Daily Specials.  Although our Passover restrictions meant the paella and crusty sour dough bread were not in our cards, there were more than enough suitable selections to choose from the approximately 40 savoury items. Our server walked me through the best picks and substitutions, and recommended we start with approximately 3 savoury items per person. So with that in mind, between the two of us, we ended up trying:
Selecciones De EmButidos (Iberico Lomo, House Chorizo, Jamon Serrano, $14)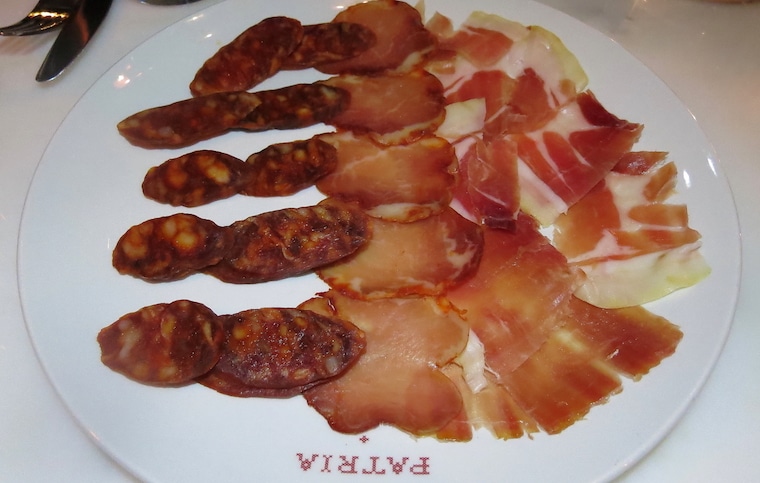 Okay so I know what you're thinking. How is THIS K4P? But, I eat pork every other day, and so Passover for me was no different. Not to mention, if we didn't eat pork OR shellfish OR chametz at Patria, well, I think we would leave pretty hungry. Spanish food is not Kosher food by any stretch of my bacon-loving imagination. Anyways, bread or no bread, this was a tasty first plate of the night. While I found myself searching for a bit more spice in the chorizo, any mild faults were made up for by the delicate texture and lusciously marbeled mouthfeel of the Iberico, and the firm and flavourful bite of the Serrano.
Datiles Con Tocino Iberico (Dates, Iberico Bacon, Manchego, Guindillas, $9)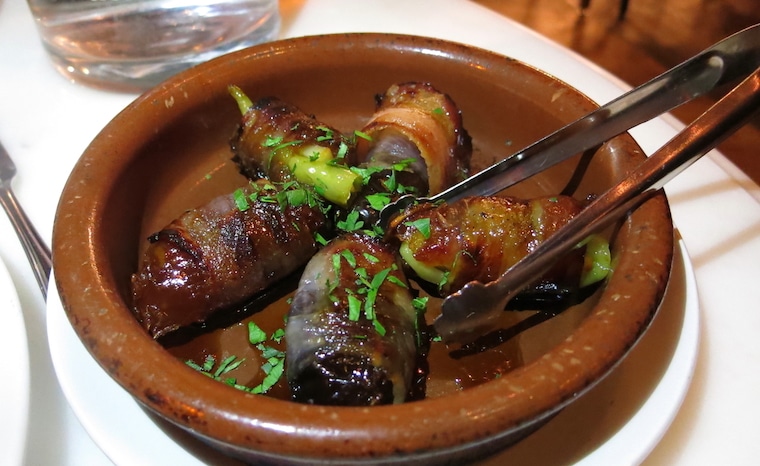 These were essentially a Spanish version of Devils on Horseback- crispy bacon-wrapped sweet date stuffed with salty cheese, a bright tangy pickled pepper and bathed in a sweet reduction sauce. The flavours were so balanced, and so remarkably addictive, I could have just ordered a couple more platters for the night and left happy- by far, my favourite dish.
Pimientos Rellenos de Buey (Piquillo Peppers, Oxtail, Manchego, $12)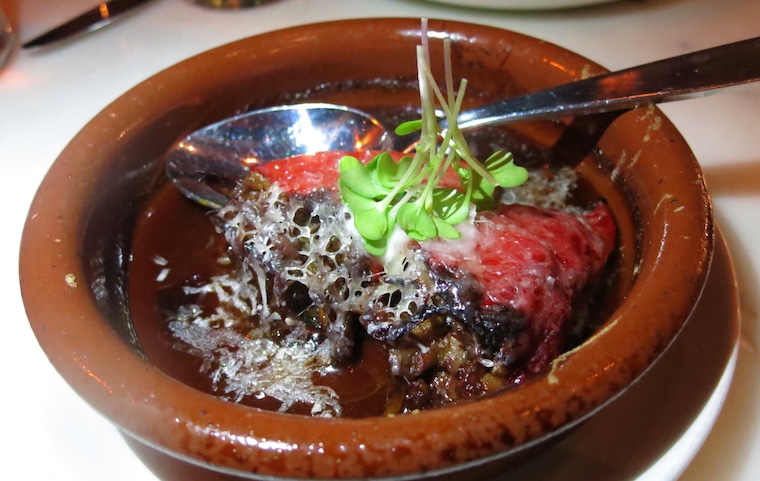 While certainly unable to top what came before, the oxtail meat was sweet and rich and was countered nicely by the delicate smokiness of the pepper and the salty hit of the manchego.
Viera Con Migas Y Espuma Manchego (Scallop, Chorizo Migas, Manchego, $15)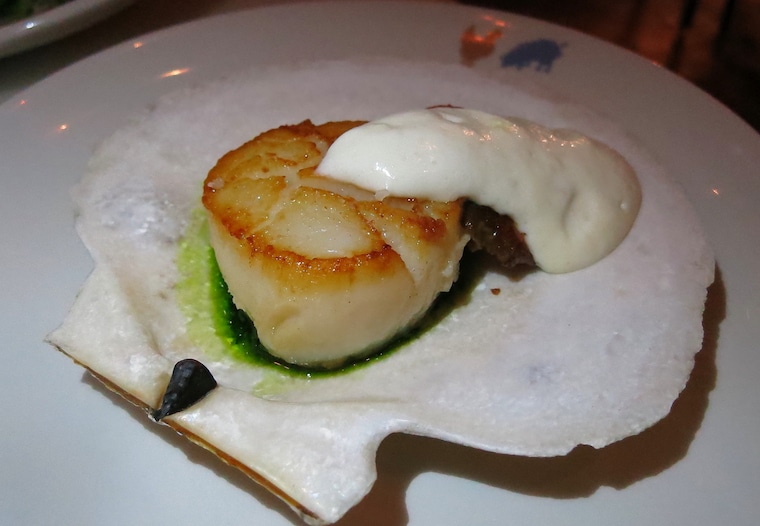 As requested, the kitchen was able to do this without the migas for us (breadcrumbs), but unfortunately that meant losing the chorizo as well.  And while, sure, a little crispy element would have brought a pleasant textural contrast, I didn't find myself missing the omission. The scallop was gorgeously plump and nicely seared, and the manchego foam added a velvet like texture on the tongue.  I also appreciated the fresh verde sauce lining the shell, which served to brighten the dish and balance out the cheese.  Having said that, even with the verde, I still felt that the dish was a touch overseasoned, making me wonder how salty it would have been had we not omitted the sausage.
Patatas Bravas Con Huevos Fritos (Crispy Potato, Spicy Tomato, Fried Egg, $9)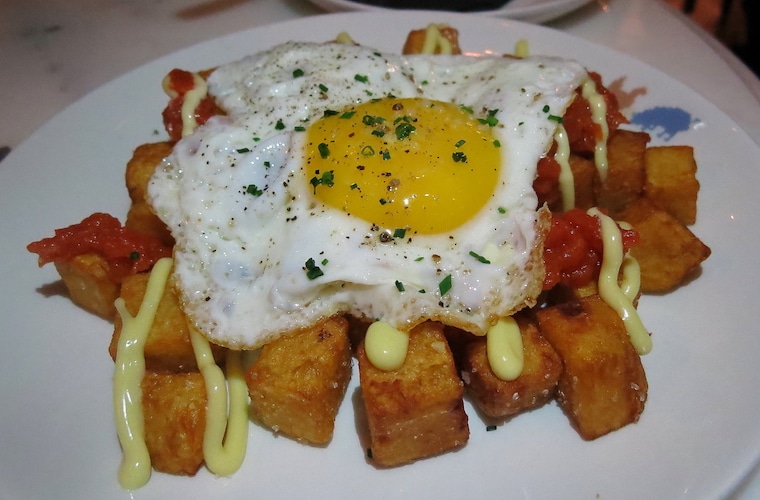 Another winner of a dish. Once broken, the perfectly runny yoke got tossed in with the spicy tomatoes and the tangy aioli to yield a sumptuous yet balanced sauce. Despite all the saucy action going on, the potatoes managed to retain their golden crisp exterior to contrast the fluffiness within. As simple as a cheap hang-over cure, but really well executed.
Costillas De Cordero Encebolladas (Lamb Chop, Caramelized Onions, Olive, Romesco Sauce, $21)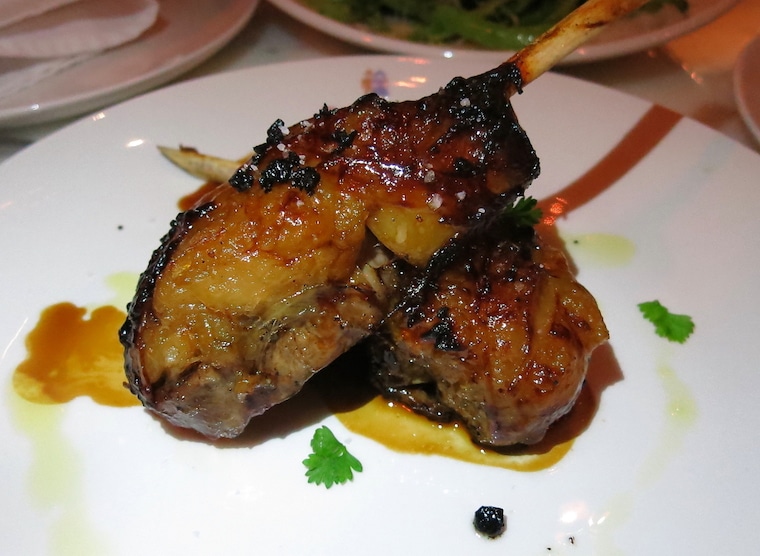 While they may have looked like massive layers of fat, the thick jacket of sweet and supple caramelized onions that hugged each chop were a nice treat.  Again, the kitchen helped us out on the Passover front, and served the Romesco on the side (romesco has a little bit of breadcrumbs for thickening purposes).  And while I was going to completely refrain, the dish really needed a hit of bright acidity to cut through the sweetness of the candy-like meat coating.  With that addition, the lamb had great balance and seasoning, and was lean, juicy and beautifully cooked to a medium rare.
Judias Verde Con Queso Manchego Y Migas (String Beans, Manchego Cheese, Jamon Migas, Olive Oil, $8)
The beans were cooked to a perfect crisp tender, with enough fresh crunch that I didn't have to miss the omitted Migas. Unfortunately, by this point my palate was probably at it's Manchego limit for the night (having seen it in 4/7 savoury dishes), and even with my 3rd bottle of tap water, I was still seeking a little sodium relief.  While slightly oversalted, it was a tasty dish served as a pretty generous portion for sharing.
Chocolate Con Aceite Y Sal (Chocolate Pudding, Olive Oil Candy, Sea Salt, $7)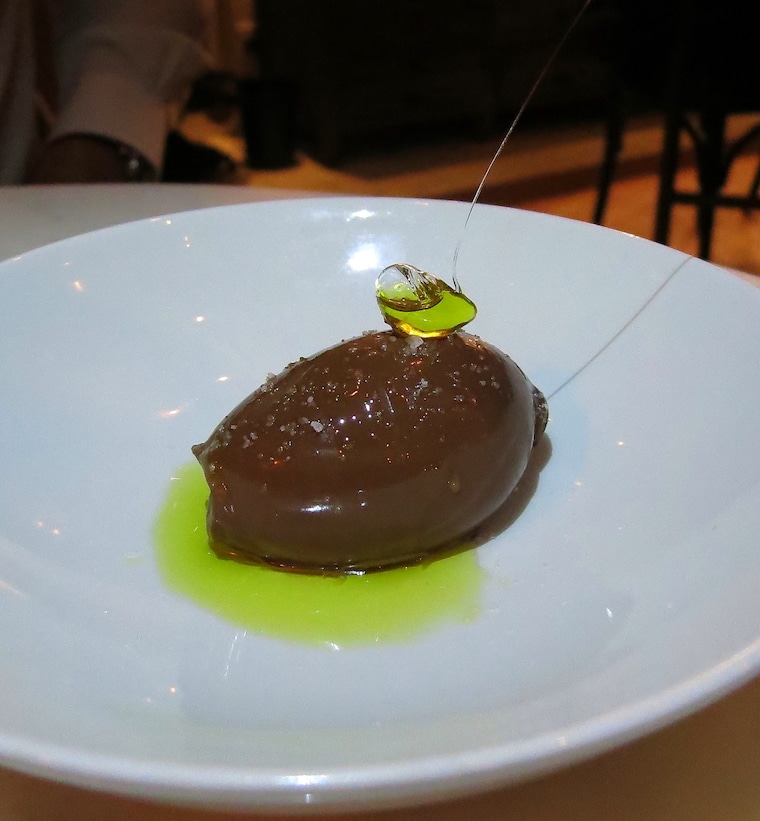 While I'm not normally a chocolate girl, I knew I was going to have to wait until another week to get my churros fix.  So the pudding was one of the two options that were fully chametz (and gluten) free, and won out over the basic sorbet for it's unique amalgamation of sweet and savoury flavours.   Good choice, Abbey. A quick tap on the top of the candy shell, and a teaspoon or so of grassy olive oil slid down the delicate mountain and seeped into its pores.  On the tongue, the pudding felt somewhat like a satiny ganache with a much more ethereal finish, and contrasted beautifully with the pop of the sea salt and crackle of the candy. It was light, creamy, and had a beautiful balance of bitter, sweet, and herbaceous savoury qualities.  I also requested a little sample of the dulce de leche that came with churros that I had to pass up. A similar texture to the pudding, though maybe a little more sticky, the caramel was luscious and sweet on it's own, and absolutely addictive when snuggled up to the chocolate.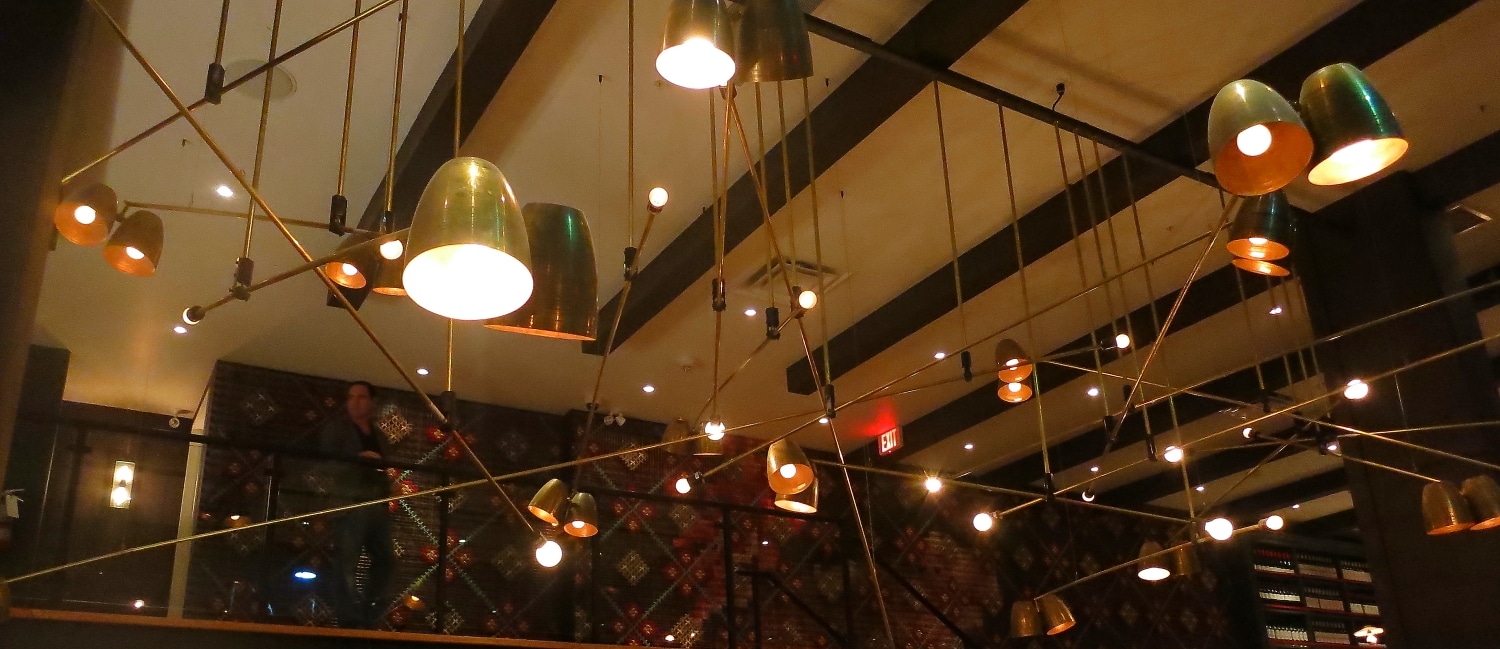 So for 3 cocktails, 1 glass of wine, 1 dessert wine, 7 savoury items and 1 sweet, the bill came to $185 including tax and tip.  I think we both agreed that while it wasn't cheap, the price was fair and better than similar establishments for the overall experience. Had we been able to opt for the popular Paella on Friday ($40-48), then yes, it could have seemed like an overly-pricey meal. But Patria truly surprised me. I had really expected Patria to be a pretty face, and not much more. But as an overall date night experience, it was probably one of the better meals we've had in the past few months. No, the food is not revolutionary. It's not wildly unique, or expertly plated, or even always perfectly prepared. But in general, the food is agreeable, safe and actually quite enjoyable.  Throw that into the equation with excellent service, and a stunning comfortable atmosphere, and I would most certainly check out Patria again.  And whenever that is, you can bet there will be an extra order of Bacon Dates going in, Migras on everything, and a hell of a lot of churros at the end.  Thanks Patria for a great date night, and turning a potential state of carb-deprivation into a thoroughly indulgent night.
Updated on February 13th, 2016