It has been a hell of a long time coming, but finally, we were heading to Playa Cabana, one of the super popular modern Mexican establishments to grace our city in the past few years. While the original location (Dupont) has been open since 2011, the buzz hasn't seemed to quiet. As a result, owner and Executive Chef, Dave Sidhu quickly expanded the brand with a Cantina outpost in the Junction, and an Avenue road location on the way. So why has it taken me this long? Well, unlike other hot-spot taco joints in this city, PC takes reservations. I know, crazy pants, right? But still, that little detail doesn't mean it's a sinch to get in. I had to make this reservation (legit) four weeks ago- actually, I think it was made about five weeks ago just because I was busy last week with
AKS
. With so many food events creeping up and summer party invites being thrown around, it's tough to make plans a month ahead (even for me, and I'm kind of a Type A planner).  But having heard only fabulous things about the joint, I knew it was worth saving the date.
Being relatively close by, we were hoping to walk to the Annex location, giving ourselves a generous half hour walking time. Unfortunately, just as we left we were attacked by crazy rainfall and winds that nearly blew me away, meaning our proactive walk sesh turned quickly turned into a cab ride and an early arrival. Thankfully, our table was ready 20 minutes ahead of schedule, and we were seated along the wall.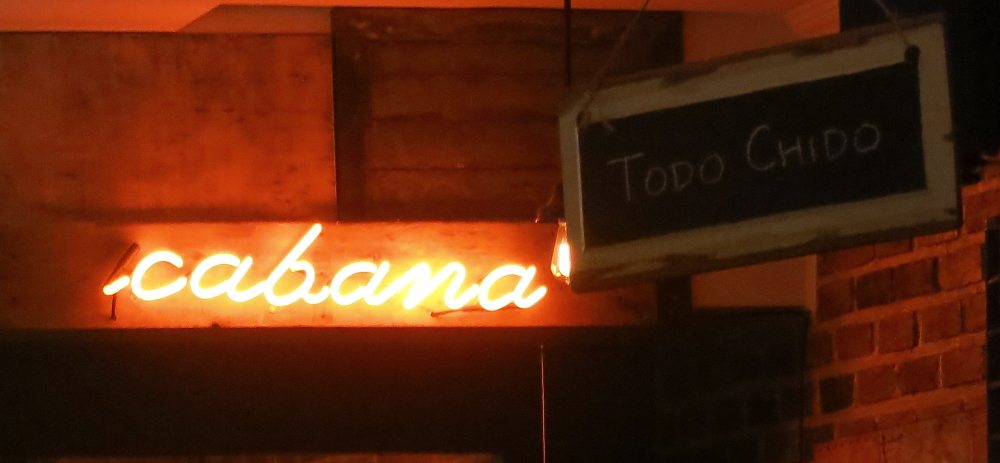 Inside, the 45 seat dining room features warm bricks lining the walls, Mayan masks and statutes nestled into corners and shelves, and an open kitchen beside the tequila-packed bar at the back.  It's funky, eclectic, somewhat tacky, but inviting. It's a place you go with friends for guac and a pitcher of booze, or a long-term lover for a casual meal. Probably not the place for older parents, or a first time date- its just too noisy for intimate chatter. Honestly, I am starting to just accept that loud music somewhat comes with the taco territory. Ditto for the tight quarters, which only make lengthy private conversation more of a challenge. But for a fun, buzzing atmosphere to get roudy over a pitcher of margarita, PC has it down.  For those who prefer a little less intense action, a table on the 12-seat patio might be nice, which while closed on the rainy Friday night, seemed to be a little less tightly packed from what I could see.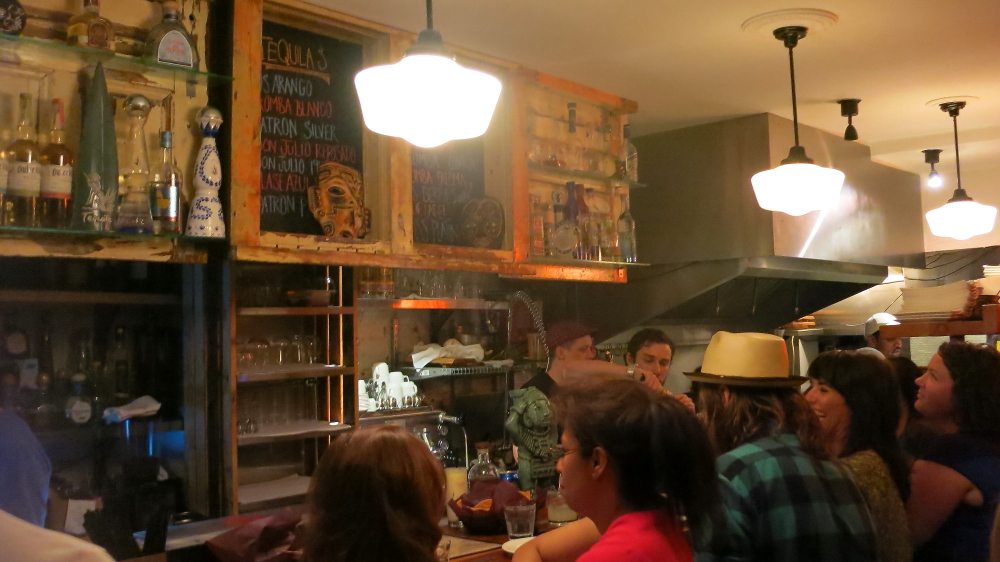 Service throughout the evening was efficient, knowlegable and friendly, even though our server failed to offer us the menu options for things like heat level or bean choice. Regardless of that slip, cutlery, side plates and drinks (including water) were replenished and refilled appropriately, and everything arrived hot, quickly and evenly spaced. Yes, the meal was a quickie, as we were in and out in 55 minutes, but we felt it actually moved at our ordering, eating and drinking pace, and not that of the kitchen or reservationist.  The only issue (more for them, rather for me) is that because the meal came so quickly, I hardly had time to get through my drink, nevermind order up seconds or thirds.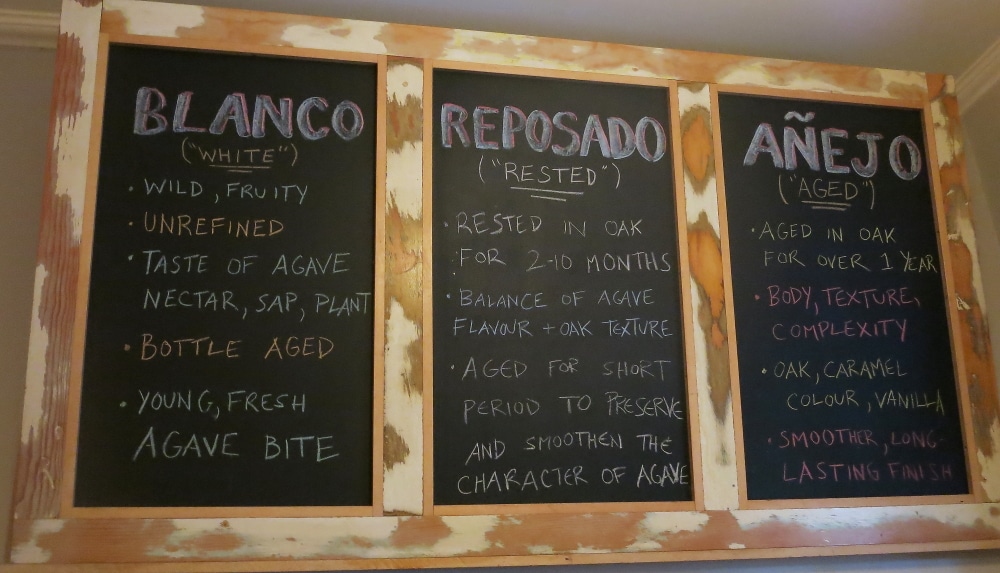 Speaking of drinks, the menu is obviously heavily influenced by the spirit of Mexico with nearly 60 different Tequilas to peruse. In the interest of me not reliving my Grade 10 Spring Break trip to Cancun, I steered clear of the body shots, and went straight to the cocktail list. PC offers 8 different takes on the Margarita (available by glass or pitcher), and an additional 8 signature cocktails for those who've had too many messy nights with the Mexican liquid gold. There are also about a dozen international wines to choose from, available as 5 oz, 9 oz or bottles, and 5 Mexican beers with special prices for buckets of four bottles.  In our short stay, we sampled the Bacon Infused Bourbon Sour (House Bacon Infused Maker's Mark Bourbon, House Made Simple Syrup, Lime, Egg White, $10) and the Amber Agave Margarita (El Jimador Reposado 100% de Agave, Orange Juice, $8).  Being served in a tall glass, the former didn't deliver as much bright citrus flavour as I normally get in a traditional low-baller Sour, but it was fairly well balanced and enjoyable nonetheless. The Margarita, in contrast, had massive slap-me-in-the-pucker flavour, and I loved every sip.  Definitely, lesson learned. Stick to what Mexico is known for here, folks. Tequila, tequila, tequila.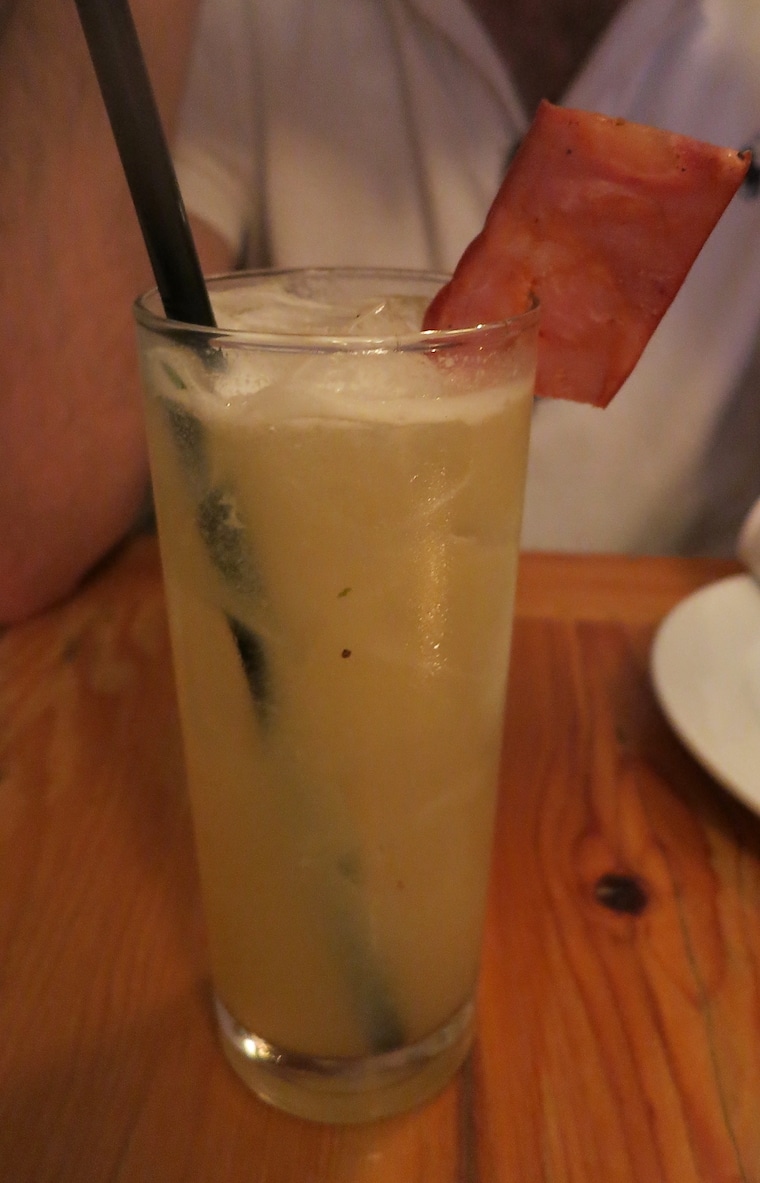 Bacon Bourbon Sour
Agave Margarita
Like the cocktail line up, PC's food menu is extensive, fairly priced and features all your Mexican staples and favourites (except maybe tamales, which I am always on the look out for).  On the PC website, Chef Sidhu emphasizes the naturally health promoting properties of their Mexican meals, arguing that their recipes "not only taste great, but are equally as nourishing as they are healthy." With the exception of the Avocados, all of the produce and dairy they use is fresh and local, and all their salsas are made in house.  They also purportedly use as little extra oil or fat in their preparation as they can, a far cry from what most Canadians associate with Mexican cuisine.  I actually really appreciate this mandate and wish other restaurants would shift their focus on letting good quality ingredients shine, rather than just ensuring they taste good by adding extra fat, sugar and salt. Having said that, I didn't come to PC for a spa meal. There were no caloric considerations in my ordering going on. I just wanted the tastiest picks, which when there are more than 37 options (plus variations and combos) to consider, can become a daughting task. Luckily, after bouncing some ideas off our server, we opted to go with:
Guac Fresca with Homemade Chips ($8)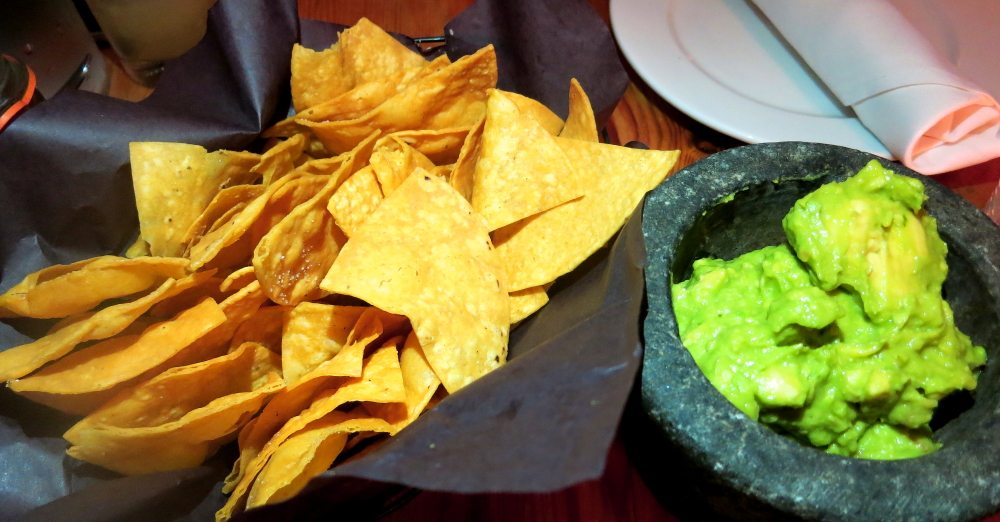 Since we weren't asked how hot we wanted it, I'm not sure what we got, but I can assume it was mild since there wasn't any detectable heat. The guac was well seasoned, though maybe could have used a touch more lime (but I'm an acid freak), while the chips were crispy and light. My main criticism here would just be the ratio of guac to chips was definitely a little skewed. I even tried to be frugal with the dip on my chip, and still we were left with 2/3rds of a basket of chips and a scraped clean bowl sans guac.
Elotes a la Parrilla (Grilled Corn rubbed with Chili Pequin, Lime and Queso Fresca/Anejo, ($10)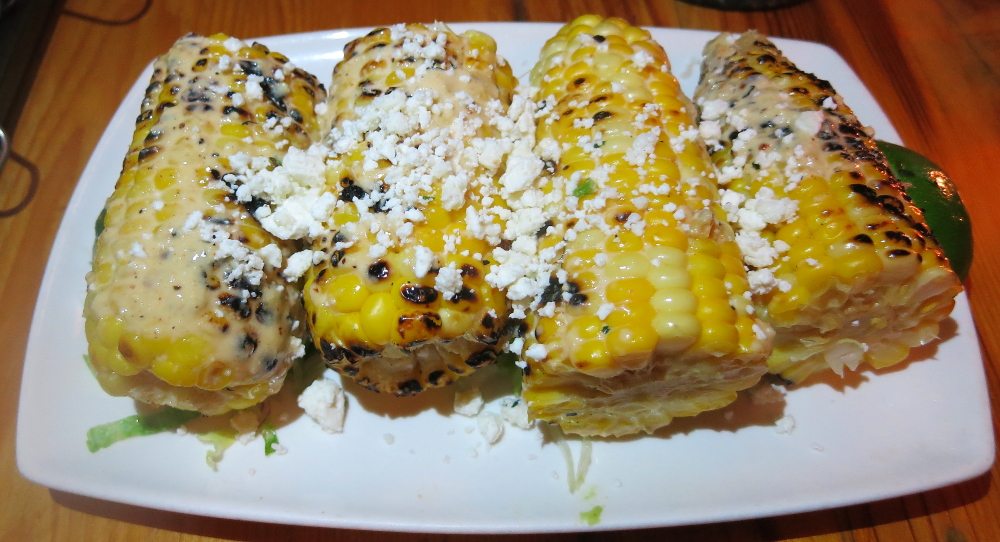 I will never turn down fresh corn, especially when it's slathered in crema and sprinkled with cheese.  As simple as it is, this corn just happened to be the highlight of the night. The kiss from the grill left each kernel engorged with sweet juice- a perfect counterpoint to the salty cheese, spicy chili and sour lime I spritzed on top. Now I am wiggling with excitement for a summer of delicious Ontario corn.
Ancho Braised Shortrib-Brisket Crispy Tacos ($14)
Biting into one of these deep-fried bad boys, I may have started to question the whole health-slant of the restaurant. But hell, I say put your weight-watchers calculator away and enjoy it. Packed to the brim with juicy tender beef, the rich ancho flavour was nicely balanced out by the freshness of the tomatoes and salty cheese on top. Smear on a little bit of their house guac and woah, you've got a substantial meal right there. My only quibble with regards to the tacos in general is that unlike other taco establishments in the city, they can't be ordered individually, making deciding on just one a near impossible task and ODing on one rich flavour inevitable. I for one would not be able to eat a whole plate of these, despite how delicious they were. But swap two for a fish and pork taco, and I'd happily plow through.  Just something I'd add to the list of things in this world I'd change if I ruled the world.
Toluca Chorizo Burrito (Wrapped with Oaxan Cheese, Rice, Beans, Topped with a Fried Egg, Guac, Pico de Gallo, Crema, Green Tomatillo Sauce and Red Tomato Sauce, $16)
Which leads me to the next dilemma. After soldiering through the short rib, I still had this beast to tame. Note to self: don't get a burrito unless you're with a team of pubescent male teenagers. Unfortunately, I was too full to really appreciate this monster, but the few bites I managed to get in were very tasty and well balanced. It had bright tomatillos, a sweet tomato sauce, spicy chorizo, and it was all topped off with a luscious runny egg. Maybe a little skimpy on the cheese, but really, with a meal this huge, I'm being glutinous and nit-picky here.
Churros with Dulce de Leche

I am a churro freak, and have to say I prefer the typical stick variety to these little fried nuggets of dough, which while certainly tasty, didn't quite have the same crackly sugar exterior you get from the ridges of traditional churros.  Having said that, considering I am also a super cinnamon freak, and these were beyond well spiced, I finished them off in record time. Next time at PC, I will check out the tres leche cake for dessert, another one of my all time favourite sweets.
So for 2 cocktails, 2 bocaditos (appetizers), a burrito, an order of tacos, a dessert and a cappuccino, the bill came to $100 including tax and tip. Very fair considering the large amount of consumables that graced our lips (and the burrito doggie bag we happily took home). Overall, I was quite pleased with our experience at PC and am looking forward to seeing how it holds up against Rick Bayless' Topolobambo when I visit Chicago this month. Thank you Playa Cabana for delivering a date night with great food, friendly service, and a fun vibe.  And thank you for telling me I should feel good about getting my taco fix (even if I am a dietitian and may be somewhat exercises denial about those tacos). With the close by Avenue location set to open in two weeks, I have a feeling the lag time between now and my next visit won't be long.