On our trip to Israel last Summer, we had the pleasure of experiencing both Ashkenasic and Sephardic cuisine and as a result, better understanding some of their essential differences.
If you're not familiar, Sephardic Judaism is a subculture of the religion passed down from descendants who were originally from Spain, Portugal, North Africa and the Middle East. This is in contrast with the Ashkenazic Jews who came from places like France, Germany, and Eastern Europe.
Ingredients
 For most of us living in North America, most of our Jewish interactions have likely been with the latter variety, and thus, when we think of Jewish food, we often think of Ashkenasic traditions. I'm talking matzoballs, kugel, tzimmes, latkes. These are foods that tend to be starch heavy, and rely on a lot of sugar or dried fruit for flavour, because in all of those colder Eastern European climates, that's basically what was available.
In contrast, in the warm climates of Spain, you see brighter, spicier, fresher, and usually more colourful ingredients, so the culinary traditions reflect those capacities.
So at one point in Jerusalem, we visited a Sephardic restaurant with a Moroccan theme and ever since, I've have been pining for similar flavour profiles at home. In particular, I recall having this stunning lamb aromatized with fresh lemons, mint and pomegranates, a beautiful balance of bright sweet, soothing and sour. Well, this week I noticed I had a lot of pomegranate molasses kicking around since I used it to whip up a stunning Thanksgiving feast in October.  What is Pom molasses, you ask? Well quite simply, it's essentially just reduced pomegranate juice with maybe a little sugar added in. It's sweet and thick like syrup with an unmistakeable tangy note. I am obsessed with the stuff and like to use it as a glaze for meat, fish, or veggies. And drawing from the memory of that amazing lamb dish, that was exactly my plan with these delicious lean chicken breasts.  This is what I did:
Pomegranate Molasses and Grainy Mustard Glazed Chicken Breasts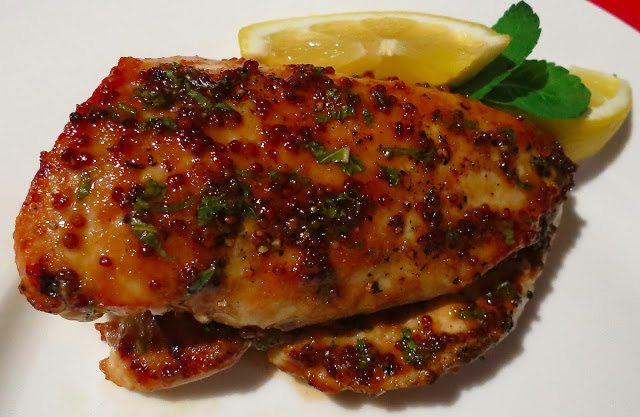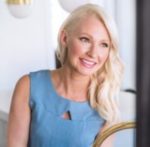 Abbey Sharp is a Registered Dietitian, an avid food writer and blogger, a cookbook author and the founder of Abbey's Kitchen Inc.