This banana peanut butter protein pudding is vegan, low fat and gluten free- perfect for getting your PB fix!
Forget your mamma's banana pudding, this vegan healthy banana peanut butter protein pudding is about to BLOW your mind and make your body feel oh-so-good.
When I went to Texas and Nashville, I sought out banana pudding at almost every meal. I'm a fiend for the stuff and honestly, nothing was going to stop me from getting my fix.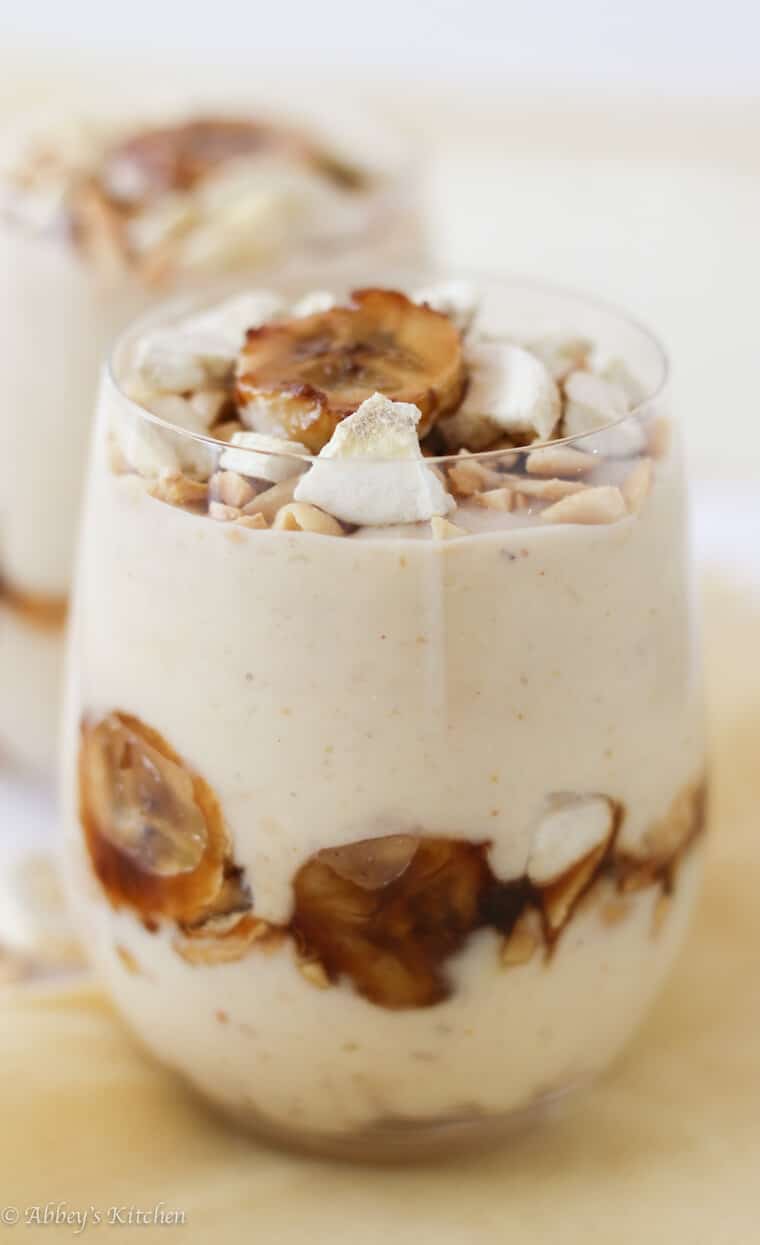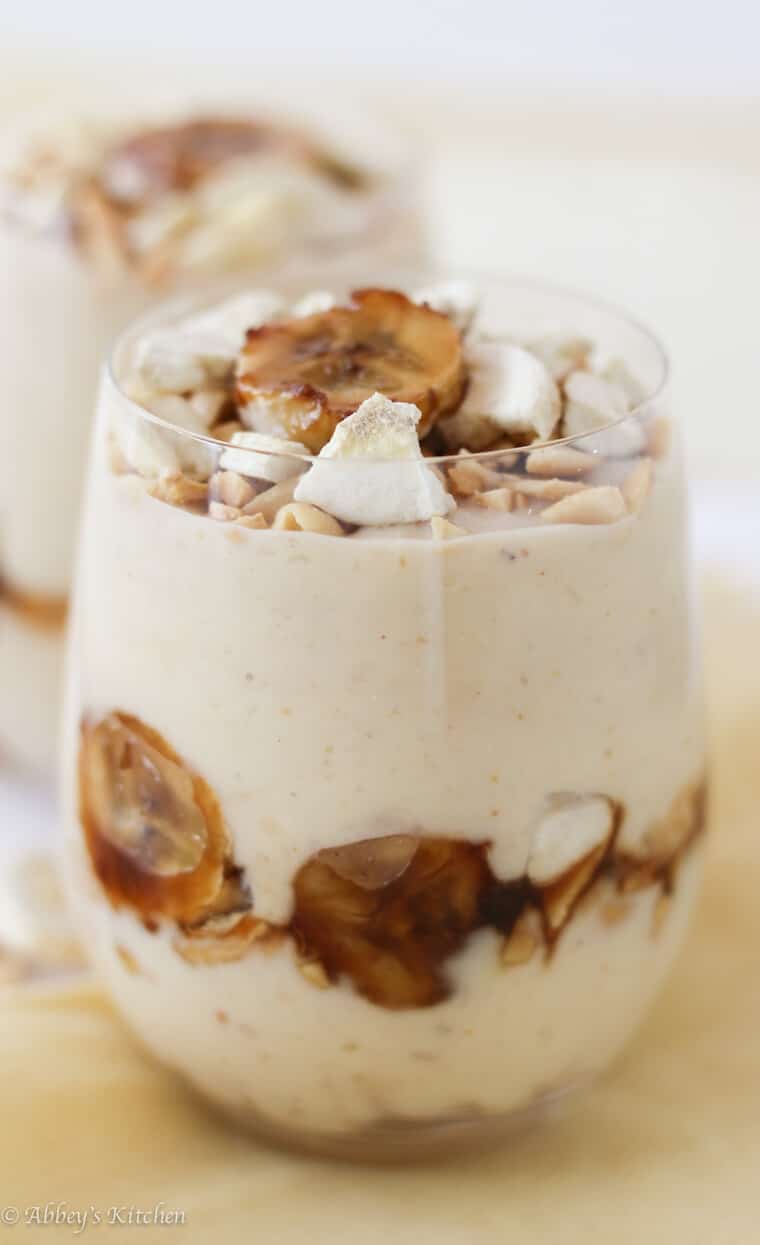 This protein pudding is my own super healthy take on a Southern banana pudding recipe. It's very different, yes. There's no eggs. There's no cookies. There's no dairy. There's no gluten. There's also very little added sugar. It has also peanut butter it in (slow down, Southern Belles, I know that's not how your momma made it). And of course, it's really really good.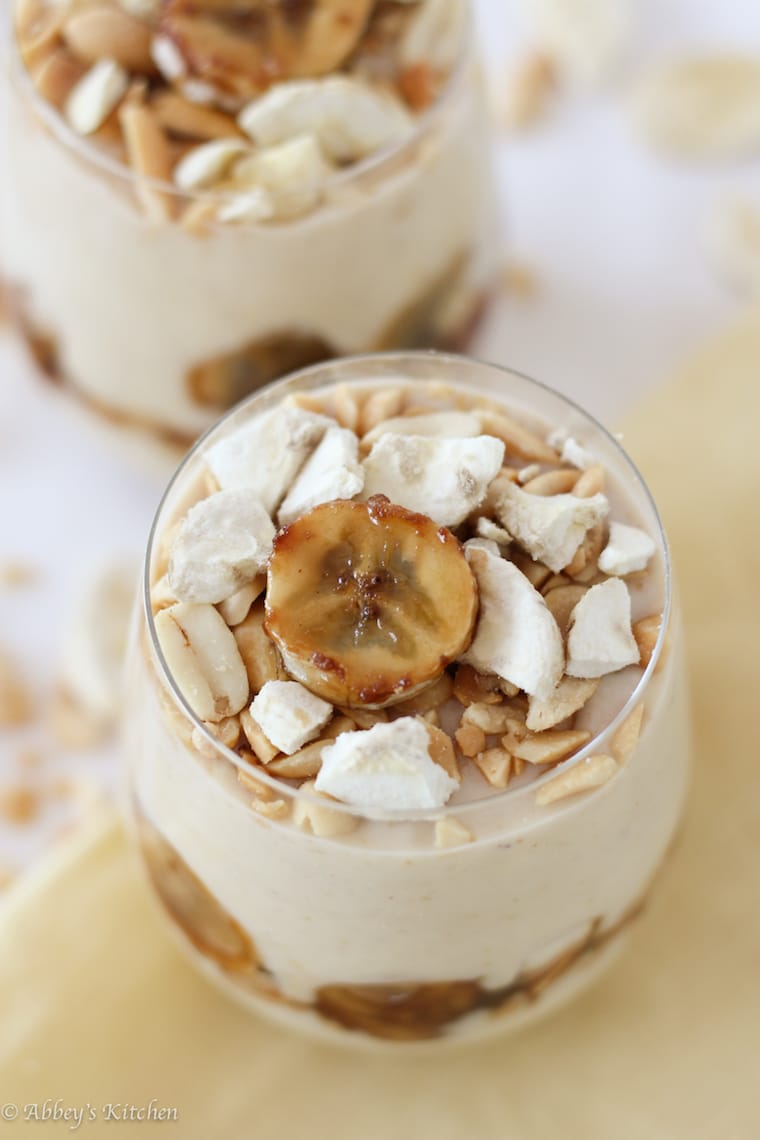 Southern Banana Pudding + Protein = Banana Peanut Butter Protein Pudding Goodness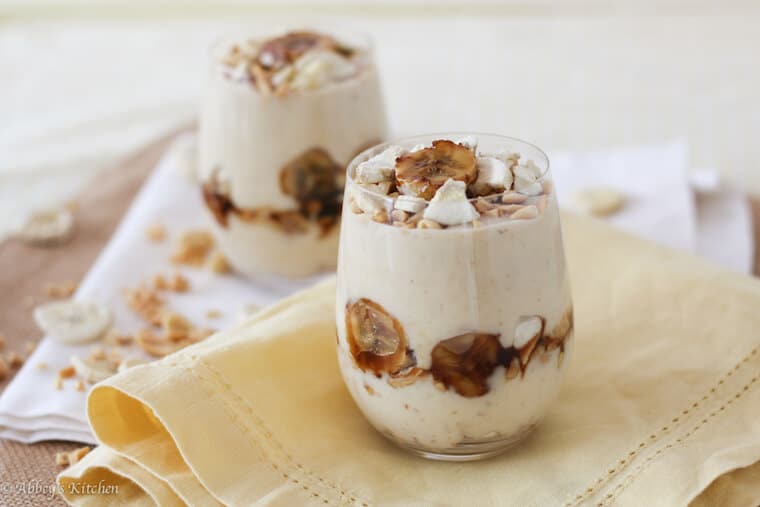 It's my healthy take on banana pudding with the perfect balance of protein from the natural peanut butter and tofu, carbs from the ripe bananas and fat nuts. And did tell you that this protein pudding is totally VEGAN? AND GLUTEN FREE? Plant-based and gluten free friends and followers, you're welcome. I know, I'm a genius. Let's all eat pudding and digress.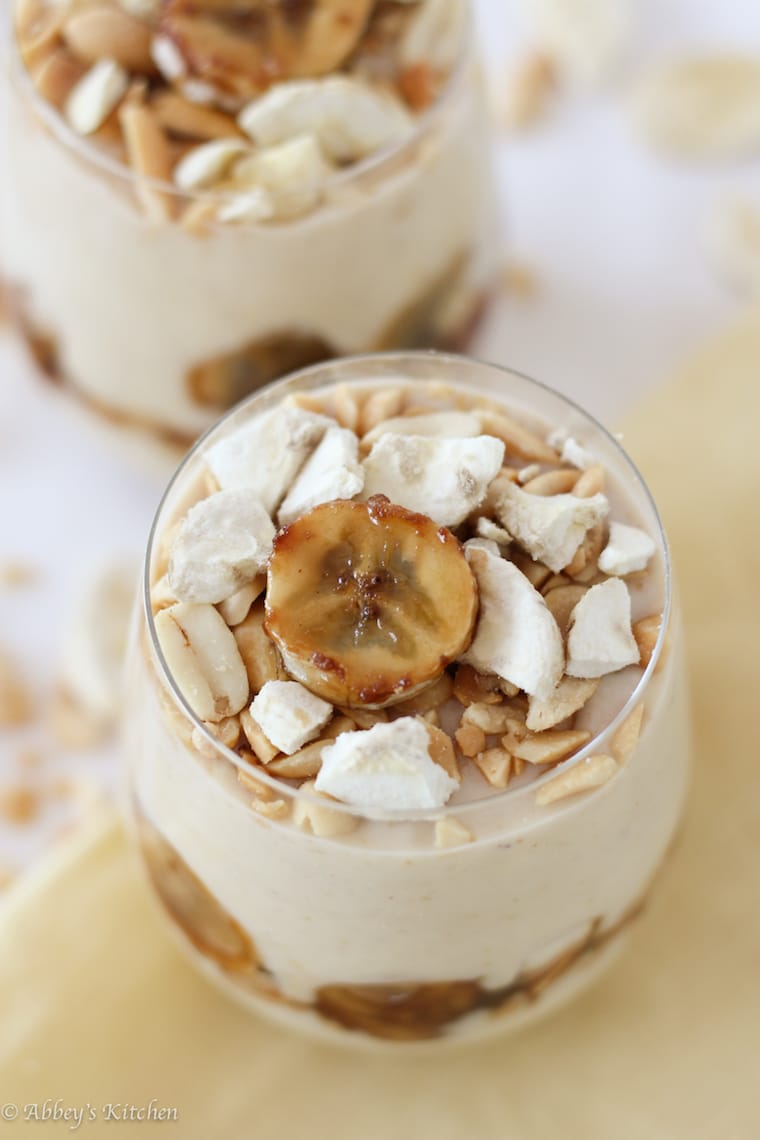 This protein pudding has become my go-to post-workout treat. And trust me, after one of my spin classes or sessions with my trainer, I need it.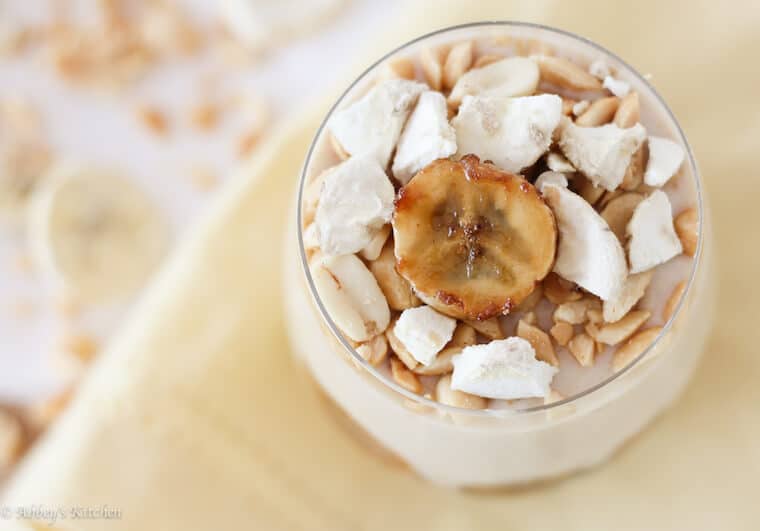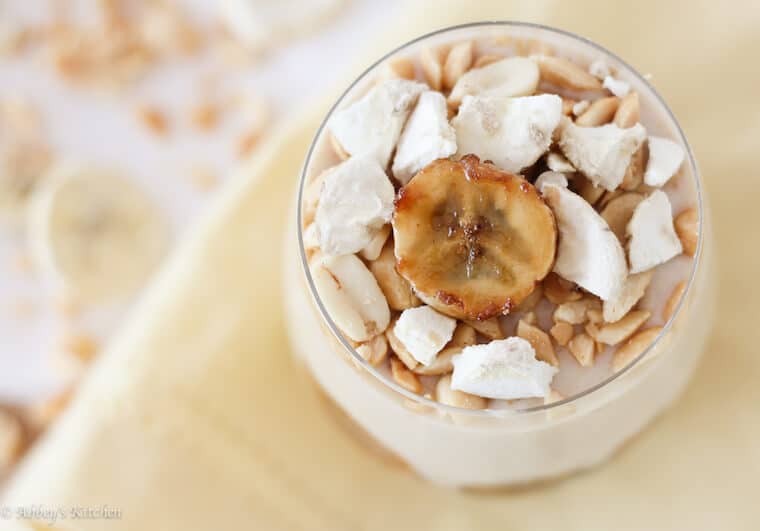 The combination of sweet caramelized bananas, creamy dreamy pudding, crunchy freeze dried bananas and peanuts, and a hint of banana's BFF, peanut butter makes getting through that last stretch of hills or last set of step-ups surprisingly worth it. I know it's hard to believe, but trust this girl.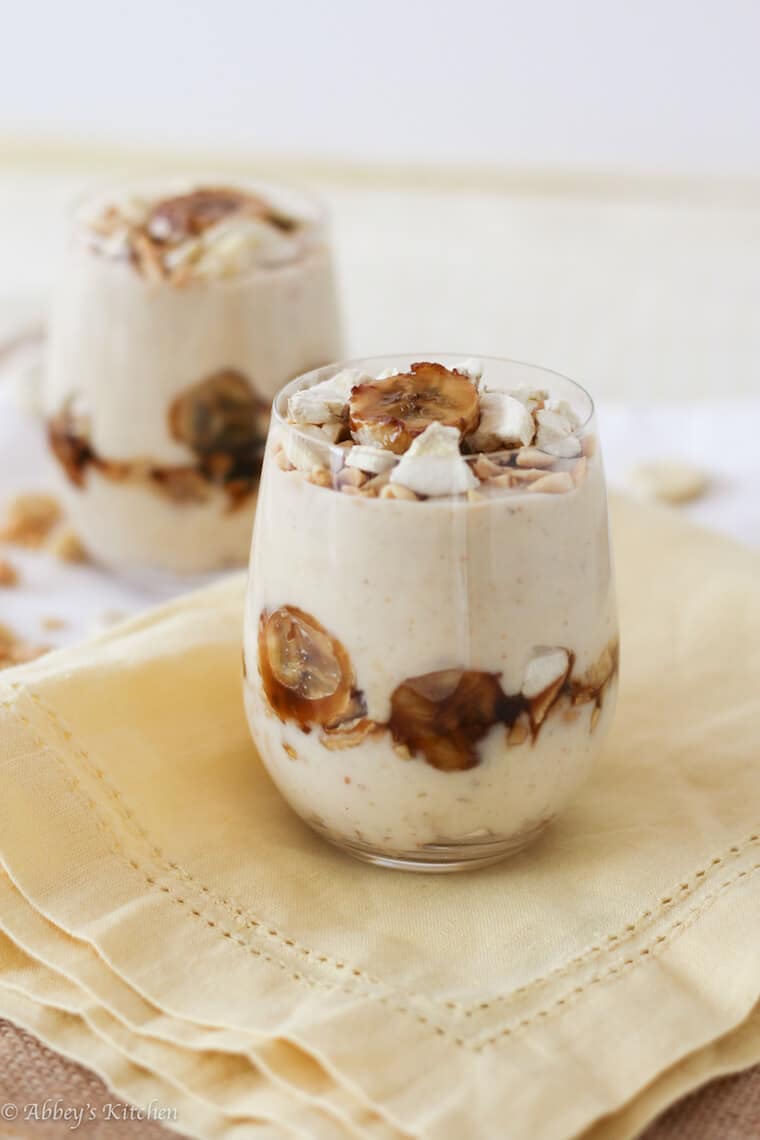 Love banana pudding as much as I do? Have you ever attempted making protein pudding? What's your go-to comfort food treat you'd like to see lightened up or made work-out friendly? Leave me a comment below, I would love to hear your picks!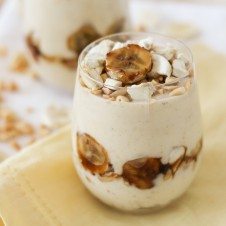 Banana Peanut Butter Protein Pudding | Vegan, Low Fat & Gluten Free
This vegan and gluten free protein pudding packed with the goodness of bananas and peanut butter is about to blow your mind.
Print
Pin
Rate
Instructions
In a small food processor or powerful blender, puree the tofu until very smooth. Add the bananas, peanut butter, vanilla, sugar, and cinnamon and puree until super smooth and cream. Refrigerate until cold, at least 1 hour.

Before serving, preheat a medium nonstick skillet over medium heat. Add the coconut sugar and the sliced bananas and cook until the bananas caramelize. Set aside before they burn.

When ready to serve, layer a spoonful of freeze dried fruit and a few crushed peanuts onto the bottom of four glasses. Layer with half of the pudding. Add a layer of the caramelized bananas and some additional freeze dried bananas. Then finish with the remaining pudding, a sprinkling of nuts, freeze dried bananas and a caramelized banana. Enjoy!
Nutrition
Updated on November 22nd, 2019