Waking up following an Alinea-induced food dreams (mmm…apple balloon), I jolted out of bed at the thought of our pending reservation at the
Publican
, a super popular gastropub hotspot in the Fulton Market neighbourhood. Owned and operated by Executive Chef and James Beard award winner, Paul Kahan (of Blackbird, avec, Big Star and the new Publican Quality Meats- a meat and specialty food market), I was beyond excited for this meal.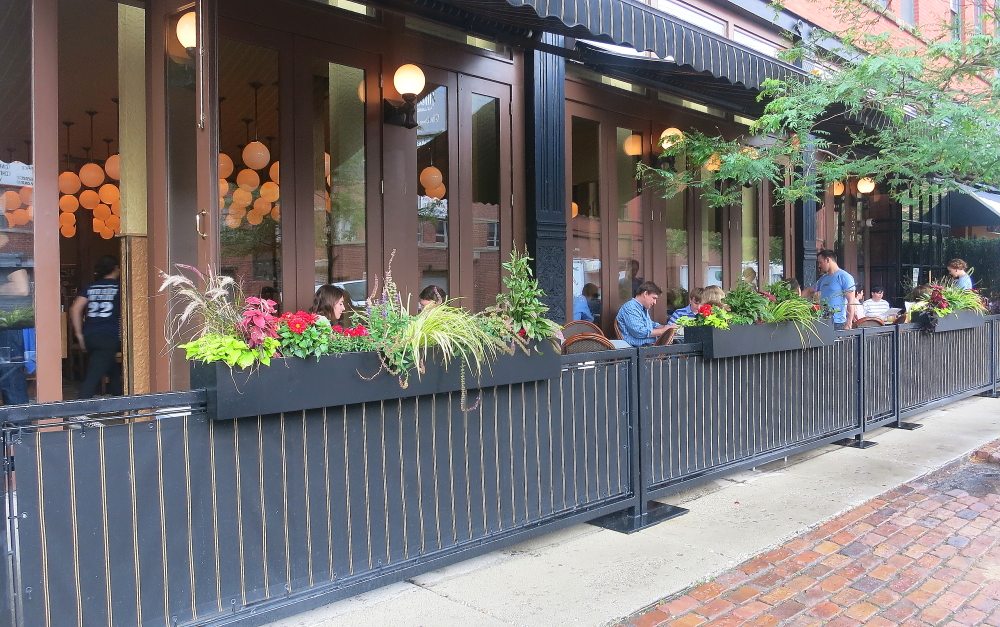 Upon arriving for our reservation, we were struck by the magnificent dining room. The walls were covered in a terracotta like embossed print, a long gold-lined bar sat in front of the open kitchen, and bright globe lambs hung in a rectangular cluster in the center of the room.  Seating is essentially a small number of walnut booths equipped with their own saloon style doors, a few stand alone deuces and four-tops, a set of wooden communal tables organized into a rectangle with matching high-backed chairs and a few cocktail standing tables for drinking and snacks. As for décor, it's all about the swine. No sexy mirrors, no eclectic trinkets, just a few large paintings of even larger pigs.  A very appropriate way to commemorate the Jewish sins we were about to commit (just in case we didn't get our fix at the Purple Pig). From inside our little saloon cove, we felt the entire experience to be decidedly quite comfortable, warm and welcoming and the service to follow suit.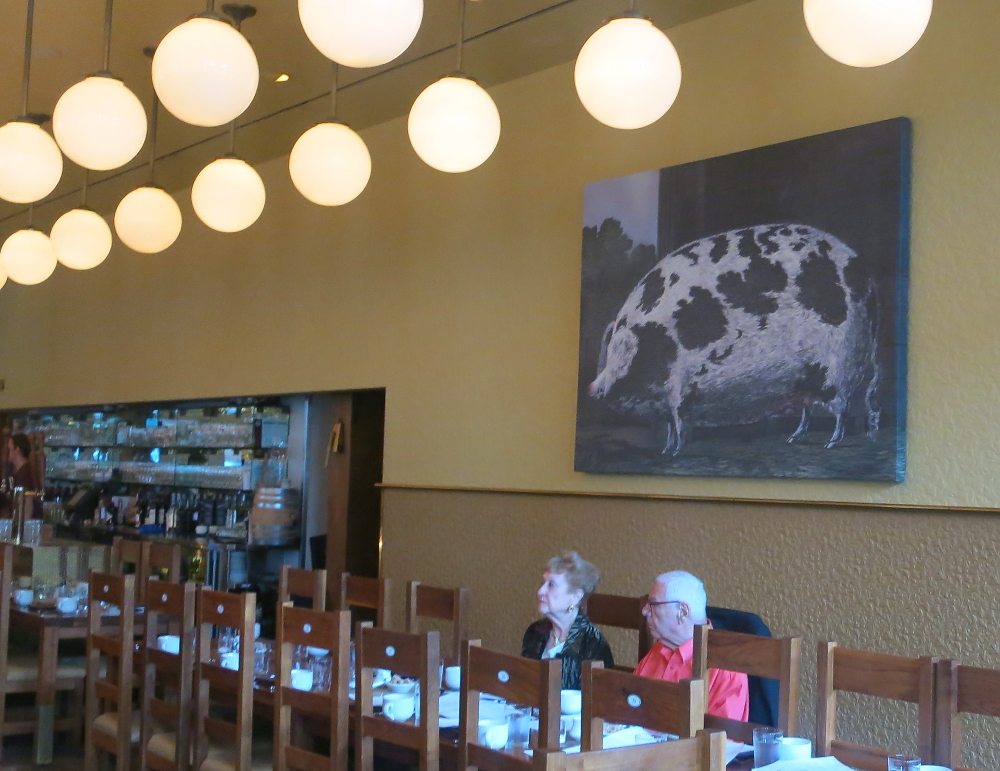 Our server was adorably cheerful for a dreary Saturday morning, helping us with our tourist inquiries and mapping out our shopping route for us. He also ensured our water and coffee cups were consistently replenished, and that side plates and cutlery were plentiful.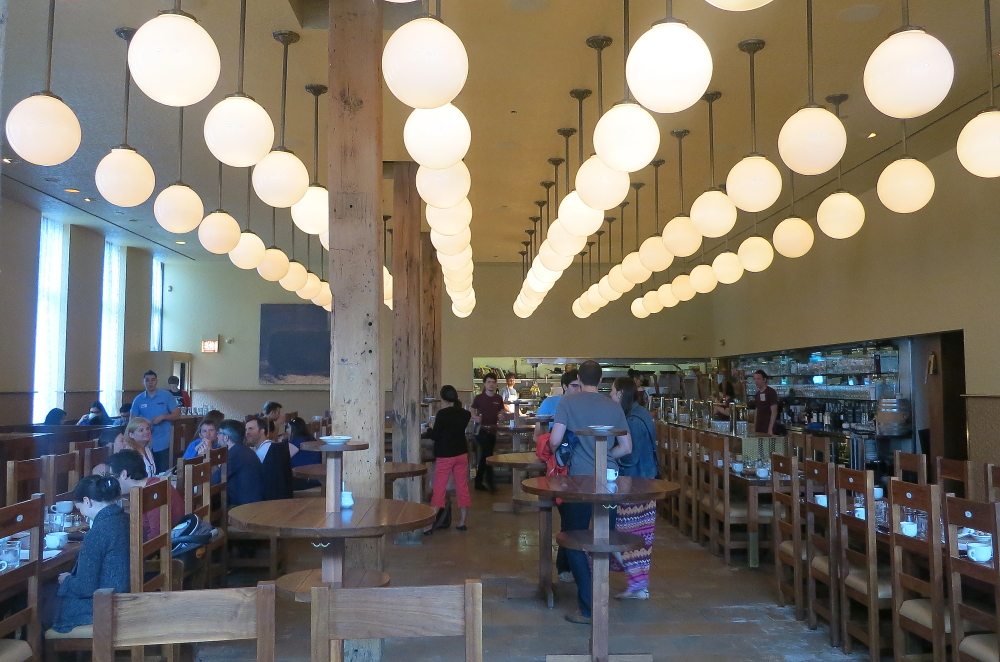 Speaking of drinks, the Publican offers all the morning classics- mimosas, G+ Ts, Bloody Marry, juice, coffee and tea. No cappuccino machine, unfortunately, so I had to opt for basic drip ($3), which I found a little bitter for my taste.  Thankfully, the food helped make up for it with a little extra salt and sugar to balance everything out. The Publican's brunch menu reads like a #foodporn fantasy, taking greasy spoon favourites up a few notches on the sexy scale. With global cuisine influences from Italy, Eastern Europe, Asia, there were no shortage of tempting picks- the challenge for us was going to try to be sensible and not order the entire menu for two. With a little help from our server, we ended up going with:
Smoked Arctic Char, Grilled Snap Peas, Radish, Yogurt, Poached Egg & Charmoula ($16)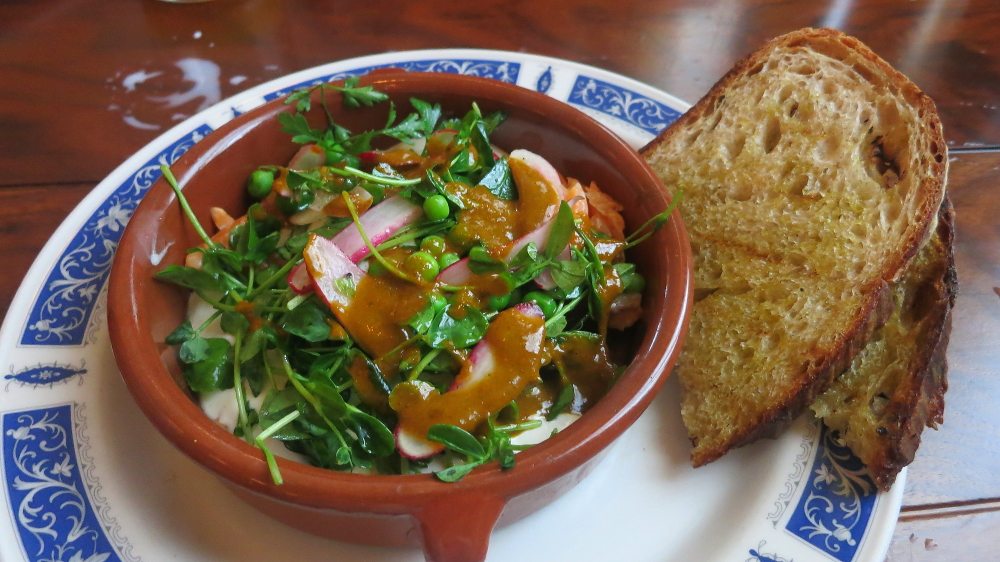 A light and refreshing start to the day. Once cracked into, the yolk added incredible richness to the tangy yogurt, the fresh green peas, and the slightly bitter radish.  The fish had a lovely sweetness to it that was balanced out by the herbaceous and bright charmoula and a bit of aromatic curry seasoning throughout. If you're looking for a lighter brunch option, this would be ideal.
Oven Baked Sourdough Pancake with Bacon-Wrapped Chicken Thigh, Breakfast Sausage, Burton's Maple Syrup ($13)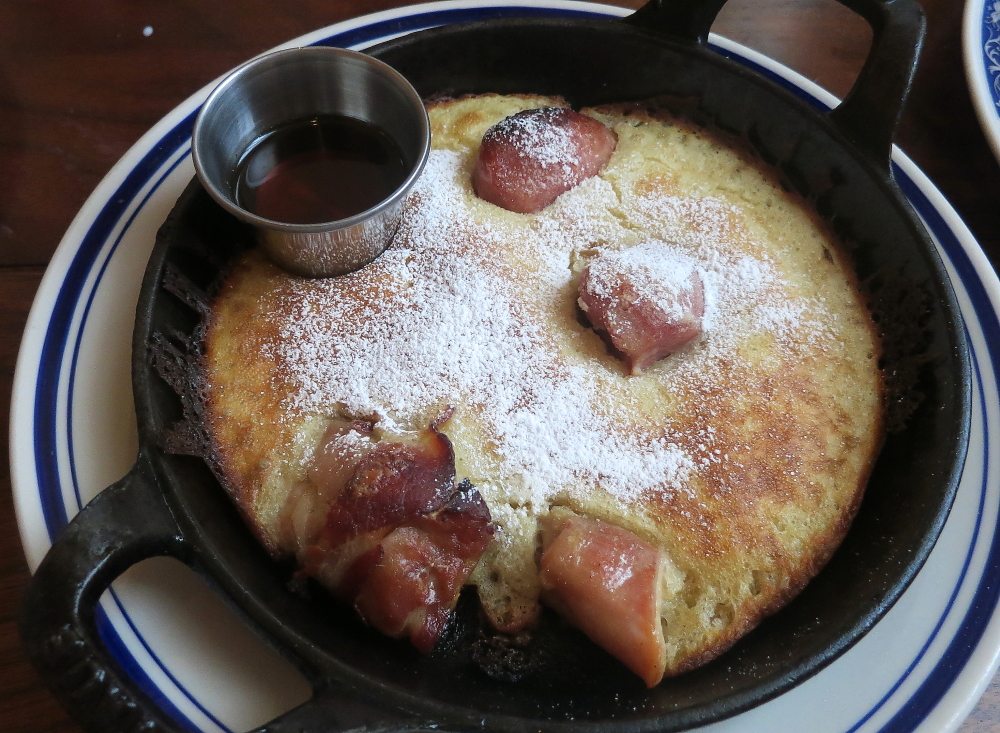 And if you're not looking for a light, healthy option, this is the one to choose. But believe me, it's totally worth it. The pancake was fluffy on the side, but deliciously crispy on the sides and bottom from a good searing in the cast iron pan. The bacon thighs and sausage were sweet, salty and just soaked up all that maple syrup to yield one unapologetically delicious bite. Love, love, love.
Pub Pretzel with Lady Chris' Pimento Cheese ($4)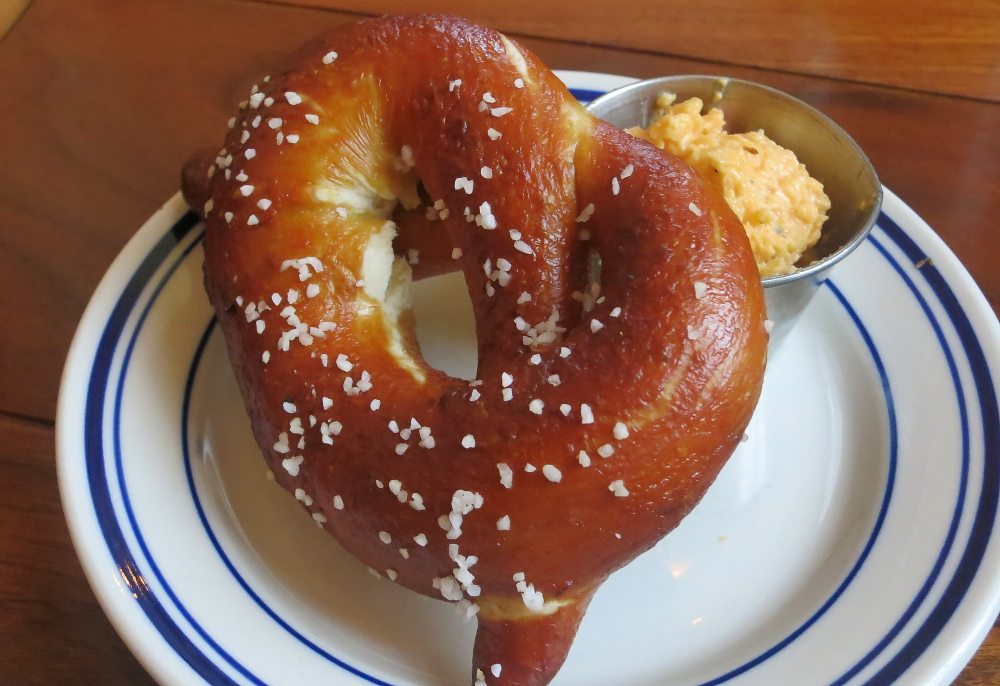 A stark shift in flavour profile from the latter dish, but still a pretty tasty snack. My first bite of the pimento cheese reminded me a bit of Cheez Whiz, but it wasn't long before I was hooked. The pretzel itself was really tasty- nice and tender inside, with a good satisfying chew on the surface. Yum.
So for 2 coffees, an OJ, 2 mains and a side, the bill came to about $50 including tax and tip. Not a cheapo diner breakfast, but definitely a worth-while meal. I loved the Eastern European communal atmosphere, and the food offerings were both familiar yet intriguing. Thanks Publican for getting us through a food coma with more delicious food. I would definitely be up for a repeat visit (maybe for dinner or late night drinks) any time I'm in Chicago again. Cheers!
Updated on February 13th, 2016