This July, I was invited to share one of my favourite Summer recipes for the grill in the Grilling Tent at the Toronto Festival of Beer. When I was first approached to do the cooking demonstration and was asked to use beer in my recipe, I immediately knew I wanted to cook Canadian Beef. Raised in each and every province across the country, Canadian Beef is no doubt the King of BBQ season and is a perfect pairing for an ice-cold beer. After a day of beer drinking and eating poutine and grilled cheese at the event, I figured that viewers might be craving something a little lighter for supper in the days to follow.  So I whipped up a Lager Marinated Flank Steak Bruschetta with Lager Marinated Grilled Tomatoes & an Arugula Salad with Lager Vinaigrette. This recipe is really the best of all eating scenarios if you ask me. It's for those guys out there who think "Real Men" don't eat salad to whom I remind, guys, this lettuce has beer on it. And it's also for the ladies (or men) concerned about watching their weights who still think beef isn't a reasonable choice. My goal was to prove those folk wrong, too.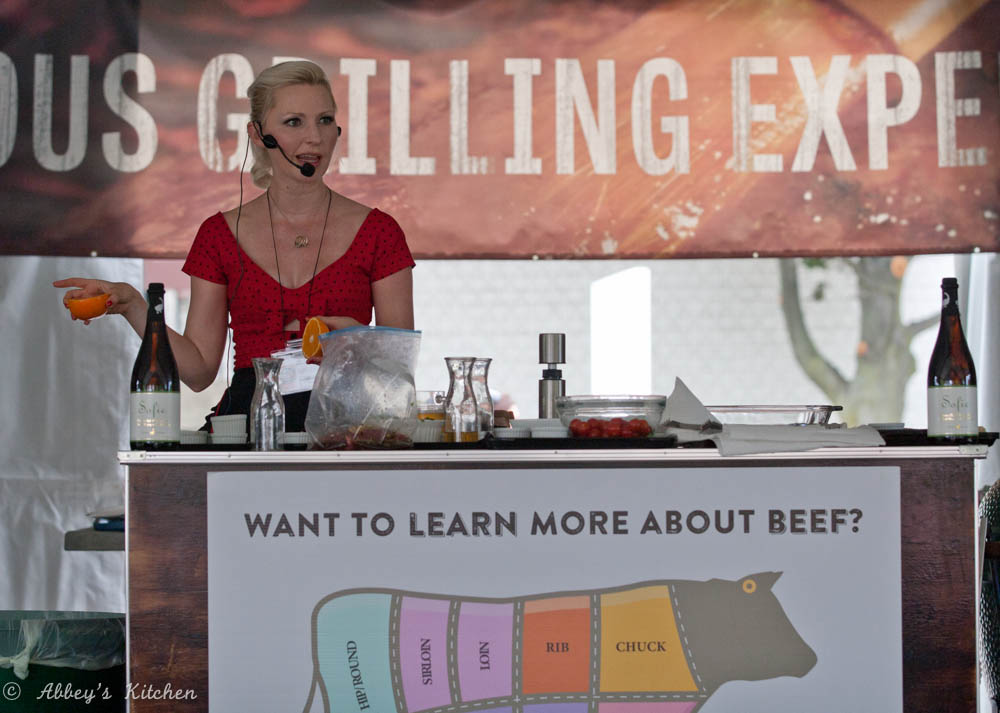 Photo Credit: Lee Waddington
To keep things light, I opted for an organic dry-aged Angus Flank Steak from Ontario (that I got at the Healthy Butcher), which has a tone of great beefy flavour but is less expensive than other grilling steaks like Rib Eye. It's also super lean with about 200 calories, 23 grams of high quality protein and less than 10 grams of fat per serving. And the health benefits don't stop there- beef packs 14 essential nutrients including iron for energy, zinc for immune defenses, and B12 for the normal functioning of the brain and nervous system. And did I mention that it's crazy delicious?
 Photo Credit: Lee Waddington
In addition to being easier on your waistline, beef can also be easy on your wallet too when we work in a little trick called the Steak Stretch. The steak stretch is when you buy one larger steak like the Flank and slice it up thin to get a bunch of portions rather than having to buy one steak per person. It also means it helps put portions in proportion because you can take just the amount of steak you need and fill up on more veggies and salad sides. Not to mention, the steak stretch is just easier! No one wants to be that person who is responsible for manning eight different steaks on the grill, each with a different cooking doneness to worry about. Yikes! It's Summertime! Summer cooking should be carefree and fun, not a balancing act of too many things going on at once.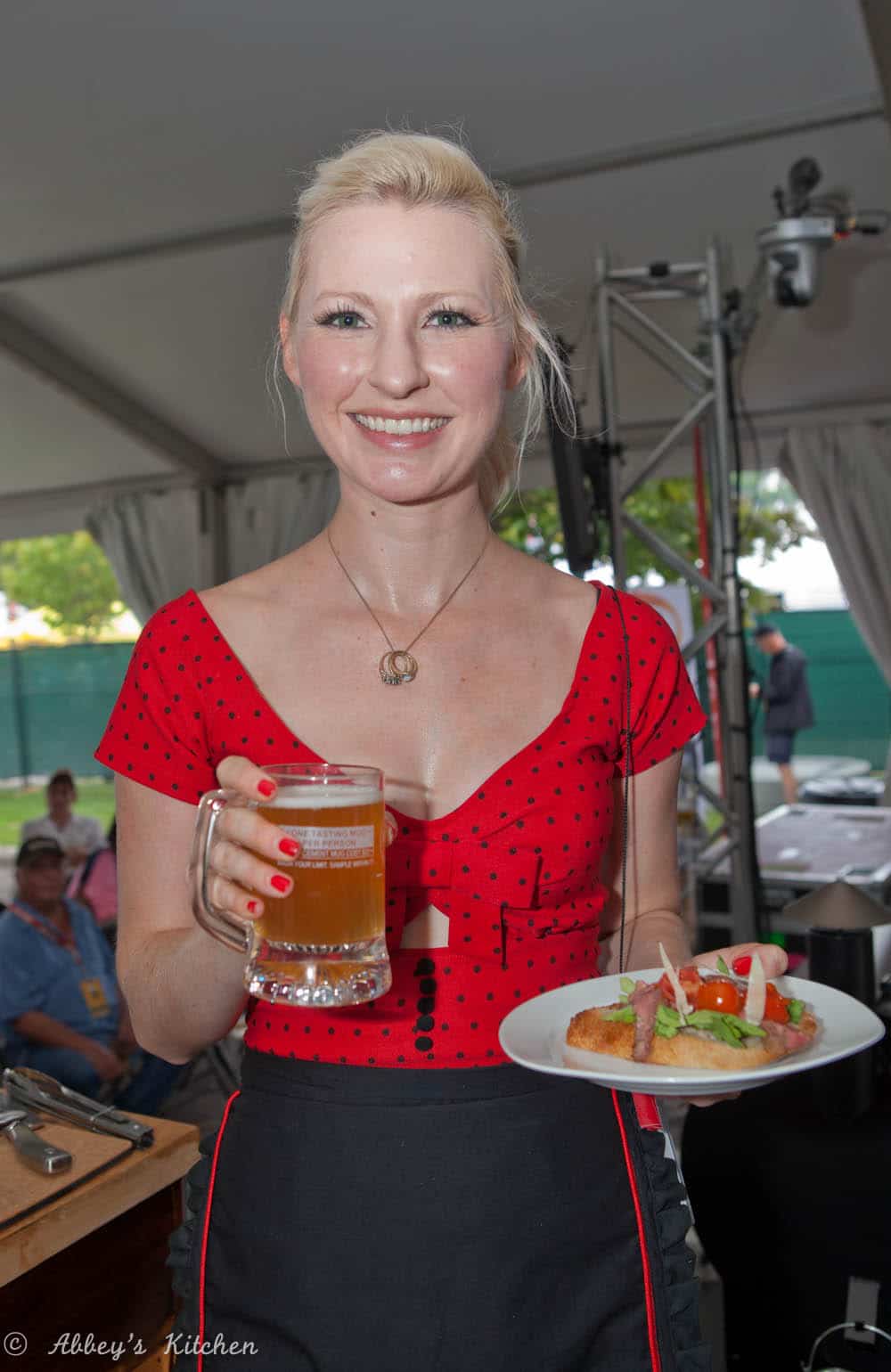 Photo Credit: Lee Waddington
Now, before you get started, here are my top five tips for ensuring a delicious, tender Canadian flank steak with this recipe.
1)    Flank steak is so lean that it really needs a food marinating time to break down the tough muscle fibres into tender meat. We often use wine to marinate, but the enzymes and carbonation in beer do a fabulous job while adding tons of flavour! Aim for a good 10-12 hours in the fridge with the marinade before you get grilling.
2)    To help really get that marinade into the centre of the beef, give it a few good pricks on each side with a fork before you pop it into the bag. Don't forget to discard the marinade after it's done its job- you can't reuse it unless you want to boil it down into a sauce.
3)    Use an instant read thermometer to check for doneness. You ideally want to go for about Medium Rare with flank steak- so look for 140 F on that thermometer. For more cooking times, check out BeFoodSafe.ca
4)    Let the steaks rest covered for about 10-15 minutes before carving in. This allows the juices, which rush towards the middle of the meat immediately after cooking, to redistribute into the muscle fibres around the edge of the meat. If you cut into your steak immediately upon grilling, the juices will all gush out- no one wants to loose those precious juices!
5)    Always carve the flank steak against the grain- so look for those long muscle fibres and slice on an angle perpendicular to those lines. That will ensure a deliciously juicy cut of Canadian beef.
Try out my recipe for Lager Marinated Canadian Flank Steak Bruschetta, and check out Beefinfo.org for cooking lessons and videos, and MakeitBeef.ca for discussions on all things beef including two exciting contests! You could win a Spacesaver BBQ by Coleman and VIP Experience Passes with travel to Vancouver for the Grey Cup 2014!
What's your favourite way to eat Canadian Beef this summer?
Beer Marinated Canadian Beef Flank Steak Bruschetta with Arugula Tomato Salad with Beer Vinaigrette
Updated on May 12th, 2020