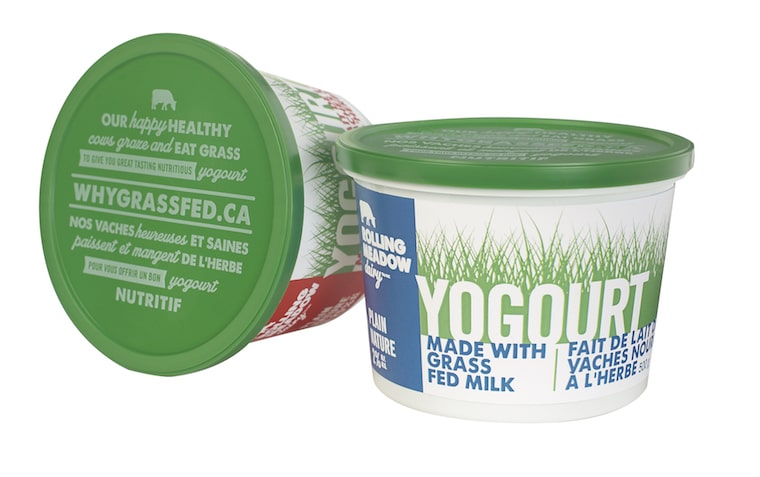 Benefits of Dairy
I'm a full-out dairy lover. As a foodie, I look forward to the flavour of my morning frothy cappuccino, my tangy yogurt mid-day snack and cooking with mindful amounts of real butter. As a Registered Dietitian, I love that dairy not only tastes awesome but is a great source of protein, Calcium, Vitamin D and other vital nutrients. Ten years ago, there really weren't that many options when it came to dairy aside from opting for low fat, full or skim. But these days, navigating the dairy aisle can become an all day event- we have fine filtered, lactose free, organic, sweetened, shelf-stable and so much more. While this helps satisfy the consumers' individual preferences and nutritional needs, one of the most popular options I've seen peak Canada-wide interest is Grass Fed dairy.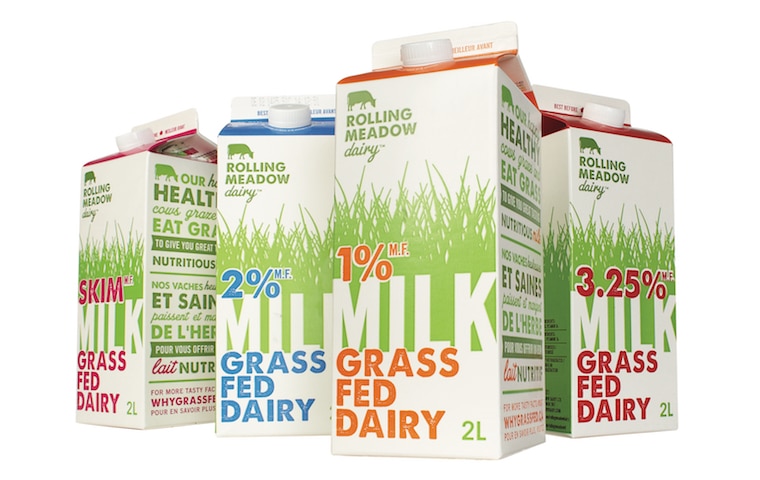 Grass Fed Dairy
I had read about the benefits of grass-fed beef and dairy in North American news for a few years, but it wasn't until recently I was able to find it made by an Ontario company called Rolling Meadow Dairy. Right now, Rolling Meadow offers milk, yogurt and even butter produced from grass-fed cows and the health-conscious foodie community is eating it up. So what's the big deal? Well, most large conventional dairy farms feed their cattle corn and soy, which may increase production but also skews the ideal ratio of healthy fats.  In contrast, products from grass fed cattle, like those from Rolling Meadows, contain heart-protecting Conjugated Linolenic Acids, and a lower and more healthful Omega 6 to Omega 3 fatty acid ratio. Research suggests that the average North American consumes a ratio of 15-16 Omega 6 fats to 1 Omega 3 fat, which may contribute to cancer, cardiovascular, autoimmune and inflammatory diseases. That means that products with a lower Omega 6 to 3 ratio like that found in grass-fed dairy milk may have some protective effect. I also like that the Rolling Meadow line abstains from using growth hormones, stimulants, and antibiotics, making it a good choice if this is a concern for you.
Recipe Time!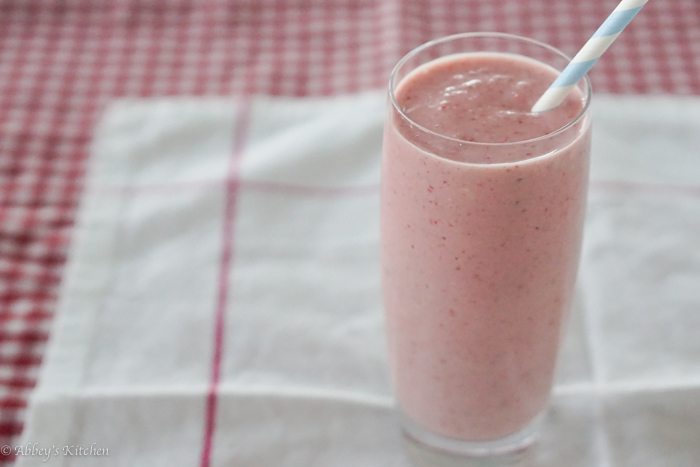 This hearty and satisfying breakfast smoothie is a great way to start using grass fed milk and yogurt. With its healthy dose of fibre from the oats, flax and fruit, protein from the Grass-Fed Dairy and flax, and a triple hit of those heart-healthy Omega 3s from the Grass-Fed yogurt, milk and flax, you will feel satiated all the way to lunch!
Fruity Oat Grass-Fed Smoothie
This hearty and satisfying breakfast smoothie is a great way to start using grass fed milk and yogurt.
Ingredients
1/4

cup

rolled oats

1/2

cup

Grass Fed 2% plain yogurt

1/2

cup

Grass Fed 1% milk

1

banana

cut into pieces

1/2

cup

frozen sliced strawberries

1

tsp

flaxseed

1

tsp

honey

or to taste

1/8

tsp

cinnamon
Instructions
Combine all of the ingredients in the blender and puree until smooth.
Nutrition Facts
Fruity Oat Grass-Fed Smoothie
Amount Per Serving
Calories 220
* Percent Daily Values are based on a 2000 calorie diet.
Disclaimer: The preceding recipe was created as part of a compensated partnership with Rolling Meadows Dairy, however, as always, all opinions are genuine.
Updated on June 7th, 2017