Canada Day is around the corner, which means backyard BBQs, lots of booze and  paying homage to our great nation in our tasty food and drink choices (hello Caesars and maple syrup!). Personally, I think it's a sin not to eat a burger on Canada Day, so Canada Day recipes need to focus on that.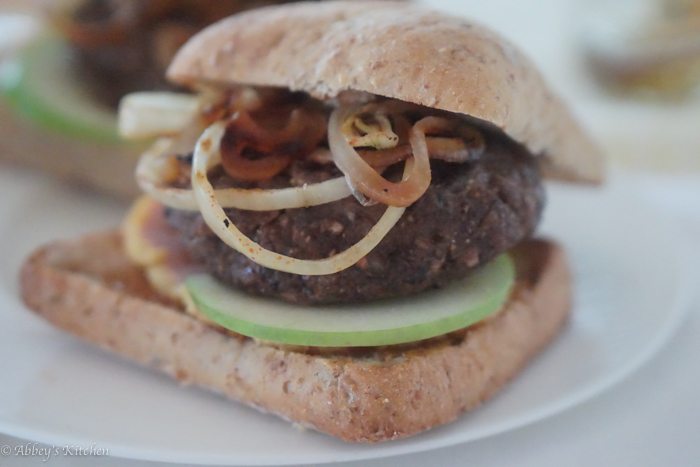 Canadian Tourtiere Burger
I also wanted to make sure these Canada day recipes were a solid 10 on the Canadiana scale without going super nuts on calorie-scale. In terms of a Canada Day burger, this could have easily turned into a Poutine-style burger (aka. fries, cheese and gravy between two buns). I could have also threw on a slab of pork belly, doused the whole thing in maple syrup and call it a happy day (it definitely would have been a happy day, but a not-so-happy next day). Alas, I decided, of course, to keep this lean with some of my top healthy burger tips.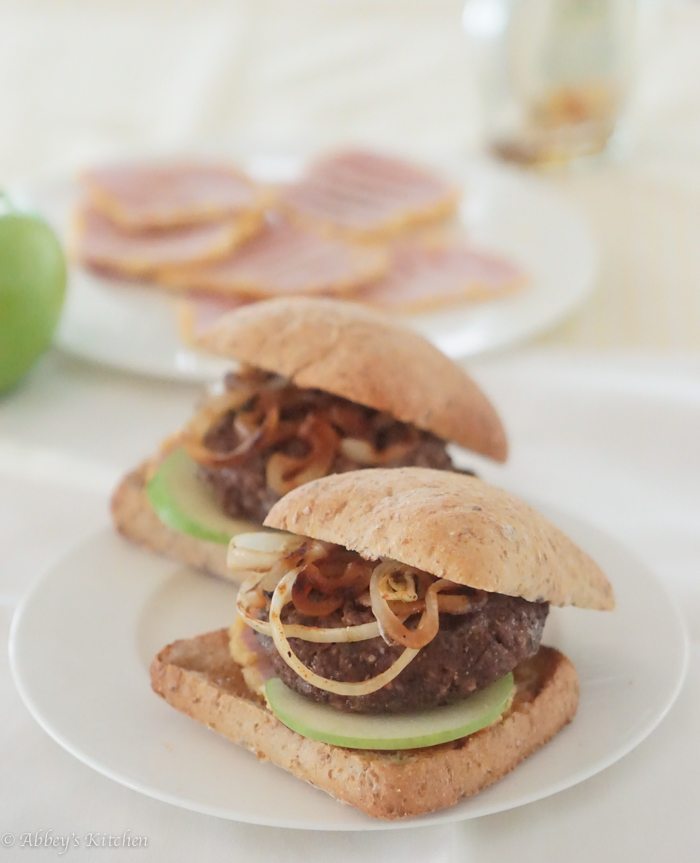 Canadian Tourtiere Burger
Canada Day Recipes … Healthy Burger Style
Tip one- Grind up mushrooms and add them to the patties to substitute for some of the meat. Mushrooms also help keep your burgers moist when you're using leaner ground beef or pork.
Tip two- Hollow out your bun. You don't need all that carby bun getting' in the way of your meaty love affair. Use just enough to help you prevent your fingers from getting gross. It may be a burger, but I'm still a lady.
Tip three- Choose a strong flavoured cheese. I love this aged cheddar with a hint of maple in it. Not only is it super Canadian, but the strong flavour allows me to use less of it!
Tip four- Choose mustard over mayo. Mustard (even the maple variety) is way lower in calories then mayonnaise so it's a great condiment choice for adding big bold flavour for just a few calories.
Tip five- If you need bacon (and it can never hurt)- go for the Canadian version. Yep, forget your typical strip bacon, which tends to be much higher in fat. Back or peameal bacon is naturally lean, really tasty and oh so Canadian.
Canadian Tourtiere Burger
With all of these tips in mind, I created a burger version of a Tourtierre- a Montreal Canadian meat pie made with a combo of ground beef and pork, and sweet baking spices. It's really delicious as is, but between two buns with peameal bacon, maple mustard, maple caramelized onions and granny smith apple, and then stuffed with maple cheddar cheese.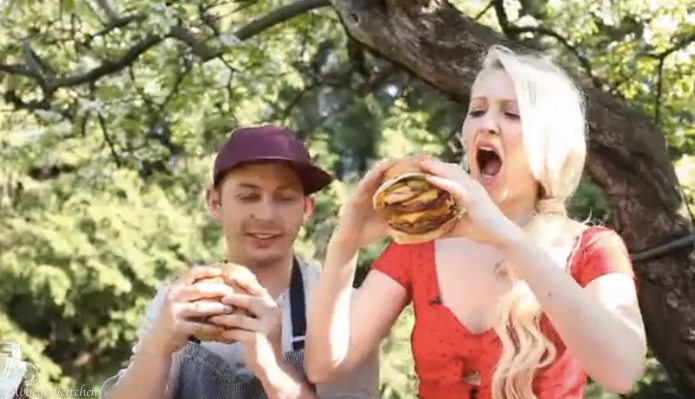 In my latest YouTube collaboration, I threw my healthy burger to a little Canada Day throwdown alongside my friend (and opponent) Matt Basile from Fidel Gastros.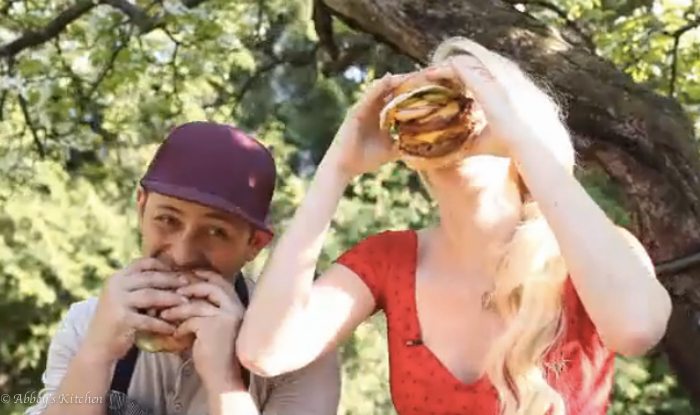 In classic Matt style, he decided to go big or go home with his Great Canadian burger. I might have needed to run home afterwards, but trust me, it was worth it. My tortierre burger + Matt's over the top pork burger makes for the are the BEST Canada Day Recipes.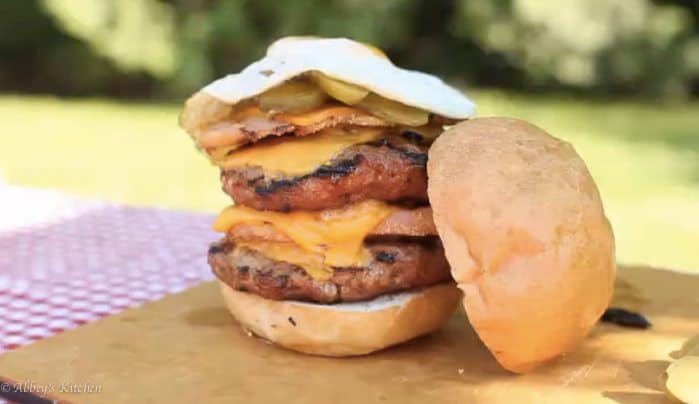 Great Canadian Burger
And our best Canada Day recipes round up wouldn't be complete without an amazing Caesar bar featuring my go-to ready to drink cocktail, Crazy Uncle Uber Caesar.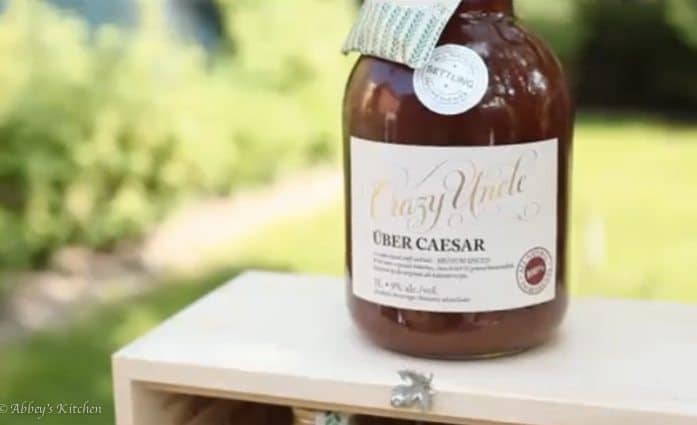 Unlike so many ready-made drinks out their, I love Crazy Uncle because its created by actual mixologists (including local celeb Frankie Solarik) using real ingredients like tomatoes, aged hot pepper sauce, worchestershire, horseradish, lemon, claim broth and spices. It definitely makes cocktail hour a breeze, leaving me time to concentrate on putting together a beautiful Caesar bar for my friends and enjoying these Canada Day Recipes.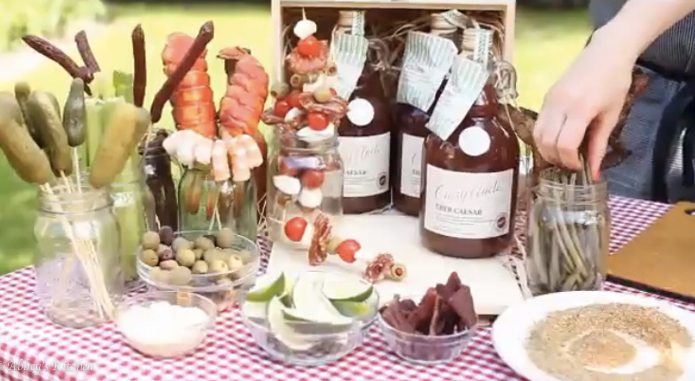 Check out some of my favourite items to include on the bar: Citrus, Olives, Pickled Green Beans (my fave!!), Celery, Hot Sauce, Candied Pork Belly (Matt made this), Jerky, Pepperoni Sticks, Pickles, Poached Shrimp, Lobster Tails, Skewers of Meat and Cheese and whatever else you have kicking around. And don't worry about buying a bottle of Caesar rimmer- The Crazy Uncle Uber Caesar comes with it's own pouch!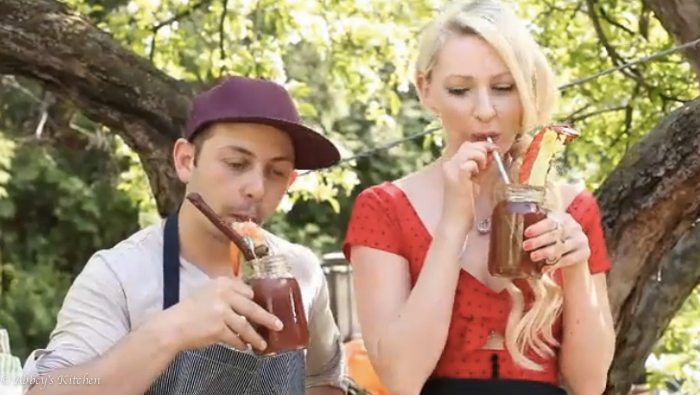 You can find Crazy Uncle Uber Caesar at your local liquor store. The Crazy Uncle family also carries other cocktails in their mixologist line including a Basil, Honey and Lime Daiquiri, Blood Orange and Rosemary Maple Punch and a Spiced Cola Bitters and Mint Julip. Trust me, once you taste this you'll never make your own again.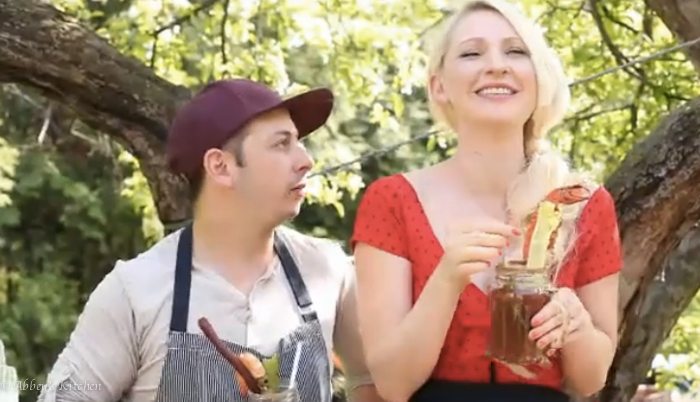 After a few delicious Caesars, we really couldn't choose a winner so looks like its another tie for Abbey and Matt. More of a visual person? No problem! Check out our video here with these Canada Day Recipes (and don't forget to subscribe to my channel!)
What are some of your favourite Canada Day recipes? Leave me a comment below with some of your go-tos!
Canadian Tourtiere Maple Cheddar Stuffed Peameal Bacon Burger
I created a burger version of a Tourtierre- a Montreal Canadian meat pie made with a combo of ground beef and pork, and sweet baking spices. Between two buns with peameal bacon, maple mustard, maple caramelized onions and granny smith apple, and then stuffed with maple cheddar cheese.
Ingredients
6

oz

cremini mushrooms

sliced

6

oz

extra lean ground Canadian beef

6

oz

extra lean ground pork

1

small egg white

1/3

cup

breadcrumbs

1

tsp

grainy maple mustard

1/2

tsp

cinnamon

1/4

tsp

savory

1/2

tsp

thyme

1/2

tsp

allspice

3/4

tsp

salt

1

tsp

pepper

4

tbsp

aged maple cheddar

grated

4

slices

lean Peameal bacon

4

whole grain buns

hollowed out on both sides

4

tbsp

whole grain maple grainy mustard

Granny smith apple

sliced
Instructions
Pulse the mushrooms in the food processor until they are very finely minced. Remove from the food processor and squeeze out any residual liquid. Transfer to a bowl.

Add in the ground beef, pork, egg white, bread crumbs, mustard, cinnamon, savory, thyme, allspice, salt and pepper. Combine together until just mixed through.

Portion into 8 skinny patties. Lay one patty down, sprinkle with about a tablespoon of shredded cheese and top with another skinny patty. Gently seal the edges and set aside until you've continued with the remaining patties.

Grill over medium high heat on a preheated lightly greased grill for about 4-5 minutes per side.

Meanwhile, grill the peameal bacon for about 2 minutes per side, or until cooked through.

Hollow out the bun insides on both sides. Line the bun bottom with the sliced apple, and a slice of peameal bacon. Smear the top side with the mustard. Top with the cooked burger and enjoy!
Matt's Double Stacked Maple Burger
To add the Canadian touch, Matt's burger has maple syrup and pea meal bacon with two stacks of ground pork patties.
Ingredients
2

slices

american cheddar

16

oz

ground pork

1

tsp

smoked paprika

1

tsp

salt

1

tsp

black pepper

1

oz

maple syrup

2

slices

peameal bacon

2 oz slices

1

Bun

1

egg
Instructions
In a mixing bowl, place your ground pork, maple syrup, smoked paprika, salt and pepper, and combine throughly. Make 2 8ounce patties from the mixture. PREP GRILL. Place them on the grill, high heat for a good sear. Turn down the heat to medium and leave on the grill for 6-8 minutes. Place two pieces of american cheddar on each patty.

On the other side of the grill, place peameal bacon and lightly brush with maple syrup. Cook for 4-6min on medium low.

Make sure to have your buns slightly toasted on the top rack of your BBQ!

Once the cheese is melted on each of the patties, stack the first patty on the bun, add a slice of peameal, add the second patty and peameal slice, and top it off with a pickle. If you feel so inclined, finish this Canadian inspired burger off with a fried egg!
Disclaimer: The preceding post and video were developed in paid partnership with Crazy Uncle Uber Caesar, however, as always, all opinions are genuine.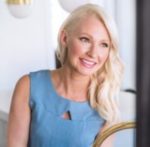 Abbey Sharp is a Registered Dietitian, an avid food writer and blogger, a cookbook author and the founder of Abbey's Kitchen Inc.