It's officially Summer which means I pretty much want to eat a summer salad every single day. But not a boring lettuce, tomato and no dressing kind of deal. I am all about in season flavour.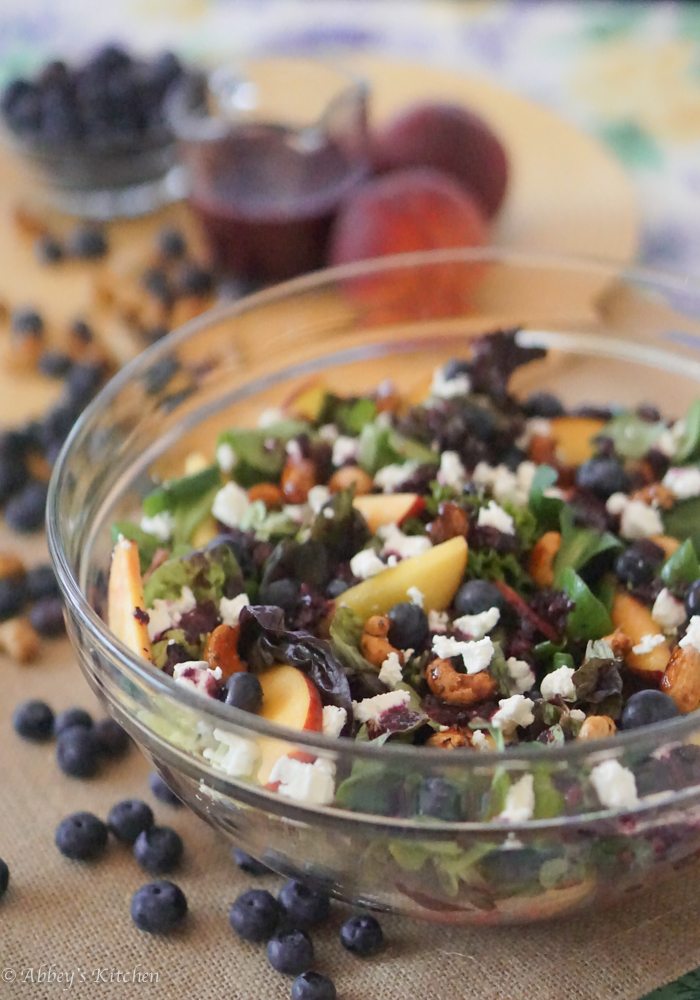 Blueberries are officially in season here in Canada with British Columbia (BC) being the largest highbush blueberry region in the world! These yummy gems are available frozen all year round, but are distributed throughout Canada fresh in July and August. As if we needed another reason to love our Canadian summers, I've been throwing BC blueberries into almost everything I make. From homemade popsicles, to sauces, sorbets, jams, and every single summer salad I make, I love knowing that these little blue gems are loaded with fibre, vitamin C, vitamin K, manganese and a mother load of antioxidant power. In fact, research has linked blueberries to a variety of health benefits including a reduced risk of Parkinson's disease, cancer, metabolic syndrome and cardiovascular disease. Yep, all that, and they literally make everything taste incredible.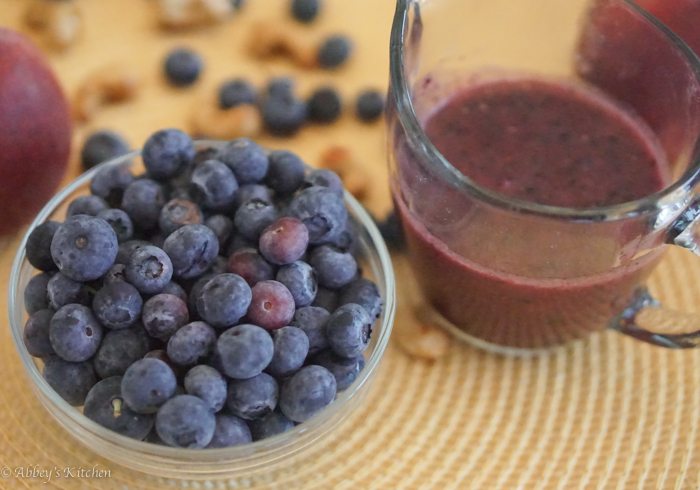 So I don't know about the men in your life, but I got a man who is not a huge fan of salads (at all) – not even an amazing in season summer salad. He pretty much picks out the cheese bits, croutons or the tomatoes (he likes tomatoes) and avoids everything else. But- throw a couple handfuls of blueberries on there that easily disperse throughout, and suddenly, he has no choice but to shovel in big forkfuls of greens (speckled with blue, of course).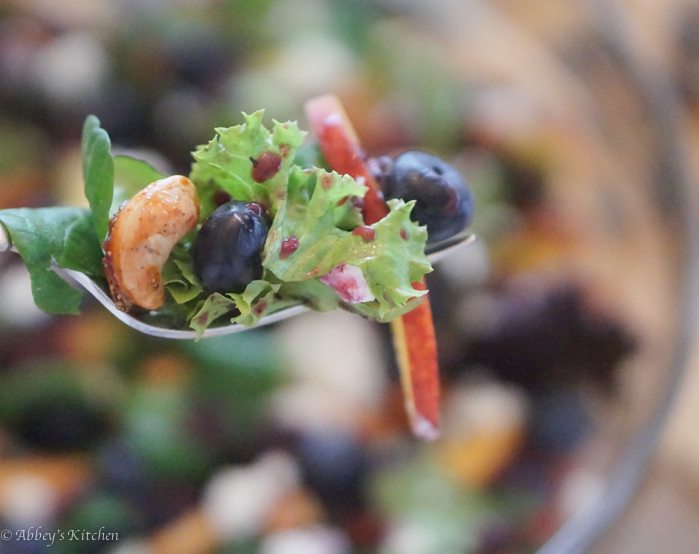 The Best Summer Salad Combinations
This summer salad recipe features the classic combination of BC blueberries with ripe Summer peaches, both proudly Canadian and harmoniously in season. To balance out the supple texture of the BC blueberries and peaches, I added a little crunch from some honey roasted cashews. But why stop at just one use for these beautiful blue babes when you can have two? Using fresh pureed BC blueberries in the dressing is not only an amazing way to boost the nutrition in your salad, but its also a fantastic way to cut down on added sugar and oil without resulting in an overly watery or acidic dressing. The result? An addictive salad even the pickiest lettuce-phobes will inhale.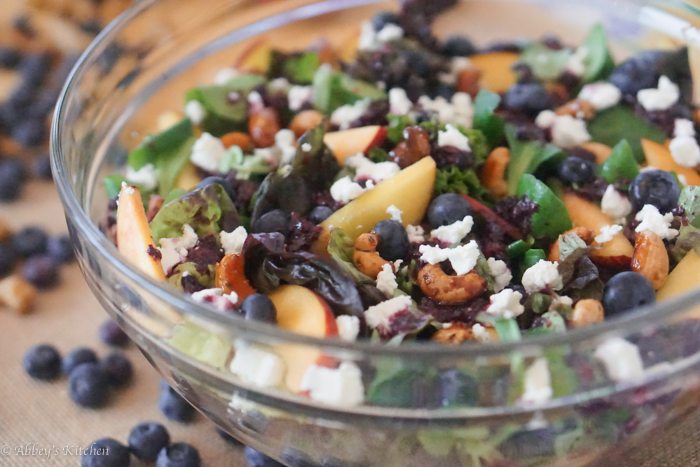 Looking for more great inspiration for using BC blueberries while they're in season this July and August? Check out this full recipe page here and be sure to try my yummy Blueberry Cobbler Smoothie while you're at it!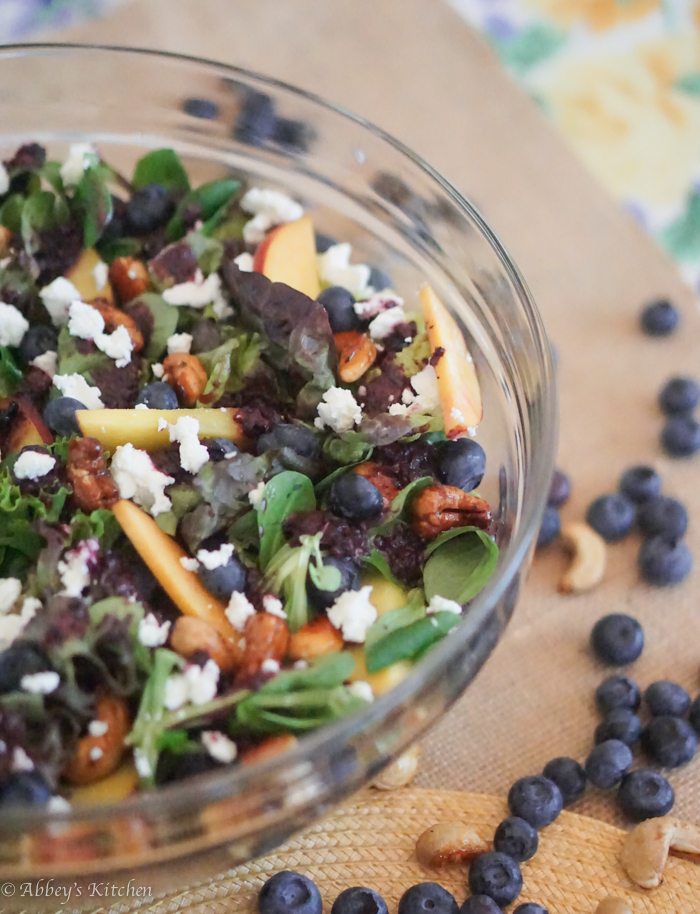 What's your family's favourite summer salad recipe? Don't you adore the combination of fresh peaches and blueberries? Leave me a message below with some of you go-to combinations!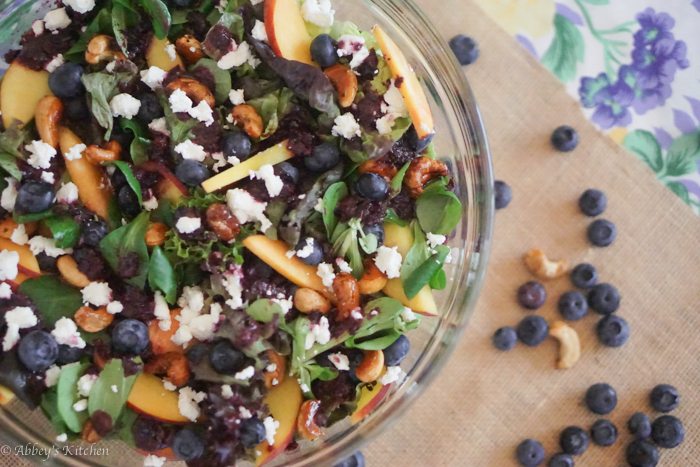 Best Summer Salad with Blueberry Vinaigrette & Honey Spiced Cashews
Servings:
8
people (2 cups each)
This is the perfect light summer salad because it's packed with seasonally fresh blueberries and peaches and sprinkled with nuts and cheeses.
Ingredients
Blueberry Balsamic Honey Dressing
Salad
4

cups

leaf lettuce

coarsely torn

4

cups

mache lettuce

1 1/2

cups

BC blueberries

2

peaches

sliced

1 1/2

oz

Chevre

crumbled
Instructions
Honey Spiced Cashews
Preheat the oven to 350 F.

Stir together the honey and cashews in a small bowl and spread onto a baking sheet lined with parchment paper or a silpat. Sprinkle with the sugar and salt and bake for about 15 minutes. Stir, then bake another 5 minutes.

Quickly separate the pecans and cook for at least an hour before transferring to an air-tight container.
Blueberry Balsamic Honey Dressing
Puree the ingredients together in a blender and set aside.
Salad
Mix together the two lettuces, BC blueberries and sliced peaches.
Assembly
Top the salad with the candied cashews, chevre and blueberry dressing.
Nutrition Facts
Best Summer Salad with Blueberry Vinaigrette & Honey Spiced Cashews
Amount Per Serving
Calories 290
* Percent Daily Values are based on a 2000 calorie diet.
Disclaimer: This recipe was developed in paid partnership with BC Blueberries, however, as always, all opinions are genuine.
Updated on January 8th, 2018