A lot of my friends are going gluten free these days, and as I was preparing for a weekend away at the cottage, I thought I  better have some yummy gluten free breakfasts on hand. That was the inspiration for this maple bourbon gluten free granola.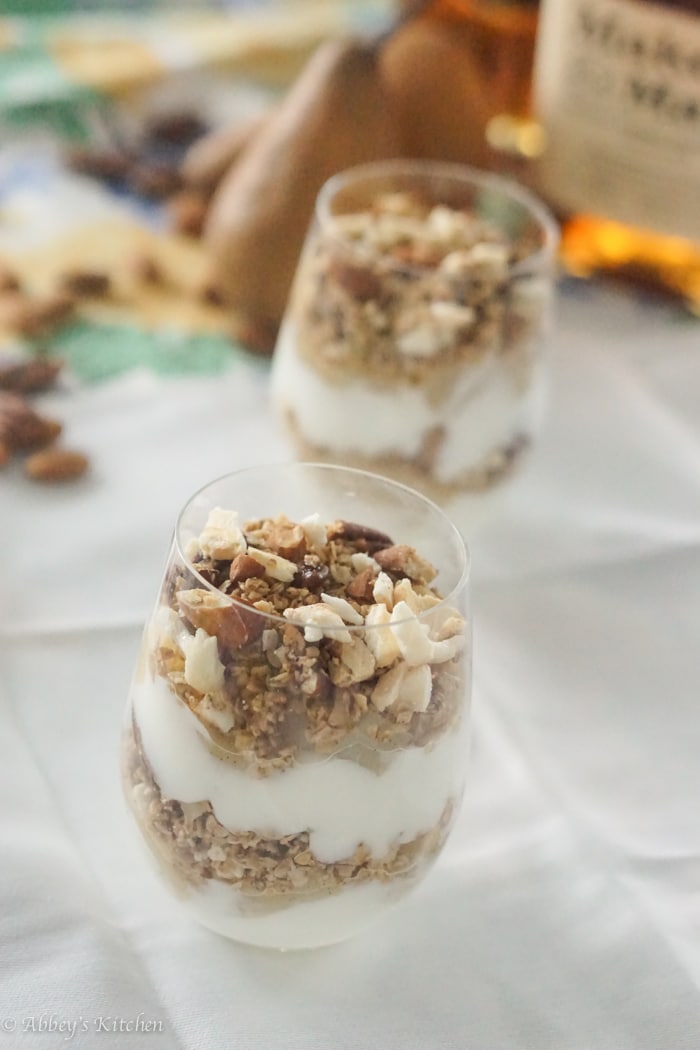 The gluten free granola was for my girlfriend, the bourbon was totally for me. Hey, it's a cottage weekend, I figured we needed to sneak in a little extra booze.  And when I'm at the cottage, running around and getting into trouble, I always wake up hungry. But cottage weekend breakfasts don't always  have to mean decadent bacon and eggs or french toasts. This gluten free granola parfait is really all you're going to need to start another amazing day by the water.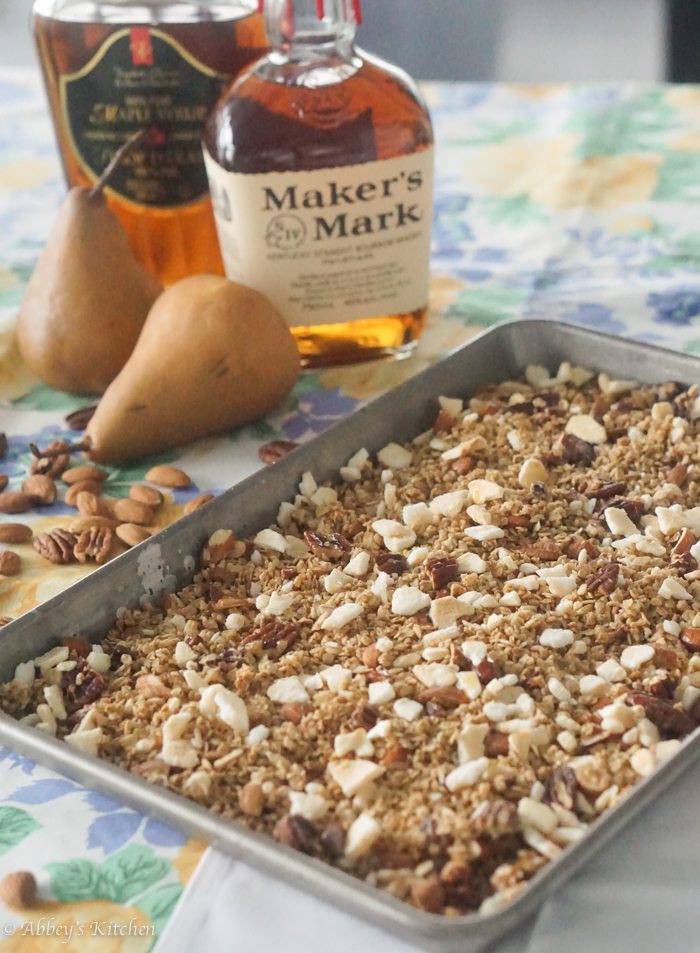 And I know, sometimes at the cottage, you just want to stay in bed all day and laze around. But you know what helps get you and your guests out of bed? Booze. Introducing my Maple Bourbon Gluten Free Granola and Poached Pear Parfait. This is not your momma's granola, folks. This deliciousness has BOURBON in it. YAY, BOOZE AT BREAKFASTS! Talk about a tasty Hair of the Dog.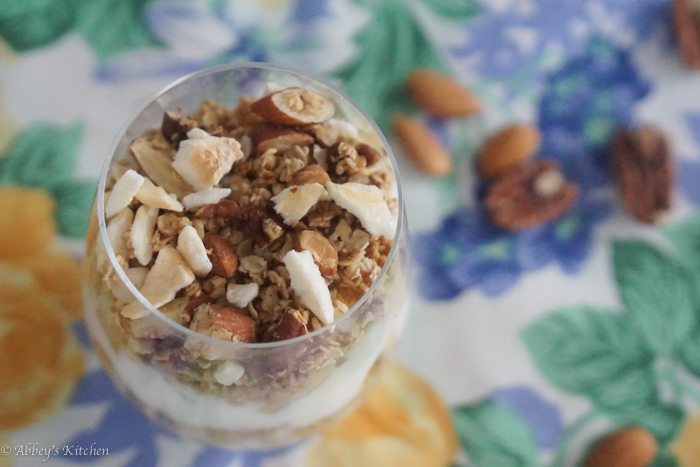 Gluten Free Granola Made Healthy
Commercial granolas (and even most recipes) are LOADED with sugar and oil. Some out there have more sugar than a can of coke and more fat then an order of fries! Not my gluten free granola recipe.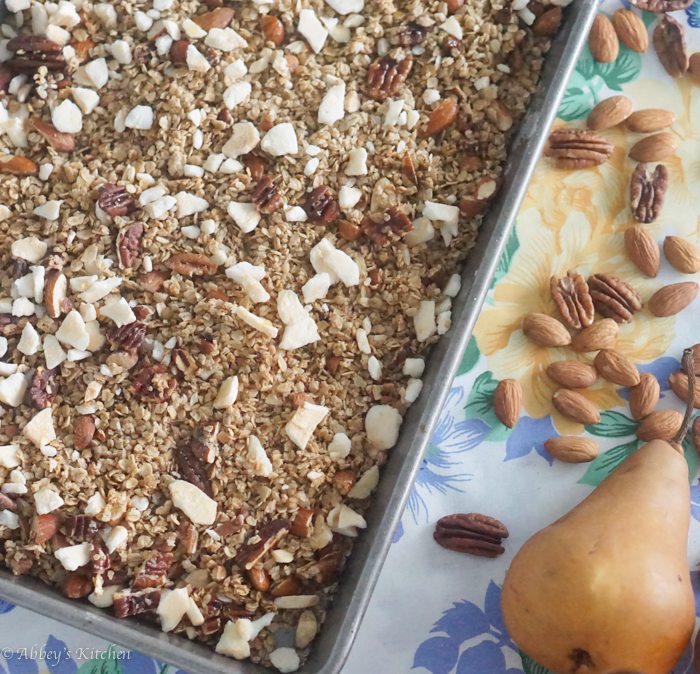 I have done my absolute best to keep the sweetener and fat to an absolute minimum in this gluten free granola by not overdoing it on the nut portions, keeping the butter and maple syrup as low as I can go, and swapping traditional dried fruit and freeze-dried which is WAY lower in sugar and calories. I also add the vanilla bean and bourbon to add lots of flavour so I can cut down on that cloying sweetener. Meanwhile, I get some extra fibre into the mix with a gorgeous poached pear. And then of course, we round everything out with high protein Greek yogurt and call it a happy morning.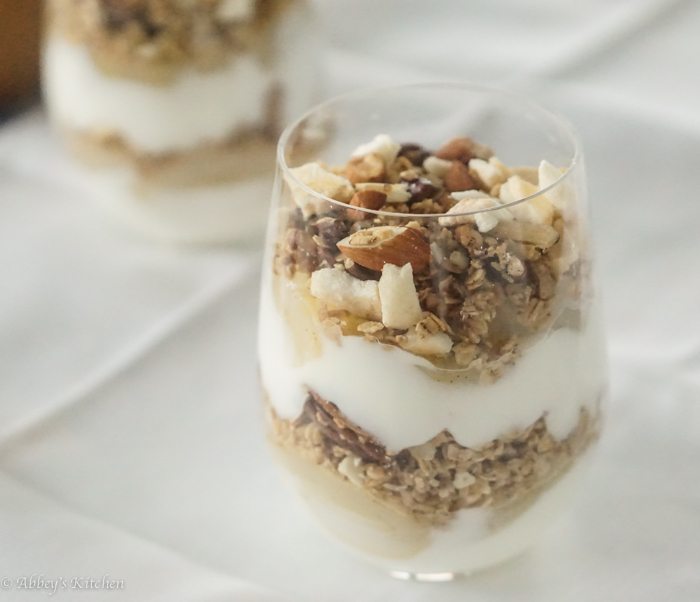 What kind of booze in your breakfast would wake you up? Have you tried making gluten free granola for breakfast? Leave me a comment below and I'll get cooking!
Maple Bourbon Gluten Free Granola & Poached Pear Parfait
This gluten free granola recipe is low in sugar, high in fibre and gets a kick from maple bourbon.
Ingredients
Poached Pears and Serving:
4

pears

peeled and cored

Zest of 1 lemon

3

cups

apple cider

1/2

vanilla bean

seeds scarped and bean reserved

8

cups

non-fat plain Greek yogurt
Instructions
Granola:
Preheat oven to 300 F. Line a large baking sheet with parchment paper.

Add the butter to a pan along with the vanilla bean seeds and the reserved bean. Allow to cook on medium heat, swirling the pan occasionally until the butter melts. Add in the maple syrup and swirl to combine.

Meanwhile in a medium bowl, combine the oats, almonds, pecans, nutmeg, and cinnamon. Drizzle with the butter mixture and bourbon. Spread out onto the baking sheet and sprinkle with fleur de sel. Bake for 20 minutes. Remove from the oven, stir and bake for another 20-25 minutes until the oats and nuts lightly toast.

Allow to cool completely on a cooling rack. Once at room temperature, add in the freeze dried pears or apples and store in a mason jar until ready to use.
Poached Pears and Serving:
In a large saucepan, combine the lemon zest, apple cider, cinnamon stick and vanilla bean.

Add the pears, and cover with wax paper. Bring the mixture to a simmer, turning the pears occasionally to ensure even poaching, and cook for about 20 minutes. Remove to cool, then cut into 1/2 inch slices, reserving the poaching liquid.

Return the liquid to the heat and boil for about 15-20 minutes, until reduced to a syrup. Set aside.
Assembly:
Add a layer of greek yogurt, topped with pears, a spoonful of syrup and a scoop of granola. Repeat the layering once more and end with the granola.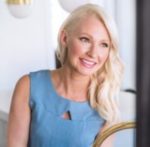 Abbey Sharp is a Registered Dietitian, an avid food writer and blogger, a cookbook author and the founder of Abbey's Kitchen Inc.