Love is in the air and there is no better way to show your special someone that you care about them then with homemade comfort fare (I'm not purposefully rhyming, I swear). Unfortunately, many of us have just rolled ourselves out of the holidays and have some pretty lofty new years resolutions for when it comes to getting back on track. But don't worry, Valentines day decadence doesn't have to throw a wrench in your healthy eating routine, especially when you cook chocolate vegan chili at home with your sweetie rather than going out.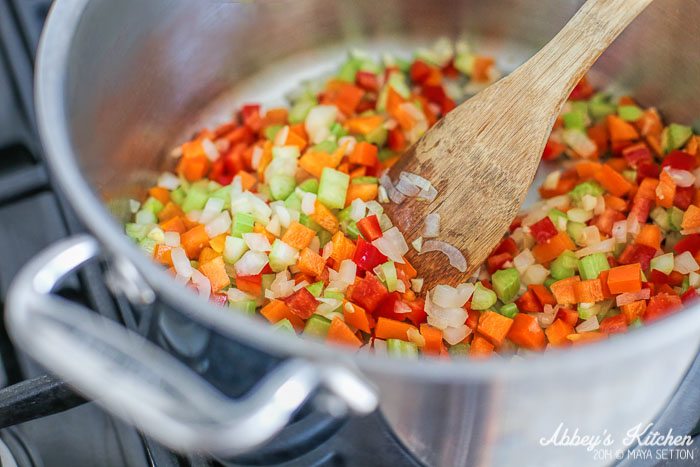 One of my go-to date-night dinners to get myself back on track with my healthy eating goals, and give me a taste of cozy decadence is a big ol' pot of vegan chili. But not just any chili- this is Valentines Day, folks. We're talking about chocolate chipotle vegan chili- a perfect recipe to sweeten and spice up your evening for that special person in your life.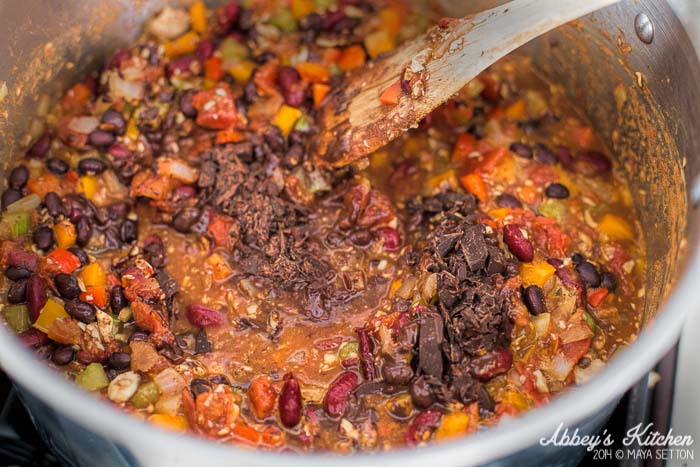 Now, I know what you may be thinking. "Hey, I love chocolate as much as anyone- but in my vegan chili? Ew, no thanks." Trust me, this is not some strange modernist sweet-savoury combination I discovered in my travels around Spain. It's fairly common to add chocolate to savoury fare- especially in Mexican cuisine.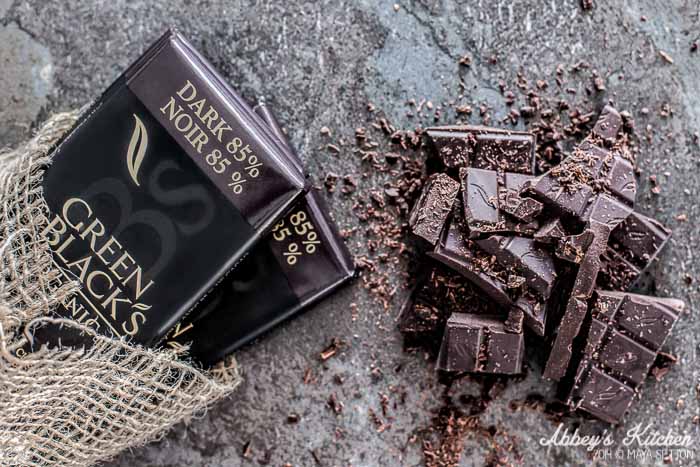 Have you ever had mole sauce? Yep, that's just a few steps away from my vegan chili and who doesn't love a good mole?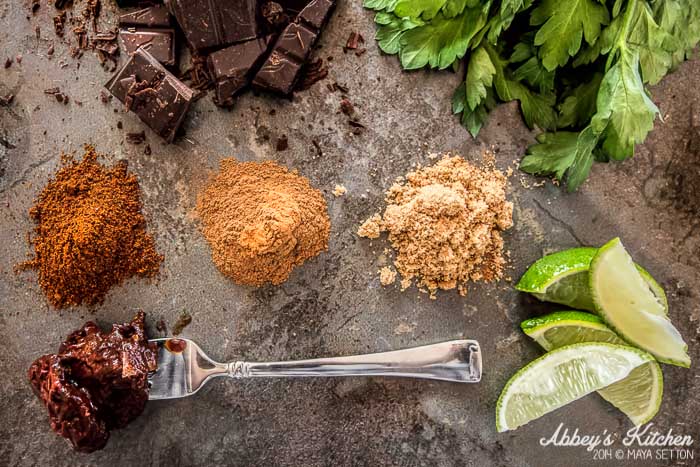 How to Make Vegan Chili with Chocolate
The key to ensuring your chocolate vegan chili tastes rich and smoky rather then like a failed dessert is to use high quality dark chocolate with a high cocoa content. For this recipe, I recommend using Green & Black's Organic 85% Dark Chocolate because it's full bodied, complex and slightly bitter-sweet. It's also a healthy low-sugar treat that I like to keep in my purse for those times I just need a quick chocolate hit.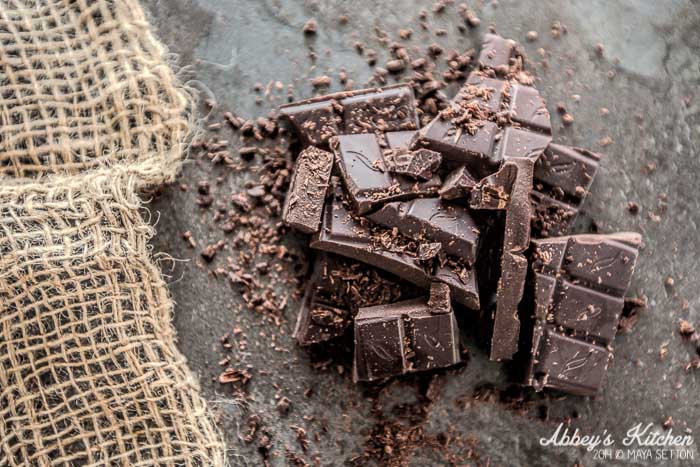 I've used Green & Black's organic chocolate to make a range of fantastic recipes that you should totally check out including my Milk Chocolate Ice Cream with Toffee Swirl and Honey Comb, High Protein Chocolate, Peanut Butter & Banana Ice Pops, and a Burnt Toffee Chocolate Fudge.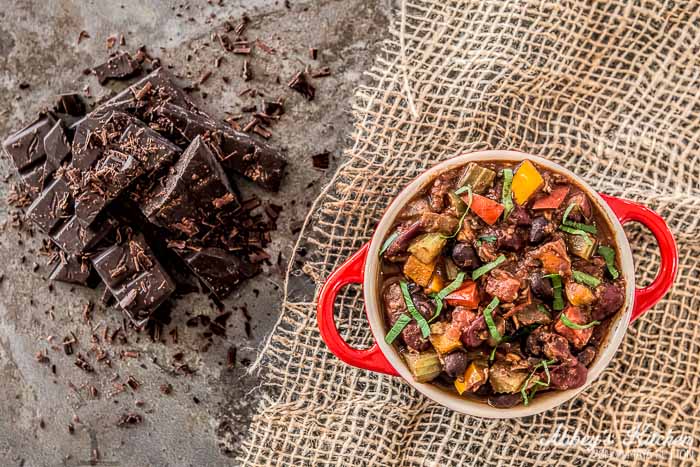 Unlike the dessert recipes I cited, this one is unmistakably earthy, savoury and surprisingly healthy for you. It's a vegan chili and it gets its meaty flavour and texture from a combination of beans and (my secret ingredient)- minced mushrooms.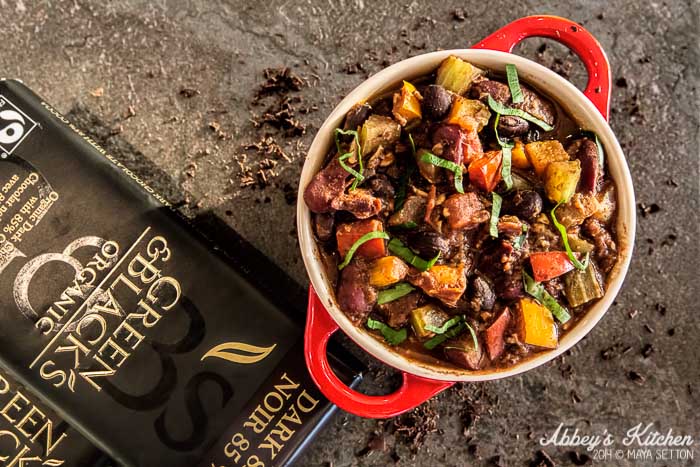 Yep, you heard that right. Mushrooms are a great low-cal vegan substitute for the traditional beef in vegan chili because they have a really meaty umami-rich flavour and when you pulse them in a food processor, the texture very much resembles ground beef. I use it all the time in my house without anyone noticing – just check out these sneakily healthy recipes for Burgers, Shepherd's Pie, and Sloppy Joes.  Trust me, especially once you get that rich deep chocolate in there, even a burly lumberjack boyfriend wouldn't know. Especially when we're talking about chocolate vegan chili.Don't believe me? Give the full chocolate vegan chili recipe below a try and let me know what you think!

Chocolate Chipotle Vegetarian Chili
This dish was Inspired by Food.com's Black Bean & Chocolate Chili and is the perfect Valentine's Day meal to make for your special someone.
Ingredients
8

oz

cremini mushrooms

cleaned, quartered and stems removed

1

Tbsp

olive oil

1/2

onion

diced

2

stalks celery

finely diced

2

bell peppers

diced

4

cloves

garlic

minced

2

chipotle in adobo sauce

minced

2

tsp

cumin

2

tsp

chili powder

3/4

tsp

cinnamon

2

tsp

lime juice

1

Tbsp

reduced sodium soy sauce

19 1/2

oz

can red kidney beans

rinsed and drained

19 1/2

oz

can black beans

rinsed and drained

28

oz

can of no salt added diced tomatoes

1

Tbsp

brown sugar

1 1/2

ounces

80% Green & Blacks Organic Dark Chocolate

finely chopped

Salt and pepper

to taste

Cilantro

if desired

Corn tortillas

if desired

Shredded cheese

if desired
Instructions
In a food processor, pulse the mushrooms until they reach the consistency of ground meat. Set aside.

In a large skillet, heat olive oil over medium heat. Add onions and celery, and sauté until they become soft and translucent, about 7 minutes.

Add the bell peppers, garlic and mushrooms and cook for another 2-3 minutes.

Stir in the chipotle with the residual adobo sauce, cumin, chili, and cinnamon and stir until well coated.

Add in the lime juice, soy sauce, beans, tomatoes, and brown sugar. Let the chili simmer on low for 10-15 minutes, until it thickens slightly.

Stir in the chocolate until melted and then taste to adjust the seasoning with salt and pepper. Ladle into bowls and top it off with cilantro, corn tortillas or cheese, if desired.
Nutrition Facts
Chocolate Chipotle Vegetarian Chili
Amount Per Serving
Calories 320
* Percent Daily Values are based on a 2000 calorie diet.