Every year, Valentines Day creeps up, and I anxiously start brainstorming what I'm going to do for and with my man. Shall it be a 5 course tasting menu at home? Or a fancy meal on the town? At this point, though, I think I've been to all of the top "romantic" spots in the city, and I've made every "sexy" food I can think of that's red.  So this year, I agreed to a different plan- a quadruple-date weekend at the cottage!
Admittedly, I've never been much for cold cottage weekends. I don't like feeling cooped up inside when it's cold, wet, or snowing all day. I just love to moooooooove (especially with my new FitBit, but that's a different post). Having said that, I still thought it might make a nice relaxing get away after a few pretty busy weeks at home. It also happened to be the Family Day long weekend, so I was looking forward to an extra day to get myself together before heading back to work.
Now, whether it's winter, or a summer long weekend, the cottage requires one important thing (okay, two, after booze) – tasty, comforting food. Since it was Valentines Day, I didn't want to make any of the girls go unspoiled, so chocolate was on the menu. And not just any chocolate, but my favourite Green & Black's Organic chocolate in rich 70% Dark, creamy Milk, and vanilla-bean speckled White.
I first really fell in love with Green & Black's chocolate after I was indulged in a full tasting menu at Ruby Watchco with Chef Lora Kirk.  I was absolutely floored by it's sweet and savoury versatility and have since been using the line exclusively for baking and snacking. My favourite? Definitely the Butterscotch Milk, but I already ate through my stash so that will just have to wait for another post.
How to Make Dark Chocolate Whoopie Pies with White Chocolate Cherry Buttercream
These fabulous whoopie pies bring the best of the brownie and cupcake worlds together in one naughty little hand-held treat. The two little ends of the sammy have the texture and flavour of a moist bouncy brownie with the advantage of a satisfying crispy exterior, while the inside features a white chocolate cherry buttercream.  Unlike a lot of American based buttercreams, I purposefully kept this one on the light and fluffy side to balance the rich chocolate cake, rather than weighing it down with an excessive amount of sugar.
Beat those eggs!
Now, I do have a few tips when it comes to making whoopie (pies). First of all, don't worry TOO much about how pretty they look before they go in the oven. It's not like you can pick up the batter and roll it into perfect balls like you can with cookie dough, so you're going to have strange swirls and little bumps. Don't worry about this- they will spread out and fix themselves.
Pre-bake (see, a little imperfection is okay!)
Second, if you're anything like me, it can be really tough not to get overzealous with the size of your whoopie balls on your baking tray. I get it. They start out as rounded tablespoons, and by the end they're twice the size and sitting almost on top of their neighbours.  However, I urge you to use some prudence as these babies DO spread and WILL join together. Not that that's the end of the world, it happens to me all the time. That's why I've developed a little sneaky trick to fix them afterwards. Next time your cookies or whoopie pies or bars don't come out as perfect as you'd like (maybe they're not round or they have little crumbs along the edge), just grab your kitchen sheers and trim them up. Seriously, no one is going to know PLUS you get to eat the scraps (bonus!)
Third, make sure you let the chocolate cakes cool before even attempted to put on the icing. Hot cakes and buttercream = deflated whoopie pie. If you're in a rush, pop them in the fridge to firm up before icing.
Look at those pretty vanilla beans in that white chocolate!
Forth, when it comes to food colouring, it's totally your call how dark you go or even if you add it at all! I prefer a very subtle ballet pink, and don't like the bitter taste too much red colouring can impart, so just a few drops does the trick.
And finally, don't think you can get away with that mediocre baking chocolate you find in the grocery store in the baking aisle. If you aren't be tempted to sneak a piece, then it's not the chocolate you want to use.  This is exactly why I chose to use the high quality Organic goodies from Green & Blacks – you put good ingredients in, you will get excellent product out.
Other than that, you're on your way to a fabulous Valentines Day treat that you can share with your hunny and hopefully a few friends (the recipe does make 12).  Here's what I did!
Disclaimer: Chocolate products for this post were supplied complimentary, however, as always, all opinions are my own.
Dark Chocolate Whoopie Pies with White Chocolate Cherry Buttercream
These chocolate whoopie pies are filled with sweet cherry white chocolate buttercream and are perfect for Valentine's Day!
Ingredients
Whoopie Pies
100

g

Green & Black's Organic Milk Chocolate

finely chopped

70

g

Green & Black's Organic 70% Dark Chocolate

finely chopped, 7 "lines" of a 100 g bar

1/2

cup

unsalted butter

room temperature, cut into cubes

1/4

cup

cocoa powder

1

cup

All Purpose flour

3/4

tsp

salt

1/2

tsp

baking powder

3

eggs

1

cup

white sugar

1

tsp

pure vanilla extract
White Chocolate Cherry Buttercream
1/4

cup

dried cherries

1/4

cup

Kirsch or Cherry Brandy

1 1/2

sticks

unsalted butter

softened, 3/4 cup

150

g

Green & Black's Organic White Chocolate

finely chopped, 1 1/2 bars

1

cup

plus 2 tbsp icing sugar

1 1/2

tsp

vanilla extract

1-2

drops of red food colouring
Instructions
Line two baking sheets with non-stick silpat baking mats and preheat your oven to 375 F.

Put the chocolate and butter into a bowl (microwave safe) and microwave at 50-70% power for 1 minute. Remove, stir and repeat for another 1 minute. Again, remove, stir and if necessary continue to repeat until fully melted. Set aside.

In a large bowl, sift together the cocoa powder, flour, salt and baking powder and set aside.

In a small bowl, whisk together the eggs, sugar and vanilla.

Slowly pour a little of the eggs into the flour ingredients, then a little of the melted chocolate. Mix it with a rubber spatula. Repeat with the remaining egg mixture and the chocolate mixture. Stir gently until fully combined.

Put heaping tablespoons of the batter onto the baking sheet, spacing them at least 1 1/2 inches apart (the more, the better). Bake for 10 minutes, then rotate your pans and bake for another 8-10 minutes, or until the edges look dry and sealed and the middle is only slightly soft.

Let cool completely to room temperature on cooling racks.

Put the dried cherries in a bowl or glass and cover with the liqueur for at least 1 hour. Drain and chop the cherries finely. Set aside.

Put the chocolate into a bowl (microwave safe) and microwave at 50-70% power for 1 minute. Remove, stir and repeat for another 1 minute. Again, remove, stir and if necessary continue to repeat until fully melted. Set aside to let cool for a few minutes.

In a stand mixer or a bowl with a hand electric mixer, beat the butter until fluffy on medium high. Add in the white chocolate and beat until combined. Reduce the speed to low and slowly start to add in the icing sugar. Add in the vanilla and food colouring (to your desired shade) and beat until combined.

Fold in the chopped dried cherries and refrigerate buttercream for about 10-15 minutes.

Transfer buttercream to a pastry bag or frosting tool fit with a large star tip (the biggest you can find so your cherries don't get stuck!).

Pipe icing onto the bottom side of one whoopie pie cookie/cake and sandwich it with another one that matches in size. Make sure that the tops of the whoopie pies are facing outwards. Continue with the remaining pies. Eat immediately or refrigerate in an air tight container for up to 5 days.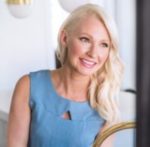 Abbey Sharp is a Registered Dietitian, an avid food writer and blogger, a cookbook author and the founder of Abbey's Kitchen Inc.