These Company Duchess Potatoes are a must for any holiday get together because they can be easily made ahead and finished a la minute.
I'm British. I was raised in an old school meat & potatoes kind of home eating overcooked roast beef and underseasoned mashed potatoes. Yes, it's admittedly a miracle I came out as the foodie I am today. But about 8 or so years ago, I started to take over the holiday meal duties. My mom, G-d bless her, hated doing it anyway, so it was a relief for all of us involved- she didn't have to cook, and I could make sure the potatoes tasted like, well, anything. [Sorry ma, I love you, and if it's any consolation, you do know how to cook a potato perfectly for mashing- it took me a few years of watching you to get that right.]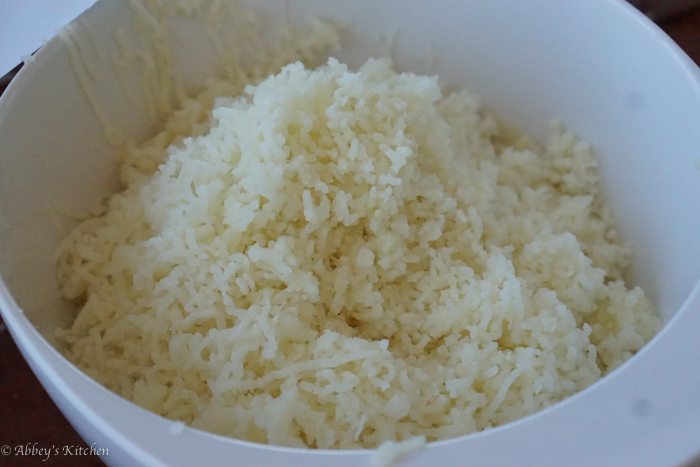 Company Duchess Potatoes 101
To make these company duchess potatoes, I start with well-seasoned basic mashed potatoes- like moms, but just with some actual flavour. Then I tried to make them a little more exciting- a little roasted garlic here, maybe some chives or bacon there. I just started to play with it a bit. Then I remembered something I learned at George Brown in one of our first classes- the Duchess Potato. Yes, it was a very 1980s banquet hall staple, but there was a reason they relied on this tested and perfected recipe- it was easy to make ahead and fire in a big batch when ready to serve. Making mashed potatoes right before dinner would be stressful to say the least because just at the same time you're worrying about the turkey coming out, whisking the gravy, rewarming cranberry sauce, stuffing, sweet potatoes and plating the salads, you would have to mash the damn potatoes. Alternatively, making them ahead of time, and then rewarming in a pot can cause scorching, drying out, and an unpleasant mealy texture. No thanks.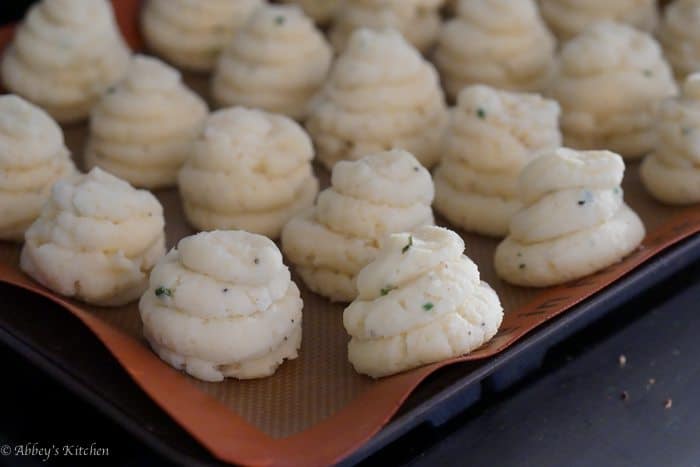 Company duchess potatoes can be made and mashed ahead of time, piped onto a baking tray and refrigerated until the turkey comes out of the oven and them BAM- you can rewarm those babies. Ideally you would use a higher temperature (400-425 F works best) but if you have to have other items in the oven at the same time, you can just reduce the temperature and cook them another 5-10 minutes longer until they lightly brown. No biggy.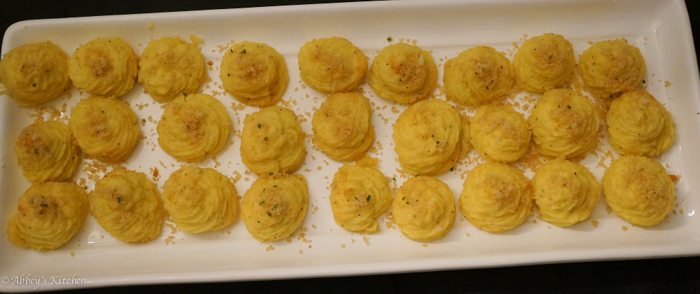 As for the topping on my company duchess potatoes- this is totally just me having fun. Sometimes I add some toasted panko breadcrumbs, or some bacon, but this year I bought some sour cream and onion chips (I had a craving), crushed them up real good into a coarse powder and then topped them off for flavour and crunch. Loved it.
What's your family's favourite potato recipe? Have you tried making company duchess potatoes?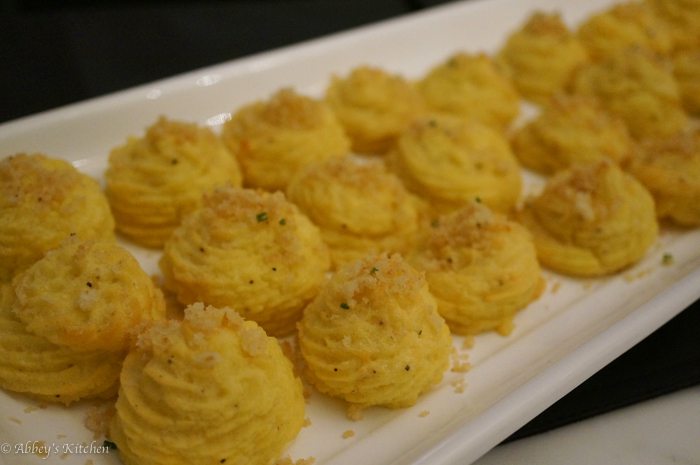 Duchess Potatoes with Sour Cream Chip Crumble
These Company Duchess Potatoes are a must for any holiday get together because they can be easily made ahead and finished a la minute.
Ingredients
2 1/2

lbs

Russet Potatoes

Peeled and Diced

1/4

cup

unsalted butter

softened

1

Pinch

grated nutmeg

1/4

cup

heavy cream

4

Whole Egg Yolks

2

tbsp

fresh chives

finely minced

Salt and pepper

to taste

1

Egg yolk

2

tbsp

heavy cream

1/3

cup

sour cream and onion ruffle potato chips

crushed to a coarse powder in the food processor or with a rolling pin
Instructions
Cover the potatoes with cold salted water and boil until very tender, about 25 minutes.

Remove and allow to cool slightly and steam in the colander. Transfer to a ricer or food mill and process into a large bowl. Allow to cool slightly for about 10 minutes. Add in the butter, nutmeg, cream, egg yolks and chives, and stir until combined. Add a good pinch each of salt and pepper.

Line a baking sheet with a silpat or parchment paper. Transfer the potato to a piping bag and pipe into little piles (they admittedly will look a bit like turds). You can now put these in the fridge for several hours until you're ready to bake them off or continue to bake straight from here.

When ready to bake off, preheat oven to 425 F. Mix together the remaining 1/4 cup of cream and egg yolk and brush the tops of the potatoes. Bake for about 15-20 minutes or until lightly browned.

Transfer to serving platter and top with the crushed potato chips.
Nutrition Facts
Duchess Potatoes with Sour Cream Chip Crumble
Amount Per Serving
Calories 79
Calories from Fat 36
% Daily Value*
Fat 4g6%
Cholesterol 47mg16%
Sodium 11mg0%
Potassium 205mg6%
Carbohydrates 9g3%
Protein 2g4%
Vitamin A 165IU3%
Vitamin C 3mg4%
Calcium 13mg1%
Iron 1mg6%
* Percent Daily Values are based on a 2000 calorie diet.
Updated on May 21st, 2020