Need a last minute low carb option for lunch or dinner? My cauliflower rice, fig & spinach salad is a guaranteed easy healthy recipe everybody will love. 
Recently I've been obsessed with building grain or pasta-based salads and bulking up the portions (and cutting calories and carbs) with low carb ingredients like cauliflower rice. For example, I've stretched my pasta with broccoli and cauliflower in my healthy Mac n' Cheese, cucumbers and bell peppers in my Mediterranean Barley salad, and added mushrooms to my Quinoa Cabbage Rolls.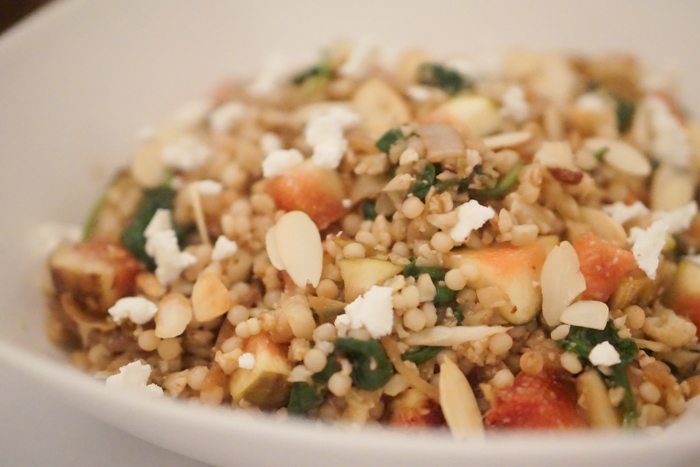 My fiancé really appreciates this because he often complains about how much he needs some sort of grain to feel satisfied at dinner, while I'm trying to get him to eat more vegetables and fibre. So to help satisfy his relentless cravings, I've been cooking big batches of grains and pasta on the weekend and storing them in containers in the fridge that can be divied up and mixed with protein and veggies like cauliflower rice throughout the week. I'm a busy gal, and this is my little trick for making sure I have time to pack a healthy lunch instead of picking up something greasy on the go.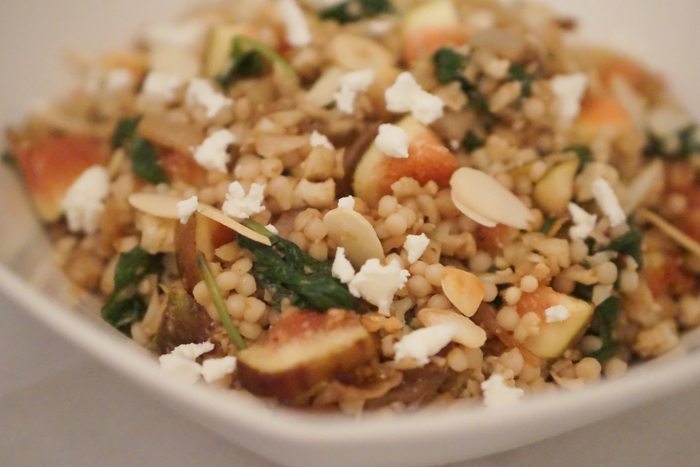 Since we've been batch cooking my cauliflower rice, I have also been batch shopping after I recently discovered an international bulk store called IFS BULK. This online store offers a huge selection of nuts, dried fruit, seeds, snacks, beans, spices, grains, and lentils – and is perfect for filling your pantry on a budget!  When I was looking through their extensive grains section, I was having a hard time figuring out what to buy because there were so many delicious options. There's bulgur, barley, durum, millet, wheat berries, spelt, quinoa, oats and couscous- and so many varieties of each!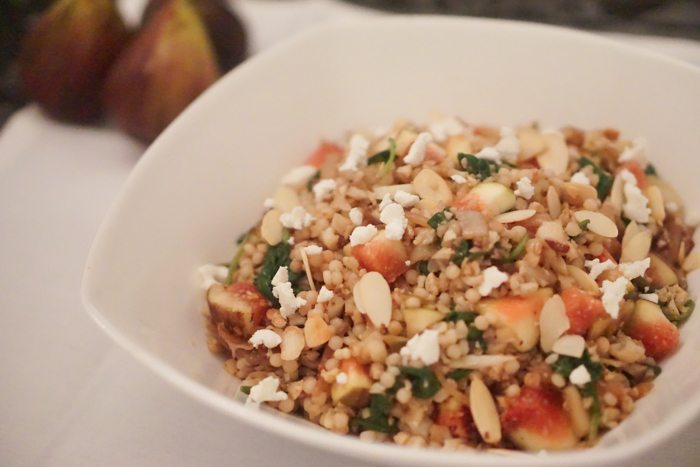 How to Make Cauliflower Rice
In my first order with them, I got a massive bag of Whole What Israeli Couscous and cooked up a big batch to put in the fridge and for dinner to mix with cauliflower rice. It was delicious and fresh all on its own, but I decided to use it for a tasty fig and spinach salad with a sweet and tangy balsamic vinaigrette. As a way to stretch my starch, I made cauliflower rice! Yes, you heard that right. Basically you pulse a head of cauliflower in a food processor until it gets to a rice-like consistency and BAM! You've got couscous made out of cauliflower to mix into the real deal. This helps you cut calories and carbs and still taste great.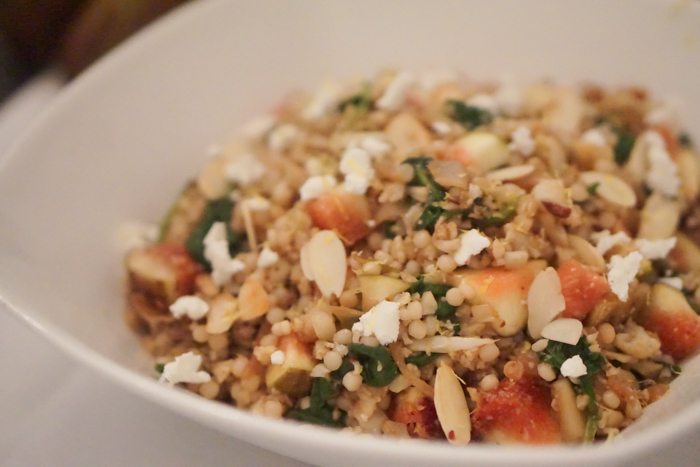 Tell me, what else should I make with this massive bag of delicious Israeli Couscous? Do you like putting cauliflower rice in your dishes to lower the carbs? Leave me a comment below with your ideas!

Fig, Spinach, Israeli Couscous & Cauliflower "Couscous" Salad
This is the perfect salad that uses cauliflower rice as a low carb option and is loaded with figs and spinach.
Ingredients
Instructions
Cauliflower Rice
Transfer the cauliflower to a food processor. Don't fill the food processor more than 3/4 full at a time. Pulse until its broken into couscous sized pieces.
Couscous
Heat the teaspoon of oil in a pan or pot over medium heat. Add the real Israeli couscous and stir until toasted and golden brown, about 5 minutes. Add in the hot water and bring to a boil. Once boiling, reduce the heat to a simmer, cover and cook until the liquid has absorbed, about 10 minutes.
Salad
Heat the pan over medium high and add in the 2 tsp of oil. Toss in the spinach and 2 tablespoons of water. Put the lid on and let it cook on low for 2 minutes. Add in the cauliflower couscous, put the lid back on and cook for another 2 minutes until the spinach is wilted and the cauliflower is tender.
Dressing
Transfer figs, honey, balsamic vinegar, oil and salt and pepper to a blender. Puree until smooth.
Assembly
Mix together the couscous, cauliflower and spinach mixture, and diced figs and toss with a few tablespoons of the dressing. Transfer to a bowl or serving container and top with toasted almonds, chevre and lemon zest. Serve with the remaining dressing.
Nutrition Facts
Fig, Spinach, Israeli Couscous & Cauliflower "Couscous" Salad
Amount Per Serving
Calories 300
* Percent Daily Values are based on a 2000 calorie diet.
Only Eats
Updated on May 12th, 2020