Over the past few weeks I have been grilling up a storm and keeping my hubby happy since I haven't been making my usual mess of the grill. The cats out of the bag- I've already poetically waned on about my love for the new Cookina Barbeque Reusable Grilling Sheet.  If there was one kitchen tool I could not live without this Summer, this would definitely be it. Especially for making these delicious Grilled Lamb Kebabs.
With its washable non-stick surface that can sustain temperatures up to 550 F, this has saved me from slaving away cleaning the grates while my dinner guests enjoy the fruits (aka. meats) of my labour. It also is great if you're entertaining strict vegetarians who prefer their meal not come in contact with the "meat juices" on the grates.
So far I've used it to make Steak, Burgers, Salad, Pina Colada Napoleons and these amazing healthy lamb kebabs. Yep, you can cook meat, wipe this baby down, and then cook up some grilled fruit- with no residual meat odours or flavours to be found!
Lamb Kebabs without the Mess
I also came up with another great new lamb kebabs recipe featuring a lean tender lamb loin marinated with greek yogurt, harissa, and mint, and then skewered with zucchini and sweet jammy figs. I then top it off with a drizzle of tangy pomegranate molasses and toasted almonds.  And thank goodness for the Cookina Sheet because when I've tried cooking figs on the grill without it, they typically stick, get squished or go down the grates. I love figs far too much to let them face that fate! The result is an irresistible Middle Eastern inspired meal that pairs really beautifully with some simple minted couscous.
I'm also excited for you all to be able to make these lamb kebabs with an awesome giveaway prize pack from Cookina! To enter, you must be a GTA resident and do one or more of the following (Ps: the more you do, the more times you'll be entered!)
1) Follow me on twitter
2) Like my page on Facebook
3) Tweet about the contest tagging @AbbeysKitchen @CookinaCo & #WhatsOnYourGrill
4) Subscribe to my YouTube channel
5) Follow me on Instagram
6) Sign up for my weekly newsletter
7) Leave me a comment below on this blog post about what you want to grill with this great kitchen tool!
8) Leave me a comment on any other Abbey's Kitchen blog post.
Good luck and happy grilling up these yummy lamb kebabs! What are your favourite recipes on the grill? Have you tried making these lamb kebabs yet? Leave me a comment below and let me know what you think!
Grilled Lamb Kebabs with Harissa & Figs
My lamb kebabs recipe features a lean tender lamb loin marinated with greek yogurt, harissa, and mint, and then skewered with zucchini and sweet jammy figs. It's finally drizzled with a tangy pomegranate molasses and toasted almonds.
Ingredients
1/3

cup

Plain Fat Free Greek Yogurt

1

tbsp

Harissa

1

tbsp

mint leaves

finely minced

1

tsp

orange zest

2

tbsp

orange juice

1/2

tbsp

olive oil

1

tsp

honey

1

lb

leg of lamb

trimmed, cut into cubes

2

zucchini

ends removed and cut into 1/2 inch pieces

4

figs

quartered

1

tbsp

honey

2

tbsp

sliced almonds

crushed and toasted
Instructions
In a plastic bag, mix together the yogurt, harissa, mint, orange juice, zest, honey and olive oil. Add the cubed lamb and let sit in the fridge to marinate over night.

Meanwhile, preheat grill to medium heat and place down the Cookina grilling sheet. Wipe the marinade off, then alternate pieces of the lamb with zucchini and figs on skewers. Sprinkle everything with salt and pepper. Be sure you have let the lamb sit outside of the fridge for at least 20 minutes before cooking so that it can come up to room temperature.

Grill the skewers, rotating sides, until about 7-8 minutes for medium rare. In the last minute, drizzle with the additional tablespoon of honey.

Serve on a platter with Israeli couscous and top with toasted almonds.
Disclaimer: Abbey is an ambassador for Cookina, however, as always, all opinions are genuine.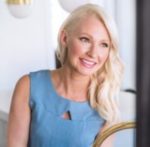 Abbey Sharp is a Registered Dietitian, an avid food writer and blogger, a cookbook author and the founder of Abbey's Kitchen Inc.