This delicious healthy pork schnitzel with a low fat creamy mushroom sauce is sure to become an all time family favourite in your home.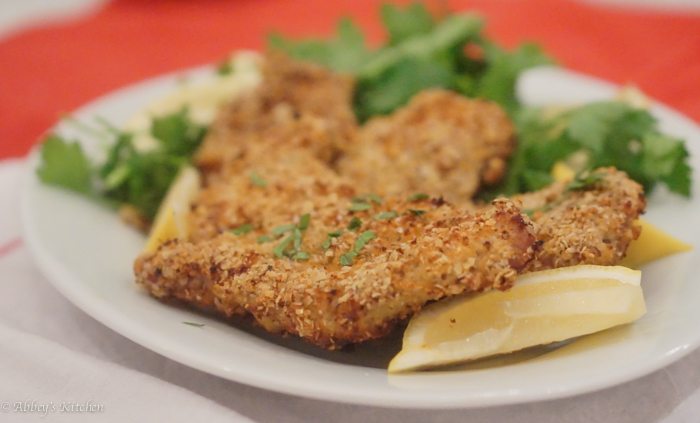 It's a new year and that means a lot of us are thinking about resolving to eat better, live better and feel better in 2015. Well, as a hard-core foodie who doesn't believe in denying herself over the holidays, I know first hand how hard it is to stop the carefree-foodie-fun the moment that clock strikes midnight on January 1st. So you know what I do? I don't stop the fun but I just find a way to make that fun good for me too.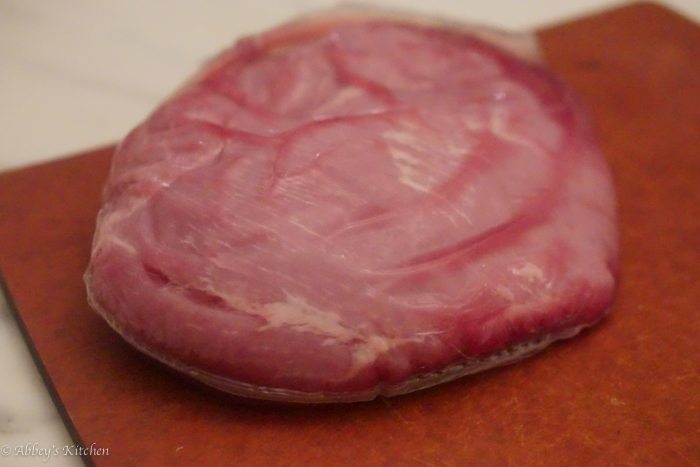 See, I don't believe in having big ol' binges one day and eating celery sticks the next to compensate. The same goes for the feast and famine dichotomy of December and January, respectively. Because when you restrict and deprive yourself of yummy things, you're just going to perpetuate a neverending cycle of binge and restrict that can do far more harm then just eating the occasional poutine on a Tuesday night without guilt (see more on this phenomenon here).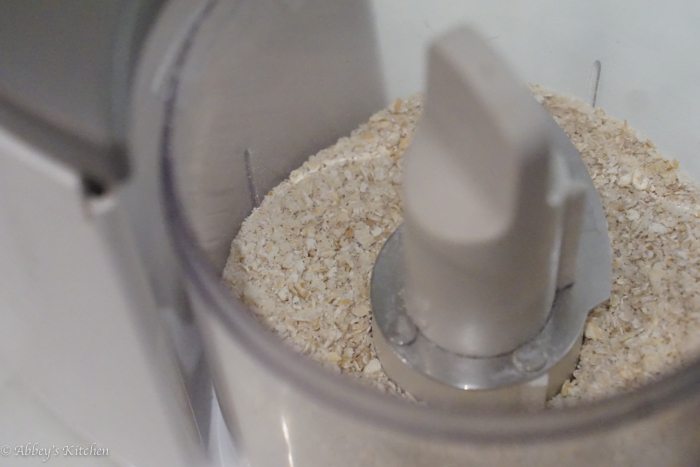 So for my new years resolution, I'm not hoping to eat less or lower cal- I'm resolving to get more creative with making naturally healthy foods taste amazing. Case in point- this healthy pork schnitzel.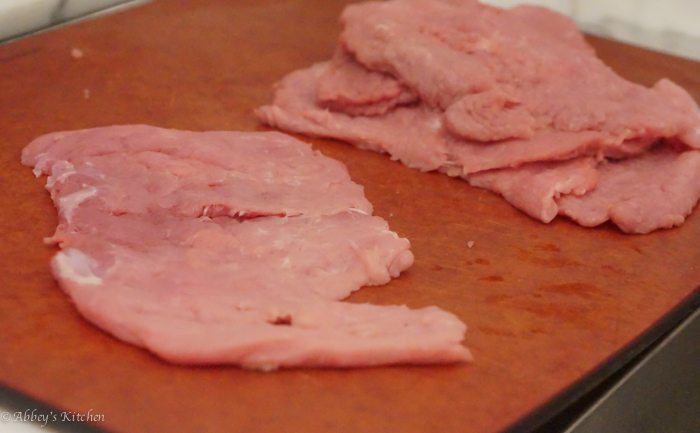 That's why I brought home this wicked fresh boneless ham from LiberTerre. If you haven't seen my recipes using LiberTerre chicken (here), turkey (here), and the new ham recipe I made for the holidays (here), then you may not know why this is my go-to protein in the store.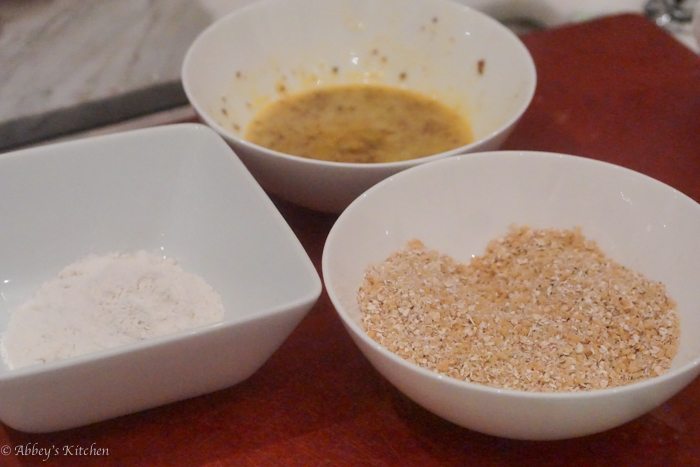 This unique new product by LiberTerre is raised in Manitoba without the use of any antibiotics or hormones on a strict grain diet without any animal by-products. The result is exceptional flavour and lean, healthy meat that will become a new years staple for those watching their calories and fat.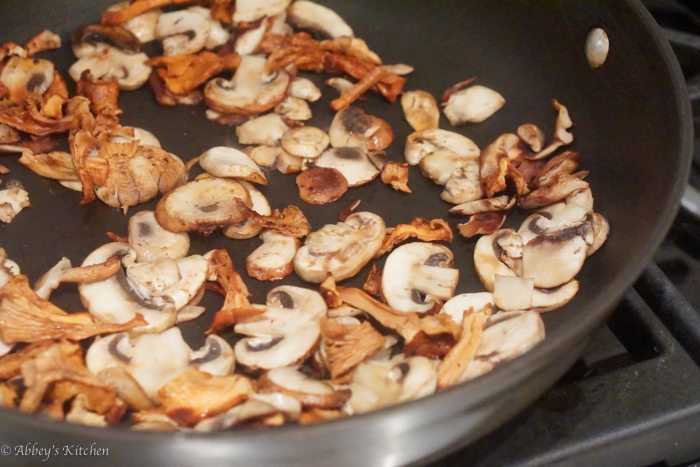 So admittedly, I had never cooked a fresh ham before in my life. And when I asked around to many chef friends, a lot of them hadn't either. That's because usually when you hit up the store for a ham, it's already been cured or smoked (or both) and so it pretty much just needs to be heated through. This is not the case for a lean mean fresh ham machine. This baby is more like a large tenderloin then the ham you get at the holidays adorned with pineapple or the one on your sandwich. It's super low in fat and for that reason needs to be tenderized one way or the next. This is why I knew it would be amazing as healthy pork schnitzel.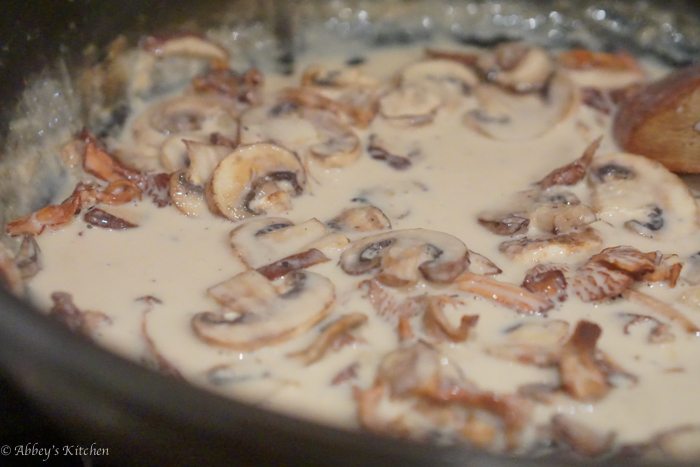 So for this recipe I chose to pound the heck out of it like we often do with pork chops to make healthy pork schnitzel. My mom (G-d bless her) didn't cook much when we were growing up, but what I do remember was her making lots of Eastern European foods like schnitzel. We're not Eastern European, so I'm not sure why she was into that other than they're easy flavours for the picky palates of kids. Not to mention healthy pork schnitzel is pretty much like a massive pork strip but with lots of crispy bits- so what's not to like?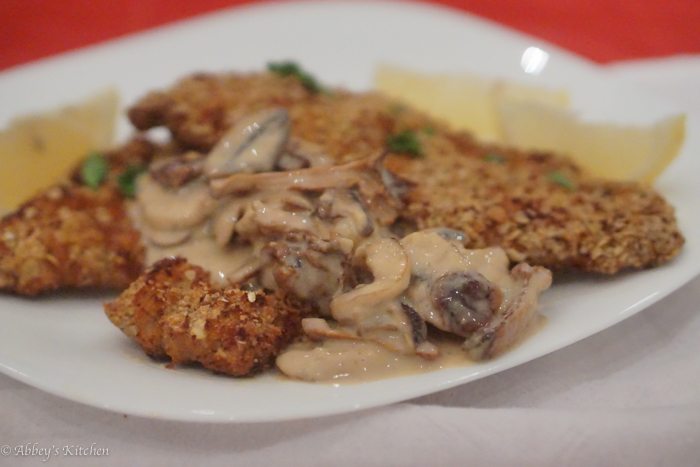 While this fresh ham is naturally very low in fat, I made my healthy pork schnitzel using a few of the following techniques.
Healthy Pork Schnitzel 101
1)      I substituted half of the panko for whole grain old fashioned oats, adding fibre and protein to the breading.
2)      I baked them rather than frying (which is traditional) to save serious fat and calories.
3)      I added calorie free mustard to the eggs to enhance their gripping power while adding lots of flavour.
4)      I made a creamy mushroom sauce with fat free evaporated milk instead of high fat heavy cream. This is one of my sneaky secrets that NO ONE can figure out.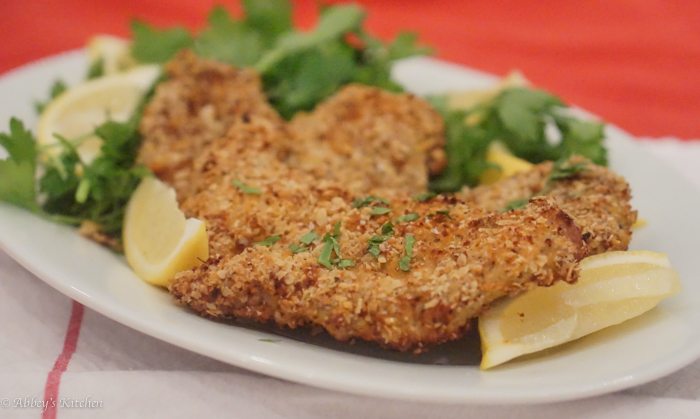 So don't deprive yourself this January in the wake of an overindulgent holiday. Give your body and mind the comfort food it craves without all the fat and calories you're trying to save (yep, I rhymed that for y'all). If you're family loves this Eastern European staple, pick up a LiberTerre ham and give my healthified version a try!
What are some of your favourite European recipes? Have you ever tried to make a healthy pork schnitzel? Leave me a comment below with how well it turns out! I would love your feedback!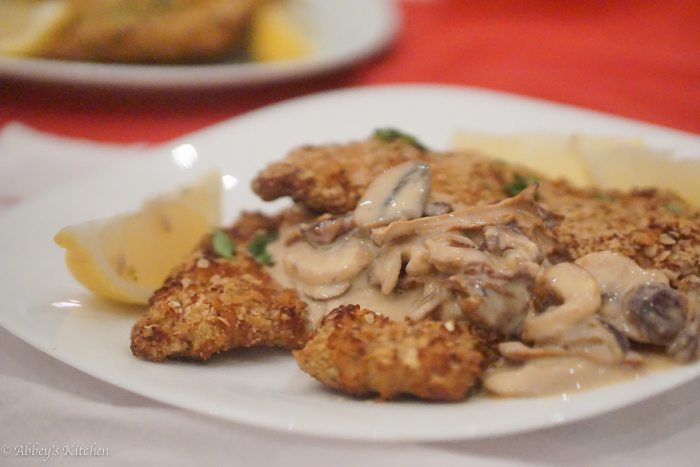 Healthy Fresh Ham Pork Schnitzel with Low Fat Creamy Mushroom Sauce
This delicious healthy pork schnitzel with a low fat creamy mushroom sauce is sure to become an all time family favourite in your home.
Ingredients
Schnitzel
3

lb

fresh boneless Liberterre ham

sliced into 1/2 inch thick pieces

2

cups

old fashioned oats

2

cups

panko bread crumbs

1/2

grated parmigiano reggiano

4

eggs

beaten

2

tbsp

grainy mustard

1/2

cup

all purpose flour
Mushroom Sauce
0.5

oz

package of dried porcini mushrooms

1

tbsp

plus 1 tsp of oil

8

oz

mixed wild mushrooms

sliced

1

tbsp

all purpose flour

370

ml

can of skim evaporated milk

1

tbsp

balsamic vinegar
Salt and pepper

to taste
Garnish
3-4

tbsp

fresh parsley

chopped

4-5

lemons

cut into wedges
Instructions
Schnitzel
Preheat oven to 425 F and lighting grease 2-3 baking sheets.

Place the ham slices between two pieces of plastic wrap and pound the heck out of them using the flat side of a mallet or a rolling pin. Try to get them as thin as humanly possible before you feel your hand may fall off. It's considered a good thing if you can pretty much see through it. Season the filets with salt and pepper and set aside.

In a food processor, pulse the oats until they turn into a course flour consistency. Mix with the panko and cheese and set aside in a bowl.

In another bowl, mix together the eggs with the mustard and set aside. Put flour in a separate bowl.

One piece at a time, dredge the pork in the flour (tapping off any excess), then the eggs, and then the oats until covered. Place on the baking sheet and repeat with the remaining pork.

Bake for about 15 minutes until it reaches an internal temperature of 165 F.
Mushroom Sauce
Meanwhile, rehydrate the mushrooms for 10 minutes in boiled water.

Heat a large nonstick skillet over medium high heat and add in one teaspoon of oil. Saute the mushrooms until browned. Add the remaining tablespoon of oil and the flour and stir until combined and pasty.

Stir in the rehydrated mushrooms with 2-3 tablespoons of the hydration water, and the can of milk. Stir constantly over medium heat until thickened and no longer lumpy, about 2-3 minutes. Remove from the heat, stir in the balsamic and season with salt and pepper, to taste.
Assembly
Serve the cooked schnitzel on a platter and top with the chopped parsley. Top each piece with a spoonful of the sauce and a good dousing of fresh lemon juice.
Disclaimer: The preceding post was developed in partnership with LiberTerre, however, as always, all opinions are genuine.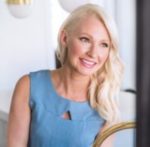 Abbey Sharp is a Registered Dietitian, an avid food writer and blogger, a cookbook author and the founder of Abbey's Kitchen Inc.