This healthy blue cheese mousse prosciutto cup recipe is the perfect balance of decadence and nutrition. They will easily become a crowd favourite at any holiday spread.
Often when I go to a holiday party, I'm surrounded by a heck of a lot of pastry-wrapped, deep fried fare that honestly lacks much flavour other than the flavour of fat and salt. And that's totally tasty, but it's not sensually satisfying, which is why we tend to eat and eat and eat more to try to get our fill. These healthy blue cheese mousse cups pulls together some of the most varied, yet bold flavoured ingredients I could find during the holidays. We have salty prosciutto, peppery arugula, pungent blue cheese, sweet pear, spiced nuts and umami-rich truffle. Hello! If you read all that you're probably envisioning a pretty decadent bite, but the reality is, they're so small and so flavourful, you're satisfied with just one or two. Have you ever heard the saying "French women don't get fat?" Well, we can learn a thing or two from the French about their relationship with food and how that tends to play out in our physical and emotional health.  When you use high quality, boldly flavoured ingredients like they do in France, you really don't need very much.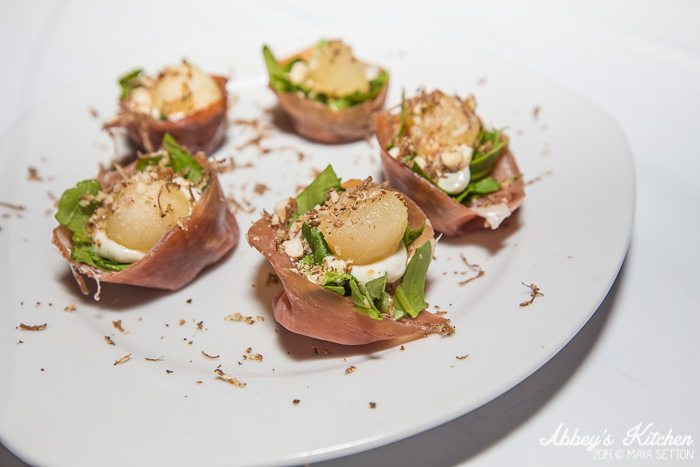 I mean, look at this recipe for healthy blue cheese mousse cups. I only use a half slice of prosciutto per muffin tin but that right there will add huge flavour to the dish. There is a tiny ball of sweet melon, less then a teaspoon of blue cheese (since I cut it down with low fat cream cheese, Greek yogurt and milk), and a teeny weeny sprinkling of my Cinnamon Spiced Nuts (see the recipe here ). Finally, white truffles? Oh yes please. This is pretty much your best flavour bang for caloric buck  right here- there is nothing more inviting then a little shaving of truffle.
Healthy Blue Cheese Mousse + Booze = YEP.
Much like with my recipe for Beet Tartare, I threw a little of the Ungava gin into this healthy blue cheese mousse cup recipe – both in the poaching liquid for the pears and in the salad dressing because I love the aromatic botanicals in the gin. I don't know if you're heard, but Gin is the new Bourbon, and to me offers so much potential for baking and cooking. You think wine is complex? I think gin is even more intriguing.
Try this healthy blue cheese mousse cup recipe out for your next holiday party and let me know how it goes. What's your go to healthy hors d'oeuvres for the holidays?
Healthy Holiday Hors d'Oeuvres Idea- Prosciutto Cup with Arugula Salad, Blue Cheese Mousse, Gin Poached Pear and White Truffles
This healthy blue cheese mousse prosciutto cup recipe is the perfect balance of decadence and nutrition. They will easily become a crowd favourite at any holiday spread.
Ingredients
Prosciutto Cups
24

slices

prosciutto

thinly sliced
Blue Cheese Mousse
1/2

cup

soft blue cheese

1/4

cup

plus 2 tbsp reduced fat cream cheese

1/3

cup

plain 0% Greek yogurt

2

tbsp

1 or 2 % milk
Pears and Garnish
1/2

cup

plus 2 tbsp white sugar

1/4

cup

plus 2 tbsp water

1/4

cup

plus 2 tbsp Ungava gin

5

pears

peeled, cored and balled with a melon baller

Cinnamon Spiced nuts

crushed (recipe link in the writing above)

White truffle

or good quality truffle oil
Instructions
Prosciutto Cups
Preheat oven to 375 F.

Cut the prosciutto slices in half. Place one slice half (overlapping any tears) in each mini muffin tin hole (you will get 48). Bake until the fat turns golden brown, about 7-8 minutes. Transfer to a paper towel to drain and cool completely. This can be done a day in advance and kept in the muffin tins covered in plastic wrap in the fridge.
Salad
Mix together the lemon juice, oil, gin, honey and a pinch each of salt and pepper, to taste.

Toss with the arugula and set aside.
Blue Cheese Mousse
Puree the cheeses, yogurt and milk in a food processor until smooth and transfer to a piping bag.
Pears and Garnish
Put the sugar, water and gin in a small saucepan over medium high heat. Reduce the heat to medium low and simmer until the sugar has dissolved, about 5 minutes.

Add in the pear balls and cook on medium low heat for about 6-7 minutes, until tender but still holding their shape.

Remove from heat and allow to cool in the gin syrup.
Assembly
Put a tiny bed of arugula salad into each prosciutto cup. Pipe in a little rosette of blue cheese mousse. Top with a pear ball, a sprinkle of the spiced nuts and a shaving of truffle (using a rasp).
Disclaimer: The preceding recipe was created as part of a partnership at the Gourmet Food and Wine Expo for Ungava Gin, however, as always, all opinions are genuine.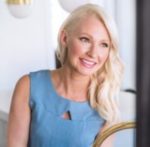 Abbey Sharp is a Registered Dietitian, an avid food writer and blogger, a cookbook author and the founder of Abbey's Kitchen Inc.