I'm so sorry to be the Debbie downer and break the bad news, but there's officially only a few weeks left of summer, and its time to head back to school and work. So things are probably going to get a wee bit hectic in the upcoming weeks, and in my experience, one of the first things that we're probably going to forget about is planning healthy meals. So when I was invited to present a few cooking demos on the Celebrity Cooking Stage at this year's CNE (The Ex), I knew I wanted to help people get ready for that rush.
My top tip for busy families is to get as much meal prep done as you can on the weekend so you can get ready for the crazy-pants work week ahead. A great plan I employ in my own home is to cook up a whole chicken and then use that meat to make a healthy quick weeknight meal and a speedy wholesome lunch. Chicken is always a lean, high protein choice and such a people pleaser- I mean (aside from vegetarians), who doesn't like chicken?
Well, roasting a whole chicken up on the weekend is not only a great time saving dish during the hectic week, but it's also a huge money saving dish as well! When you buy a whole chicken and you portion it up yourself rather than buying the individual bits butchered up in the store, you'll likely save about $6-10 depending on the size of the chicken.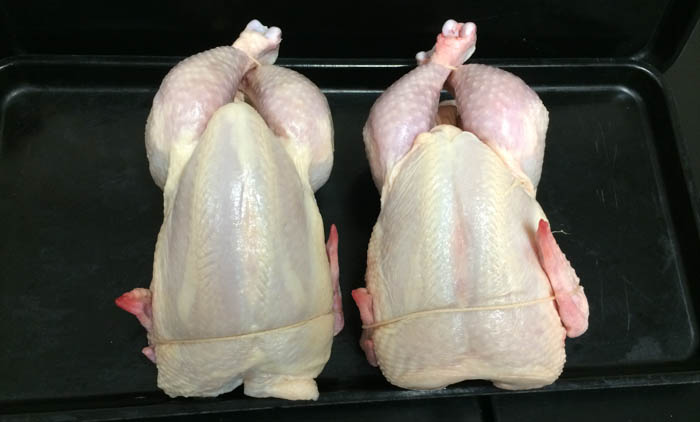 When I cook chicken, I always reach for Liberterre meat. I love the Liberterre brand because the chickens are raised without the use of antibiotics or hormones, they have access to lots of fresh water, the ability to roam free, and they have a healthy diet of grains, vitamins and minerals- no animal by-products here y'all. You are what you eat, we always say, and I don't want to be animal byproducts, that's for sure. Plus, the chickens are air chilled rather than the water-cooled so the meat really retains a more natural flavour & texture. I would also recommend when you make this on the weekend that you actually cook up two chickens, serving one for dinner with roast potatoes and steamed green beans and then dividing the meat from the other into two portions- one for dinner and one for lunch. That speedy dinner will be my Chicken and Black Bean Tostada with Avocado Crema and Pineapple Slaw and our Lunch will be a totally packable Asian Chicken Quinoa Cold Roll with Sweet and Tangy Dip. Both are easy-peasy to pull off and super quick once you've got your chicken cooked and ready.
Chicken and Black Bean Tostada with Avocado Crema and Pineapple Slaw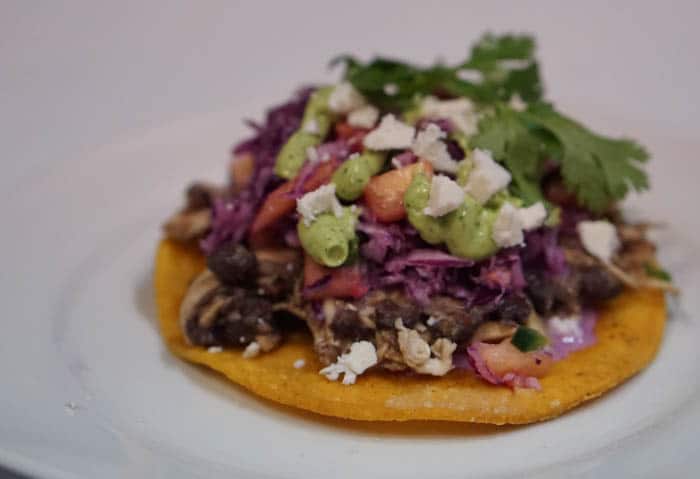 The tostada was inspired by Food Network's recipe for Chicken Black Bean Tostadas. I love this tostada because it has a really great variety of flavours, colours and textures the creamy avocado, the earthy chicken and beans, the crispy salty tostada, and the sweet and tangy slaw. Yum, yum, yum. Forget those trendy taco joints that make you wait in line for an hour – you can pull this off in half the time it would take you to get in!
Asian Chicken Quinoa Cold Roll with Sweet and Tangy Dip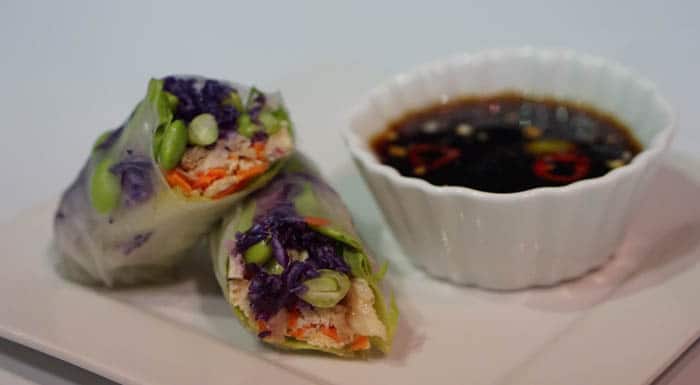 These cold rolls are a great recipe for getting the kids involved because rolling them up and choosing the fillings can be super fun, interactive and hands on. Research suggests that when kids help prepare meals, they're much more likely to try them and enjoy them, so I always recommend making time to get the kids on board.
So next time you're anticipating a crazy hectic week, pick up a Liberterre chicken, and set yourself up for a few weeknight meals. For more delicious ideas using Liberterre chicken (as well as a list of where you can find it), read my review of all their goodies (they've got so much more than just chicken), or check out their website to find out where you can pick up your goodies.
Liberterre Chicken Three Ways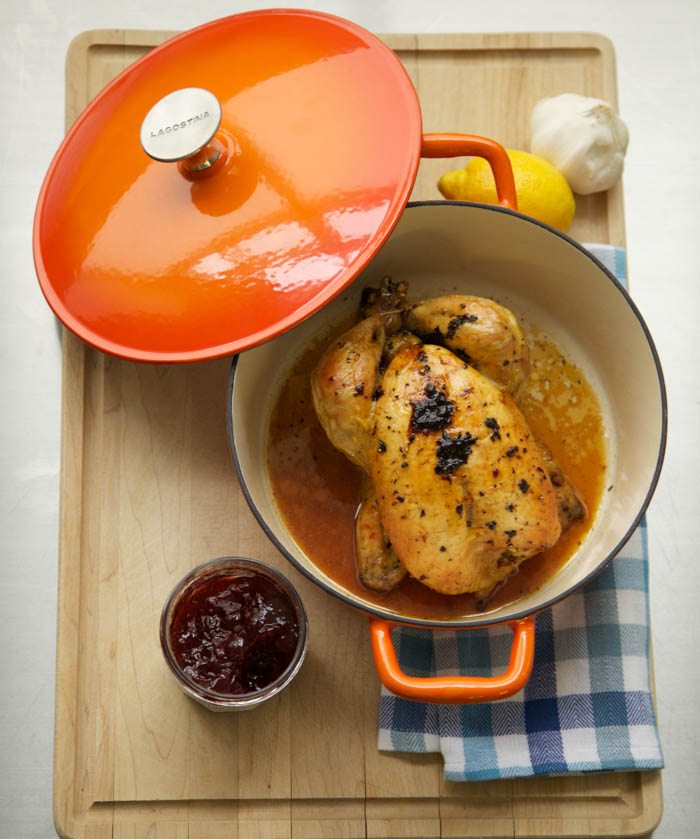 Disclaimer: The preceding recipes were created as part of a paid Ambassador program with Liberterre, however, as always all opinions are genuine.
Updated on March 28th, 2016