When it comes to breakfast and brunch, there are really only two types of people- those who like it sweet and those who like it savoury. I'm a sweet gal, so naturally, I've gone to town creating lots of healthy sweet brunching swaps like my
Tropical French Toast
, easy
Cottage Cheese Protein Pancakes
and my
Poached Pear Bourbon Granola Parfait
. It was time to create something light for all my egg-loving friends, too. Most savoury brunch options are loaded up with fat and refined carbs- there's usually a few fried eggs, lots of bacon, some greasy potatoes and buttered toast. Folks, I say, we can do better than that. That's when it hit me- how about a healthy low carb cauliflower hash recipe ? OMG yes, please.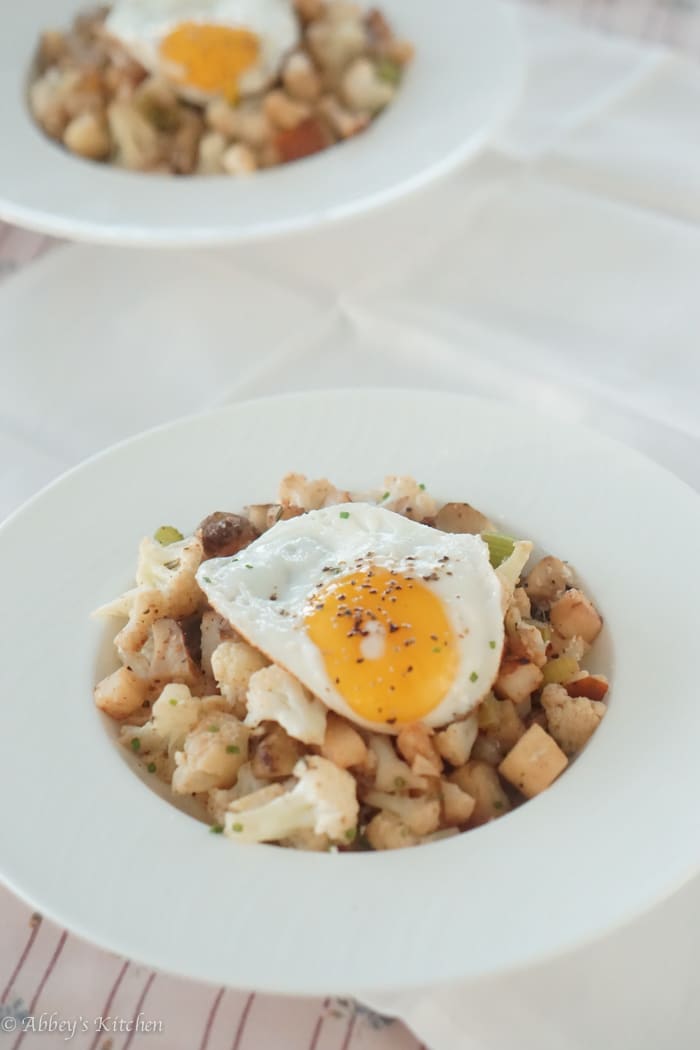 Low Carb Cauliflower Hash Recipe Inspiration
I've often thought about making a breakfast hash because it's so satisfying you can easily eat it morning, noon or night. In my hash recipe, I substituted out the carby potatoes for a combination of fibre rich sunchokes (aka. Jerusalem artichokes), celeriac, and cauliflower. Sunchokes are one of my absolutely favourite vegetables because they're super high in the prebiotic inulin fibre which is great for promoting gut health and good digestion. Using the celeriac and cauliflower in place of the potatoes also really helps to cut down on calories and carbs.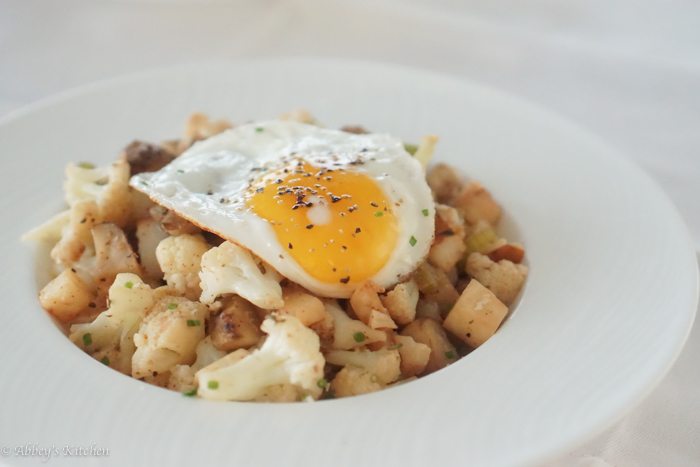 Since celeriac and sunchokes have such an irresistible nutty flavour, I wanted to play that up in my hash recipe with some maple mustard, rosemary, pear and a touch of maple cheddar cheese. All that was then topped off with a lightly fried egg cooked in a nonstick skillet until the whites were set.  If breakfast is going to taste this good, I'm all for early mornings.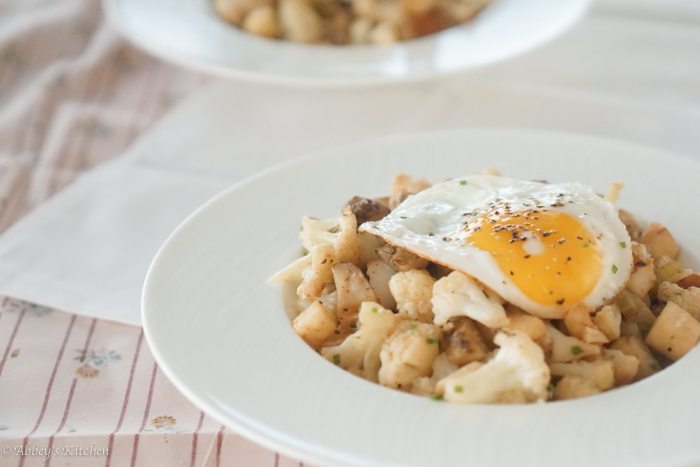 Do you have a favourite breakfast hash recipe you love that you'd like to see made low carb? What kind of breakfast or brunch dish do you want to see me redo? Leave me a message in the comments section below!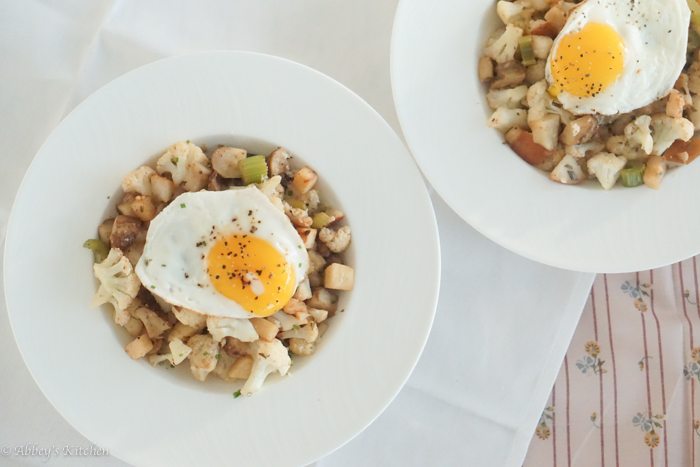 Maple Sunchoke Cauliflower Hash Recipe with Runny Egg
I'm switched up a brunch favourite by developing a low carb meal packed with cauliflower and artichoke hash with runny egg.
Ingredients
1

tbsp

olive oil

2

cups

celeriac

peeled and finely diced

5

sunchokes

scrubbed and finely diced

1

head of cauliflower

broken into small florets

3

stalks celery

finely diced

1 1/2

tbsp

fresh rosemary

minced

1/4

cup

water

1

pear

cored and diced

2

tbsp

maple mustard

3

tbsp

lemon juice

1

tsp

olive oil

4

omega 3 eggs

1

oz

maple cheddar cheese

finely grated

Salt and pepper

to taste
Instructions
Preheat the olive oil in a large nonstick skillet over medium high heat. Add in the celeriac and cook for 3 minutes, until you start to see some colour develop. Add in the sunchokes and cook for another 5 minutes, stirring every once in a while. Add in the celery, cauliflower and rosemary, and continue to pan-fry for another 2 minutes.

Add in the water, cover and cook on medium low until the vegetables are nearly completely tender, about an additional 5 minutes.

Remove the lid, and add in the pear, maple mustard, and lemon juice. Season with salt and pepper and cook on low heat until everything is mixed throughout and warmed through. Sprinkle with the grated cheddar cheese and keep warm on low heat.

Meanwhile, heat a large nonstick skillet with a teaspoon of oil over medium heat. Add in the eggs (or do in batches), sprinkling the yolks with a bit of salt and pepper, cooking until the whites are set.

Divide the hash between four plates and top with a fried egg.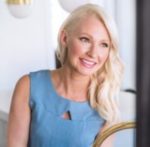 Abbey Sharp is a Registered Dietitian, an avid food writer and blogger, a cookbook author and the founder of Abbey's Kitchen Inc.