This Holiday Poached Pear Pumpkin Pie is a unique take on the classic Thanksgiving or Christmas staple.
In my home, pumpkin pie is pretty much a must on my holiday table. It's expected. My mom would be very disappointed to go without. But those who know me know that I'm not one to maintain tradition and repetition. I don't usually go to the same restaurants, and I don't usually cook the same recipes (the exception to this rule is my recipe for stuffing and sweet potato casserole which I feel I have completely perfected with years of tweaking).
So every year I do my pumpkin pie a little differently and I think I've pretty much done it all- I've topped mine with a gooey pecan pie layer, I've topped it with a brulee layer, I've topped it with toasted meringue. But this year, I decided to add a whole other layer of flavour with fanned out cider-poached pears. Sounds complicated, yes, but in reality, poached pear pumpkin pie is relatively easy to pull off.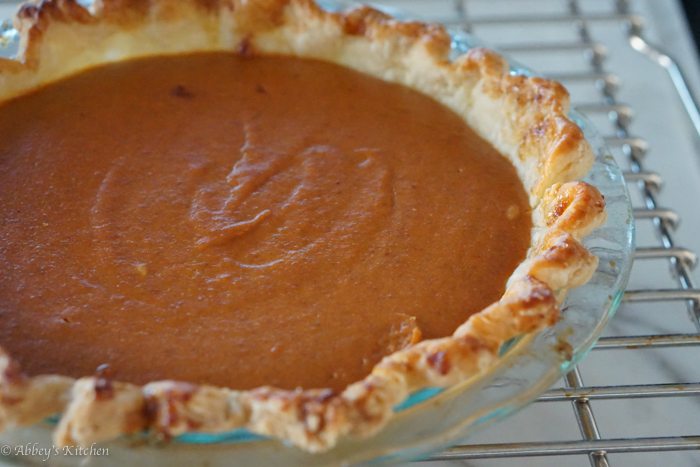 Pear + Pumpkin Pie = Poached Pear Pumpkin Pie Goodness
You can use this poached pear technique on your favourite pumpkin pie base, though I do think mine is pretty solid. The key with the poached pears is to get them as dry has you possibly can a few hours before you assemble the pear pumpkin pie. Why? Well first, you don't want the syrup to sog up the pie too much. It will inevitably make it a bit more moist in the centre, but I don't think that's necessarily a bad thing, you just don't want it to get out of hand. Second, if you want to add a little brulee topping like I did, you have to eliminate as much moisture as you can so the sugar with brown.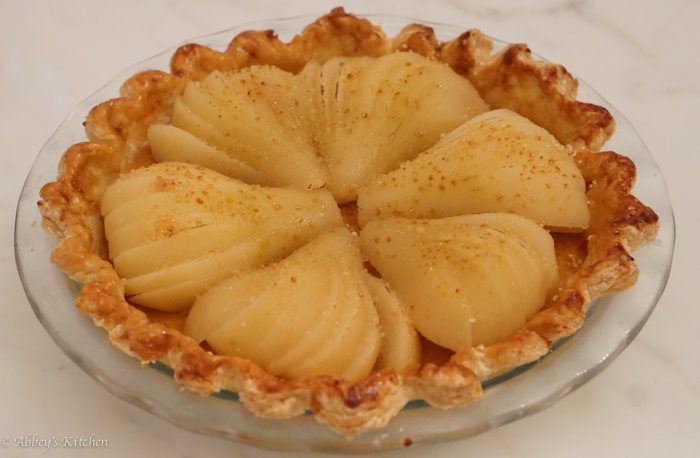 Now, the best part about poached pears is that they are best made the day before, so you can literally do everything ahead of time and then assemble the pear pumpkin pie when it's time to serve. And if you don't have a blow torch, no biggie, you can just skip that step- I just tend to like a little crunchy caramelized sugar on top.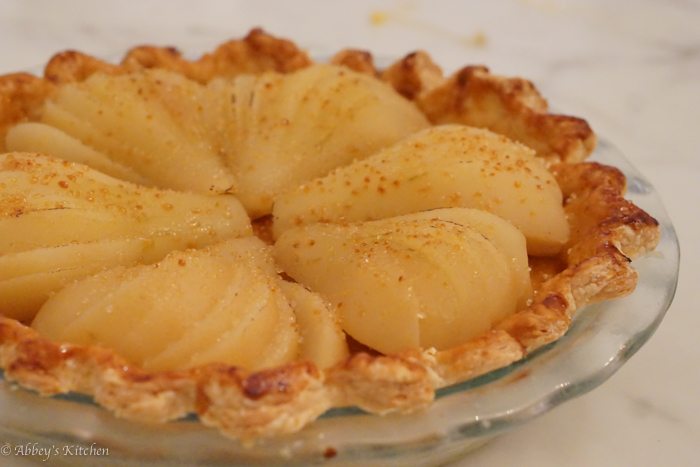 Have you tried making pear pumpkin pie? Leave me a message below on some creative ideas to try on my pie next year! Maybe you'll see your idea come to life on the blog!
Holiday Poached Pear Pumpkin Pie
Inspired by Epicurious' The Ultimate Pumpkin Pie
Ingredients
Pears
3

medium Bosc pears

peeled, cut in half and cored

3

cups

apple cider

1/4

cup

white sugar
Crust
2 1/2

cups

all purpose flour

1

tbsp

sugar

1

tsp

fine salt

1

cup

unsalted very cold butter

diced

1

cup

ice water
Filling
3/4

cup

white sugar

1

tbsp

packed brown sugar

1

tbsp

cornstarch

2

tsp

cinnamon

3/4

tsp

ginger

1/4

tsp

salt

2

cups

canned pumpkin

3/4

cup

heavy cream

1/2

cup

full fat sour cream

3

eggs

beaten

3

tbsp

apple butter

2

tbsp

coarse sugar
Instructions
Pears
Place the cider, sugar and cinnamon stick in a medium saucepan. Bring to a boil, and then reduce the heat to medium low, stirring until the sugar has dissolved.

Add in the pears. Cut out a piece of parchment paper that fits the diameter of the pan and place on top of the cider. Allow the pears to simmer over medium high heat for about 15 minutes, until the pears are tender when pricked.

Turn off the heat and allow the pears to cool in the pan. Transfer to a container with the syrup for up to two days.

A few hours before serving, discard the cider and slice the pears up to (but not through) the top. Place on paper towels to remove most of the liquid.
Crust
In a food processor, mix together the flour, sugar, and salt. Add in the butter and pulse until the butter is the size of peas.

Transfer to a large bowl. Slowly add in the water, about 1/4 cup at first, and then tablespoons after that, mixing with a spatula. You may not need it all, you're just looking for the dough to roughly come together with some residual flour in the bottom of the bowl.

Once you have some large clumps, transfer to the table and start to knead all the loose bits together. Divide the dough in half and wrap each in plastic wrap into a nice tight disk. You can make this ahead of time, and leave it in the fridge for about a week and in the freezer (in a freezer bag) for a few months.

When ready to bake the pie, roll the dough out to about 1/4 inch thickness. Transfer to a 9 inch glass pie plate and trim around the edge evenly with about 1 inch overhang. You can simply fold this under but I like to pinch it into a sun-like shape. Pop it in the freezer for about 15 minutes just to set up the butter after you've been handling it.

Line the crust with foil and road it up with pie weights (I use beans). Bake it for about 15 minutes. Remove the foil and bake the crust again until a light brown, about 15 more minutes. Reduce the oven temperature to 325 F.
Filling
Whisk together the sugars, corn starch, spices, and salt. Add in the pumpkin, cream, sour cream and eggs.

Fill the half-baked pie shell and bake until the filling puffs slightly around the edges and the centre is almost set, about 1 hour.

About 10 minutes before it's finished, brush the crust with the apple butter and return for the additional 10 minutes or so of baking.

Allow to cool completely on a rack before transferring to a fridge.
Assembly
When ready to serve, top the pie with the fans of pear, and sprinkle with coarse sugar. Using a blow torch, lightly caramelize the sugar until golden brown. Slice and enjoy.
Nutrition Facts
Holiday Poached Pear Pumpkin Pie
Amount Per Serving
Calories 474
Calories from Fat 216
% Daily Value*
Fat 24g37%
Cholesterol 107mg36%
Sodium 281mg12%
Potassium 271mg8%
Carbohydrates 61g20%
Protein 5g10%
Vitamin A 7177IU144%
Vitamin C 4mg5%
Calcium 61mg6%
Iron 2mg11%
* Percent Daily Values are based on a 2000 calorie diet.
Updated on May 20th, 2020