It may be the dead of winter, but there are days I just feel like making light and bright tropical fare like scallop ceviche to take me away from the cold outside and into my little stay-cation fantasy world.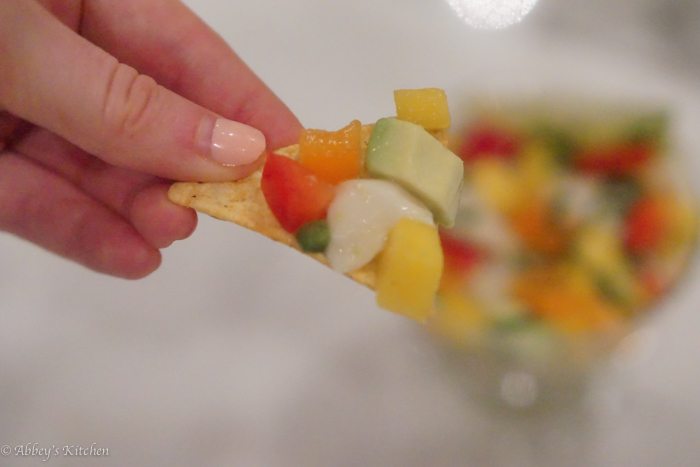 Well, last week, I was editing a blog post about a tropical St. Lucia themed supper I attended with Top-Chef runner up Nina Compton. Looking at the photos made me hungry (obv), but it also made me yearn for the light, healthy meals I often have down South- the ones that don't require heating up the kitchen at all. Hello, big bowl of scallop ceviche.
What is Scallop Ceviche?
Ceviche is a super healthy fish dish that is not cooked by heat, but rather is "cooked" by acid denaturing the proteins. That means it's virtually fat free and is just loaded with flavour, nutrients and protein.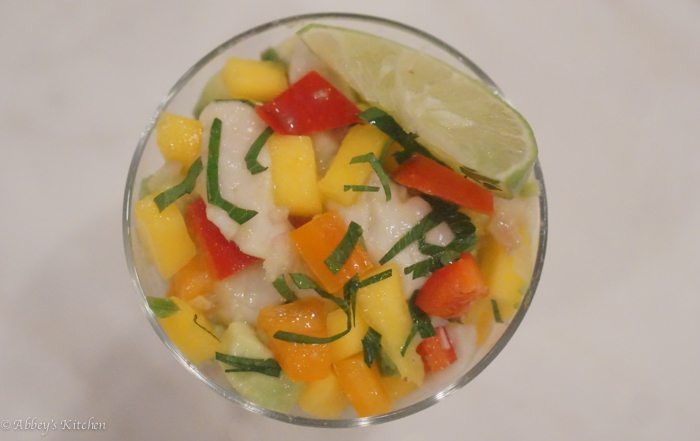 Well, if it isn't already, scallop ceviche is going to become a super staple in your home because it could not be quicker and easier to pull off. You just need to think an hour or so advance so you give the fish time to marinate and "cook" in the acids in the fridge- but the actual assembly time is literally about 10 minutes. My man liked the scallop ceviche too since he is usually in charge of cleaning up the kitchen after dinner, and I didn't dirty a single pot or pan. He also said it tasted awesome but ultimately, even if it tasted bad, he would have wanted me to do it again because he just hates cleaning the kitchen that much.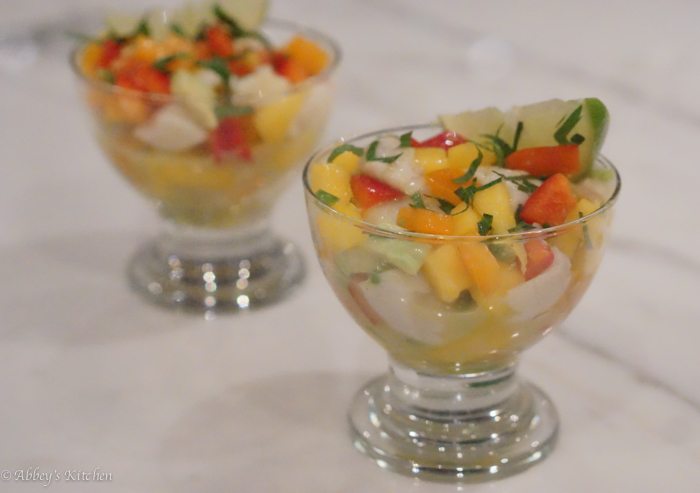 If you're making scallop ceviche for the first time, there are a few key take-homes for y'all to remember:
1)      Choose lean semi-firm white fish- Stay away from oily fish like tuna, mackerel or sardines. I used scallops in this scallop ceviche because they looked and smelled super fresh at the store, but you can use any lean fish or shellfish like shrimp, sea bass, grouper, sole, flounder or squid.
2)      Make sure it's super fresh and cold- Don't buy the bargain bin seafood here folks, or let it sit in your fridge until you get around to this recipe at the end of the week (unless you hate your dinner guests and yourself). Remember, you're not cooking this to death with heat, so you want to make sure it's crazy fresh and stored correctly in the fridge.
3)      Prep that fish correctly- You don't want to bite into a bone, piece of flabby skin or the blood line (which should be removed so it doesn't taste too fishy). This is why I like scallop ceviche, because you just have to remove the beard and you're good to go.
4)      Cut it up right- I like my veg to be diced smaller than my fish, which I like to keep in bite size pieces. This is not fish tartare, so don't pulverize the delicate seafood to death (uh mushy scallop ceviche… #puke).
5)      Marinate, then mix- I like to marinate my fish in the fridge, and then add in all the other vegetables so they maintain their crunch and colour.
What's your favourite add ins and ingredients for ceviche? Have you tried making scallop ceviche? Leave me a comment below with your ideas!
Healthy Scallop Ceviche with Mango & Avocado
A healthy mango scallop ceviche for Summer!
Ingredients
1

lb

large fresh scallops

beard removed and quartered

1/3

cup

lime juice

1/4

cup

orange juice

1

shallot

minced

1

mango

diced

1

large bell pepper or 2 small bell peppers

diced

1

avocado

diced

1/2

jalapeno

seeded and deveined, minced

1/4

cup

cilantro

chopped, optional*

Pinch

salt and chili pepper

pinch of each

Baked tortilla chips

for serving
Instructions
Mix the scallops with the lime and orange juices in a bowl. Cover with plastic wrap and refrigerate for at least 30 minutes, and up to 2 hours.

Mix in the shallots, mango, bell pepper, avocado, jalapeno, cilantro and salt and chili to taste. Serve cold with baked tortilla chips, to serve.
Nutrition Facts
Healthy Scallop Ceviche with Mango & Avocado
Amount Per Serving
Calories 190
* Percent Daily Values are based on a 2000 calorie diet.
Updated on June 7th, 2017