March is officially Nutrition Month folks, which means dietitians across Canada are looking to inspire you to get busy in the kitchen. March also seems to mean that winter has shown absolutely no sign of letting up and that stupid ground hog said we have two more weeks to go. Ugh. Well, when life brings you frigid temperatures that force you to stay home, you know what you do? You cook comfort food. You cook the hearty meals you grew up with, the dishes your mom or grandmother or uncle would always make for you as a kid. And for me, well, I don't have a whole lot of young memories in the kitchen, but one thing my mom did make growing up was mini chicken pot pies the 1950s way – with Campbell's cream of chicken soup and store bought frozen puff pastry shells. The result was no doubt delicious, but probably higher in calories, fat and sodium than I want to committ to for a simple weeknight meal now that I'm an adult. Especially when I know I can recreate the cozy comfort food classic for a fraction of the calories, fat and sodium and with a healthy dose of added fibre. But I knew this was going to take a few tricks out of my ol' healthy cooking trick-bag.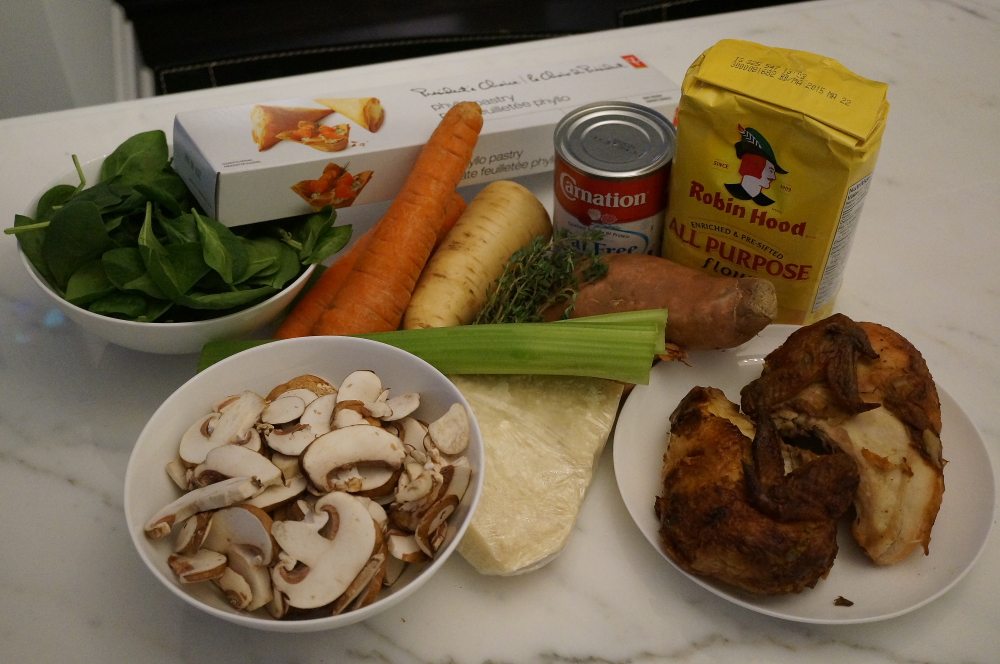 The pot pie arsenal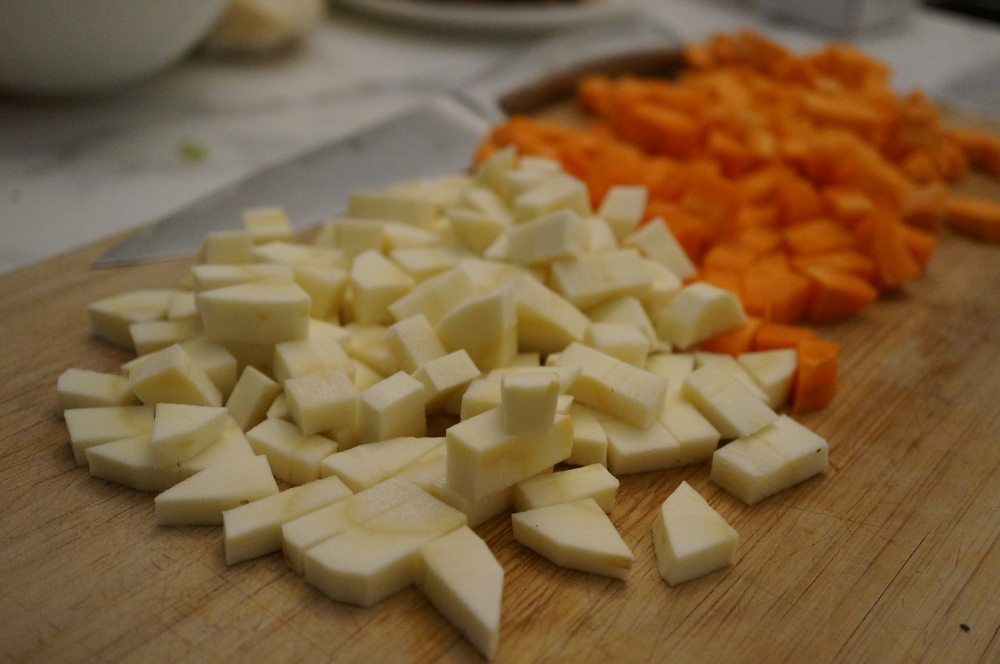 First, I had to eliminate the gloopy sodium ridden canned soup in favour of a simple roux and fat free evaporated milk. No, not sweetened condensed milk. Evaporated milk- skim milk that has had about 60% of it's liquid reduced, so that even though it's free of fat, it has a very thick luxurious texture.
Saute those veggies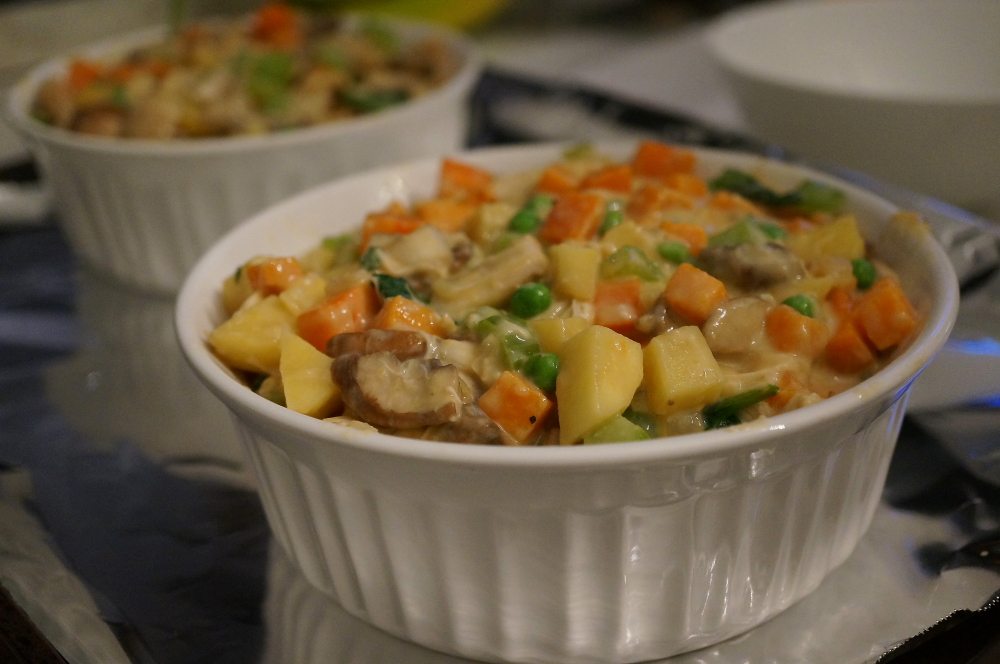 Filling complete!
Second, I had to do something about the pastry. Mom's puff pastry was absolutely divine, but there's a reason why it bakes up so high- it's from an excessive amount of butter that creates little air pockets throughout the dough which rise and expand in the heat. Translation? Puff pastry is best used in moderation. My solution, instead, was to use the flaky light and crispy effect of phyllo dough. It's much lower in fat and calories, and you don't need much to get a pleasant textural contrast with the creamy filling below. To add a little more flavour to the phyllo, I thew in very light shaving of parmigiano reggiano on top and between the phyllo layers. This isn't necessary, but finely grated parmesan can add a lot of bold cheese flavour with very minimal calories, which is exactly what successful healthy cooking is all about.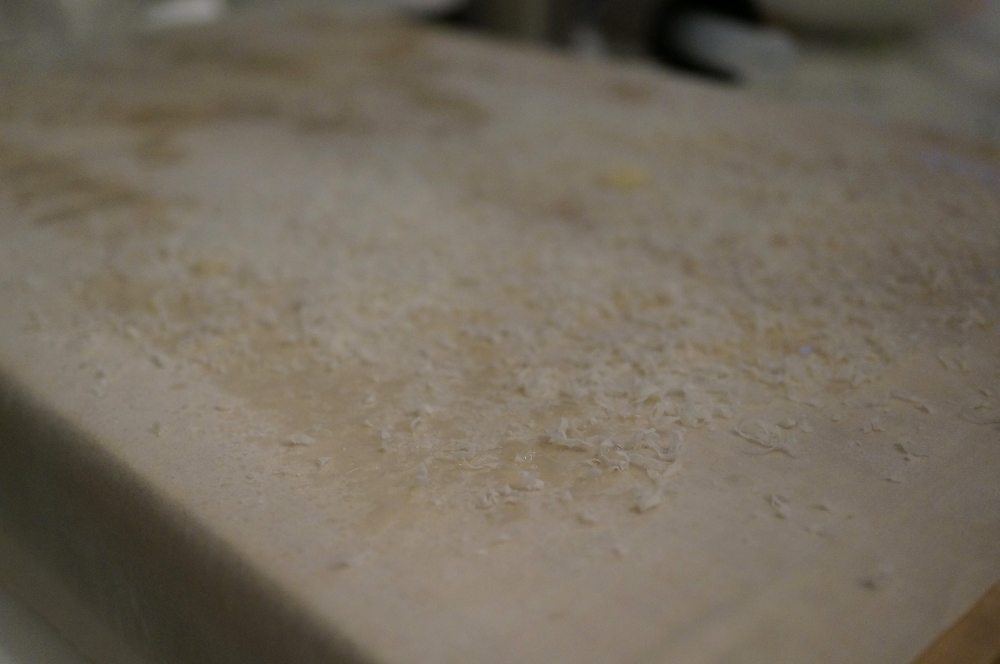 Use an oil atomizer to get a nice even coating of oil without having to brush on an excess amount of butter.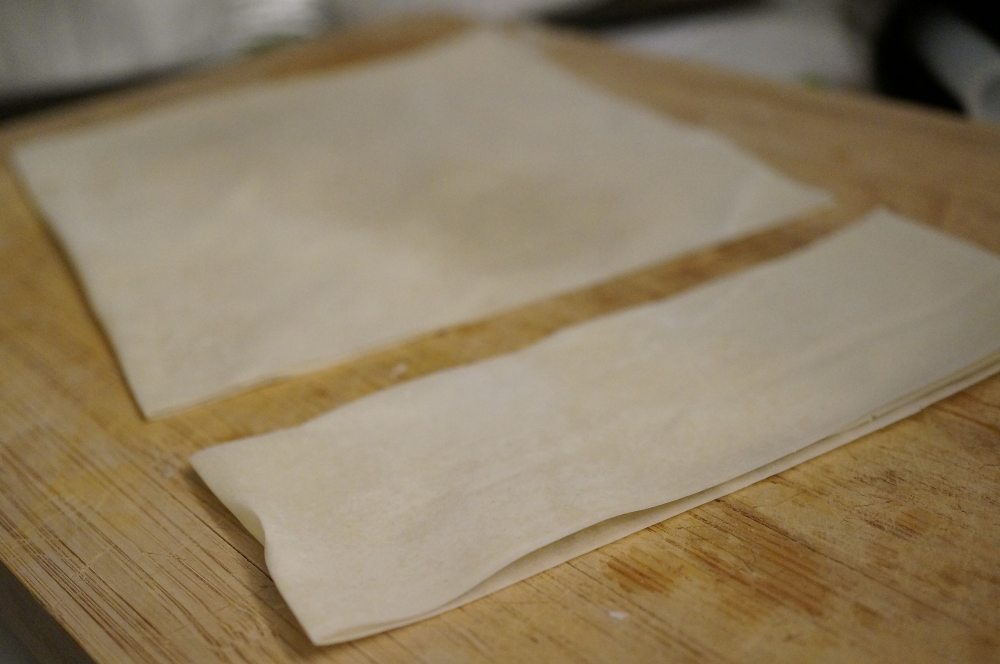 Slice off a few inches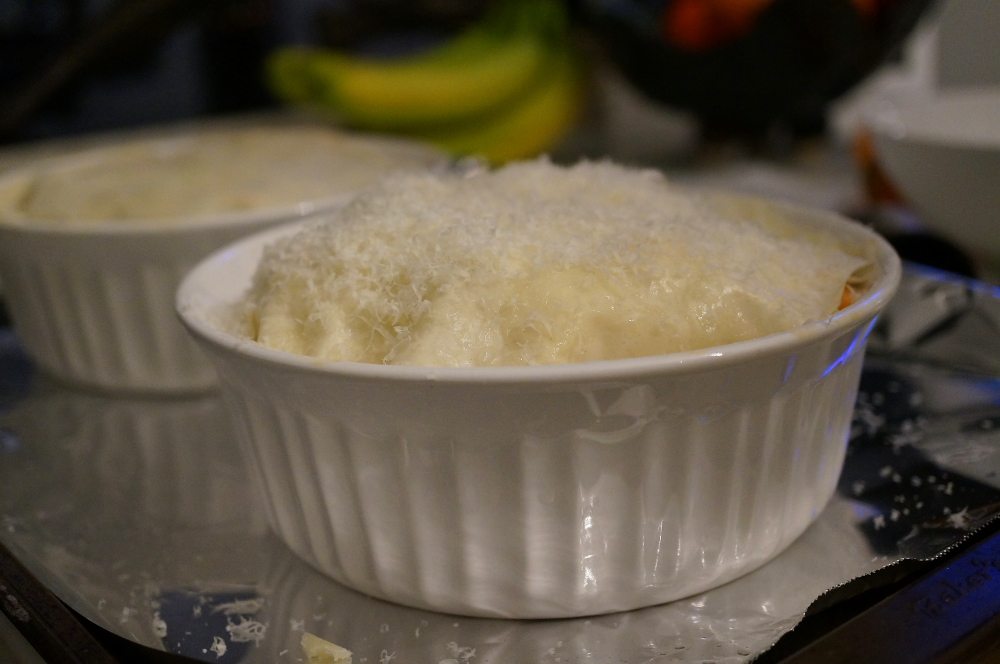 Before you bake
And third,  I added in lots of extra high fibre vegetables to increase the nutrition and flavour. When I was growing up, I think my mom's pot pies consisted of a handful of frozen carrots and peas, which is great (and traditional), but there are so many other flavourful vegetables to explore.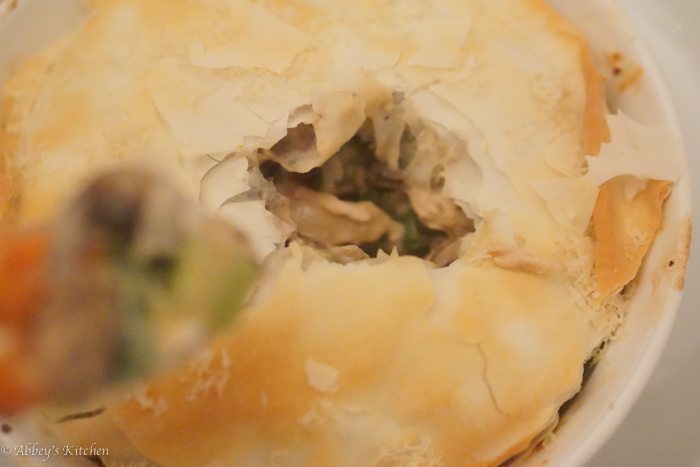 Because it is winter, I focused on cool-weather friendly veg, like sweet potato, carrot, parsnip, mushrooms, spinach and a handful of those obligatory frozen peas. Peas are my partner's favourite food so they are a must in my pot pie.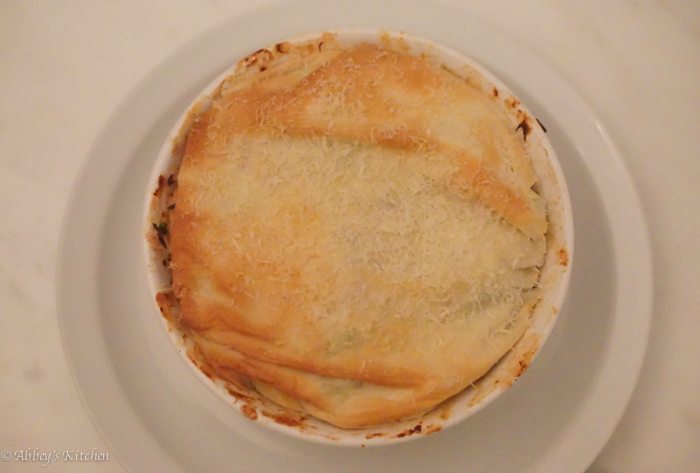 The result is a very creamy, very flavourful, super comforting chicken pot pie that has more colourful nutrients and fibre, and far less calories and fat than what you likely grew up with at home. Here's what I did:
Healthy Chicken Pot Pie with Parmesan Phyllo Crust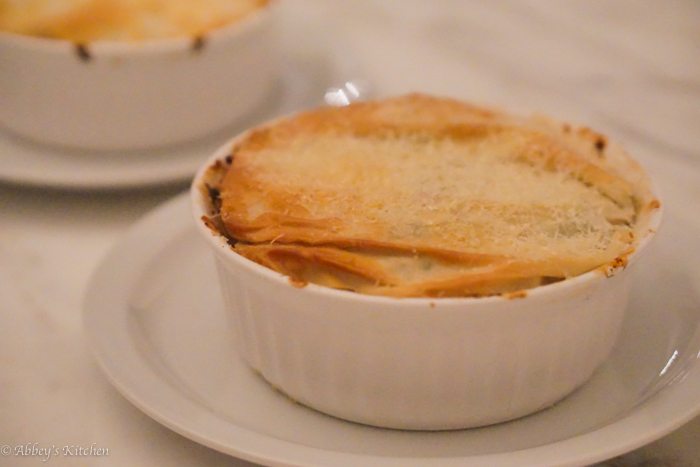 Updated on May 8th, 2019