If you've ever visited Earl's restaurant, you have surely tried their legendary Tuna Tostadas . It's one of the most popular menu items at Earls, and for good reason. It's technically an appetizer, but I order it all the time as my very own main dish so I don't have to share. Trust me, you won't want to share either.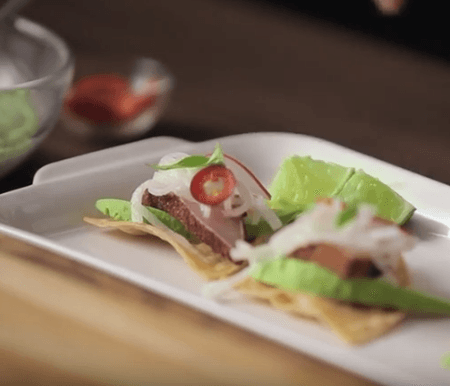 While my fiancé and I love dining out for date night, sometimes we like to stay in and recreate our favourite restaurant dishes at home. So when I saw an online video describing exactly how the talented chefs at Earls make their addictive Tuna Tostadas – I knew it was going to be a date night to remember. These babies feature gorgeous pieces of high quality tuna dusted in southwestern spices, a smoky cilantro aioli, lime jicama slaw, buttery avocado and crispy tortillas. If you want to see Chef Ryan Stone making the dish from start to finish, you can watch the full video right here where Chef Stone shares some of his top tips!
I'm Obsessed with these Tuna Tostadas!
As a foodie-dietitian, I love that these Tuna Tostadas are adorably bite sized for perfect portion control, but for home, you can lighten up the recipe even more. First of all, tuna is one of my favourite sources of high quality protein and healthy fats and I love that the Earls Chef Collective cook them with a really quick blanch. The slaw is also super low calorie, and yet still packed with big bold flavour. While I'm all for a little deep-fried indulgence when I go out, at home, I like to bake the white corn tortillas in a super hot oven to get them golden brown. I also swap out Chef Stone's traditional mayonnaise for a plain low fat Greek yogurt to make a lighter smoky aoli.
The result? A delicious date dinner perfect for those cold nights you don't want to venture out into the cold. This would also make a great Valentine's Day appetizer to lead into a light and healthy meal!
What's your favourite restaurant dish you would like to see recreated? Leave me a message below and I'll lighten it up!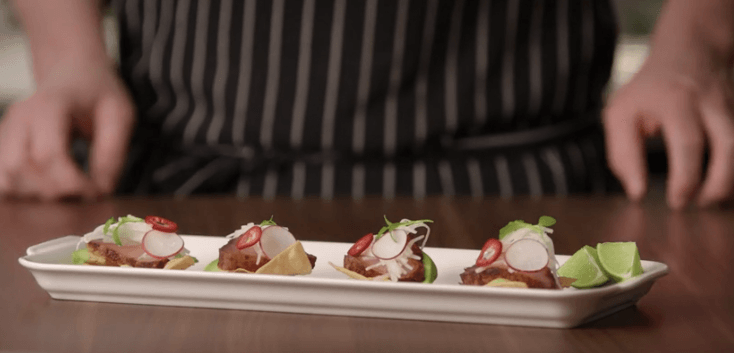 Lightened Up Earls Tuna Tostadas Recipe
Servings:
2
(With Extra Aioli)
This dish was inspired by Earl's restaurant, so I designed a lightened up version but still just as delicious.
Ingredients
Aioli
1

jalapeno pepper

1

poblano pepper

3

cloves

garlic

Pinch

fine salt

1/4

cup

extra virgin olive oil

1

leaves

bunch of cilantro

chopped

1

cup

plain low fat Greek yogurt

or mayonnaise, if you prefer
The Rub and Tuna
1

Tbsp

Ground Coriander

1

Tbsp

Chipotle Powder

1

Tbsp

Ancho Chile Powder

1

Tbsp

Chile Powder

1

Tbsp

Fine Salt 5 Ounces Albacore Tuna Loin

1

Piece

Jicama

Mexican Turnip

1

Tsp

Fish Sauce

1/4

Tsp

Sugar

Juice of 1 Lime

5-10

Small White Corn Tortillas

6"

1

tbsp

extra virgin olive oil
Salt

to taste

1

Radish

thinly sliced

1

Pickled Fresno Chili

thinly sliced

1/4

Avocado

sliced

Micro Cilantro

for garnish

Lime

for garnish
Instructions
Aioli
Roast the Jalapeno and Poblano peppers over high heat until the skin sides are fully charred. Using a sharp knife, cut them in half and remove the seeds and stems.

Add the peppers, garlic, salt, olive oil and cilantro to the blender and puree until smooth.

Add the puree to the Greek yogurt and stir until evenly combined.
The Rub and Tuna
In a mixing bowl, whisk all the ingredients together until thoroughly combined.

Cut the tuna loin in half lengthwise, then cut the halves into roughly 2-inch pieces.

Blanch each piece of tuna in boiling water for about 10 seconds, until the outside turns white. Then immediately transfer it to an ice bath. After about a minute, dab the tuna with a paper towel to remove excess moisture, then move it to the spice rub. Roll the tuna in the rub until thoroughly coated, then place it in the fridge.
Jicama Slaw
Whisk the lime juice, fish sauce and sugar together until all the sugar is dissolved. Use either a mandolin or a vegetable peeler to finely slice the jicama, then julienne it with a sharp knife.

Add the jicama to the lime mixture and store in the refrigerator for later use.
Tortillas and Assembly
Preheat the oven to 400 F.

Cut the tortillas into quarters. Place the tortillas onto a baking sheet lined with parchment paper, drizzle with olive oil, and bake until golden and crispy, about 7-10 minutes.

Remove from the oven and sprinkle with salt.
Assembly
Top each tostada shell with a dollop of the aoli, a thin slice of avocado, a slice of the spice-rubbed tuna, and a pinch of the lime-marinated jicama slaw.

Garnish with a slice of radish, a couple sprigs of cilantro, and a slice of Fresno chili. Serve with lime pieces on the side.
Nutrition Facts
Lightened Up Earls Tuna Tostadas Recipe
Amount Per Serving
Calories 350
* Percent Daily Values are based on a 2000 calorie diet.
Updated on August 12th, 2019