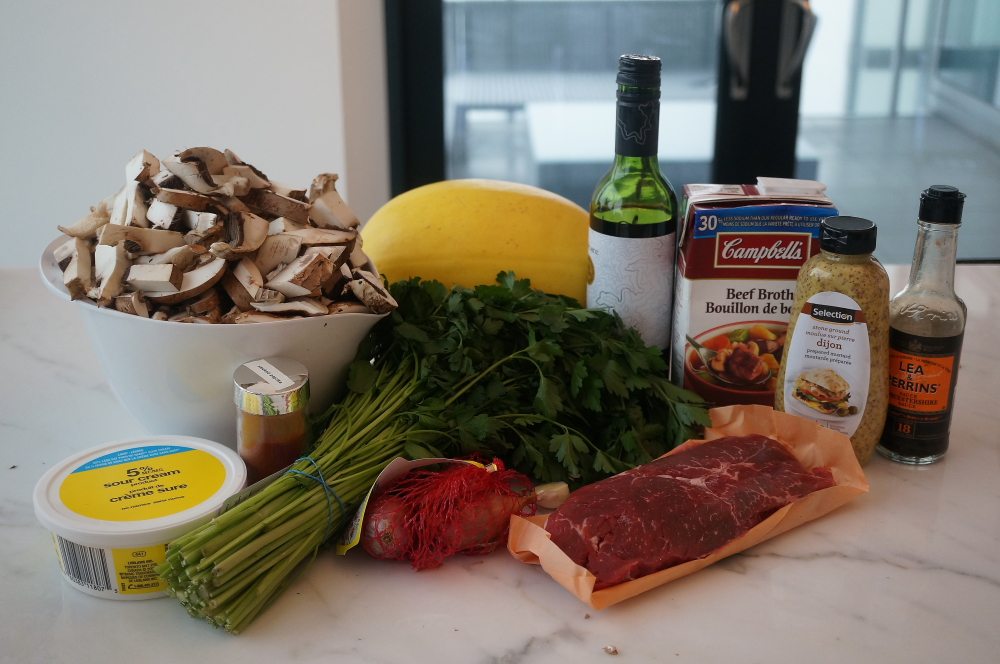 Ingredients
March is Nutrition Month and I'm still cooking up a storm.  One thing I get asked all the time as a dietitian and a foodie is about gluten free ideas. I don't personally keep GF myself, but I have done my fair share of investigating different GF products and playing with GF recipes. And while I definitely am proud of the food industry for jumping on Canadian's desire for new innovative GF items, I think there are also a lot of naturally GF meals that can be enjoyed without any slight feeling you're missing out on the "real thing".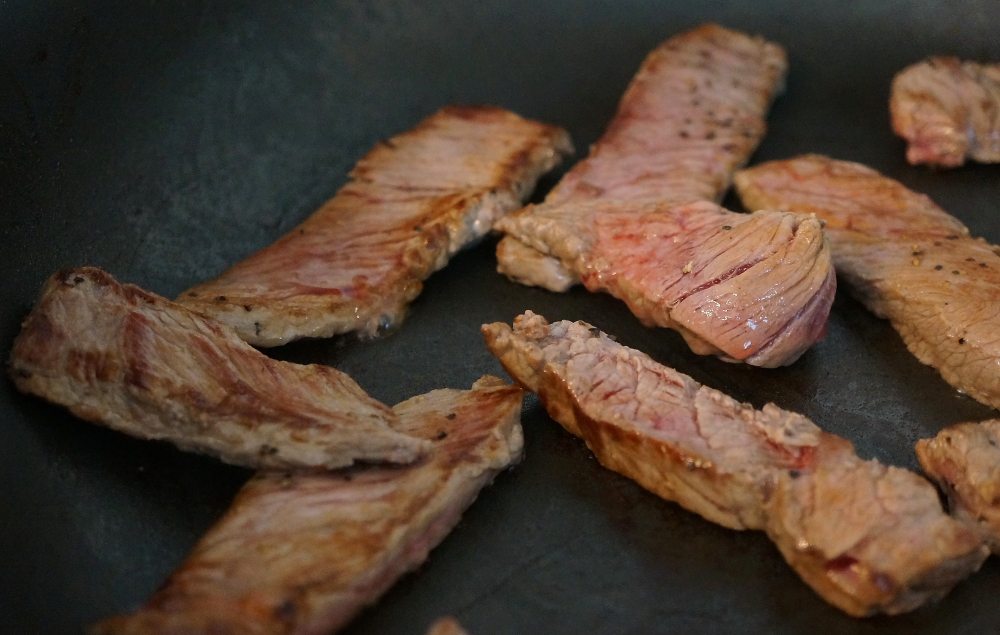 Brown the meat
Take pasta, for example. Today, there are a lot of very good GF pastas out there that manage to mimic the classic wheat based noodles but that are made with quinoa, corn or rice flour, instead. Nutrition-wise, they're relatively comparable. So if you're looking to manage calories or carbs in general, instead of just gluten, then you've got to think outside of the pasta box. Where? Well, I always recommend going back to the produce aisle.  There are a lot of vegetables that can be used to substitute or bulk up a noodley meal. Everything from zucchini pappardelle, to eggplant lasagna, to asparagus fettuccine. But for the most al dente bite, I always recommend roasting up a spaghetti squash.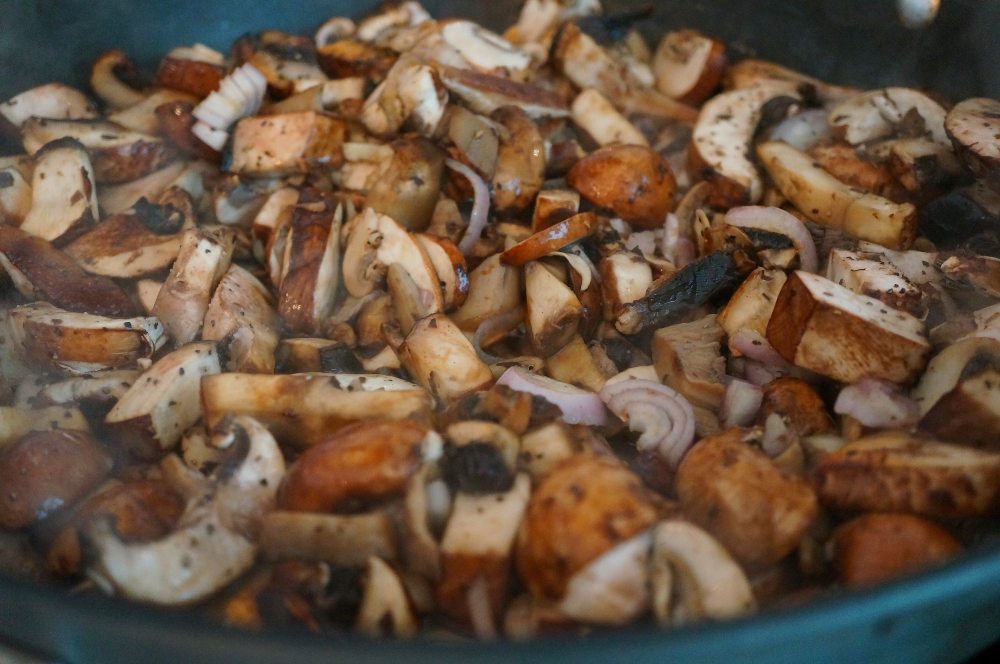 Cook the veg
Spaghetti squash are, well, big squash, much like pumpkin or butternut, but they have a very unusual texture when cooked- they're stringy like spaghetti! No, it's not a perfect match in flavour or texture- actually, it's not really that close. But it has a very pleasant mild sweetness and a nice bite that soaks up pasta sauces and mingles with delicious add-ins very well.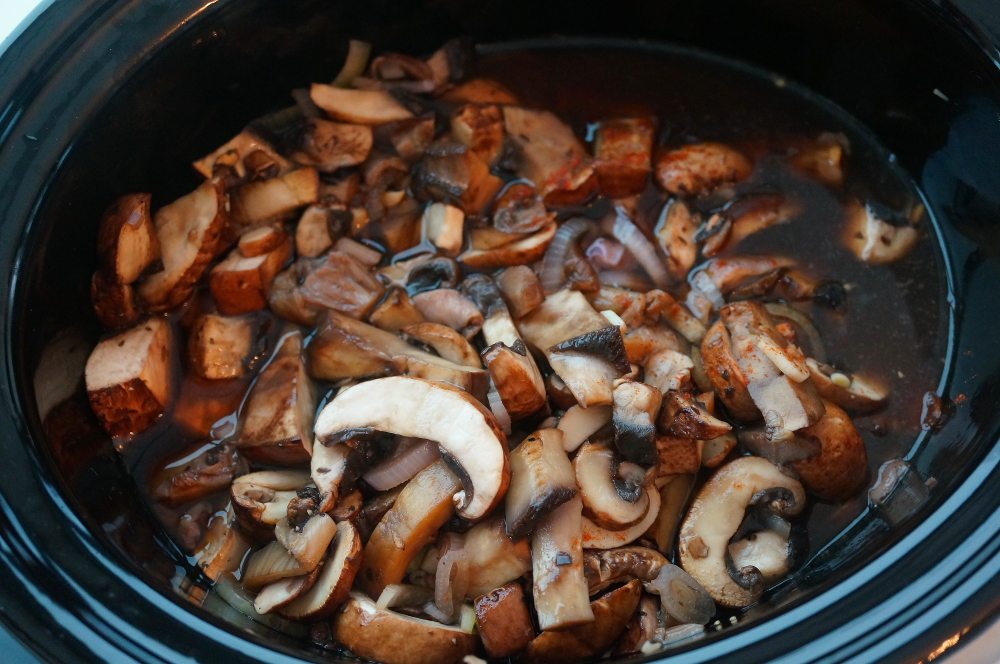 Into the pool
In nutrition terms, 1 cup of cooked spaghetti squash has only 42 calories and 10 grams of carbs per cup. The same amount of cooked pasta has 221 calories and 42 grams of carbs.  Both have around the same amount of good-for-you fibre, so you're not significantly missing out on the good stuff if you go with the veg. Translation? You can eat a heck of a lot more squash than pasta for far fewer calories and carbs.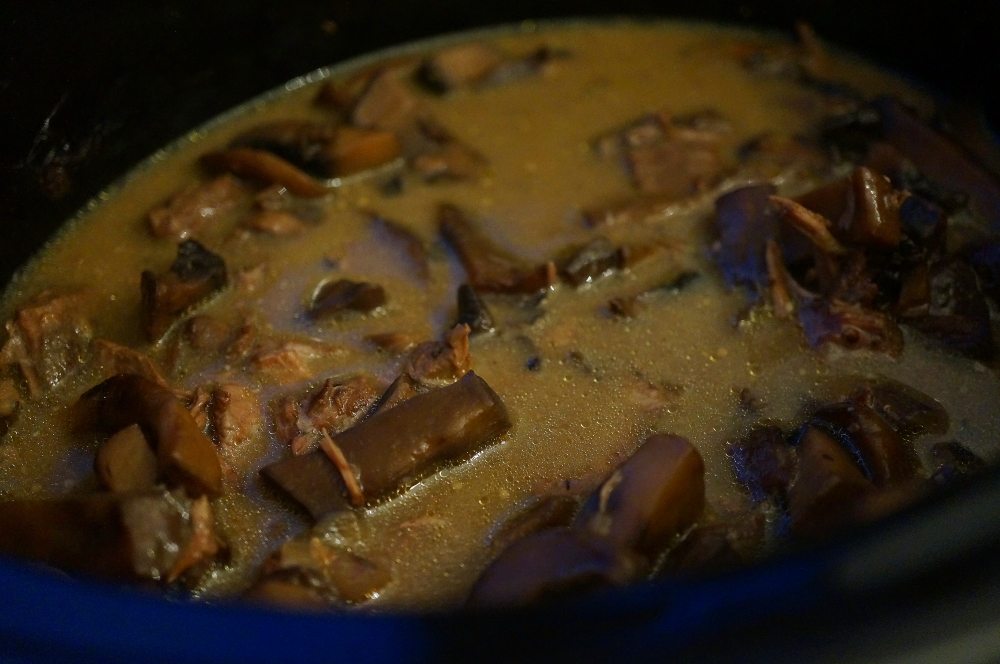 In this recipe, I wanted to whip up a classic Beef Stroganoff, with a few lightened up adjustments to bring the calories down even more.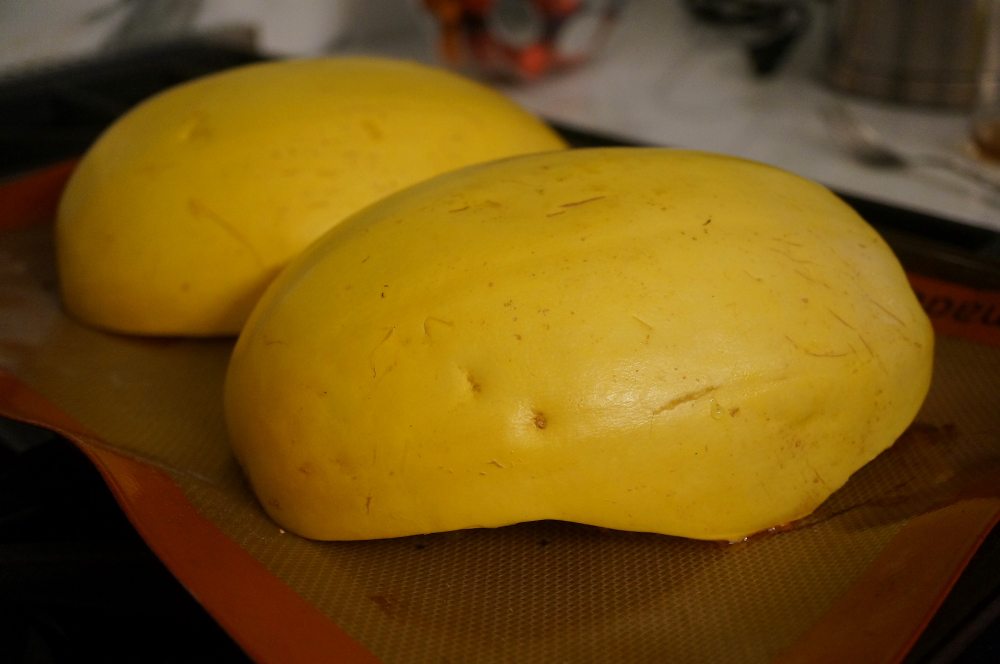 Ready to be baked
First, to save on calories, fat and cash, I opted to use a moderate size of beef and bulk it up with an excess of meaty mushrooms. Think of meat as a garnish and vegetables as the stars of the show- this is really the key to cutting down on calories.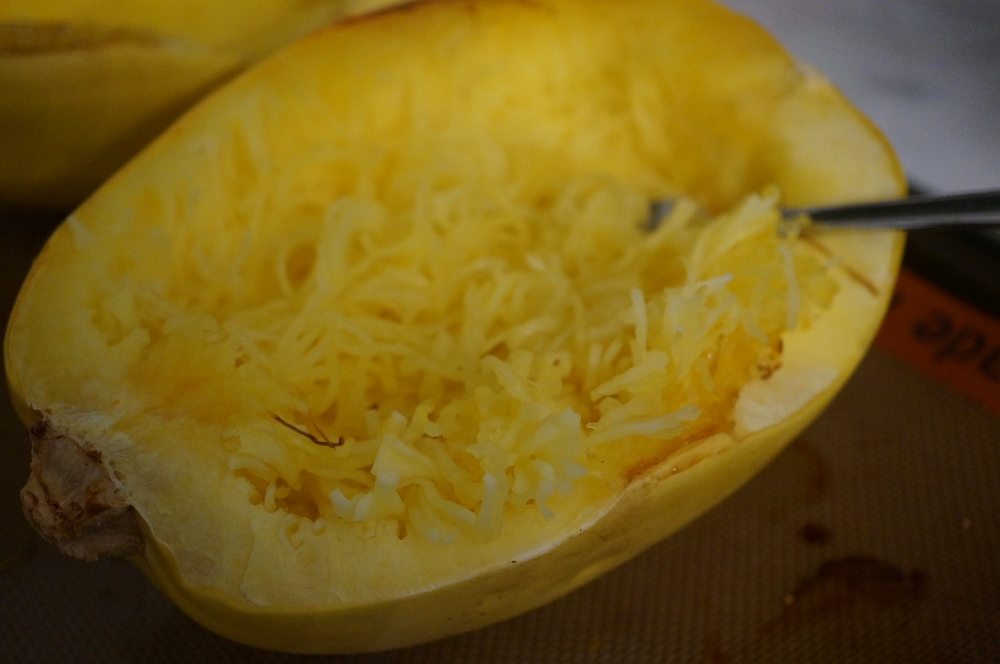 Second, as previously alluded, I added a ton of high fibre, low cal mushrooms. I did a combination of cremini, shitake and beefy portobellos, but feel free to use whatever you have on hand.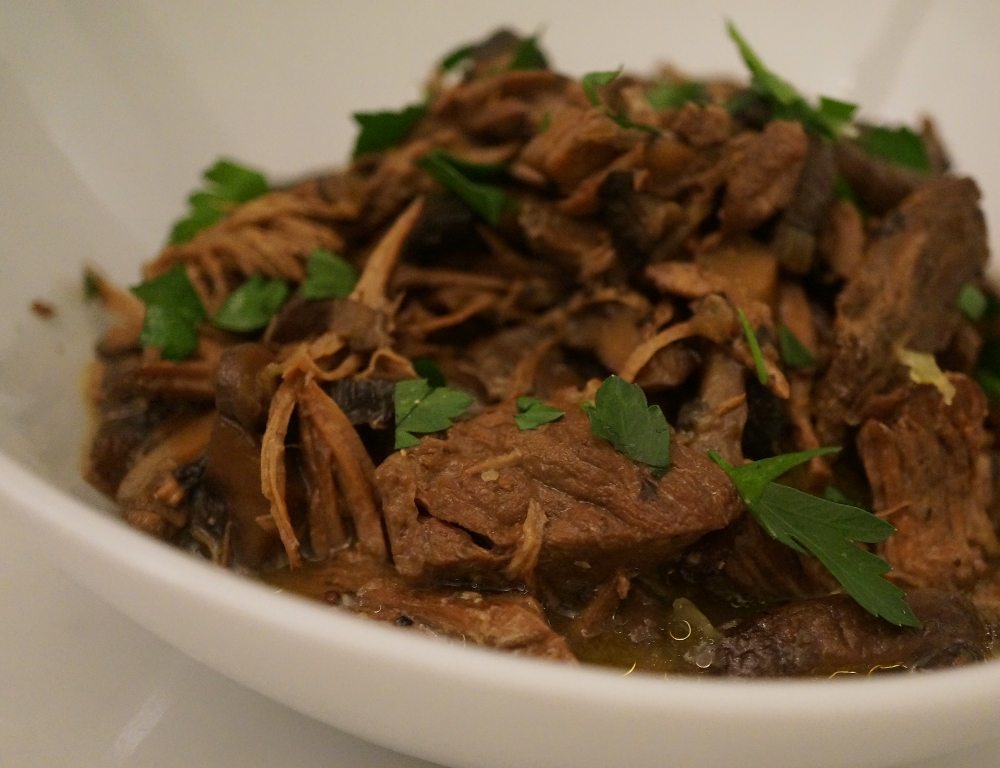 Third, I used a reduced fat (5%) sour cream instead of the full fat stuff a traditional recipe would require.  I also didn't put too much cream in there because I didn't want to lose that flavourful all-day-stewing beefy flavour from the broth.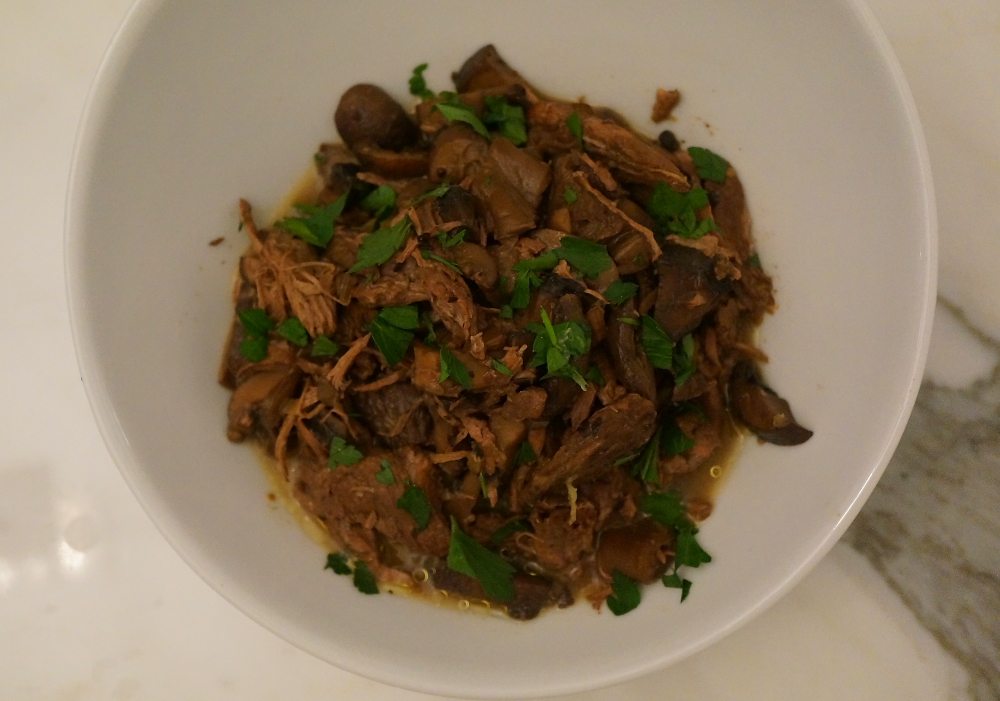 Forth, of course, I enlisted the help of my beloved crock-pot. This recipe literally took me 10 minutes to prep in the morning. When I got home in the evening, I threw my spaghetti squash in the oven for a little over an hour, whipped together a quick salad, finished up some other household chores and sat down to dinner shortly after the squash was cooked. Super fast, super easy, super duper good.  This is what I did:
Lightened Up Mushroom and Beef Stroganoff with Spaghetti Squash Noodles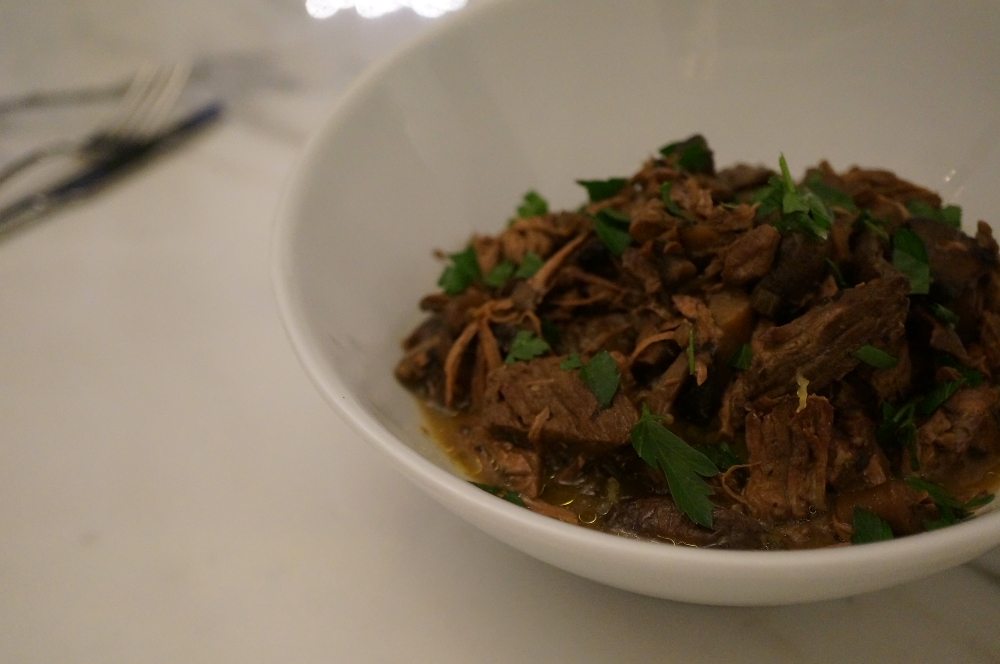 Updated on February 13th, 2016