I have very little to complain about when it comes to my upbringing. My parents are and always have been loving, supportive and caring. They did their best to get us involved in extra-curricular activities like theatre, music, and art (we didn't care much for sports). And while mom wasn't the best cook, she still always tried. But there is something I do feel somewhat (okay, seriously) deprived of- and that is the world of boxed mac and cheese. I'm not talking homemade healthy mac and cheese. I mean KD. We also weren't allowed to have the healthy mac and cheese either so it wasn't that my mom was a hippie health nut.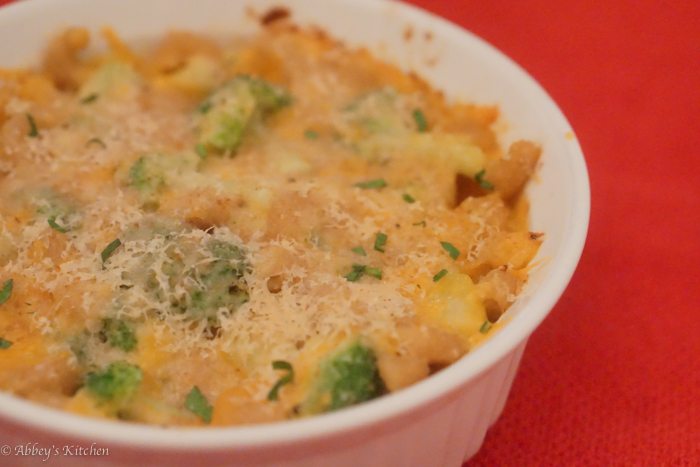 The problem was that mom HATED (and I mean it was and has continued to be pretty much a phobia) the smell/taste/thought of cheese. So real healthy mac and cheese was definitely out but even the fake boxed stuff qualified as a no no. It drove her mad. So mad that one time my dear grandma who surely pitied us for missing out on this childhood right of passage decided to make us KD in our home when she was over babysitting. Let's just say mom was PISSED when she got home- so much so that I remember her storming out of the house and not coming back (side bar- she did come back…after grandma febreezed the hell out of the place).
So where has that left me as an adult? Well let's just say that I spent most of my young adulthood insisting on eating KD or homemade healthy mac and cheese at my friends house every night. Now, I occasionally indulge in the neon orange stuff once in a while over a trashy cottage weekend, but for the most part, I like to make my own version at home. Even when it is homemade, though, Mac and Cheese is not a low cal meal. It's basically just pasta, cream and loads of full-fat cheese- comforting yes, but slimming, not so much. But I set out to change all that with this healthy mac and cheese.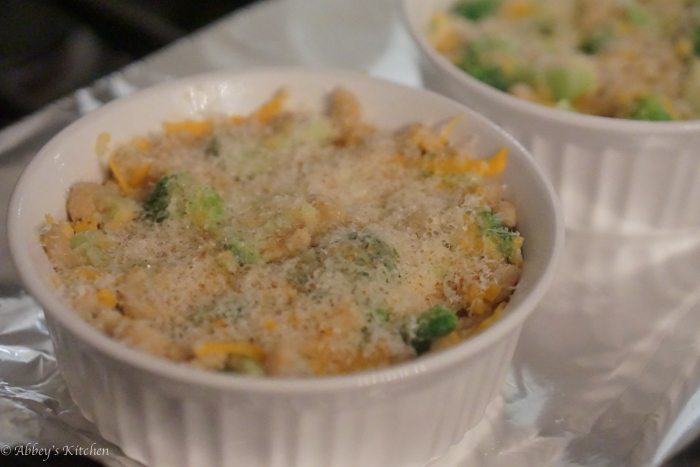 How to Make Healthy Mac and Cheese
First of all, I cut the pasta serving down significantly in my healthy mac and cheese by adding steamed broccoli to the casserole. That helps bulk things up nicely without adding any significant calories to the dish. Next, I skipped the roux and creamy sauce and used a combination of fat free evaporated milk and (drum roll please) cauliflower puree. Yes, pureed cauliflower not only adds great fibre and nutrition but it's thick and creamy enough to carry the cheese into a thick sauce.  Finally, I used a combination of strongly flavoured cheeses so that a little bit goes a long way.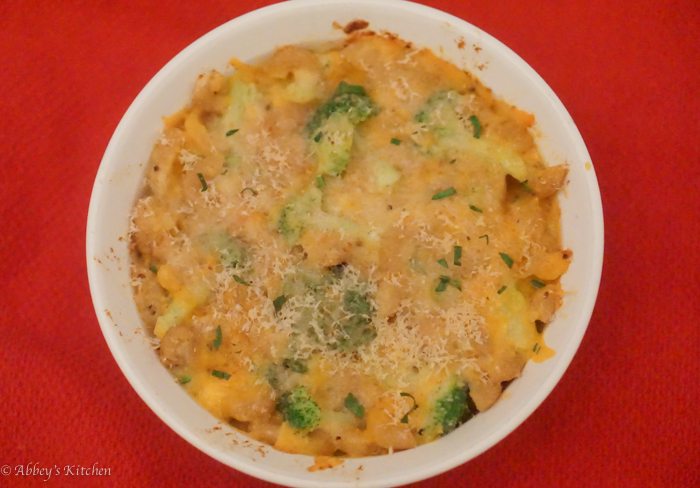 So say buh bye to the crappy blue box stuff or to high calorie restaurant versions of this comfort food classic. If you're resolving to eat better in 2015 but don't want to give up your family's faves- then you'll want to add this recipe for healthy mac and cheese to your regular repertoire.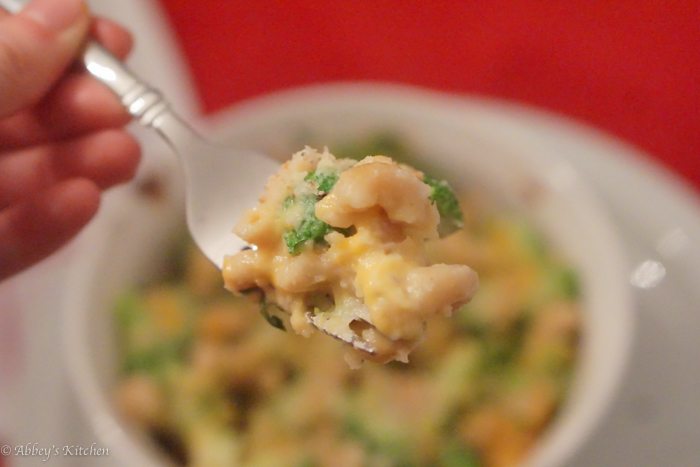 Let me know what you think! Do you love KD? Looking for a healthy mac and cheese alternative? Leave me a comment below with your thoughts!
Low Fat Healthy Baked Mac n' Cheese
So say buh bye to the crappy blue box stuff or to high calorie restaurant versions of this comfort food classic.
Ingredients
1

crown of broccoli

cut into small florets

3/4

cup

dry whole-grain macaroni pasta

or another small short-cut pasta

250

g

frozen cauliflower

1/4

cup

plus 2 tbsp skim evaporated milk

1

pinch

grated nutmeg

2

oz

old cheddar cheese

grated

2

tbsp

Parmigiano Reggiano cheese

finely grated

Pinch

salt and pepper

pinch of each, to taste

1 1/2

tbsp

Parmigiano Reggiano cheese

2

tbsp

Italian bread crumbs

1

tbsp

extra virgin olive oil

1

tbsp

flat-leaf parsley

chopped
Instructions
Preheat the oven to 350º. Grease two 2-cup ramekins and place on a baking tray lined with foil.

Bring a pot of well-salted water to a boil and add the pasta. Cook for 4 minutes, then add in the broccoli florets and cook for another 1 1/2 minutes. Remove the pasta with a slotted spoon to a bowl.

With the water still boiling, add in the cauliflower. Boil until very soft, about 5-7 minutes, depending on the size of the florets.

Using that slotted spoon, transfer the cauliflower to a blender and add a few tablespoons of the starchy cooking water. Start to puree until smooth. Add in the evaporated milk and blend until combined. Season with a bit of ground nutmeg and pinch each of salt and pepper.

Pour into a small saucepan with the 2 tbsp of parmesan and half of the cheddar cheese. Stir over medium low heat until the cheese melts.

Turn off the heat, then add in the pasta, broccoli, and remaining cheese. Season with salt and pepper again, if needed.

Divide the mixture between the two ramekins.

In a small bowl, mix together the cheese, breadcrumbs, parsley and oil. Sprinkle evenly on top of each of dish. Bake for about 20 minutes, until the cheese bubbles gently at the corners and the topping is golden brown. Enjoy!
Nutrition Facts
Low Fat Healthy Baked Mac n' Cheese
Amount Per Serving
Calories 320
* Percent Daily Values are based on a 2000 calorie diet.
Updated on June 7th, 2017