Last week I shared a fantastic dairy-free breakfast idea for Christmas morning for a Cinnamon Baked Breakfast Slice. That, of course, really got me thinking about other healthy quick meals to enjoy around the holidays to help balance out all the indulgences of the big feasts and cocktail parties.  What about Christmas lunch? This gluten free quinoa salad has become my go-to pick.
Now, I don't know about you, but when I'm entertaining a crowd, I often get so busy in the kitchen basting my turkey and rolling my pie dough that I sometimes forget to eat. Let me tell you, folks- low blood sugar and sharp kitchen appliances are NOT-A-GOOD-COMBINATION. I have had a few cooking related ER visits and it's always during the holidays. But like with that Christmas bake, this year, I'm planning to get organized ahead and whip up a quick healthy lunch the night before.  Ideally something with a good combination of protein, fibre and healthy fats that will give me energy, stabilize those blood sugars and keep me satiated until the big epic feast at night. This will hopefully also help deter me from snacking my way through chocolate truffles and candies all day long. I'm also one of the 7 million Canadians who identify as lactose intolerant so to balanced out the obligatory holiday treats like Aunt Sue's creamy custard, and Grandma's buttery potatoes, I try to opt for dairy-free recipes when I can. No one wants to sit down to the holiday feast already feeling bloated from a dairy-heavy breakfast or lunch.
Gluten Free Quinoa salad for the Holidays
This recipe for Gluten Free Quinoa Salad with Almonds and Herbs by Voula Halliday totally fits the bill as a fantastic dairy-free make-ahead vegan lunch for Christmas Day.  The base is quinoa, a gluten-free unique vegetarian source of "complete protein" that contains all of the essential amino acids your body needs. Normally most people would just cook quinoa is standard grade tap water, but for a creamier, fluffier and more flavourful grain, I use So Nice Organic Unsweetened Almond Milk! The result is a more distinguished nutty flavour that is balanced out beautifully by the fresh herbs, sprightly lemon and toasty almonds on top.
Swapping your standard water with So Nice Almond Milk in your gluten free quinoa salad is also a great way to squeeze in some extra nutrition! It's super low in sodium, fat and calories (only 30 per cup!), yet is an excellent source of riboflavin, vitamin D, vitamin B12 and calcium. Since I discovered I was lactose intolerance a few years ago, I've been using almond milk religiously in everything from my coffee, cereal, baking and savoury fare like this.
So Nice in particular is my go-to brand for recipes like this gluten free quinoa salad because it's made in Canada with 100% real whole almonds that are both certified organic and completely non-GMO. This is really important to me, and according to a recent survey, choosing organic non-GMO products is priority around half of you as well.
So if you're a bit of a scatter-brain on the day of the holiday feast, but want to make sure you and your family has some balanced fuel throughout the day (and no, that doesn't mean just binging on gifted chocolates), try this fantastic recipe for gluten free quinoa salad for lunch. For some more great recipes using lactose-free milk alternatives like this one, check out www.sonice.ca!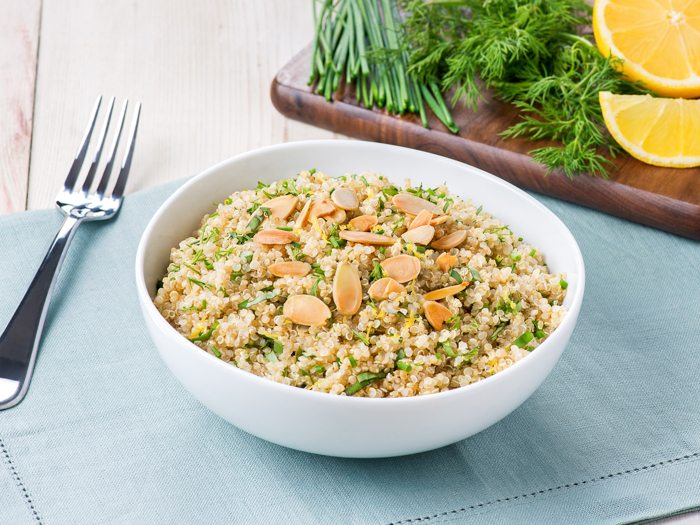 Make-Ahead Dairy and Gluten-Free Almond and Fresh Herb Quinoa Salad
This recipe for Gluten Free Quinoa Salad with Almonds and Herbs by Voula Halliday totally fits the bill as a fantastic dairy-free make-ahead vegan lunch for Christmas Day.
Ingredients
1

cup

quinoa

250 mL

2

cups

So Nice Almond Unsweetened almond beverage

500 mL

1

lemon

1/4

cup

extra virgin olive oil

60 mL

1/4

cup

lemon juice

60 mL

1/2

tsp

black pepper

freshly ground, 2 mL

1/4

tsp

salt

1 mL

1/2

cup

fresh parsley

125 mL

1/2

cup

fresh dill

125 mL

1/4

cup

fresh chives

60 mL

1/4

cup

fresh basil

60 mL

2

green onions

1/4

cup

toasted flaked almonds

60 mL, optional
Instructions
Rinse the quinoa in water and drain well. In a small saucepan, set over high heat, bring the quinoa and So Nice to a boil.

Reduce heat to a low simmer and cook, uncovered (to avoid foaming) until all the So Nice is absorbed, about 15 to 18 minutes, watching so that it doesn't burn. Set aside to cool.

Grate the zest of lemon and place in a large bowl together the olive oil, lemon juice, pepper and salt. Finely chop the parsley, dill, chives and basil, and finely slice the green onions. Place prepared quinoa, chopped herbs and green onion into the bowl with the vinaigrette. Combine ingredients just until salad is evenly mixed.

Cover and chill for 1 hour before serving, for best results. This salad can also be made a day ahead. Sprinkle with toasted almond flakes to garnish before serving, if desired.
Nutrition Facts
Make-Ahead Dairy and Gluten-Free Almond and Fresh Herb Quinoa Salad
Amount Per Serving
Calories 330
* Percent Daily Values are based on a 2000 calorie diet.
Disclaimer: The preceding blog post was created in partnership with So Good, however, as always, all opinions are genuine.
Updated on June 7th, 2017