This matzo ball soup recipe with kale, chicken, ginger and other medicinal ingredients is sure to put a kibosh on cold and flu season.
As the season shifts and cool weather sets in, we're probably going to be seeing a lot more klenex in the board room, more empty desks in the cubical, and be saying "bless you" like a broken record everywhere we go. Yep, it's cold and flu season folks. Everyone has their own go-to home cold remedies likely passed down (usually maternally) from generations. Some families swear by tea with lemon, and honey. Others try to sweat it out with spicy food. But around the world, across cultures, it seems that every mom can agree that a bowl of chicken soup can cure anything.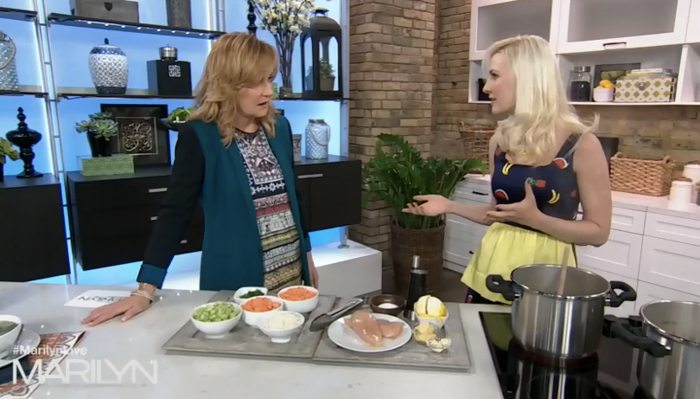 So what's the deal with a simple matzo ball soup recipe and curing the common cold and flu? Well, admittedly, the research is a bit conflicting on its effectiveness, but I do see a number of reasons why it's a great go-to food.
First, when you think about it, soup is mainly water, and when you're sick, you're dehydrated and need to up those fluids. You're coughing, sneezing, vomiting, (and seeing it come out the other end, too!)- you're losing a lot of fluids. Soup is a great way to up your intake.
Second, research has shown that a hot bowl of steaming soup can help to loosen up clogged up mucus so you can cough it up (hopefully, not in your delicious soup).
Third, (and this is perhaps where the research is still fairly preliminary), there is some evidence to suggest that chicken soup may help inhibit neutrophil migration which is part of the body's inflammatory response to viral inflections. In other words, it may help reduce the inflammatory symptoms of being sick.
But most importantly, folks, chicken soup or matzo ball soup is comfort food, especially when it's made by someone you love. And what's good for the soul is good for the body, and that's good enough for me.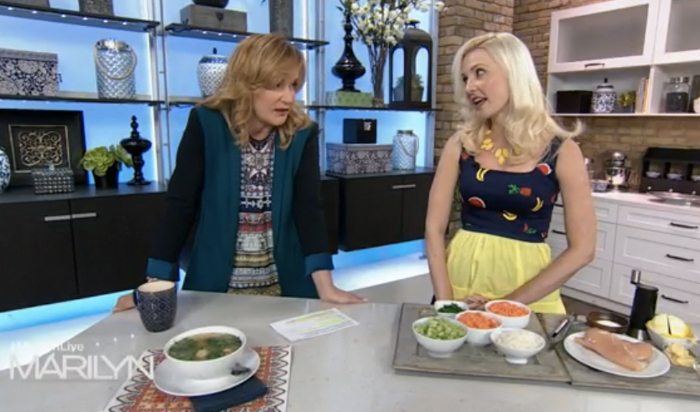 Now, everyone has their own take on chicken soup, but I grew up reaching for matzo balls when I was down. It's funny because I wasn't raised in a Jewish home but yet I was somehow innately drain to the wholesome comfort in the humble food. A classic matzo ball soup recipe is basically made up of just a few ingredients- matzo meal (ground up matzo crackers), eggs, salt, cold water and schmaltz. Now, schmaltz for the unacquainted is rendered chicken fat and it's delicious but it's high in saturated fat. So I lighten mine up a bit with a neutral canola oil, whole grain matzo meal and I use an egg white in place of one of the whole eggs. Trust me, your Bubbe won't even know.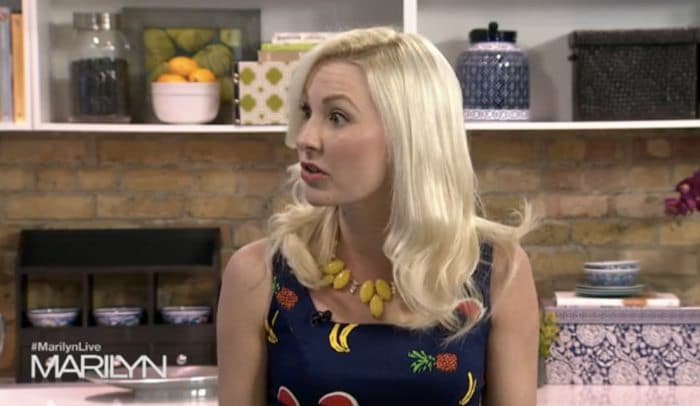 How to Make a Matzo Ball Soup Recipe Cold & Flu Season Ready
I also doctored up a basic store-bought reduced sodium chicken broth to get lots of cold fighting nutrition in there. This is so easy to pull off at home! Just add a little garlic, ginger and lemon in with the broth when you poach the chicken and fish them out before you go to serve. You can also make a big batch of this "enhanced" broth and freeze it for any time you want to make soup. Next I load up on some of my favourite antioxidant-rich veggies- carrots, sweet potatoes, onion, and kale. Then you just steam off those matzo balls, mix in that chicken and bam! Comfort cure soup to the rescue. Just tell me you don't feel better just looking at that.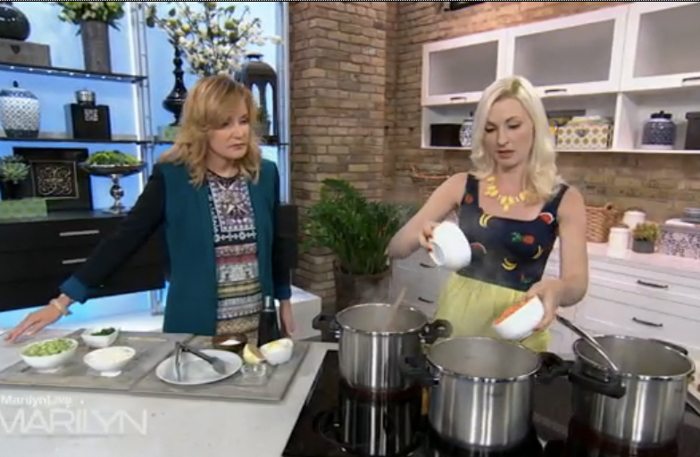 What are your favourite cold and flu remedies? Have you tried this matzo ball soup recipe with kale, chicken and ginger?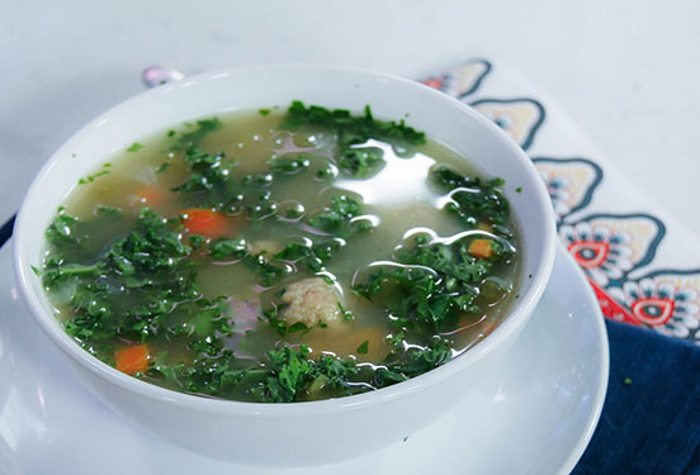 Matzo Ball Chicken Soup for Cold & Flu Season
This matzo ball soup recipe with kale, chicken, ginger and other medicinal ingredients is sure to put a kibosh on cold and flu season.

Ingredients
Matzo Balls
2

large eggs

1

large egg white

1/2

teaspoon

salt

3/4

cup

whole wheat matzo meal

1

tablespoon

canola oil

3

tablespoons

cold water
Chicken and Broth
8

cups

reduced-sodium chicken broth

1

inch of peeled ginger

sliced thin

2

cloves

garlic

cut in half

1

tbsp

lemon juice

Peel of 1 lemon

shaved into strips

2

small chicken breasts

skinless, and boneless
Vegetables
2

large carrots

peeled and diced

1

sweet potato

peeled and finely diced

1/2

small onion

diced

1

cup

celery

diced

2 1/2

cups

kale leaves

chiffonade

2

tbsp

minced parsley

to garnish
Instructions
Whisk eggs, egg white and salt in a medium bowl. Whisk in matzo meal, oil and water. Cover and chill for at least 1 hour or overnight.

Fill a large pot with chicken broth, ginger, garlic, lemon juice, lemon peel, and chicken breasts. Bring to a boil, then reduce heat to medium low and allow to simmer partially covered for 15 minutes. Turn off the heat, cover and steep for another 20 minutes.

Once chicken is cooked through, remove the ginger, garlic and lemon peel and discard from the broth. Shred the chicken breast and keep aside.

Meanwhile, roll the chilled matzo dough into teaspoon sized balls.

Bring the broth back up to a boil and add in the sweet potato, carrots, celery, and onion.

Reduce the heat to medium low, and add the matzo balls to the simmering broth. Cover and cook for 15 minutes. Do not lift the lid: the broth must simmer rapidly to allow the matzo balls to expand properly.

Add the kale and the shredded chicken, and cook uncovered, until the kale wilts and softens, about 2 to 3 minutes. Ladle into bowls, sprinkle with parsley and serve.
Nutrition Facts
Matzo Ball Chicken Soup for Cold & Flu Season
Amount Per Serving
Calories 413
Calories from Fat 90
% Daily Value*
Fat 10g15%
Cholesterol 154mg51%
Sodium 2412mg105%
Potassium 1206mg34%
Carbohydrates 44g15%
Protein 36g72%
Vitamin A 17560IU351%
Vitamin C 58mg70%
Calcium 145mg15%
Iron 3mg17%
* Percent Daily Values are based on a 2000 calorie diet.
Updated on May 20th, 2020