It's a new year and that means a crazy-pants rush after our few days, hours, or weeks away from the office. At least that's how my January is shaping up. Well, I have literally come back from the holidays to an insane rush of long workdays that virtually make it impossible (and let's be honest, just really undesirable) to have to spend hours in the kitchen to make a meal. That's why I adore my slow cooker for meals like these slow cooker cabbage rolls.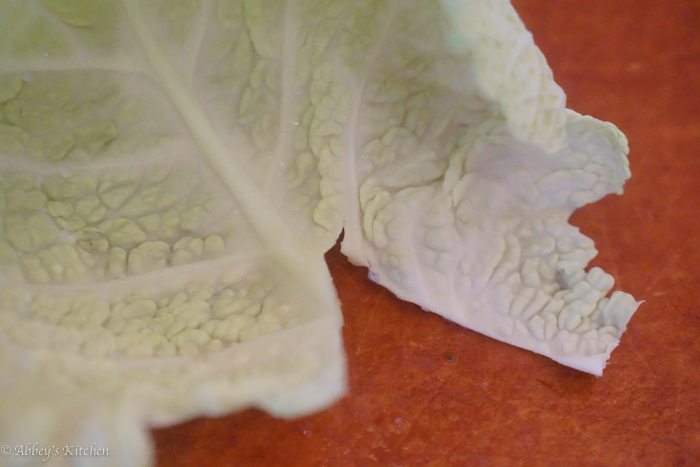 Slow cooking really is such a time saver for families who work long hours or who have members all over the place and needing to eat at different times. I was raised in a super crazy busy household where my sister and I both always had a million after school activities to get to, so having the option to just serve ourselves when we were hungry really helped my momma out.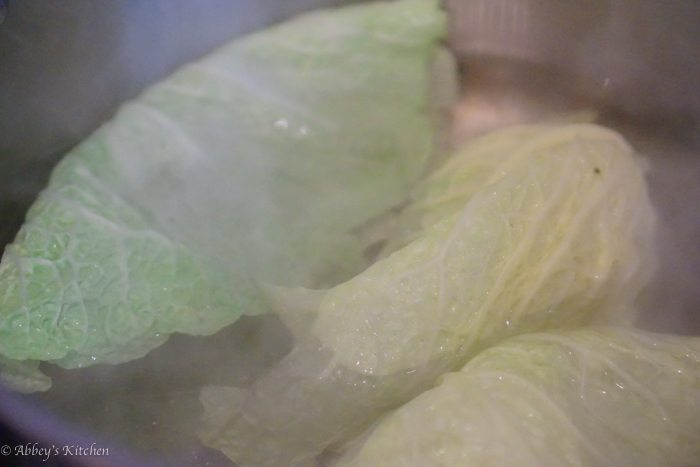 Slow Cooker Cabbage Rolls made Healthy
This easy slow cooker Cabbage Rolls uses my sneaky technique of adding minced mushrooms to ground meat to "beef" up the portion, and reduce calories and fat. Mushrooms have the magical ability to mimic the flavour and texture of ground meat, so it really helps you get more meaty bang for your buck (financially and nutritionally, speaking as well).  I also substituted the traditional rice with protein-rich gluten-free quinoa, which I always have in the pantry as a staple side or salad booster.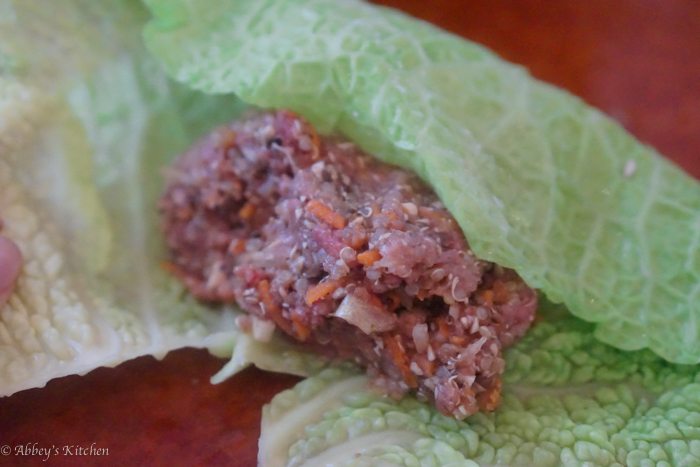 These slow cooker cabbage rolls also features sauerkraut, which is quickly becoming a super hot ingredient in the nutrition world. See, sauerkraut is fermented cabbage which means it's a great probiotic that feeds the good for you bacteria and promotes strong gut health. The challenge with sauerkraut, though, is that it tends to be high in salt, so I do a few things to help myself out. First, I look for a low sodium brand if possible, ideally in the refrigerator section of the store rather than the shelf staple brands. And second, I rinse the hell out of it. This will significantly drive down the salt because you're literally washing it away so then you're just left with the probiotic properties and a really satisfying tangy flavour.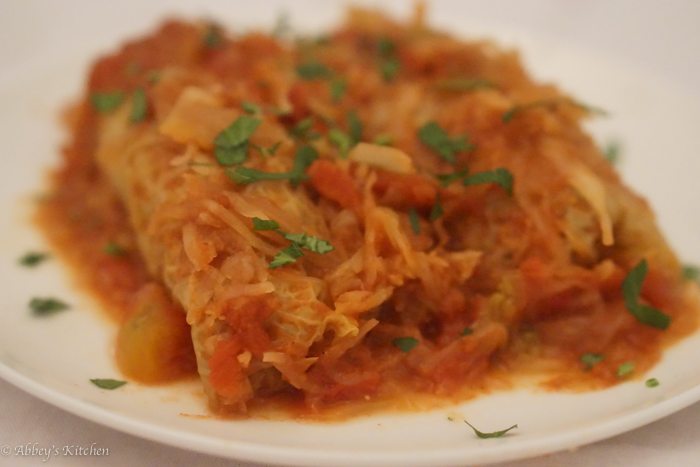 The result is a super yummy cool weather comfort slow cooker cabbage rolls dish that is literally a meal all on itself. Just serve it up with a little steamed veg or a leafy salad and you've got an incredibly well balanced nutrient rich supper.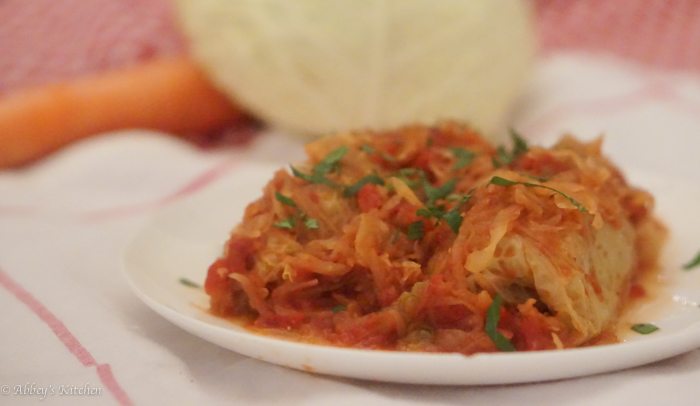 Check out my segment on Marilyn Denis where I show you the step-by-step process for this super easy slow cooker cabbage rolls recipe. Have you tried making slow cooker cabbage rolls? What is in your family's cabbage rolls?
Meaty Quinoa & Sauerkraut Crockpot Cabbage Rolls – Super Healthy Comfort Food for the Slowcooker
This easy slow cooker Cabbage Rolls uses my sneaky technique of adding minced mushrooms to ground meat to "beef" up the portion, and reduce calories and fat.
Ingredients
1

head of savoy cabbage

leaves separated, tough end of rib cut out

1

egg

1

cup

white or yellow onion

minced

1

cup

carrot

finely grated

1

clove

garlic

minced

1

tsp

smoked paprika

1/2

lb

extra lean ground beef

1/2

lb

extra lean turkey

1

cup

cooked quinoa

8

oz

mushrooms

finely minced to a ground meat texture (in food processor)

1/2

tsp

salt

1/2

tsp

pepper

1 1/2

cups

low/no sugar added tomato pasta sauce

1/2

cup

low sodium sauerkraut

drained and rinsed well

28

oz

can of diced tomatoes

drained very well

1/2

tsp

smoked paprika

1

tbsp

honey

1/2

tsp

worchestershire sauce

Salt and pepper

to taste
Instructions
Bring a pot of salted water to a boil over high heat. Boil cabbage leaves for 2 minutes.

Whisk together the sauce ingredients.

In a separate bowl, combine the cooked quinoa, egg, onion, garlic, paprika, mushrooms, meat, salt and pepper.

Scoop about 1/3 cup of the ground turkey mix into the center of each cabbage roll. Roll up the leaves, tucking in the ends. Place in crockpot, top with tomato sauce and cover.

Cook on low for 8 to 9 hours or on high for 4 to 5 hours.

Serve the cabbage rolls with the tomato sauce.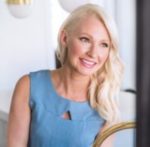 Abbey Sharp is a Registered Dietitian, an avid food writer and blogger, a cookbook author and the founder of Abbey's Kitchen Inc.