This salted toffee chocolate ice cream with crunchy honey comb is sure to make everyone swoon. You will never buy store bought ice cream again.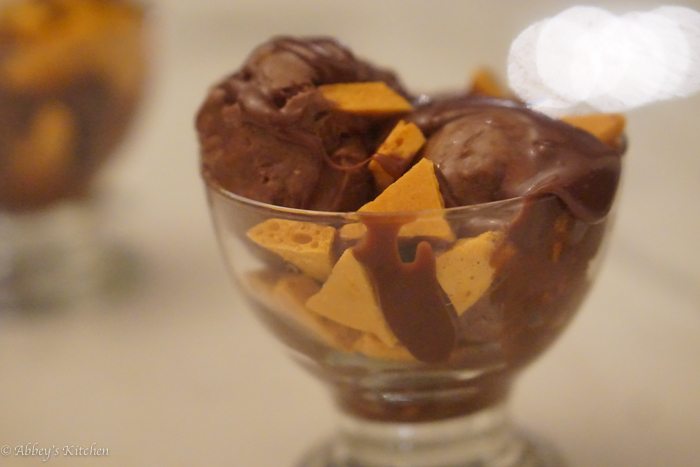 Ice cream is my favourite treat regardless of season or weather. If I were to be told I could have a delicious ice cream cone, but I would have to eat it outside during a blizzard, I'd probably shrug my shoulders and suck it up. That's how much I love ice cream.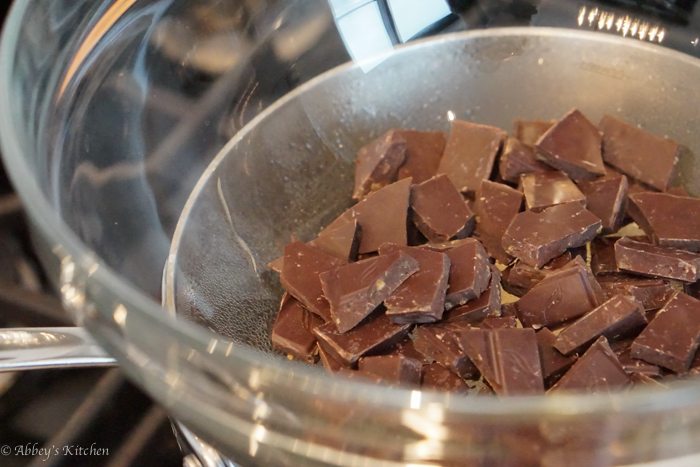 My lovely partner also is an ice cream fiend, so between the two of us, we go through a lot of it each week. The problem is (if you want to call it a problem), we both have different preferences when it comes to flavours.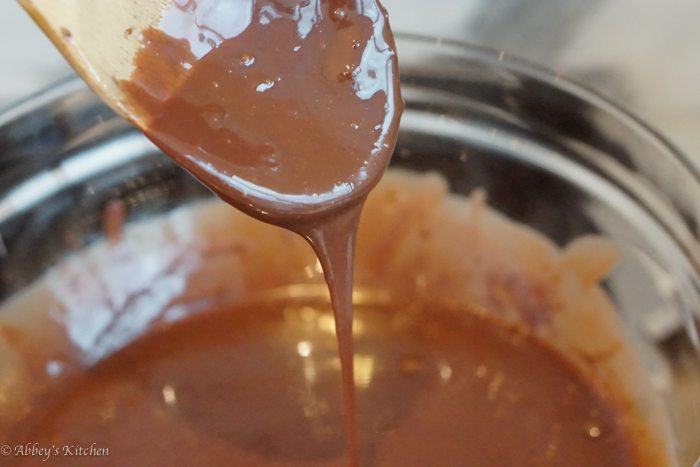 He is an old school classic chocolate man and it doesn't matter if an ice cream parlour has 50 different flavours, he always just orders plain chocolate.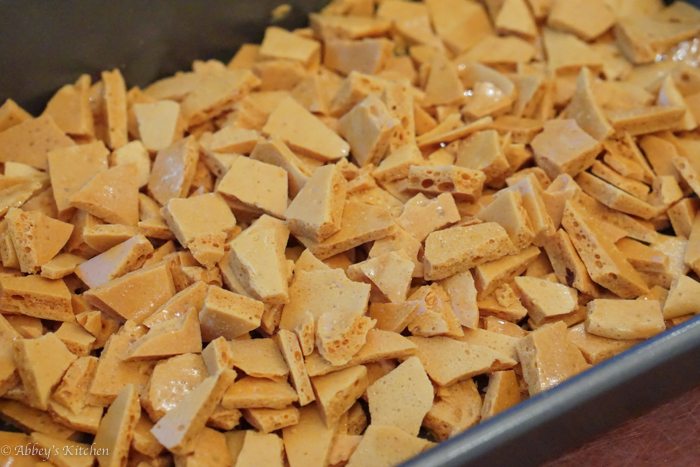 Um, can you say boring? When I go to the ice cream shop, I insist on sampling at least 3 different flavours and even still, I can't decide.
If the rest of the people in line weren't all staring at me, I would probably sample more. Usually this results in me getting small scoops of all of them, but still, I always aim to go with something new and unique.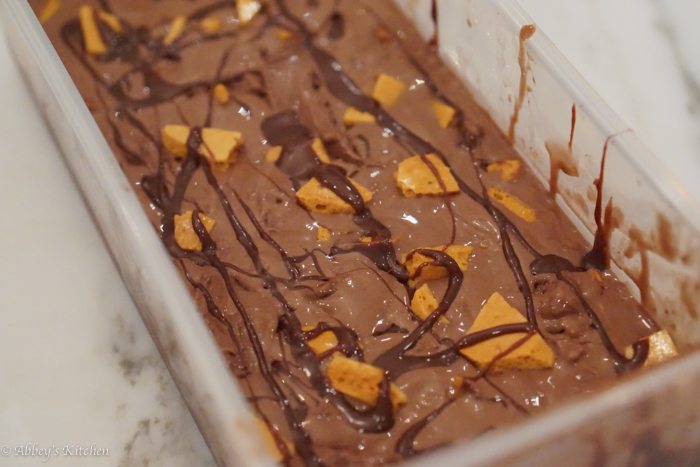 Salted Toffee Chocolate Ice Cream – Upgrade the Classic
Yes, I gave my man his beloved chocolate base, but I jazzed things up with some fun add-ins for contrast of flavour and texture. WAY BETTER, RIGHT?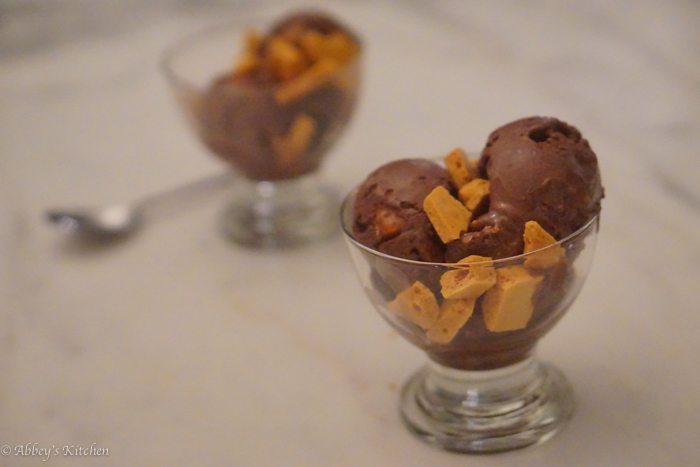 The result? A batch of really decadent Salted Toffee Chocolate Ice Cream that is just not going to last in this house- even if we get a blizzard tomorrow and the rest of Canada stops thinking of frozen treats, I can guarantee you, I'll polish this off.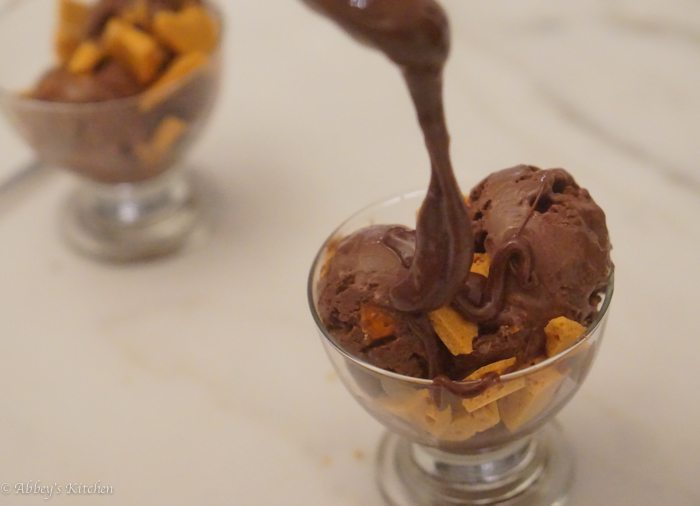 Unlike peep toe pumps, this Salted Toffee Chocolate Ice Cream with Honey Comb is appropriate any time of year. Check out what I did!
Do you have a favourite ice cream flavour? How does this Salted Toffee Chocolate Ice Cream with Honey Comb sound to you?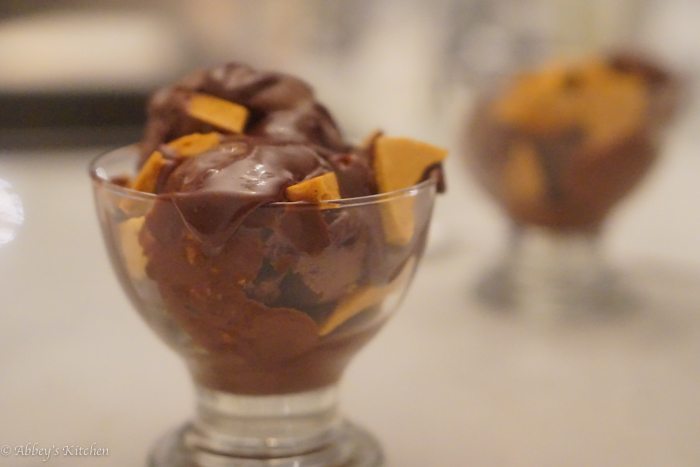 Milk Chocolate Ice Cream with Salted Dark Chocolate Toffee Swirl and Honey Comb
Inspired by Epicurious' Chocolate Ice Cream, this salted toffee chocolate ice cream with crunchy honey comb is sure to make everyone swoon. You will never buy store bought ice cream again.
Ingredients
Ice Cream
200

g

Green & Black Milk Chocolate Bar

finely chopped

6

Egg Yolks

3/4

cup

White Sugar

divided

1 1/2

cups

Whole Milk

1/2

cup

heavy cream

1/3

cup

Cocoa Powder

unsweetened

2

tbsp

Water

1/3

cup

Heavy Cream

1

tsp

vanilla extract
Swirl
100

g

Dark Chocolate Toffee Bar

chopped

14

oz

can Sweetened Condensed Milk

1

Pinch

Fleur de Sel
Honey Comb
3/4

cup

White Sugar

1/4

Golden Corn Syrup

3/4

tsp

Vanilla Extract

2

tbsp

Water

1

tsp

Baking Soda
Instructions
Ice Cream
Prepare a large bowl filled with ice and cold water and set aside.

In a medium bowl, beat the egg yolks with 6 tablespoons of sugar until you get thick ribbons, about 2 1/2 minutes. Set aside.

Meanwhile, set the chocolate in a glass or metal bowl over a medium heavy saucepot filled a few inches with water. Heat on medium until simmering, but not boiling. Stir the chocolate until melted and smooth. Remove from heat and set aside.

In a small saucepan, add the milk and cream with the cocoa powder. Whisk until fully combined and increase the heat to medium. Once it starts to boil around the edges, remove from the heat and set aside.

Slowly whisk half of the hot milk mixture into the melted chocolate, a few additions at a time. At first, it will look like you curdled the chocolate- that's good. Keep stirring. After a few more additions, it will smooth back out again. Set aside.

With the other half of the milk, slowly whisk it into the egg yolks, just a few tablespoons at a time.

Slowly add the chocolate mixture to the egg mixture, whisking constantly.

Once fully combined, return everything to the medium saucepot. Switch to a wooden spoon, and stir gently over low heat until a thermometer shows 175 F, around 4-5 minutes. Make sure to go slow and simply just wait.

Quickly transfer the custard to a bowl and set that bowl over the ice-filled bowl. Stir with the wooden spoon until it starts to cool down. Allow it to continue to cool over ice.

Rinse out small saucepot and return it to the medium high heat with the 6 remaining tablespoons of sugar and 2 tablespoons of water. Swirl it until the sugar dissolves, and if needed, brush down the sides of the pan with a pastry brush dipped in water if you see crystals forming. Do not stir the sugar! Once the sugar reaches a moderate amber colour and the thermometer reads 350 F, take it off the heat.

Slowly whisk the additional 1/3 cup of cream and into the sugar mixture and then remove from heat. Stir in vanilla.

Whisk the caramel into the chocolate custard, then you can strain through a fine sieve into a flat container. Cover and chill for at least 5 hours to over night.
Swirl
Place the metal or glass bowl over a pan full of simmering water again. Add the chopped chocolate, and stir until melted. Remove from the heat and stir in the condensed milk and salt.

Transfer to a container until ready to use. If preparing a day or more before processing the ice cream, you can reheat the sauce in a saucepan or microwave, just until soft again (don't let it get too hot and pour it on your cold ice cream).
Honey Comb
Line a baking sheet with a silpat or greased parchment paper.

Combine the sugar, syrup, vanilla and water in a saucepan and heat to medium-high. Without stirring, allow it boil until it reaches 300-310 F, brushing down the sides with a wet pastry brush if you see any sugar crystals jumping up. This will probably take about 7-8 minutes.

Remove from the heat and add in the baking soda, whisking until it is fully combined. Transfer to the greased sheet and allow to cool to room temperature before touching. Break or cut into very small bite sized pieces and store in a closed container at room temperature.
Assembly
Process the ice cream according to manufacturers instructions. Once finished, transfer 1/4 of the ice cream back to a flat tuberware container and spread it out smooth. Drizzle over 1/3 of the fudge sauce and sprinkle with 1/3 of the chopped honey comb. Repeat with remaining three layers of ice cream, finishing with the ice cream.

Transfer to the freezer and freezer for at least 2 hours until solid before serving. Enjoy!
Nutrition Facts
Milk Chocolate Ice Cream with Salted Dark Chocolate Toffee Swirl and Honey Comb
Amount Per Serving
Calories 459
Calories from Fat 207
% Daily Value*
Fat 23g35%
Cholesterol 137mg46%
Sodium 194mg8%
Potassium 341mg10%
Carbohydrates 60g20%
Protein 7g14%
Vitamin A 517IU10%
Vitamin C 1mg1%
Calcium 166mg17%
Iron 3mg17%
* Percent Daily Values are based on a 2000 calorie diet.
Updated on May 20th, 2020