With the warm weather upon us, I'm thinking about two things- grilling and girly cold drinks like pinacolada ! Let's start with the grill though. Grilling is not only a fast and effective way to cook, but speaking as a dietitian, I can tell you that it's definitely one of the healthiest cooking techniques, as well. Grilling can require very little fat, but can add some serious smoky flavour to lean cuts of meat like chicken breasts and tenderloins.
In my opinion, the only real down side to grilling is the inevitable mess it leaves on the grates that someone (aka. me) has to break a sweat grinding off. Not this Summer! A few  weeks ago, I introduced you to my new favourite kitchen tool- the Cookina Barbeque Reusable Grilling Sheet. This non-stick sheet has made my grilled meals easier, cleaner and even healthier since I can go without any added oil and have fewer oil flare-ups risking carcinogens in my food!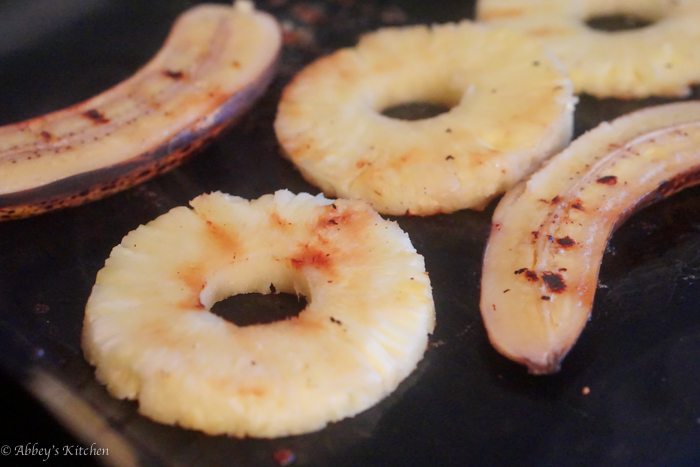 I also love that it's completely washable and reusable, meaning you can cook your steak, wipe it down and then move onto to grilling dessert like my pinacolada napoleon. And that's exactly what I've done with this recipe.
Pinacolada on the Grill
I have spent the past few summers perfecting this healthy pinacolada napoleon recipe, which is included in my most recent cookbook pitch (fingers crossed for moi!). It's a beautiful Spring or Summer dessert for the grill that definitely looks super decadent but is light, gluten free and nutrient-rich thanks to the grilled pineapple and banana. Yep, you heard me! I grilled a banana and the smoky sweet flavour was absolutely irresistible in this pinacolada dessert.  With the Cookina Barbeque Reusable Grilling Sheet, this recipe is an absolute sinch because you don't have to worry about the bits of caramelized fruit sticking to the grill and making a gunky mess.
And what goes with grilled pineapple and banana better than lime, coconut and rum? Yep! It's a pinacolada worthy of a fork and knife!
Give this pinacolada napoleon a try and let me know what you think on twitter, instagram or facebook by using the hashtag #WhatsOnYourGrill ! For more information about the innovative Cookina Barbeque Reusable Grilling Sheet, be sure to check out cookina.co.
Photo Credit: Kyla Zanardi

Pinacolada Napoleon on the Grill
This is a beautiful Spring or Summer dessert for the grill that definitely looks super decadent but is light, gluten free and nutrient-rich thanks to the grilled pineapple and banana.
Ingredients
Toasted Coconut
4

tbsp

unsweetened medium flake coconut

divided
Meringues
1/16

tsp

cream of tartar

1

egg white

1/4

cup

fine sugar

1

drop vanilla extract

1

drop coconut extract
Grilled Fruit
Cookina Barbeque Reusable Grilling Sheet

1

pineapple

peeled, cored and sliced into eight 1/2-inch thick rounds

1

banana

sliced in half lengthwise down the middle with the skin on
Filling
1

can of full-fat coconut milk

1/2

cup

fat free plain Greek yogurt

1

Tbsp

powdered sugar

sifted

1

tsp

light rum

1/8

tsp

vanilla extract

1

tsp

lime zest
Lime Sauce
2

tsp

cornstarch

1/2

cup

plus 2 tbsp. water

divided

1/4

cup

white sugar

1/4

cup

lime juice
Instructions
Toasted Coconut
Preheat your oven to 350 F.

Spread the coconut out in a single layer on a baking sheet pan lined with parchment paper. Bake on the middle rack of the oven until lightly browned, about 5-8 minutes. Set aside and allow to cool.
Meringues
Reduce the temperature to 250 F.

Combine the cream of tartar and egg white in a medium bowl and beat with a clean mixer at medium speed until soft peaks form. Add sugar, 1 tablespoon at a time, beating at high speed until stiff peaks form. Add extracts and beat just until blended through. Drop by rounded tablespoons, 2 inches apart, onto a baking sheets covered with parchment paper.

Sprinkle with 2 tablespoons of the toasted coconut. Bake at 250° for 1 hour until very lightly browned and almost crisp, switching baking sheets and rotating front to back halfway through baking time. Remove from oven. Cool for 20-30 minutes.
Grilled Fruit
Grill on each side of the pineapple rings, and the flesh side only of the banana halves with the lid down until you get a bit of char marks, about 4-5 minutes per side for the pineapples, and about 3-4 minute for the single side of the banana. Set aside and let banana and pineapple cool completely.
Filling
Meanwhile, open the can of coconut milk and carefully spoon out 1/2 cup of the coconut cream on the top into a medium bowl. Beat until smooth. Add in the yogurt, powdered sugar, light rum, vanilla extract and lime zest and beat until frothy and thick, about 3 minutes.
Lime Sauce
To make the sauce, dissolve the cornstarch with 1 tablespoon of the water. Set aside.

In a small saucepan, stir together the white sugar, lime juice and the remaining 1/4 cup plus 1 tablespoon of water. Bring to a boil over medium-high heat and stir until the sugar has completely dissolved, about 1-2 minutes.

Reduce heat to low, and stir in the cornstarch mixture. Continue cooking until combined, and thickened to the consistency of thin honey, about 5 minutes. Allow to cool for at least 30 minutes.
Assembly
When ready to serve, break up the meringues into 2-4 pieces each, dice the banana and fold them both into the cream mixture. Place a pineapple ring on each of four plates. Divide the cream mixture amongst the four pineapple rings. Top with another pineapple ring, drizzle the pineapple ring with the lime sauce, and sprinkle with the remaining 2 tablespoons of toasted coconut.
Nutrition Facts
Pinacolada Napoleon on the Grill
Amount Per Serving
Calories 380
* Percent Daily Values are based on a 2000 calorie diet.
Disclaimer: Abbey Sharp is an Ambassador for the Cookina Barbeque Reusable Grilling Sheet, however, as always, all opinions are genuine.
Updated on May 8th, 2019