Pumpkin pie is a North American tradition and is no exception in our home. Each year I try a different approach, recipe or spin on the classic to keep things interesting, and this year I decided to go with a bruleed top. The reason this works so well here is because the texture and consistency of pumpkin pie is somewhat similar to a custard based creme brulee (pre bruleeing of course). It is fairly firm, it's not too "wet", and the ingredients of a pumpkin pie are quite similar to a creme brulee except in different ratios- you got eggs, cream, sugar and then in this case, pumpkin! The key to a successful brulee isn my opinion is having a torch. Sure, you can do it with a broiler, but I find this leads to inconsistencies I would rather avoid- and playing with that broiler it is so dicey. Seriously, one second too long under there and *sizzle*, your entire dish would be ruined. That's why I like the precision of the torch.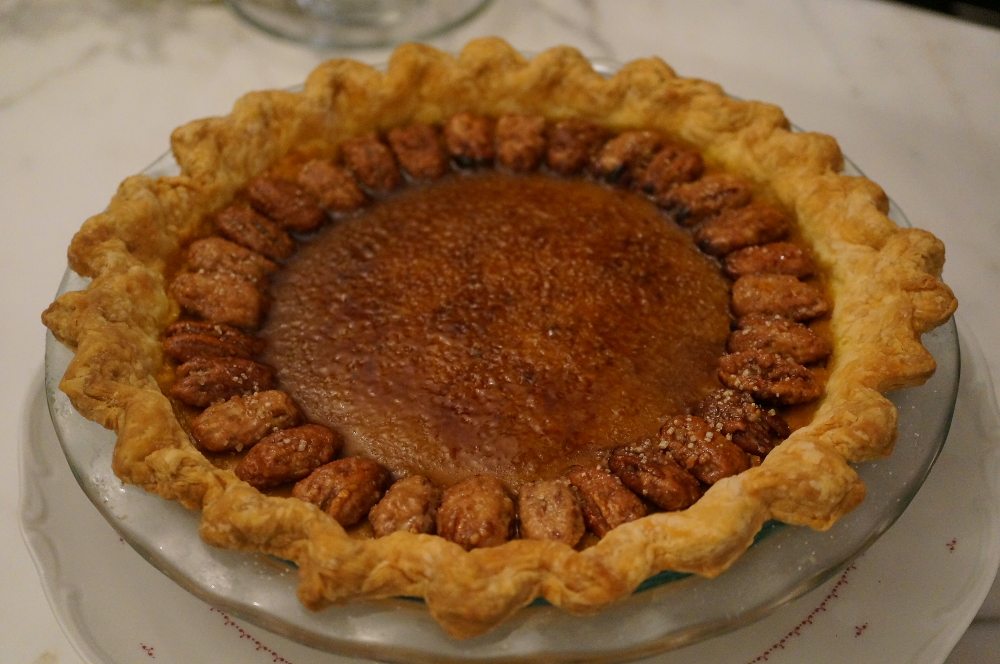 Lets also talk about the crust on this pie. I have been long searching for a pie crust I really like that isn't so dry and dull- but this one turned out fabulous. It is certainly a bit of a more "wet" pastry dough than you may be accustomed to which is why it's a good idea to blind bake it for so long (or else it will stay soggy). The result is a super flaky, almost puff pastry like dough that is perfect for this comforting fall pie. Alright folks, this is what I did.
Pumpkin Pie Brulee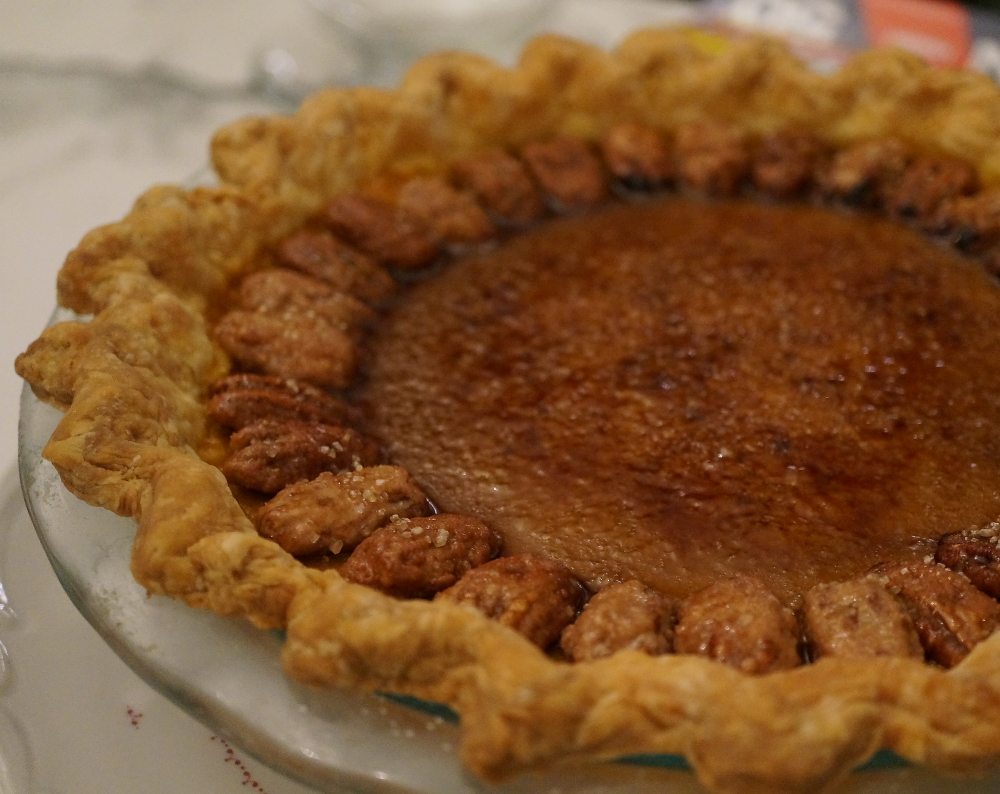 Pumpkin Pie Brûlée
Inspired by Bon Appetit's Pumpkin Pie Brulee
Ingredients
Crust
~1 cup of water

in a jar with ice cubes in it

2 1/2

cups

all purpose flour

1

tbsp

sugar

1

tsp

salt

1

cup

unsalted butter

straight from freezer, cut into small pieces
Instructions
Crust
Whisk together the flour, sugar and salt in a big bowl.

Once combined, add in the butter pieces and work them in with the pastry blender. Once the butter looks like baby peas, stop mixing so you don't overwork it.

Drizzle in about a 1/2 cup of the water into the flour mixture. With a big spatula, pack the dough together. If its still very crumbly, add more water, one spoonful at a time. I usually use about 3/4 cup of water total.

Gently kneed it together into one big ball. Flatten it out into a disk, wrap it in plastic wrap and refrigerate it for at least two hours before rolling it. If you want to freeze it at this point, wrap it in a few layers and a freezer bag and keep for a few months. Let it defrost in the fridge before using.
Pie Filling
In a medium bowl, whisk together the pumpkin puree with the sugar until combined.

Add in the eggs, cream, salt and spices and stir until well incorporated.

Cream

Whip cream on high speed until you can draw waves in it with the beaters and soft peaks form.

Add in the sugars, extract and cinnamon and beet again until combined. Refrigerate until ready to use.
Assembly
Preheat the oven to 375 F.

Flour a surface lightly and roll the dough out until it's approximately 14 inches in diameter. Carefully pick it up and move it to a 9 inch glass pie dish. You can crimp it or prick it or just tuck the sides under. I went for a "sunshine" look with my crimping.

Piece the dough with a fork all over (sides too!), then line with aluminum foil and pie weights/beans. Bake for about 25-30 minutes, until the sides begin to set. Remove the foil and the beans and reduce the oven temperature to 350 F.

Pour the pumpkin filling into the blind baked crust and bake until the center is set and the crust is golden, about 1 hour and 15-20 minutes. Transfer pie to a rack and let cool for an hour before covering with saran wrap and transferring to the fridge.

Remove from fridge and sprinkle with 2 tbsp of the sugar. Using a blow torch, caramelize the sugar until bubbling and browned. Add another layer of 2 tablespoons of sugar and repeat process. Do it one more time for good measure with another 2 tablespoons of sugar. Allow the bubbling to subside and the sugars to harden before cutting in. Serve with maple cream on the side.
Nutrition Facts
Pumpkin Pie Brûlée
Amount Per Serving
Calories 400
* Percent Daily Values are based on a 2000 calorie diet.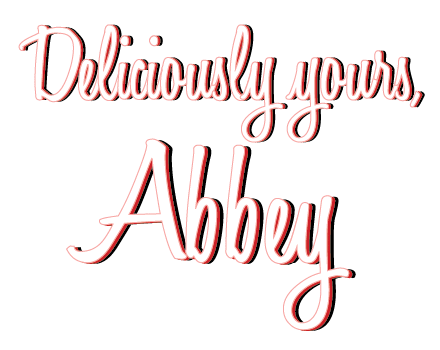 Follow Abbey!
Subscribe to new posts!
Subscribe to my weekly newsletter so you never miss any contests, restaurant news, recipes and more foodie fun!
Email:

You might also like…