This delicious rhubarb spring chicken recipe with oranges and honey will quickly become a favourite for Easter or Passover.
Braised dishes, like this Rhubarb Spring chicken recipe are my go-tos for entertaining because they're pretty forgiving when it comes to timing. The last thing you need is for a time sensitive protein like roasted or grilled steaks, tenderloins or poultry to throw off your entire meal because it's done earlier or later than expected and you're left with the option of your meat making it's way to the table cold or overcooked. Not ideal.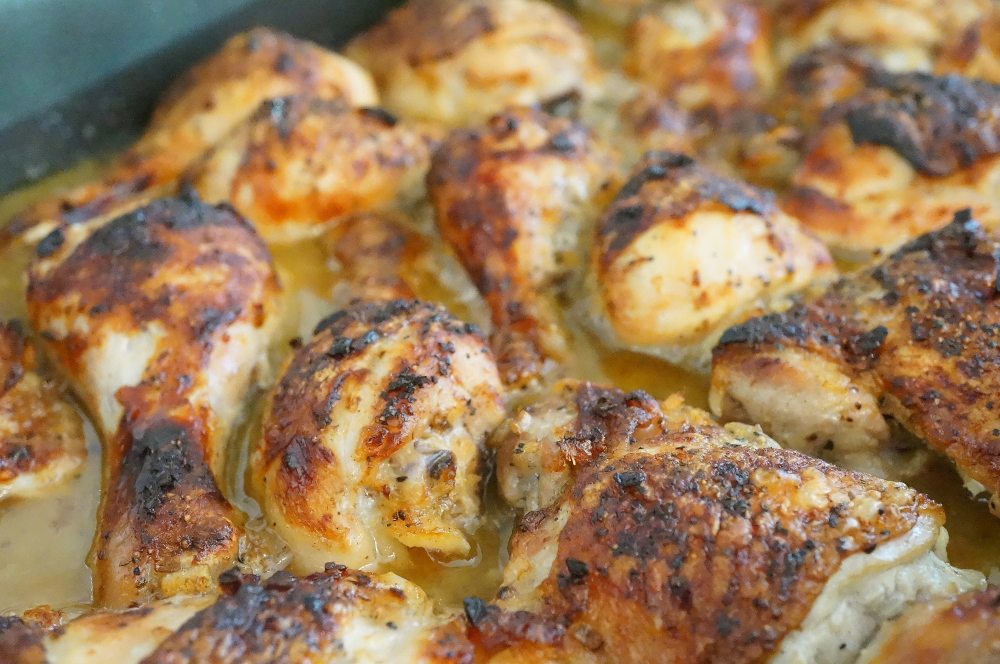 With braising, you can leave it in the oven an extra 15 minutes if needed, or you can make it ahead, and reheat it without it drying out. It's all about that delicious pool of liquid that accumulates and adds so much moisture to the meat, all the while becoming a fabulous broth to sop up. And OMG the sauce in this rhubarb Spring chicken recipe is TO-DIE-FOR.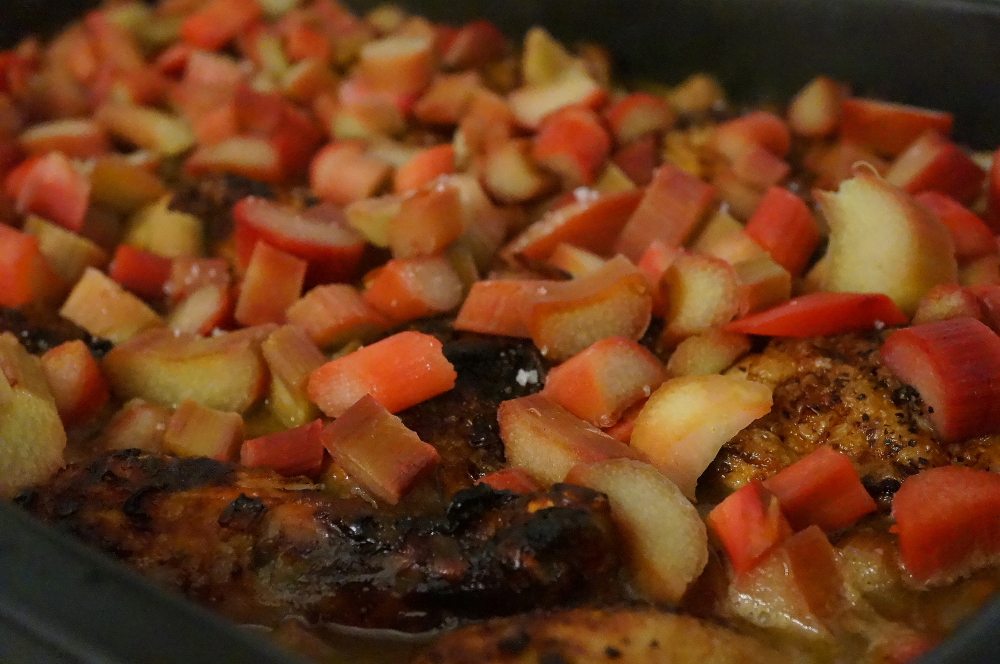 Rhubarb Spring Chicken Recipe – The Only Entertaining Dish You Need!
This Rhubarb Spring Chicken recipe is perfect for Mother's Day, Easter, Passover, or Spring in general with the seasonal Rhubarb, but you can totally pull this off with frozen rhubarb if you miss the short window for fresh rhubarb.
You can also adjust the portions for a smaller family if you're not entertaining- cutting recipe in half would be more than enough for a family of four.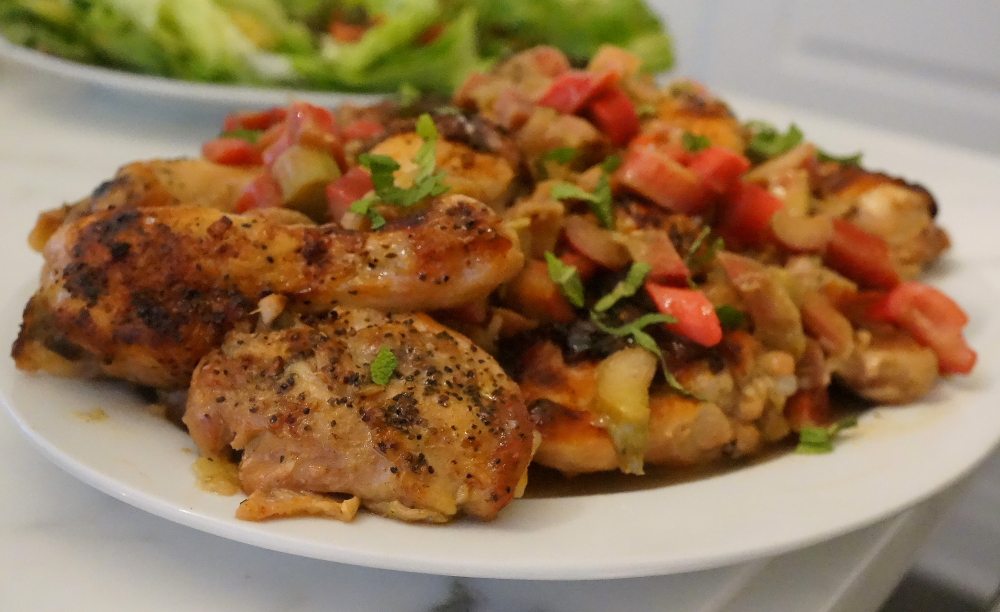 I also used an orange liqueur in this rhubarb spring chicken recipe, which really does soak right into the chicken and add an aromatic orange flavour to juxtapose the sweet honey and tart rhubarb. It definitely cooks out quickly in the hot pan, but if you're concerned about using booze in your cooking, or you just don't have any on hand, feel free to substitute a little extra orange juice in it's place. Check it out and let me know what you think in the comment section below!
Rhubarb, Orange & Honey Braised Spring Chicken
A delicious healthy main dish for entertaining this Spring that the whole family will love.
Ingredients
6

lb

skin-on, bone in chicken thighs and legs

(about 18 pieces)

1

pinch

salt and pepper

pinch of each

2

tbsp

olive oil

4

shallots

finely minced

1/4

cup

fresh ginger

minced finely

1/2

tsp

ground cinnamon

1 1/2

tsp

ground cardamom

1/3

cup

Cointreau

or other orange liqueur

2

cups

low sodium chicken stock

3/4

cup

honey

divided

Juice of 2 medium Cara Cara oranges

2

lbs

fresh or frozen rhubarb

diced into 3/4 inch pieces

Salt and Pepper

to taste

2

tbsp

mint

chiffonade
Instructions
Preheat an oven to 375 F.

Dry the chicken well of any moisture and sprinkle liberally with salt and pepper.

Preheat a large skillet over medium high heat with two tablespoons of oil. In batches of four, sear the chicken on all sides until golden brown, about 6-8 minutes per batch. Transfer the chicken to a large roasting pan and continue with the remaining chicken until everything is browned.

Drain off all but two tablespoons of the fat in the pan. Add in the shallots, ginger, cinnamon, cardamom and a pinch each of salt and pepper, and sauté until fragrant, about 1 minute. Deglaze the pan with the Cointreau, scraping up the bottom of the pan, and allow the alcohol to evaporate and cook down, about 4 minutes.

Add in the chicken stock, 1/2 cup plus 2 tbsp of honey and orange juice and return the chicken to the pan, overlapping the pieces if needed. Bring the liquid to a boil over medium high heat, then transfer the chicken pieces to the roasting pan, skin side up. Pour all of the liquid over the chicken and transfer to the oven. Roast for 30 minutes, uncovered.

Remove from the oven, and nestle all the rhubarb in between the chicken. Cover with tin foil and return to the oven for 30 minutes. Taste the sauce and season with salt and pepper.

Transfer the chicken to a serving platter surrounded by pieces of rhubarb and a few large spoonfuls of sauce. Drizzle with the remaining 2 tbsp of honey and a sprinkling of mint. Serve the residual rhubarb and sauce on the side.
Nutrition Facts
Rhubarb, Orange & Honey Braised Spring Chicken
Amount Per Serving
Calories 350
* Percent Daily Values are based on a 2000 calorie diet.
Updated on May 8th, 2019