This Bourbon Sweet Tea Brined Turkey is sure to become a favourite at your holiday table.
A Thanksgiving or Christmas without turkey is like a food truck festival without bacon, a movie without popcorn, or a birthday without cake. How sad and disappointing would that be! Well, because it plays such a key role in my festivities, I don't mess around and buy a mediocre bird- I always reach for LiberTerre meat (check out my chicken recipes here). I love the Liberterre brand because their free-range turkeys are raised without the use of hormones, they have access to lots of fresh water, the ability to roam free, and they have a healthy diet of grains, essential vitamins and minerals (including Omega 3s!)- no animal by-products here y'all. Actually, they've all been raised in South-Western Ontario on a family farm with over 20 years in the turkey-rearing business. That, my friends, is something we can all be thankful for!
This holiday bourbon sweet tea brined turkey recipe kicks things off with a flavourful brine. Most brines are a simple mixture of water, salt, sugar and some spices, but I took mine up a few notches by making that water into tea and adding my favourite spirit- bourbon inspired by Food Network's recipe here. Oh mama, yes you heard me correct. As many of my readers know, I spent a weekend in the summer in Houston, Texas, where sweet tea and bourbon go together like BBQ and my belly- they are destined to be as one. I know it may seem like a big old hassle to make a brine and find room the fridge for the turkey and brine over night, but I used to think that way too. And trust me, once you start brining your birds, you will never-go-back. A brined turkey is always juicier, more flavourful, and is far more forgiving if you happen to overcook it a bit (hey, you've got a lot of stuff on the go-this way no one will even know!)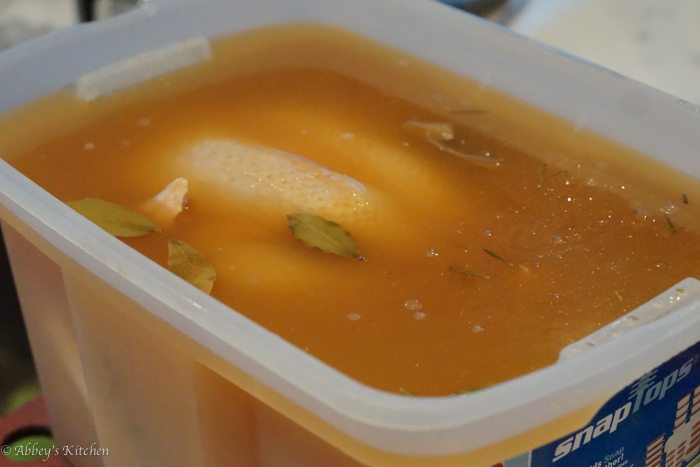 Bourbon Sweet Tea Brined Turkey 101
But there are few things you should know about brines like the one in this bourbon sweet tea brined turkey. First of all, it is possible to overdo it. Too much salt or too long in the bath will make for overseasoned and mealy meat so a good rule of thumb is to just brine for about 1 hour per pound of meat. I had a 16 lb Liberterre turkey so I brined for 16 hours.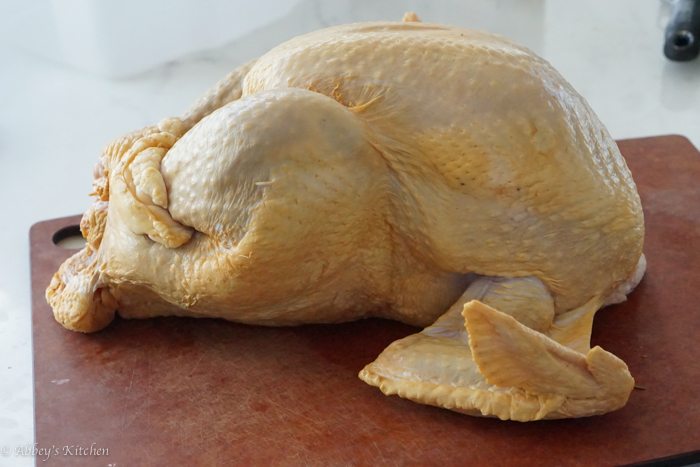 You also need to make sure to rinse that baby off, pat it really dry and then add the butter before cooking. The washing ensures that you get off any residual salt on the turkey so that it doesn't get too salty and the drying is to make sure that butter sticks.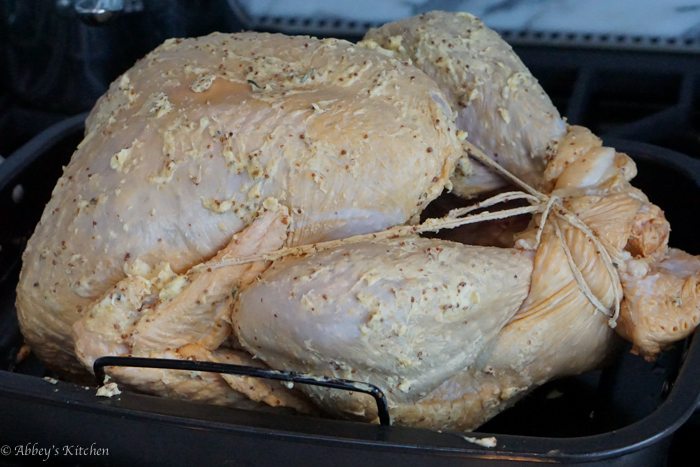 Speaking of butter, this is the second flavour-component in this Bourbon Sweet Tea Brined Turkey. Now, I like honey and rosemary in my tea (or my bourbon cocktails for that matter), and a little mustard adds a little zing to cut through all the sweet- so I mixed that into the fat.
The butter also does double duty by adding a little extra sweet-spicy aromatic flavour to the accompanying gravy that you can whip up when it's time to serve.
The resulting Bourbon Sweet Tea Brined Turkey will be moist, fragrant, and have a perfect balance of sweet, spicy, bright and herbaceous qualities. But really, was I surprised? When you start with such a great product like Liberterre, an incredible outcome is pretty much inevitable- all of the brines, butters and the like are just gravy on top.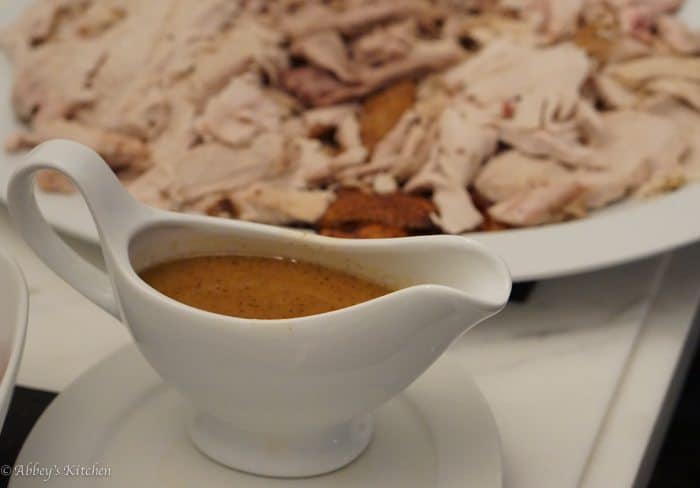 This holiday season, try my recipe with this Bourbon Sweet Tea Brined Turkey and Honey Mustard Butter Glaze. For more delicious ideas using Liberterre turkey (as well as a list of where you can find it), read my review of all their goodies (they've got so much more than just poultry), or check out their website to find out where you can pick up your goodies.
Sweet Tea Bourbon Brined LiberTerre Turkey with Honey Mustard Rosemary Glaze
Inspired by Food Network's Orange Tea Bourbon Turkey, this Bourbon Sweet Tea Brined Turkey is sure to become a favourite at your holiday table.
Ingredients
Honey Mustard Butter Glaze
1

cup

unsalted butter

softened

2

tbsp

honey

3

tbsp

whole grain mustard

3

tbsp

honey mustard

1 1/2

tsp

fresh rosemary

finely minced
Brine
16

lbs

Fresh Liberterre turkey

approximately 16 lbs

4

L

water

divided

Juice and rind of 2 lemons

removed in strips

Juice and rind of 3 navel oranges

removed in strips

1 3/4

cups

Kosher salt

1/2

cup

honey

1/2

cup

white sugar

10

orange pekoe tea bags

4

sprigs

rosemary

4

bay leaves

7

cloves

14

peppercorns

1

cup

Bourbon

Mustard butter glaze minus 1/4 cup
Gravy
1/2

cup

butter

1/2

cup

all purpose flour

6

cups

home-made turkey stock

or low sodium chicken stock

2

tbsp

heavy cream

Remaining 1/4 cup of mustard butter

Salt and pepper

to taste
Instructions
Honey Mustard Butter Glaze
This can be prepared while the turkey is brining or a few days ahead. Mix together the ingredients and set aside in the fridge until ready to use.

When ready to cook the turkey, soften this mixture to room temperature or microwave for 30 seconds until its very soft.
Brine
Unwrap the turkey, remove the neck and giblets and rinse the turkey under cold water. Pat very dry.

Fill a large pot with 2 L of water, and all of the brine ingredients (other than the turkey and mustard butter glaze). Bring the mixture to a boil, and then reduce the heat to medium low and simmer for about 10 minutes or until all of the sugar and salt has dissolved.

Add in an additional 2 L of cold water and allow to cool to room temperature.

Transfer to a bucket with a lid or a brining bag with the turkey in it, adding a bit of extra water if needed to cover the bird. Brine in the fridge for 1 hour per pound of turkey- so about 16 hours for this size bird.

Remove the turkey from the brine, and discard the brine. Rinse the turkey under cold water and pat very dry. Tie the wings to the body of the turkey by tying a knot at the wing joint, hooking it around the wing and bringing it along the leg joint and then tying it to the drumstick. Ultimately, it doesn't matter how you do this, I just like to get as little string on the turkey (so there aren't big lines on the turkey) and just try to get those wings as close to the body as possible.

Put 1/4 cup of the glaze butter aside for the gravy. Rub the remaining butter up under the skin and all over the skin. Allow the turkey to sit and come to room temperature for about 40 minutes. While sitting, preheat the oven to 350 F and put the rack in the lower half of the oven.

Place the turkey on a roasting rack in a roasting pan and set with a remote thermometer in the thickest part of the thigh. Cook for about 3 1/2 - 4 hours, or about 15 minutes per pound of meat, until the thermometer reads 185 F in the thickest part of the thigh.

Transfer to a cutting board and tent with foil for 30 minutes.
Gravy
While roasting, work on the roux. In a medium skillet over medium heat, melt the butter, then whisk in the flour. Reduce the heat to medium low and whisk until golden brown, about 2-3 minutes. Remove from the heat.

Right before serving, bring the stock to a boil. Once the chicken is resting, set the roasting pan over a burner over high heat and scrape up the bottom of the pan to release any stuck on yummy bits.

Transfer to a container and put in the freezer for 10 minutes until the fat separates on the top. Drain off the fat and then strain the remaining drippings. Whisk the drippings into the stock, then add in the roux and whisk until thickened. Add in the cream, and the reserved 1/4 cup of mustard butter. Season with salt and pepper, to taste.
Assembly
Once rested, slice the turkey from the carcass and serve with the hot gravy.
Nutrition Facts
Sweet Tea Bourbon Brined LiberTerre Turkey with Honey Mustard Rosemary Glaze
Amount Per Serving
Calories 1469
Calories from Fat 657
% Daily Value*
Fat 73g112%
Cholesterol 560mg187%
Sodium 25703mg1118%
Potassium 1482mg42%
Carbohydrates 43g14%
Protein 141g282%
Vitamin A 1479IU30%
Vitamin C 1mg1%
Calcium 118mg12%
Iron 6mg33%
* Percent Daily Values are based on a 2000 calorie diet.
Disclaimer: The preceding recipe was developed as part of an Ambassador program, however, all opinions are genuine.
Updated on May 20th, 2020