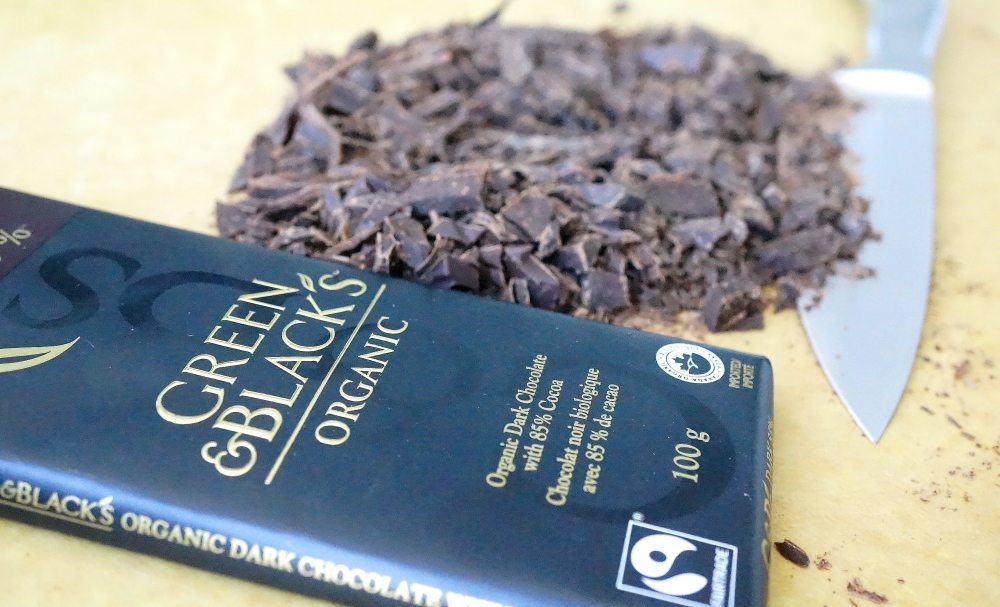 This past Passover, I hosted a casual family gathering for my and my partner's immediate families. When I'm having a group of people together who don't normally dine at one table (aka. more than one immediate family), I like to pre-determine where they sit. You know, it's a control thing. For most hosts this might mean making little name cards, or simply dictating once everyone arrives, but this year I wanted to try something different. So I carefully melted down some finely chopped Green & Black's Organic 85 % Dark Chocolate in the microwave over 50% heat (stirring a few times until it was smooth), and transferred the chocolate to a basic ziplock bag.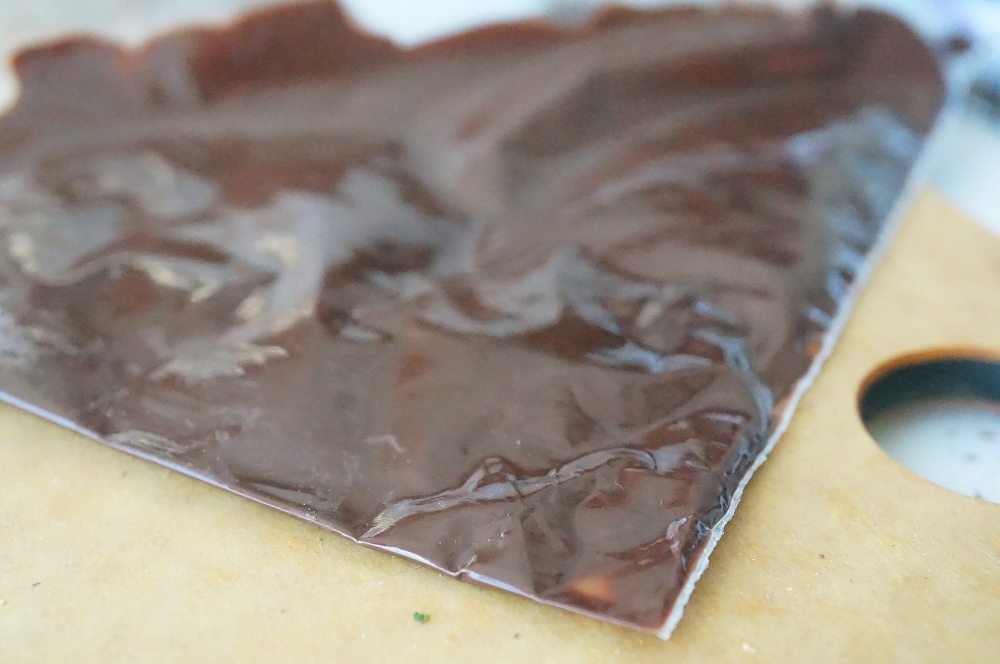 Then I cut out just a teeny corner from the bag, busted out the matzah (the ceremonial unleavened bread served on Passover) and tried my best to steadily write out every one of my guests' names. Okay, so no one is going to hire me at the grocery store to write Happy Birthday on all the cakes- my handwriting is questionable on paper with a comfortable pen, using chocolate is a whole other challenge- but I think everyone enjoyed the added touch.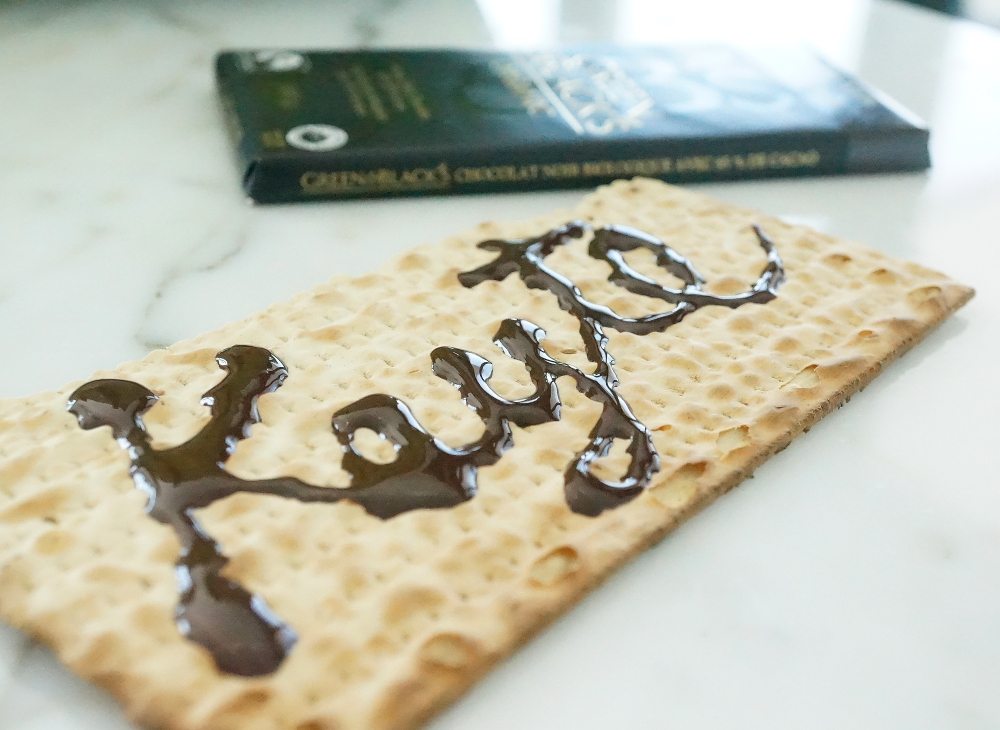 But that's not where my chocolate adventures ceased! Let's talk about Passover desserts. Passover is a tricky one when it comes to dessert. Not only are you not allowed wheat, spelt, barley, rye, oats, beans, legumes, corn, peas, peanuts, or various seeds, but you're also not supposed to mix dairy with meat. That means I was left with the challenge of making a vegan and gluten-free dessert that would still satisfy the masses.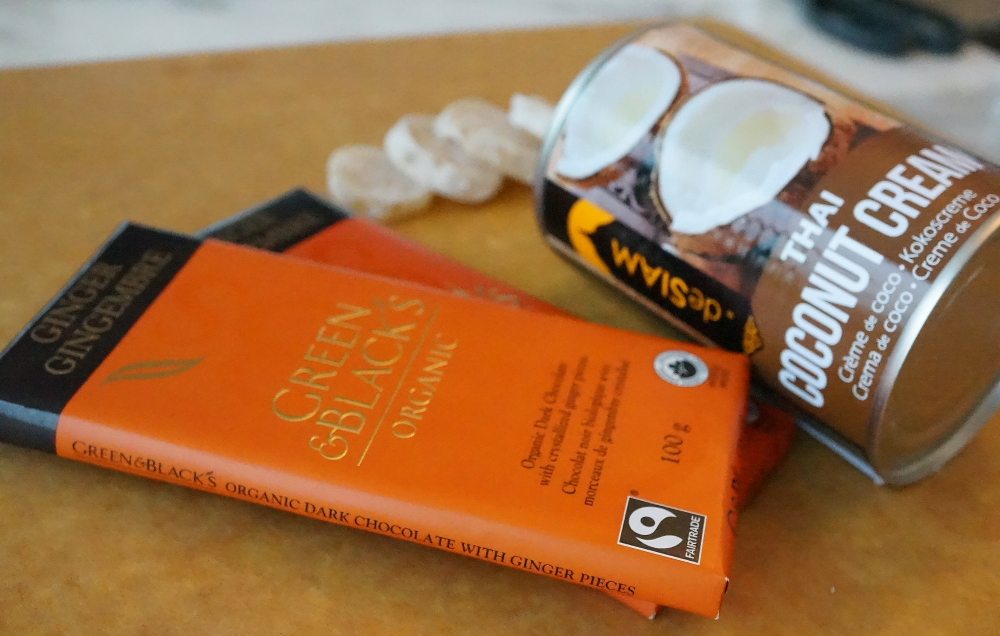 To make things more challenging, I always like to serve at least two options for dessert, one of which should always be light and easy for those who overindulged at the savoury buffet. We probably are all guilty of that, so a nice fruit platter is always appreciated.
And rather than simply serving fruit all on it's own,  I opted to put together a delicious dark chocolate sauce for dipping. For most vegans, dark chocolate is an acceptable non-dairy treat, and while those who keep strict Kosher or Kosher for Passover would require a Kosher certification stamp on the package, our families aren't really concerned (mine isn't even Jewish!). We do our best to abide by the rules over the holiday, but I'm really not going to forgo using tasty chocolate like Green & Blacks just because it doesn't have the K for P stamp.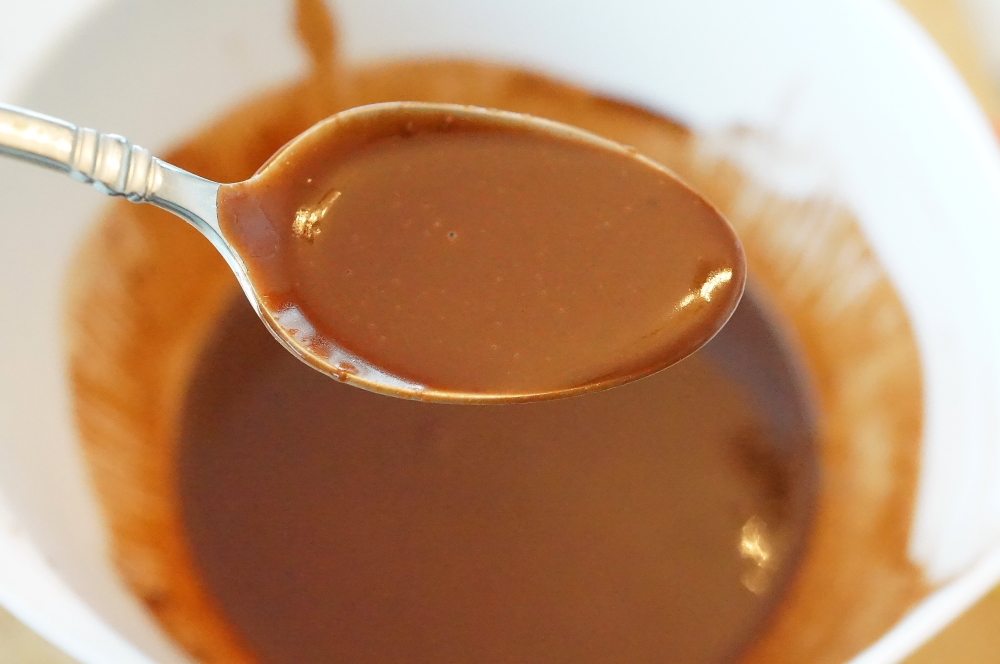 Now, normally when I make chocolate dip, I simply boil a pot of heavy cream and pour it over the chocolate to melt. But cream, for this meal, was out. Thankfully, I was happily surprised to see that the vegan coconut cream worked perfectly well- all it needed was an extra little bit of coconut oil to gloss things up.
Prior to this Passover, I hadn't experimented much with coconut products in my baked goods, so I wasn't sure how much that tanning oil aroma would come through. But it was pleasantly subtle and paired beautifully with the Ginger variety of chocolate.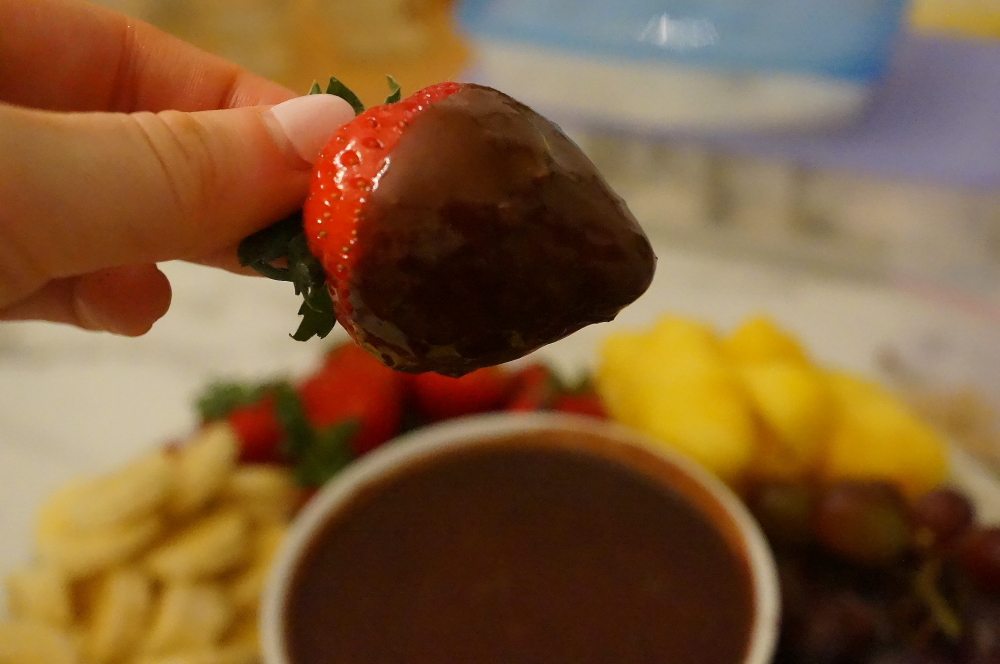 If you can't find the Green & Blacks Ginger Chocolate, or you just don't like ginger, feel free to use any Dark (or Milk!) Chocolate in their line and omit the additional candied ginger I threw in to enhance the flavour. Ooo la la, I think that their Maya Gold, or Hazelnut & Currant would work beautifully as well.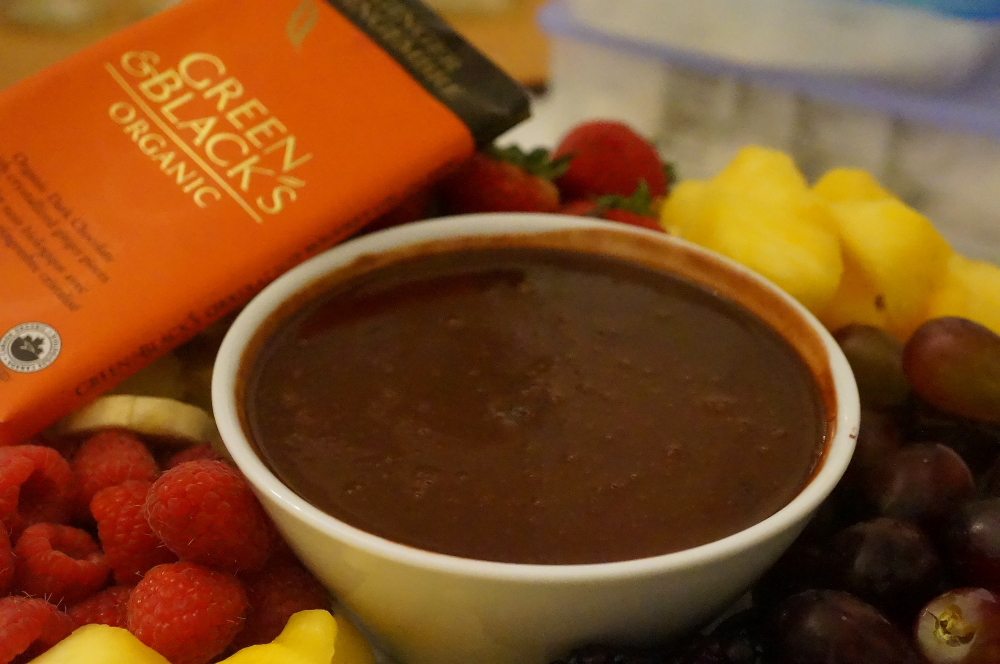 Want to give it a try? Abbey's Kitchen & Green & Blacks are giving away a gift bag of their Organic chocolate. Just tweet, share, like, follow, comment below on what flavour you'd like to try this recipe out with, and subscribe to my mailing list on the right hand of the home page (for weekly emails). I will be announcing the winner in a week!
Good luck and happy (chocolate) eating!
Vegan Ginger Dark Chocolate Dip with Fresh Fruit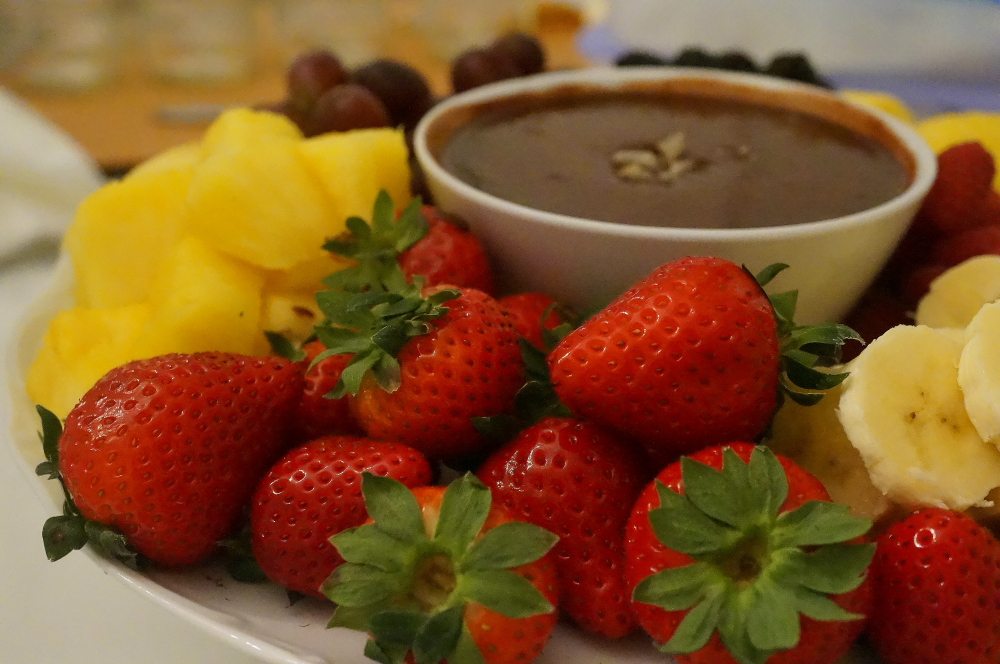 Updated on May 8th, 2019